Chana Masala is a traditionally famous vegan dish from Punjab in northern India. A humble, home-style dish of tender chickpeas swimming in a delicious sauce, Vegan Chana Masala is one of our favourite weeknight dinners. Smoky, spicy and comforting, it comes together in very little time, can be easily scaled up and frozen for a rainy day and tastes even better the next day.
Jump to:
What Is Chana Masala Or Chole?
A Chana Masala is a delicious curry made out of chickpeas. The literal translation of chana masala means spiced chickpeas and there are two versions of this famous dish in India. One more prevalent on the streets is hawked by vendors at every corner. This version is usually tender chickpeas coated in an almost dry spiced gravy. And then there is the saucier version served at restaurants which has a lot more sauce and is great with puffed fried bread or rice.
In India, chana masala is also more widely known as chole or cholay or cholay masala. The cholay refers to the plump white chickpea that is prevalent in the western world and much larger than the Indian chana or gram which is a smaller legume and is also found in black colour (black gram).
How To Make A Good Chana Masala
For those of you who have never tasted an authentic chana masala, it tastes unlike any curry you might have tasted before. The sauce is complex and smoky, salty with a slight sweet-sour after-taste. And the heat is a slow build-up on your taste palate and comes from peppercorns and cloves and ginger rather than chilli. This means you feel it lingering in the back rather than loud and upfront.
A traditional chana masala dish involves some unusual but readily available ingredients
black tea
pomegranate seeds
dried mango powder
Growing up in India, legumes were always soaked overnight and pressure-cooked the following morning before being transformed into delicious dishes for lunch and dinner. In fact, I had never come across canned beans until I moved to Singapore at the age of 23. There is a slight improvement in taste and texture when soaking and cooking beans from scratch. But not enough to give up using canned beans which give you the gift of time and the freedom of cooking a delicious meal from scratch in thirty minutes.
In the traditional recipe, the chickpeas are pressure-cooked with a couple of teabags to impart a smokey flavour and darken the colour of the resulting sauce. But since we are using canned chickpeas, I improvise by adding a teabag to the finished curry for the last minute of cooking and watching the smokiness and rich colour of the tea transform my chana masala instantly.
Restaurants also serve this chana masala with a drizzle or side of sweet and sour date chutney (I'll be sharing my recipe for this divine chutney later this week). It really compliments the smoky and spicy nature of the curry. I have shared some of my important tips and tricks to cooking an authentic vegan chana masala in the notes below. Make sure you follow those for a great-tasting dish. Happy cooking!
More Chickpea Recipes To Love
Recipe
Hungry For More Recipes? Subscribe to my newsletter. Check out Facebook, Instagram and Pinterest to see everything I share! And if you love cooking and new cookbooks, join my free Cooking Club on Facebook!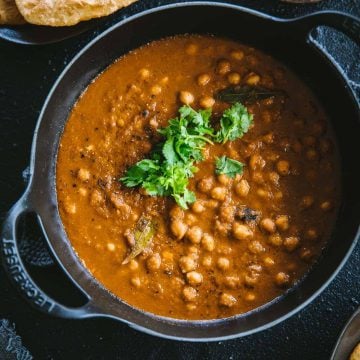 Ingredients
for the onion paste
4

garlic cloves

1/2

inch

piece ginger

1

small green chilli

,

or half a green long cayenne chilli

2

large onion

1/4

cup

(

60

ml

)

water
for the chana masala
2

tablespoons

olive oil

2

large bay leaves

1

black cardamom

6

cloves

8

peppercorns

1/2

inch

piece cinnamon

2

teaspoons

ground coriander

1

teaspoon

ground cumin

1 1/2

teaspoon

garam masala

1/4

teaspoon

ground chilli

1/4

teaspoon

ground turmeric

1/4

teaspoon

ground cardamom

1 1/2

teaspoons

sea salt flakes

,

or to taste

1/4

cup

(

60

ml

)

water

1/2

cup

(

50

g

)

chopped tomatoes (or diced canned tomatoes)

1

tablespoon

tomato paste

1

teaspoon

pomegranate molasses*

2

X 400g canned chickpeas

,

drained

1/4

teaspoon

chat masala

,

or dried mango powder-amchoor**

1/2

cup

(

125

ml

)

water

black teabag

,

optional

coriander

,

crushed black pepper, onion rings, sweet date chutney - to serve
Instructions
Place garlic, ginger, chilli, onion and water in the jug of a blender. Process until smooth.

Heat oil in a medium saucepan on medium. Add bay leaves, black cardamom, peppercorns, cloves and cinnamon. Sauté for a few seconds. Add onion paste. Sauté for 5-6 minutes until the paste starts to turn a shade warmer.

Add ground coriander, cumin, turmeric, chilli, cardamom, garam masala and salt. Add 1/4 cup water. Reduce heat to medium-low and sauté for 8-10 minutes until the curry base starts to smell fragrant and the onion paste is completely cooked (and the raw onion smell has disappeared).

Add chopped tomatoes, tomato paste, pomegranate molasses, chickpeas, chat masala/amchoor and water. Simmer uncovered on medium-low for 5 minutes. Reduce heat to low, cover and simmer for 10 minutes to allow the flavours to develop. Optionally, in the last few minutes of cooking, add a teabag to the curry and allow to steep for 1-2 minutes. Remove and discard teabag.

Remove from heat. Check and adjust seasoning. Garnish with fresh coriander leaves, sliced onion, black pepper and serve hot with roti, rice or bread.
Notes
* pomegranate molasses can be sourced from specialty delis and grocers. It is a thick sweet and sour pomegranate concentrate that adds that delicious traditional flavour to the chana masala. Anar daana (dried pomegranate seeds) are more commonly used in India instead of molasses. If you can't find pomegranate molasses, you can use tamarind paste or aged balsamic vinegar or even a good squeeze of lime. It is to add a bit of acidity and sourness to round the flavour of the curry.
** amchoor is dried mango powder. It is used in North Indian recipes to add that distinct sour pungent street-flavour to the dishes. The ideal substitute is chat masala which is more readily available at supermarkets and Indian grocers.
a note on cooking the raw onion

- It is very important to cook the onion paste in steps 2 and 3 of the recipe till the onion is no longer raw. When you have cooked the paste with spices for at least 12-15 minutes, the paste starts to release oil around the edges and no longer smells raw. This is a good indication of the paste having cooked to perfection (think of caramelized onion for an analogy). Another way of testing is to taste a little teaspoon of the cooked paste. It shouldn't feel crunchy or raw in your mouth.
a note on using a teabag - If you are going to use a teabag in step 4, make sure you don't steep the tea bag for more than 1-2 minutes as you will run the risk of making your chana masala slightly bitter. This is a completely optional step and can be omitted. Use a lighter black tea like English breakfast.
Freezing - The chana masala freezes really well and will keep in the freezer for up to 3 months. I often make a double batch during meal prep and freeze half of it in containers for emergency dinners.
Serving Suggestion - Traditionally, chana masala is served with some sweet and sour date chutney at Indian restaurants. The date chutney adds a lovely sweetness and tones down the spiciness in the curry. Plain Greek yoghurt is also excellent as an accompaniment for tempering down the heat.
Did you make my recipe?
I'd love to hear how you went! Tag me on Instagram @cookrepublic