A ten minute, quick, pan-roasted brussels sprouts recipe with big payback. This Christmas, look no further than my delicious Sicilian Chilli Garlic Brussels Sprouts. Super easy to scale up and an absolute crowd-pleaser!
The Easiest Pan-Roasted Brussels Sprouts Recipe
I don't cook brussels sprouts very often because unlike other brassicas, they are not always available and not always at their best. But when I do cook them, there are only 2-3 recipes I follow. This Sicilian Chilli Garlic Brussels Sprouts is my favourite. A recipe so delicious, I have been known to sit with the hot pan and a large spoon and polish it off single-handedly while still quite hot - straight from the pan!
If you have ever had badly cooked brussels sprouts, you might've sworn off them. A bit like broccoli that tends to get really disgusting if you overcook it, bad brussels sprouts are the ones that have been overcooked. The notion that they are hard to cook and easy to botch up, is a myth. Brussels Sprouts are in fact one of the easiest vegetables to cook with. All you need is a good pan. And by a good pan, I mean any stock standard pan that won't stick (I use a non-stick wide, chef's pan or frying pan).
Brussels Sprouts cook very quickly. You don't want to cook them twice (no pre-boiling here people!). So, how do you know if they are cooked perfectly? Their vibrant green colour is a great indication. Again, just like broccoli and spinach you want the brussels sprouts to change colour from a raw green to a deeper, richer, glossier green colour. In a pan, this takes approximately 5 minutes of high-heat searing and then a further 5 minutes to tenderize them.
What's In A Sicilian Style Dish?
My Chilli Garlic Brussels Sprouts have a variety of exciting ingredients that complement each other beautifully. Like garlic, raisins, pine nuts, capers and parsley. All stalwarts of Sicilian cooking. The combination of pungent aromatics like garlic, the sweetness of raisins and the saltiness of capers provide a super delicious canvas for perfectly pan-roasted, almost starting to char brussels sprouts.
This dish firmly falls between a warm salad and stir-fry. And it has three simple components to it.
The jammy onion-garlic-chilli base
The perfectly roasted brussels sprouts
The simple sweet and tangy dressing
First, I cook and caramelize the onion, garlic and chilli. I then place my brussels sprouts cut side down in hot oil in the pan and let them sear undisturbed for 5 minutes. I lower the heat, toss them around and let them cook for a few more minutes until they are tender. Finally, the dressing and the jammy onion mix goes in with the brussels sprouts and everything gets tossed and cooked for a minute or so. So simple! So delicious!
If you are looking for a super simple vegan/vegetarian side dish for Christmas this year, put this on your list. It only takes 10 minutes to make, can be prepped ahead and is absolutely divine.
Recipe
Hungry For More Recipes? Subscribe to my newsletter. Check out Facebook, Instagram and Pinterest to see everything I share! And if you love cooking and new cookbooks, join my free Cooking Club on Facebook!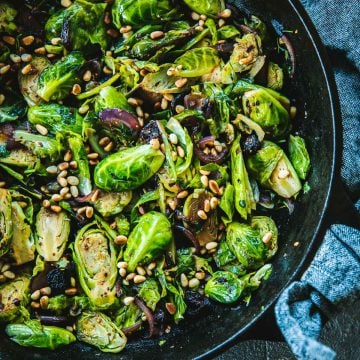 Ingredients
2

tablespoons

olive oil

3

garlic cloves

,

minced

1

teaspoon

red chilli flakes

1

red onion

,

halved and thinly sliced

18

(

300

g

)

brussels sprouts

,

cut in half lengthways (small-medium)

1

teaspoon

sea salt flakes

Freshly cracked black pepper

1

tablespoon

balsamic vinegar

1/3

cup

pine nuts

1/3

cup

raisins

2

tablespoons

capers

1

tablespoon

wholegrain mustard

Large handful of parsley

,

chopped
Instructions
Heat one tablespoon of oil in a large frying pan (or a large shallow sauté pan) on medium. Add garlic, chilli and onion. Sauté for 4-5 until onion is caramelized. Remove onto a plate and return the pan to heat.

Add the remaining oil to the pan and increase heat to medium-high. Add brussels sprouts cut side down, salt and pepper. Let them cook undisturbed for 5-6 minutes until they start to char. Toss them with a wooden spoon and continue cooking for 3 minutes until they are glazed and browning all over.

Reduce heat to medium. Add balsamic vinegar to deglaze the pan. Mix well. Add the caramelized onion mix, pine nuts, raisins, capers and mustard. Mix well. Cook for a further 2 minutes until heated through.

Remove from heat and garnish with fresh parsley. Serve hot.
Did you make my recipe?
I'd love to hear how you went! Tag me on Instagram @cookrepublic