Whenever I think of Singapore, I do so with a fond smile and an ache in my heart to fly back there and relive the sights, sounds, smells and tastes of the Lion City. The 5 years that I spent there are as vibrant and fresh in my head as if it were yesterday. I enjoyed numerous gastronomic adventures, discovering wondrous tastes for the first time and savouring every new one.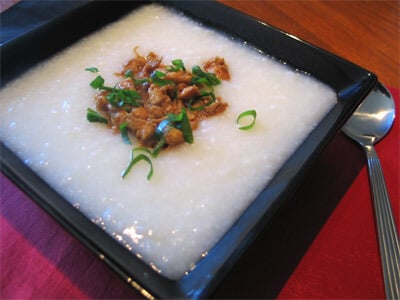 There was this very popular award-winning place selling the much-loved Hainanese Chicken rice on our street called simply "5-Star Chicken Rice". Needless to say, their chicken rice became our staple for lazy evenings and work emergencies. Never a dull moment at that place, orders were usually taken over the phone. When you did show up to collect your order, the beehive of activity was as interesting to watch as an action-packed blockbuster. I remember burrowing my way into the brightly lit but lacking in space area, my rubber soled shoes going 'slick slick slick' on the greasy [but clean] floor.
I would stand in front of this huge polished aluminium preparation and serving area with roasted chickens hanging as if on an assembly line. The chefs with their quick movements and happy smiles chopped up the chickens, topping them over beautifully fragrant rice scooped out of massive red rice pots. The clear chicken soup would be splashed into round plastic containers and everything would be neatly arranged in a plastic bag with two small pre-prepared containers of the famous Singapore 'chilli' and 'sweet soy sauce'. As was the case with the Congee, which was instantly packed ... no waiting time. And then as I would make my way out of the shop, the sweet owner would stop to chat with, her busy eyes never missing a table, watching over her efficient staff of mostly youngsters balancing 12 bowls of soup in a single tray and weaving their way through the army of tables and chairs laid out on the footpath. I would finally wave goodbye to the 'aunty' chopping away at a mountain of red chilli-padi on a nearby table and another pretty girl patiently peeling garlic cloves. They would charge me $3.00 for all the lovely food and send me packing 10 paces away to my home, making me feel like a long-lost cousin who was welcomed and looked after. How can you not miss that?
Here is their Congee recipe which was my breakfast and supper when I was expecting my first-born, I loved it so much .. I had developed a craving for it. The subtle taste of garlic and the sweetness imparted by the slow-cooking of rice floods my senses and takes me back to my fond memories of Singapore in 2004.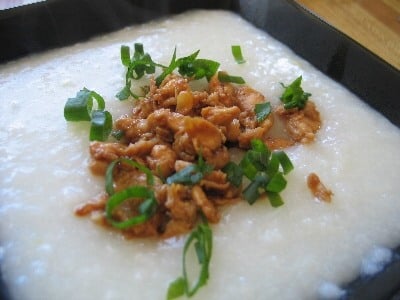 recipe
5-Star Chicken Congee Singapore Style
Preparation And Cooking Time - 3 to 5 hours
Serves - 6 to 10 people depending on serving size
Ingredients For The Basic Congee
1 1/2 cups congee/arborio rice; washed
8 cups water
3 garlic cloves, skinned and crushed
1 inch ginger piece, peeled and thinly sliced
1 tsp white pepper
1 tsp sugar
1 tsp salt

Ingredients For The Chicken Topping
300g chicken thigh fillets, diced into 1 cm pieces
1 tbsp soy sauce
1 tbsp oyster sauce
1 tsp rice wine vinegar
1/2 tsp sesame seeds
1 tbsp sesame oil
1/4 cup chives, finely chopped
1/4 cup spring onions, finely chopped

Preparation & Presentation
Combine all the ingredients for the basic congee in a large and deep saucepan. Simmer on low heat for 2-3 hours, stirring very frequently. The more you stir, the creamier the congee will become as the rice grains break down down slowly. I like to keep tasting it in order to adjust seasonings to suit my palate. Heat sesame oil in a pan. Add the chicken and saute on high for 2-3 minutes. Add soy sauce, oyster sauce, vinegar and sesame seeds. Stir-Fry on high for 6-8 minutes till chicken pieces are thoroughly cooked. Remove from heat. Ladle some congee into a bowl. Top with chicken pieces and sprinkle chives and spring onions.