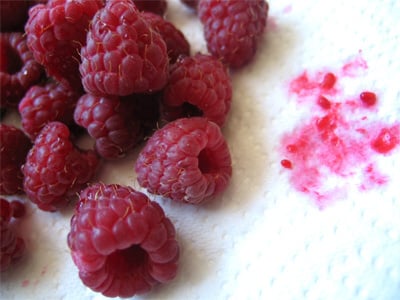 frou-frou (froo froo) n. 1. Fussy or showy dress or ornamentation. 2. A rustling sound, as of silk. The word frou-frou is first recorded in English in the early 1870s. Its original sense was 'a rustling, as of silk on a woman's dress'. An example that the Oxford English Dictionary cites from 1871: "With a frou-frou of soft silk she arose." This sense also appears as a verb--"frou-frouing skirts," for example. The current sense, 'elaborate or frilly decoration, as on women's clothing', is also found for the first time in the 1870s. The word frou-frou is a borrowing from French, in which it is first found in the 1730s. It is ultimately of imitative origin--the word is supposed to sound like the rustling of silk.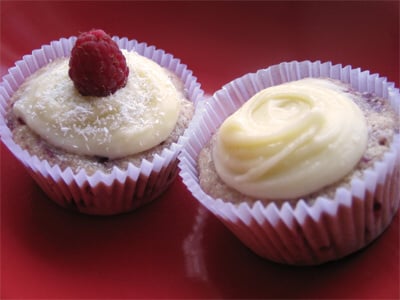 I like the word, it intrigues me. And I always wonder how it would sound slipping off the tongue and escaping from the dainty lips of a French Madame. Delicate? Romantic? Ethereal? ....ahhhh more words I love!! I actually came across this recipe while browsing "The Australian Women's Weekly CUPCAKES", which is a must have for cupcake fans like myself. The recipe was simply called "Frou-Frou" and that was enough to spark my interest and head for my baking paraphernalia. The photo was a beautiful shot of 2 little miniature cakes covered in moist, white creamy textured icing and flakes and swirls of dried coconut topped with a little cluster of fresh, plump raspberries. I realised that I was missing one or two key ingredients that the recipe called for, so I improvised. Instead of the Cream-Cheese Coconut Frosting, I made White Chocolate & Sour Cream Coconut Ganache. The result was not only delicious, but visually stunning. Raspberry and Coconut are another of those "Marriage made in heaven" ingredients.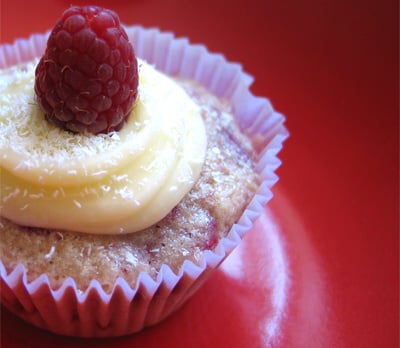 [print_this]
Raspberry Coconut Cupcakes With White Chocolate And Sour Cream Ganache

Makes 10
Ingredients
For The Cupcakes
1/2 cup plain flour
1/4 cup self-raising flour
1/2 cup dessicated coconut
1/3 cup sour cream
1 cup caster sugar
150g frozen raspberries
125g butter, softened
3 eggs

For The Ganache
1/2 cup white chocolate melts
1/4 cup butter
1/4 cup sour cream
1/2 cup icing sugar
1 tsp coconut essence

For The Decoration
1/2 cup dessicated coconut/coconut flakes
1/2 fresh raspberries

Method
Preheat oven to 180C [160C fan forced]. Line 10 of the 12 holes of a standard muffin pan with paper cases. Beat butter, sugar, sour cream and eggs in a small bowl until light and fluffy. Stir in the sifted flours, coconut and raspberries. Mix gently with a wooden spoon till combined. Divide mixture among cases, smooth surface and bake in the pre-heated oven for 45 minutes until cooked through. Remove cupcakes from the pan and cool on a wire rack. Remove paper cases when completely cooled. To make the ganache, melt white chocolate in a shallow dish placed over a boiling pot of water. Remove from heat and beat in the butter, sour cream, icing sugar and essence with an electric beater. Ice the cupcakes with the ganache in gentle swirling motions. Sprinkle dessicated coconut or dried coconut flakes all over the icing and top with one or few fresh raspberries.
[/print_this]