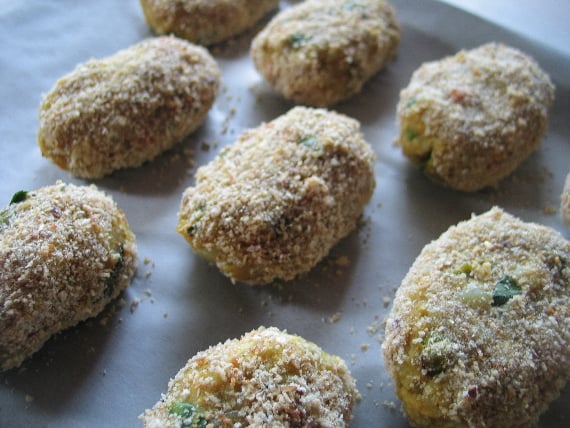 With memories of long-distance train journeys along India's West Coast ricocheting in my head, I set out to imitate the pungent and 'chatpata' taste of the Vegetable Cutlets that were served by the canteen boys on those trains.
I tried to make them a bit unconventionally. I microwaved all the veggies on high with a little bit of water. The potatoes were still a bit firm when I took them out of the microwave. Then I got out my trusty, big, stone mortar and pestle; and gave the veggies a good bashing. That softened them up nicely without making them overtly mushy [that is one unconventional use of a mortar and pestle for you .. use them to make a creamy potato mash for your Sunday Roast next time around!]. After shaping them into long croquettish shapes and rolling them in breadcrumbs, I sprayed them with Canola based cooking oil and popped them into the oven. Voila!
[print_this]
recipe
SPICY BAKED VEGETABLE CUTLETS
Preparation Time - 20 minutes
Cooking Time - 30 minutes
Makes - 20

Ingredients
3 large potatoes, peeled and chopped
1 carrot, peeled and chopped
1/2 cup peas
3-4 cauliflower florets
3/4 cup breadcrumbs
1/2 cup fresh coriander leaves, chopped
1 tbsp lemon juice
1 tsp chilli powder
1 tsp garam masala
2 tsp cumin powder
1/2 tsp garlic powder
1/2 cup water
salt to taste
1/2 cup breadcrumbs for coating
Method
Preheat oven at 200°C. Combine potatoes, carrot, peas, cauliflower and water in a microwaveable jug. Cover with lid and keep the steam vent open. Microwave on high for 8 minutes. Remove and add all the remaining ingredients except the breadcrumbs for coating. Mash well. If consistency is runny and thin, add more breadcrumbs. Shape into long, cylindrical shaped croquettes. Roll each shape in breadcrumbs and place on a cookie tray lined with baking paper. Bake for 15 minutes, turn over and bake for another 15 minutes until golden and cooked through.
My Notes
1. Alternatively, instead of baking; heat a little oil in a medium frying pan and lightly pan-fry the cutlets, till they are golden and cooked on both sides.
2. You may also deep fry the cutlets in batches of 3.
3. Serve hot with shredded lettuce, sliced onion and tomato ketchup.
Enjoy!!
[/print_this]