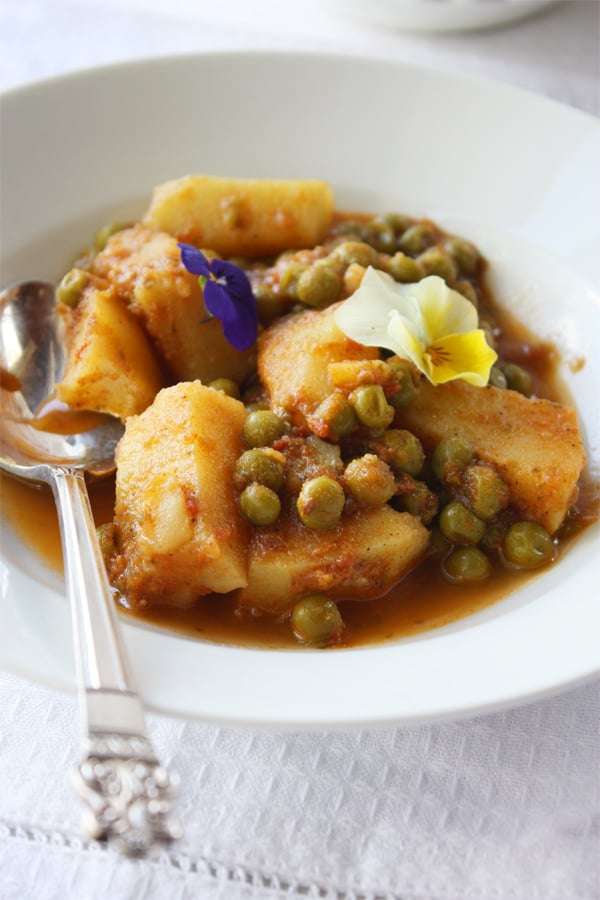 Aloo Matar is my Indian version of a quick mac and cheese or stir fried noodles. It is my go to dish when inspiration and time are both lacking. It is whipped up in a matter of minutes using pantry staples and virtually cooks itself while I do a few dishes and set the table. Aloo simply means potato and matar means pea. This very popular and much loved Indian classic Potato and Pea Curry has many variations. It is hearty, warming, flavourful, fresh and thoroughly satisfying. If I have a few extra minutes to spare (which I usually do), I grate some cucumber and stir it in a bowl of sweetened yogurt with chopped mint leaves for a delicious raita and microwave some pappadums. A very tasty vegetarian Indian meal in less than an hour is hard to beat on a busy week night.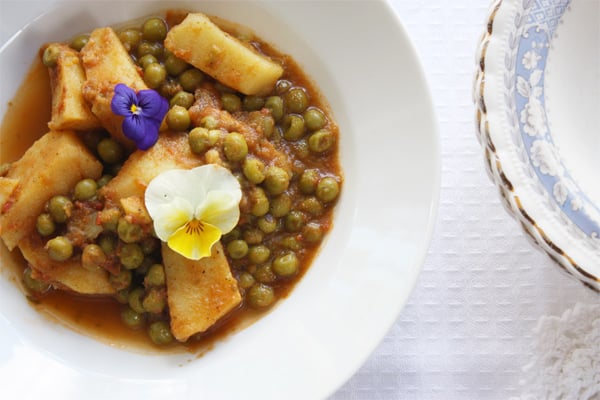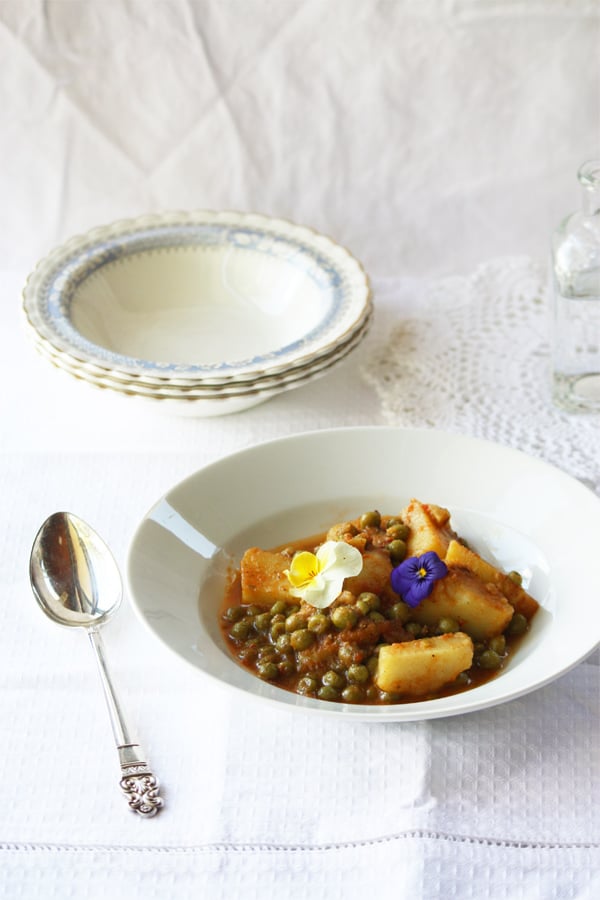 [print_this]
ALOO MATAR ( INDIAN POTATO AND PEA CURRY )
Preparation Time - 15 minutes

Cooking Time - 40 minutes

Serves - 4
3 large potatoes, peeled and cut into large chunks
2 cups fresh or frozen peas
3 tomatoes
1/2 inch piece of ginger
1 green chill
1 tablespoon olive oil
1/4 teaspoon cumin seeds
2-3 small pieces of cinnamon
2 bay leaves
1 tablespoon sugar
1 teaspoon ground cumin
1/4 teaspoon ground turmeric
1 teaspoon garam masala
1/4 cup coriander stalk
1/4 cup coriander leaves
salt to taste
2 cups water
Method
Purée tomatoes, green chill, ginger and coriander stalks in a blender.
In a heavy bottomed pan, heat oil on medium. Lightly fry cumin seeds, bay leaves and cinnamon for a few seconds till they turn a shade darker. Add the tomato mixture, sugar, salt, turmeric and cumin. Simmer on medium heat for 5 minutes.
Add potatoes, peas, water and garam masala. Reduce heat to low, cover and simmer for 30-35 minutes until potatoes are cooked. Adjust seasoning to taste. Garnish with coriander leaves and serve hot with naan, roti or steamed rice.
[/print_this]