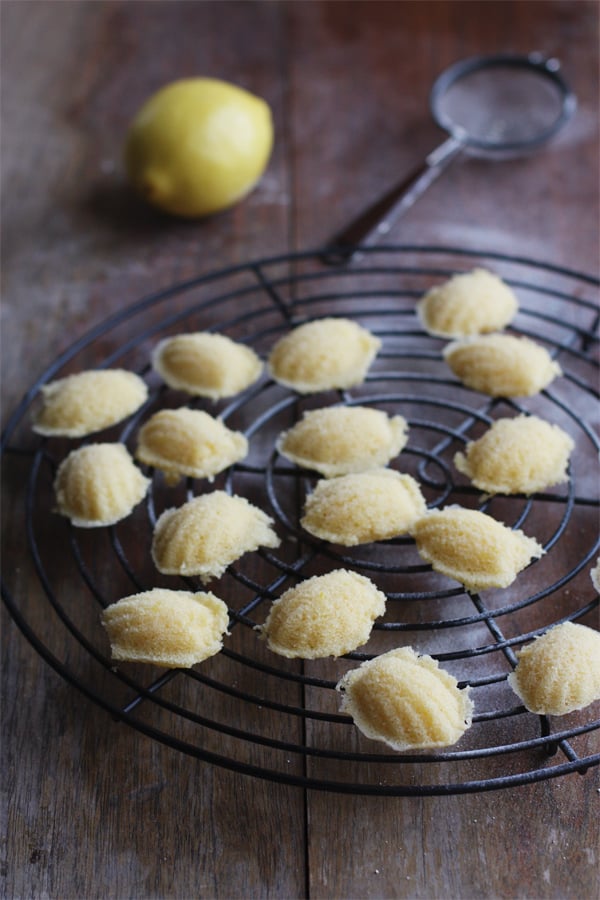 Our citrus trees have been hibernating for the longest time now. I had given up on our Meyer lemon and Australian lime trees. But this weekend, I saw Nick hard at work mulching, feeding, water and weeding around them. Just a little TLC and they already look ready for the warmer months. Maybe there is hope.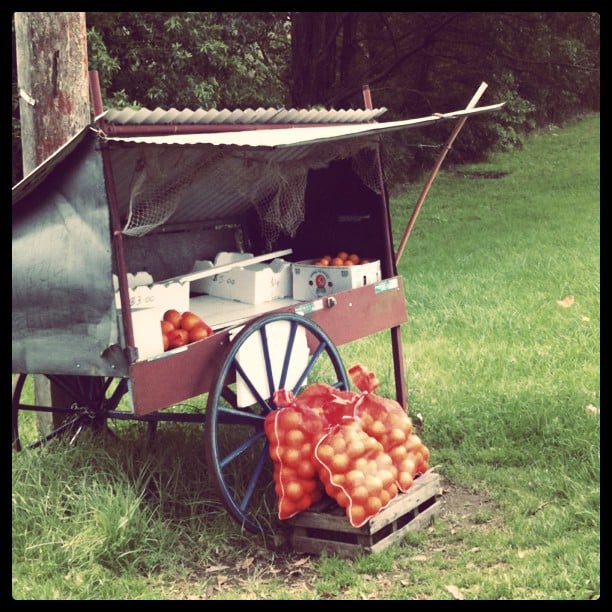 I have been buying a lot of citrus fruits lately. Just yesterday we drove through the very beautiful rural district of the Hornsby Shire and bought some more. The Shire is mottled by huge landscaped farms and rustic fences. There are fresh produce shacks sitting stoic and proud at the top of many driveways with bags of freshly picked produce and the little beat up money box on the side. It is a lot of fun and a source of much amusement for the boys to make random stops, pick up gigantic bags of oranges or potatoes and drop some money in the money box.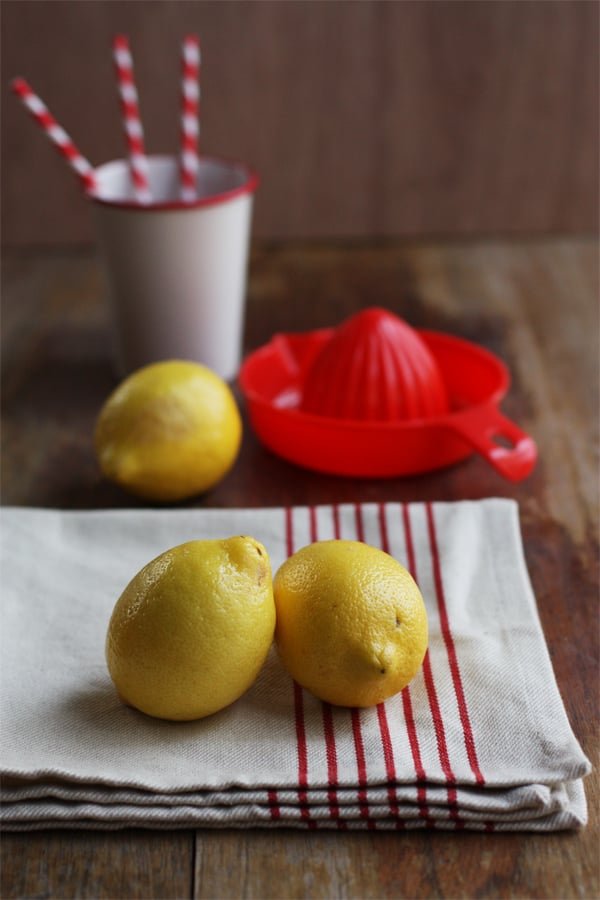 For breakfast, I whipped up a batch of fresh lemon baby madeleines. They are very popular in our home, especially the little ones that are baked in this gorgeous French made baby madeleine pan I have. They are perfect for popping with a glass of juice or cup of tea and literally melt in your mouth.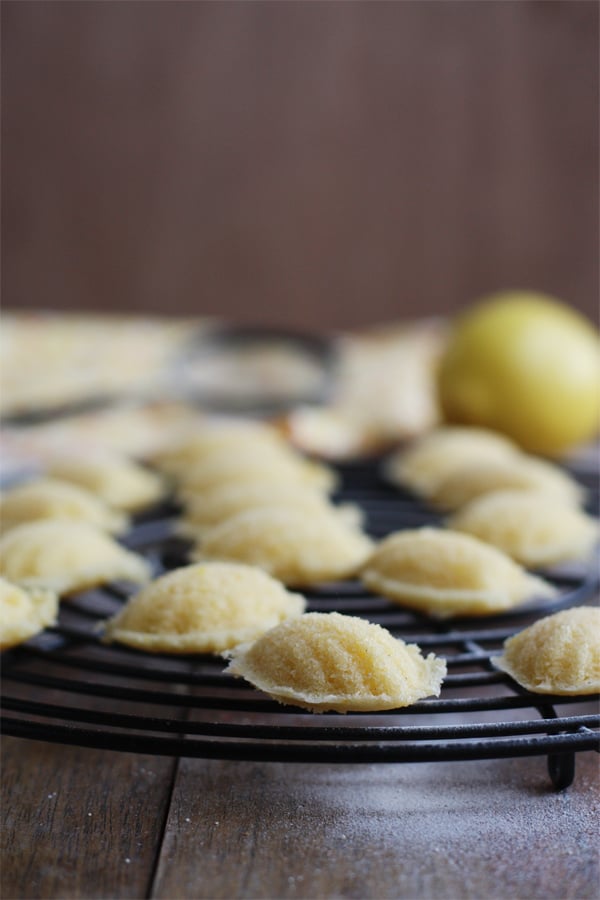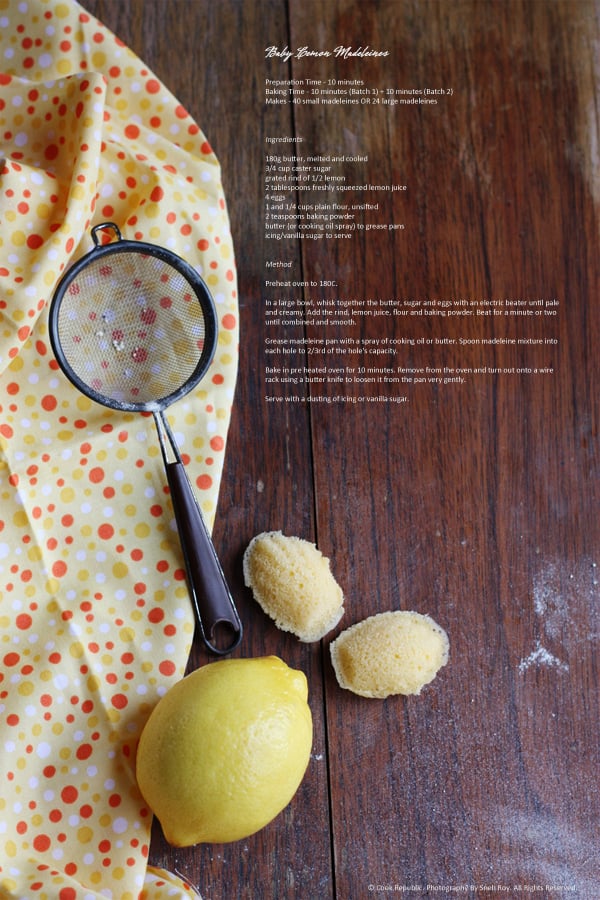 Click on Recipe Card for a larger version.
[print_this]
Baby Lemon Madeleines
Preparation Time - 10 minutes

Baking Time - 10 minutes (Batch 1) + 10 minutes (Batch 2)

Makes - 40 small madeleines OR 24 large madeleines
Ingredients
180g butter, melted and cooled
3/4 cup caster sugar
grated rind of 1/2 lemon
2 tablespoons freshly squeezed lemon juice
4 eggs
1 and 1/4 cups plain flour, unsifted
2 teaspoons baking powder
butter (or cooking oil spray) to grease pans
icing/vanilla sugar to serve
Method
Preheat oven to 180C.
In a large bowl, whisk together the butter, sugar and eggs with an electric beater until pale and creamy. Add the rind, lemon juice, flour and baking powder. Beat for a minute or two until combined and smooth.
Grease madeleine pan with a spray of cooking oil or butter. Spoon madeleine mixture into each hole to 2/3rd of the hole's capacity.
Bake in pre heated oven for 10 minutes. Remove from the oven and turn out onto a wire rack using a butter knife to loosen it from the pan very gently.
Serve with a dusting of icing or vanilla sugar.
[/print_this]