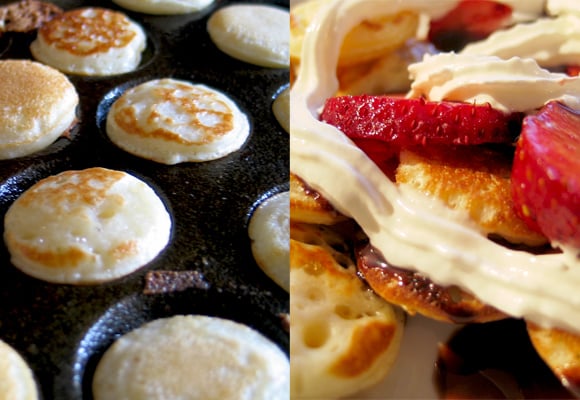 A while back I had mentioned how we oohed-aahed and literally drooled over this generous plate of dutch pancakes/poffertjes at a local fair. It didn't help that they looked gorgeous and were dolloped with fresh cream, strawberries and caramel sauce :). Well, I did manage to buy an authentic cast-iron poffertjes pan on ebay and with a lot of hope and aspirations tried it out over the weekend. It wasn't too bad, but it was not what we enjoyed at the fair. These eggy little marvels came out too chewey and not sweet enough. They looked pretty darned delicious though ... a pity, they did'nt exactly taste that way.
So I am appealing to anyone who has a great, traditional dutch pancake recipe and if they would be kind enough to share that and possible the correct technique to make it, I would be obliged !! [ I made them in a conventional fan-forced oven].
** update ** After several tries I finally perfected the recipe.
[print_this]
recipe
POFFERTJES
Preparation Time: 10 mins | Standing Time: 60 mins | Cooking Time: 30 mins
Ingredients
500g self-raising flour
2 large eggs
800ml milk
1 tsp vanilla extract
a pinch of salt
olive oil for brushing the pan
Method
Sift flour in a large bowl. Combine milk, eggs and vanilla extract in a bowl and mix lightly. Add the wet mixture to the flour and beat well for 3-5 minutes till the batter is light and fluffy. Cover and stand batter for an hour.
Pour batter into a squeeze bottle [like the ones you get in the supermarket for sauce]. Place Poffertje pan on the cooktop at low-medium heat. Brush pan with a liberal dose of olive oil. When the oil is hot, squeeze the batter into each hole, filling it just below the rim. When bubbles start appearing in the batter, flip over each pancake gently in their holes with a butter knife. Cook this side for 2-3 minutes and slide the pancakes onto a plate.
Serving suggestions
Serve hot with strawberries, fresh cream, nuts and chocolate sauce.
These pancakes can also be served simply with a drizzling of coarse sugar, topped with freshly squeezed lemon juice.
Notes
The quantity mentioned here is enough to make 90-95 pancakes, which would come to 5-6 serves.
A good quality cast-iron dutch poffertje pan is vital to make these crisp on the outside and soft on the inside.
Gemcake pans work well for this recipe too.
While cooking the heat has to be adjusted constantly, if you feel the pan starts smoking or the pancakes are browning very fast, reduce the heat a bit.
The quantity of milk mentioned here has worked well for me, but if the eggs and flour are of different sizes and brand respectively, you might need to add more milk. The batter has to be of thick, pouring consistency.
[/print_this]