Gajar Ka Halwa brings to mind little ornate steel bowls full of delicious, moist, beautifully textured carrot pudding garnished with slivered nuts and silver foil [varakh]. Hot ... Of course, fresh off the stove!! The typical Halwa like the one Mum makes, takes anywhere between 2-6 hours simmering away on the stove. It takes constant stirring [so it doesn't stick to the bottom of the pot and burn], constant adjusting of consistency [adding more milk or cream, adding more sugar] and a lot of love.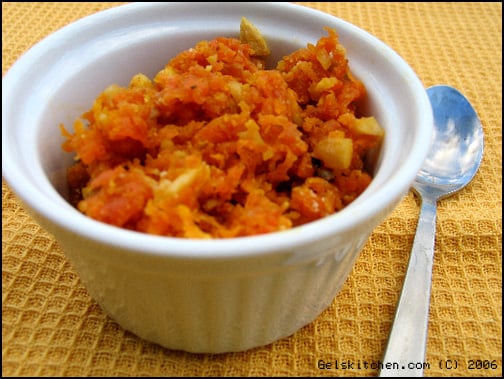 My mum always says that the longer you cook the halwa, the more sweet it becomes. Maybe it is just love after all ... the love of the person doing all the toiling away at the stove. Thanks to modern technology [microwave] and a lot of laziness [me], I have conjured up my own version of the Microwave Gajar Ka Halwa. It takes 20 minutes to cook and if you practice it enough number of times, it tastes as good as the lengthy version, I swear!!
[print_this]
recipe
Microwave Gajar Ka Halwa
Preparation Time - 10 mins
Cooking Time - 20 mins
Serves 3
Ingredients
1 kg carrots, grated fine
1/2 cup sugar
1/2 cup cream
3 tbsp milk powder
2 tbsp ghee
1/4 cup cashewnuts, coarsely chopped
1 tsp cardamoms, coarsely ground
1 tsp milk masala

Method
Spread out grated carrot in a shallow microwaveable dish. Cook uncovered on high for 5 minutes. Add all the remaining ingredients, mix well and cook uncovered on high for 12-15 minutes. the carrots should appear glossy and tender. Serve hot with a dollop of vanilla ice cream.
[/print_this]