Some of the most delightful things in life are often the ones that are also the simplest. Like a smile or a breeze or a cup of good coffee on a cold day. Like hitting the most perfect flavour combination when you throw together ingredients randomly.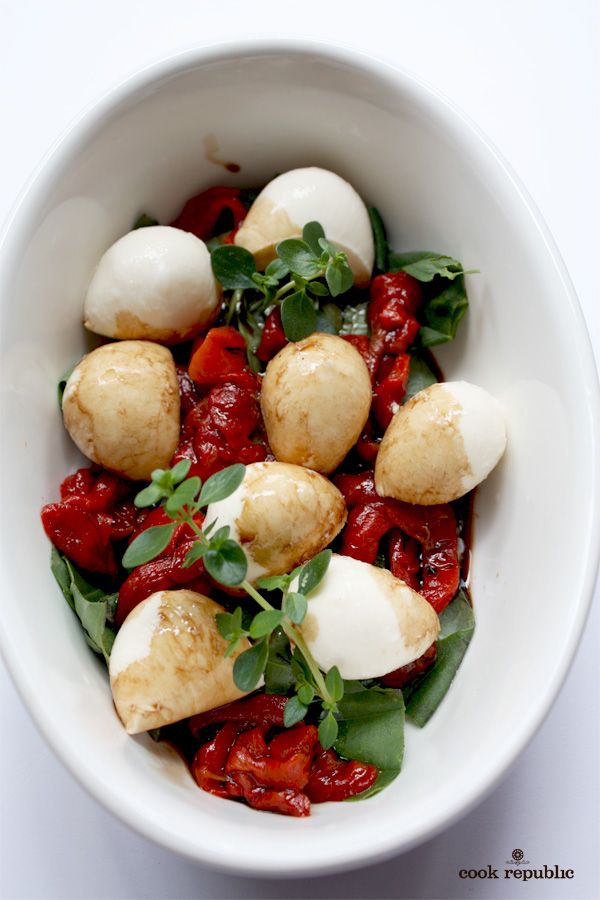 Over Christmas, I bought myself many fantastic cookbooks and food related reads. One of them was The Flavor Thesaurus. The book is a very interesting study in flavour matching and pairing. There are many time tested flavour combinations and some surprisingly new and unique pairings that I am very eager to try out.
Basil, the book says has very prominent spice notes. Hence it would be an excellent match for soft and hard cheese that is milder in flavour. The bite of the basil would compliment the creamy smoothness of the cheese.
To put this theory to test, I decided to make a simple salad with a cheese I discovered only recently and quickly became addicted to. Bocconcini cheese is a semi-soft, spongy Italian cheese that easily absorbs flavours. It is essentially a form of mozzarella cheese and is sold in the form of rindless, unripened balls. Smaller balls are called Bambini and are the cutest things you will ever see.
My salad has only four ingredients. The idea behind this is to combine contrasting flavours for a dish that is lick your fingers good. And it takes about 2 minutes to put together. Go on, try it!
[print_this]
recipe
BALSAMIC BOCCONCINI BASIL SALAD
Preparation Time - 2 minutes
Serves - 4
Ingredients
500g bocconcini cheese, drained
1 cup fresh basil leaves
1/4 cup fire roasted red pepper slices
1/4 cup balsamic vinegar
Method
Combine ingredients in a shallow dish and mix gently to coat cheese with balsamic vinegar. Enjoy!
Notes
The red peppers can be completely omitted but I feel they add a striking contrast to the whites and greens. This salad almost looks like the Italian national flag. To keep the visual symphony intact, the peppers could be replaced by semi-dried tomatoes or even fresh grape tomatoes. The tiny green stalk you see on top is lemon thyme and was merely added for the beautiful fragrance and because I was a lemon thyme bush that has gone berserk in my backyard.
[/print_this]