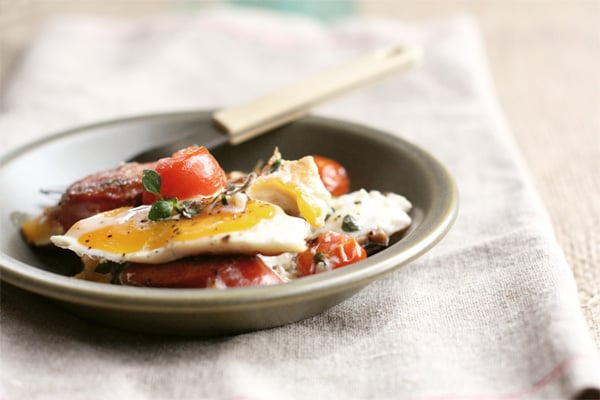 Breakfast with the family on the weekends is a relaxed, muted but lavish affair. For once, I am not the one doing the cooking. That alone makes it a special treat for me. We have fresh eggs from the chooks, my favourite Kransky sausages from the deli, fresh herbs from the garden, orange juice squeezed by the boys, a pot of strong tea and a lot of giggles and kookiness around the table as we recount moments from the week that has passed. Weekends are also for leisurely breakfasts in one pan that are shared over a pot of tea and plenty of laughter and chatter. Definitely, my most favourite time of the weekend.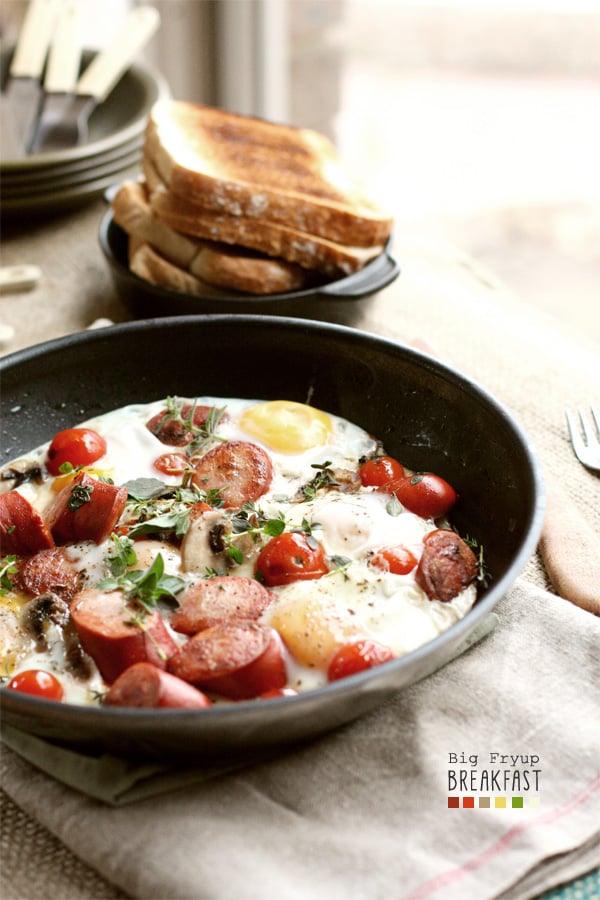 On those few occasions during the weekend breakfast when I feel like cooking, I love whipping up the Big Fry-Up. With a meat and vegetable base, set with sunny yolks and milky whites of the eggs that were collected that very morning, the big fry-up breakfast is enjoyed straight from the pan with plenty of bread on hand. Seasoned only with salt and pepper, the flavours of the sausage and vegetables are heightened by whatever fresh herbs I can harvest from the garden as the breakfast cooks on the cooktop. There is no method here and no rules. I go with whatever is handy in the fridge and the garden. That is what makes it interesting. The breakfast is a new adventure every time I make it, because all the ingredients might be different from the last time around. I love letting the eggs have soft centres and not cooking them through. Since we are all soft-centered egg fanatics, the oohs and aahs at the table as each of us explores the oozing centre is an experience I can never tire of. The one I am sharing today is my favourite combination.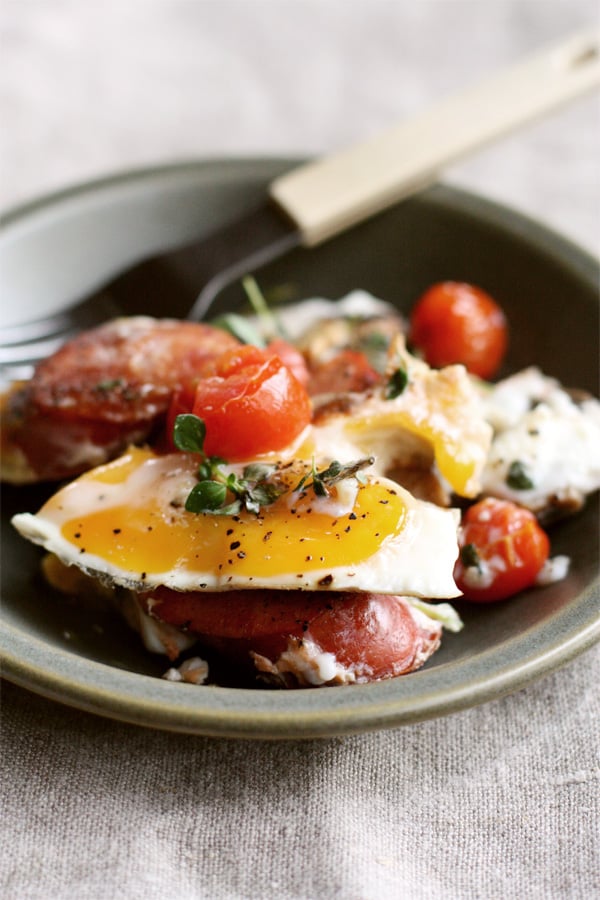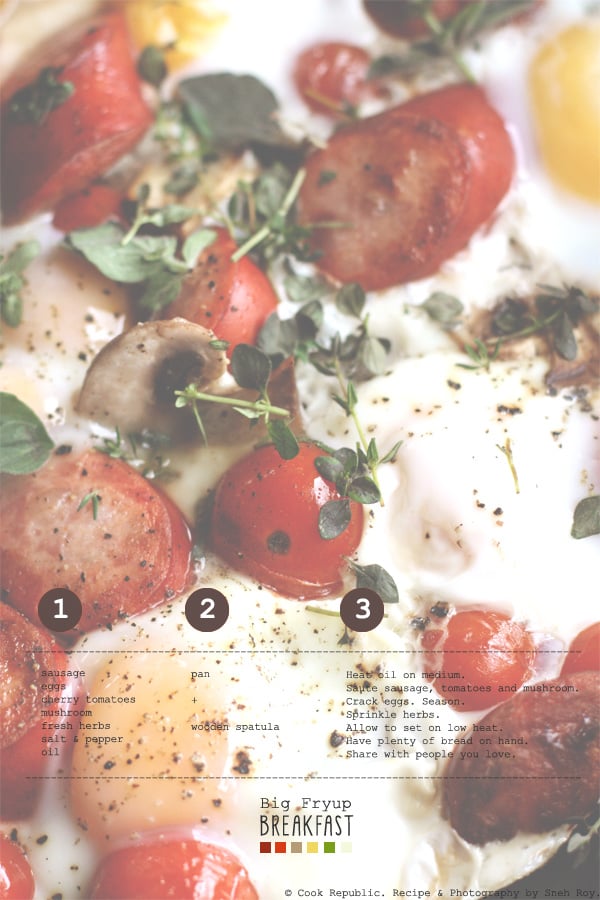 [print_this]
Big Fry-UP Breakfast
Preparation Time - 10 minutes
Cooking Time - 10 minutes
Serves - 4
Ingredients
4 Kransky Sausages, each cut in 4 slices
a handful of cherry tomatoes
1 cup of button mushrooms, thickly sliced
a handful of fresh herbs (thyme and oregano)
4 to 6 large organic eggs
salt to taste
freshly ground black pepper
1 tablespoon olive oil
Method
Heat oil in a frying pan on medium. Sauté the sausages, mushroom, cherry tomatoes and half of the herbs for 2 to 3 minutes. Reduce heat to low. Crack eggs one at a time in the pan, over the sausage and vegetable mix. Make sure the eggs run and cover every inch of the pan. Cover with a lid and cook for 3 to 5 minutes. Remove lid, increase heat to medium and cook for 2 to 3 minutes. Sprinkle with remaining herbs. Season with salt and pepper. Serve hot.
[/print_this]
We are having this for breakfast this weekend. What are you having? Also don't forget to check out some fun Pinterest icons I made for blogs and websites. They are free, so share the Pinterest love!