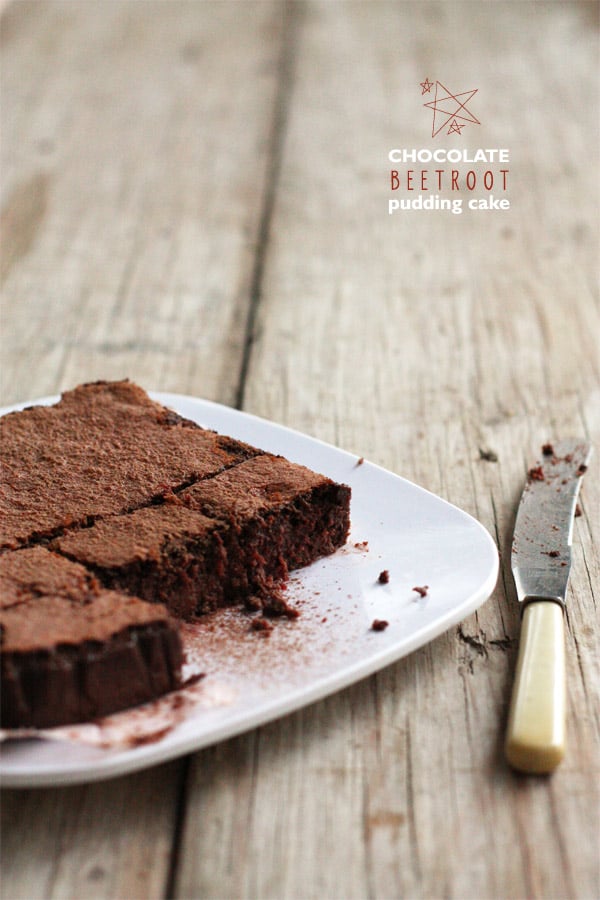 A few weeks ago I bought a big, vibrant bunch of beetroot from the farmer's market. I was lucky to find them the day I decided I wanted to make a red dessert for Valentine's Day. I wasn't cooking a special lunch or dinner, just dessert and I wanted it to be different, indulgent and totally wicked. A quick search on the fantastic and uber useful Eat Your Books, revealed a Beetroot Cake recipe in the Australian Gourmet Traveller's June 2010 issue. In an interesting and beautiful spread called Red Hot Beetroot Recipes, this humble looking tray cake was an adaptation of Neil Perry's cake in his book The Food I Love.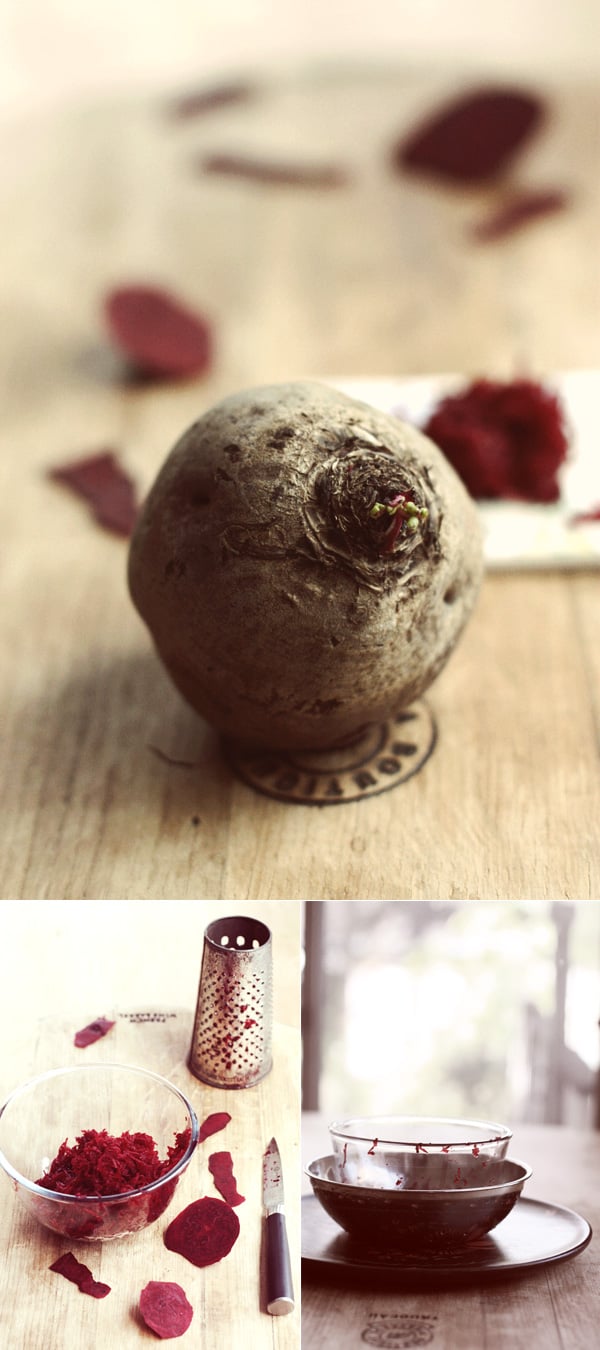 When I was little, I remember staring at my beet red stained fingers in absolute awe after I had just eaten a slice from the salad plate. I remember tracing my little fingers over the faint rings in each slice and then rubbing the crimson stain over my lips and pretending I was all grown up and wearing lipstick. Beetroot is a marvellous vegetable. It is a testament of how contrasting nature is and full of surprises. The gnarly, woody skin of a beetroot totally contradicts the gorgeous splash of colour it contains within. It is a joy to photograph and an even greater pleasure to consume.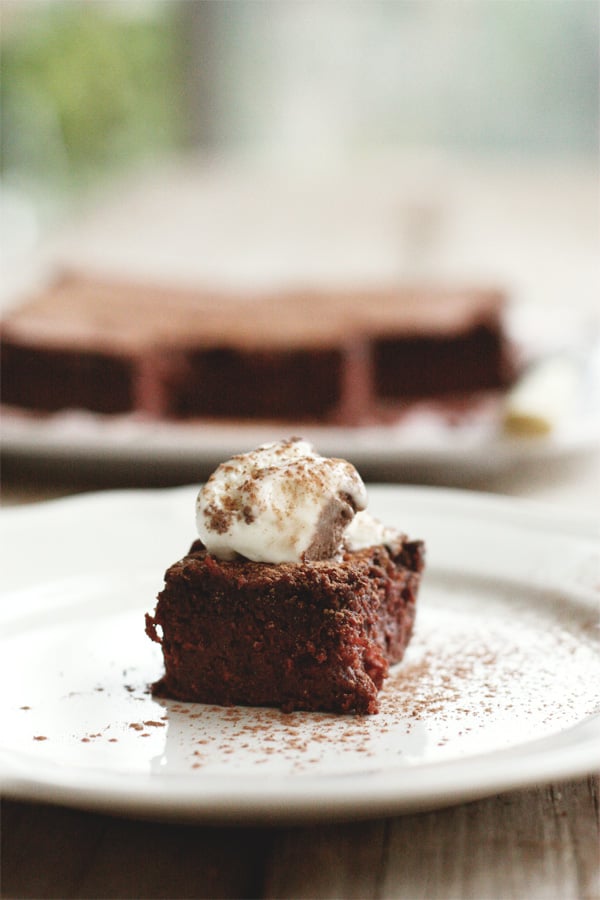 The cake had a simple ingredient list but a slightly over done method. So I decided to adapt the adaptation. This is not your ordinary tea cake. It is a fantastic dessert cake, moist and rich to the hilt. It is trying to be a lot of things, part cake, part pudding, part brownie and part fudge. And it excels on each and every front. The combination of chocolate and beetroot although rarely used is very enticing. It made me want to keep slicing tiny bits off the cake with my splayd and eating it, one dainty bite at a time. Very akin to a flourless chocolate cake, this dense dessert is a lavish affair. Make it glamorous with a dollop of chantilly cream and chocolate shavings, dress it up with ice cream and a sprinkling of dark cocoa or dress it down and eat it plain, unadorned. It is a delight every single way. Make sure it is chilled and you are good as gold. This cake which yields a serving of 10, not only sufficed our Valentine's night sweet cravings but ended up spoiling us for the rest of the week.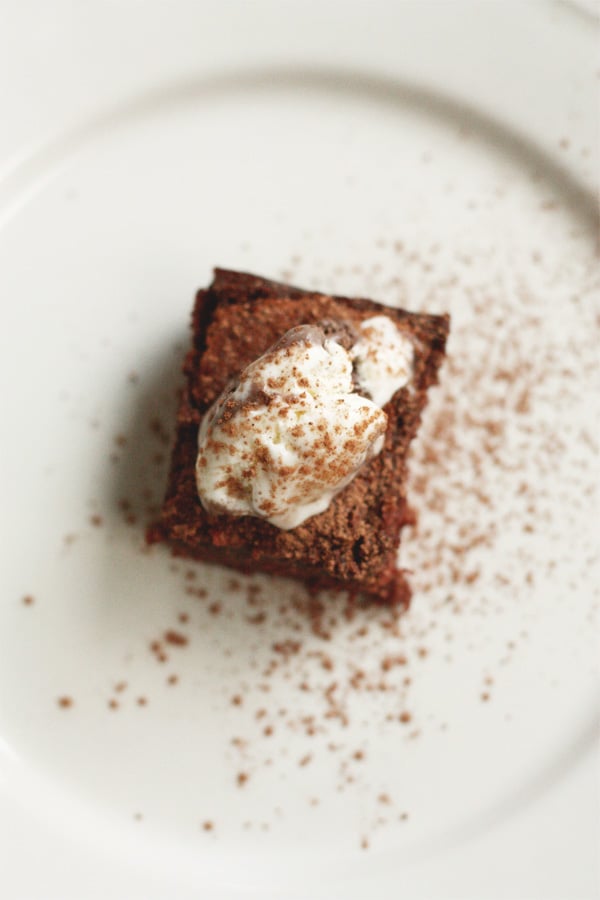 Food Styling And Prop Alert : Trudeau Board - $90 Peters Of Kensington. Vintage Metal Grater By Kande - $1 Thrift Store. Glass Bowl - $2 Kmart. Metal Bowl - $5 Kmart. Black floral painted board - $2 Thrift Store. Black wood handle paring knife - $10 Thomas Dux. Square Cake Platter by Alex Liddy - $34.95 at OO. Antique Scallop Plate in Linen - $4 at Target. White Ornate Handle Spoon by Robert Gordon - $14.95 for a set of 12 at OO. Bone handle cake knife - $1 at Thrift Store.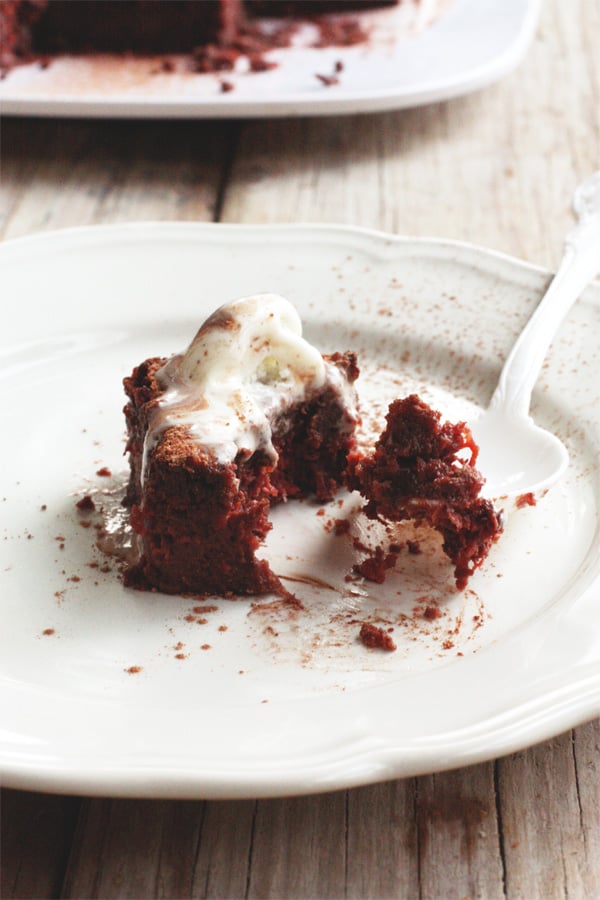 [print_this]
Chocolate Beetroot Pudding Cake
Adapted from Gourmet Traveller & Neil Perry's The Food I Love
Preparation Time - 20 minutes
Baking Time - 1 hour 20 minutes
Chilling Time - 3 hours
Serves - 10
Ingredients
500g good quality dark chocolate (70% cocoa)
6 eggs
100g caster sugar
50g brown sugar
1 large beetroot, finely grated (mine weighed 200g)
100ml pouring cream
1/2 cup raw almonds, crushed fine in a food procesor
Method
Preheat oven to 175C. Grease and line a 20cm square tin with baking paper. Make sure the cake tin is completely sealed and water tight.
Melt chocolate in a heavy bottomed pan on very low heat or in a heatproof bowl over a saucepan of simmering water. Set aside when melted and glossy. Cool for 10 minutes
Combine eggs, sugar, cream and almonds in a large bowl and beat with an electric beater for 3 minutes. Add the cooled chocolate and beat for another minute. Fold through the grated beetroot and mix well. Pour into prepared tin. Place tin in a roating pan filled with water so that the water comes up halfway to the square cake tin. Bake in the pre-heated oven for approximately 50 minutes. Reduce oven temperature to 150C and bake for 30 minutes. The cake is done when it springs back if lightly pressed. It will look almost like a brownie, moist and dense.
Remove from oven and cool completely before covering tin with cling foil and chilling in the fridge for 3 hours. Serve with ice cream or boozy whipped cream and a sprinkling of dark cocoa.
[/print_this]