2013 is here. Just like that. And I am completely excited to embark on another year of writing about food and weaving words to bring you my stories. I am eager to experiment, explore and evolve. For the past few months, I have been deeply affected by the lyrics of a Natasha Beddingfield song. Strip Me.
I could spend a lifetime earning things I don't need
That's like chasing rainbows and coming home empty 
And if you strip me, strip it all away 
If you strip me, what would you find 
If you strip me, strip it all away, I'll be alright.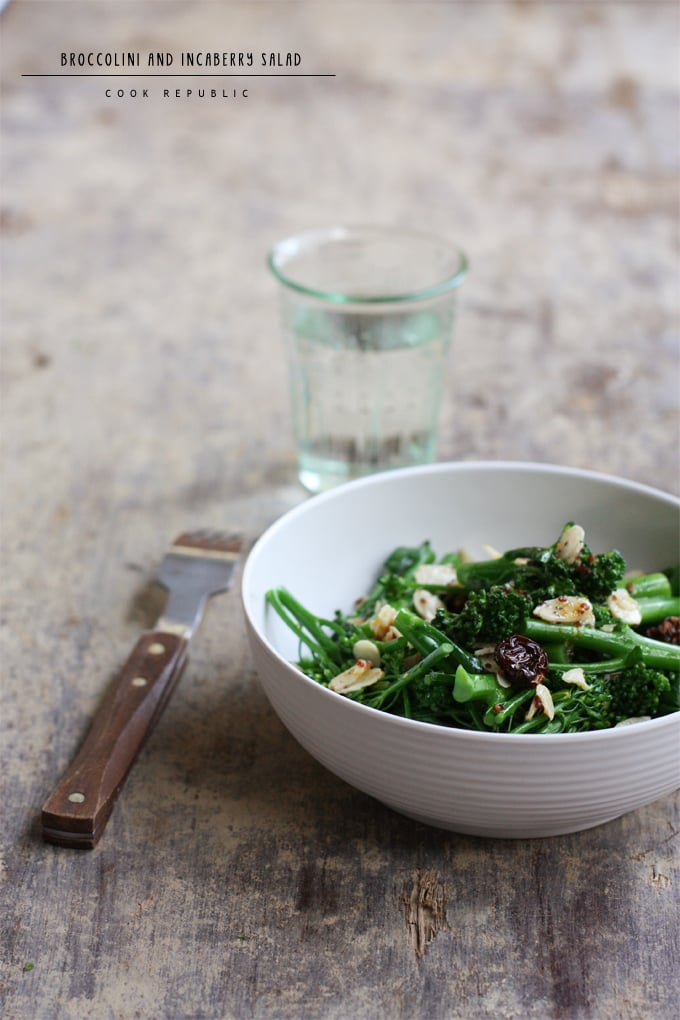 As I grow older every year, I am beginning to appreciate the importance of simplicity. I don't do new year resolutions. I set little goals for myself constantly and work towards them. Every little goal that I have set for myself over the past few months has got something to do with paring down -  stripping. At the start of the new year, my resolve to stay on this path is even stronger. Staying true to that promise, I am sharing a simple recipe for a beautiful warm salad with you today.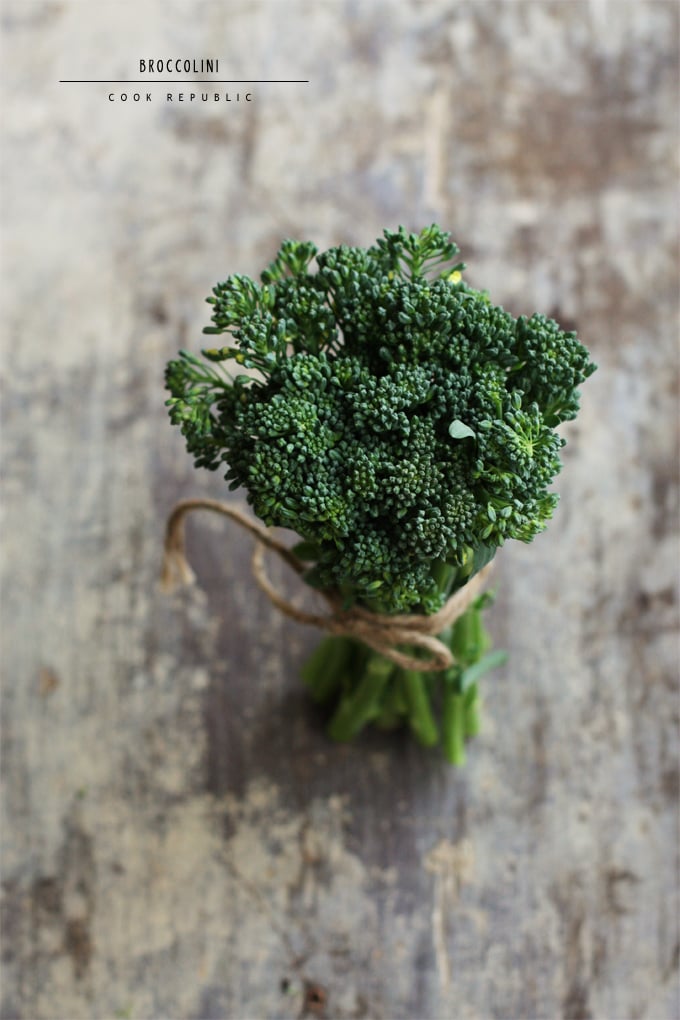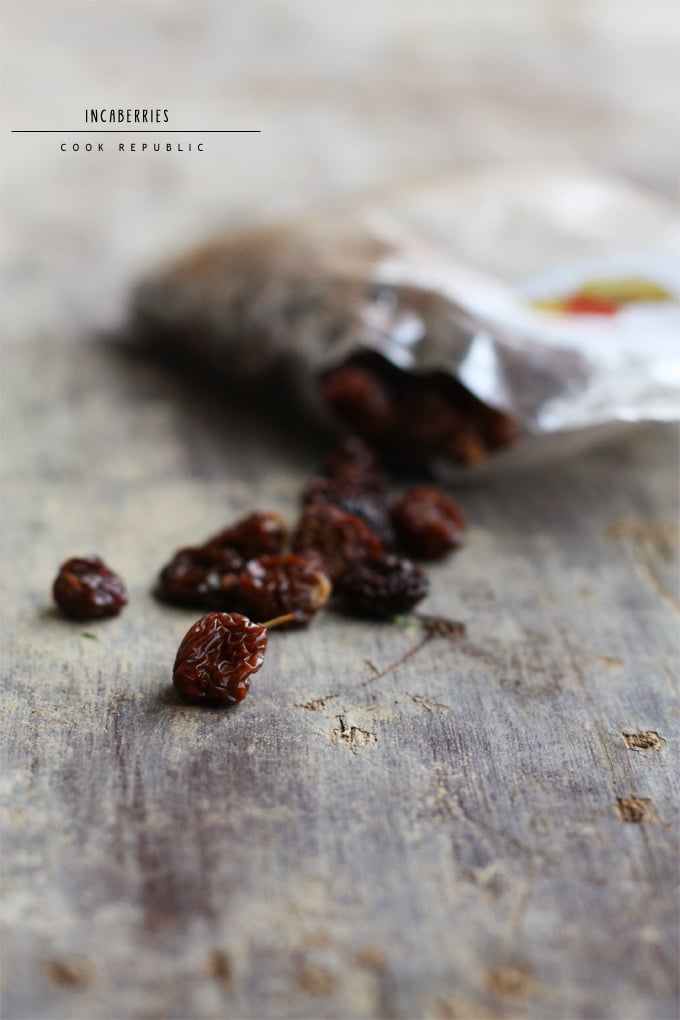 Broccolini a cross between broccoli and kai-lan is a green vegetable with small florets and thin tender stalks. Incaberry , an indigenous fruit of South America is being hailed as a superfood because it is higher in antioxidants than goji berries, green tea & blueberries. It also has three times the dietary fibre of most dried fruits. A warm broccolini salad peppered with toasted almond flakes and tangy incaberries is easy to prepare and packed with flavour and nutrients. I hope to share many simple recipes like this one throughout the year that will enrich your health and give you the gift of time.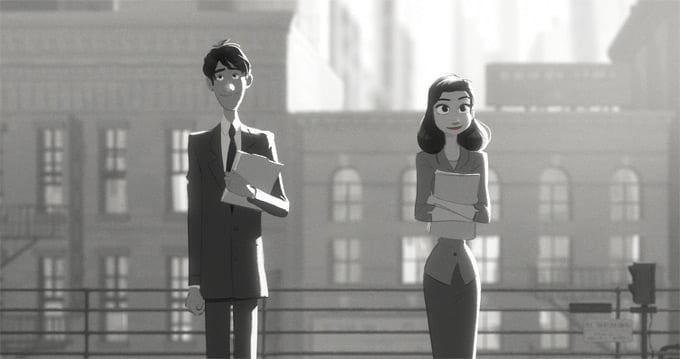 I have been reading and watching movies - a lot. Today we went to watch Wreck-It Ralph at the movies. It was a fast paced and fun movie that brought back memories of walking into the arcade with a pocket full of coins, eons ago. Just like the games in the movie, I am afraid I have become retro as quoted in the film "Old, but cool!". Before the movie began, we had the pleasure of watching Paperman, a gem of an animated short by  director John Kahrs. Pegged to win the Oscar for the best animated short this year, Paperman is the charming story of a chance meeting between a young man and a woman in NYC.
A beautiful marriage of CG and hand drawn illustrations, Paperman is actually more than a groundbreaking technique. The story begins with a chance meeting between a young man and a woman at a station. The meeting lingers on in the young man's heart and when he later spots the woman in a building across from him, he takes a chance and does something completely crazy and utterly wonderful to reach her. As I sat there watching the protagonists woo my heart strings with their hopeful wide eyes and unfold a set of magical events on screen, I was struck by how many life messages the short movie was sending my way at the start of this lovely new year. Take a chance! Don't be afraid! Have faith! Do something crazy! Fall in love! See the beauty around you! Share the wonder!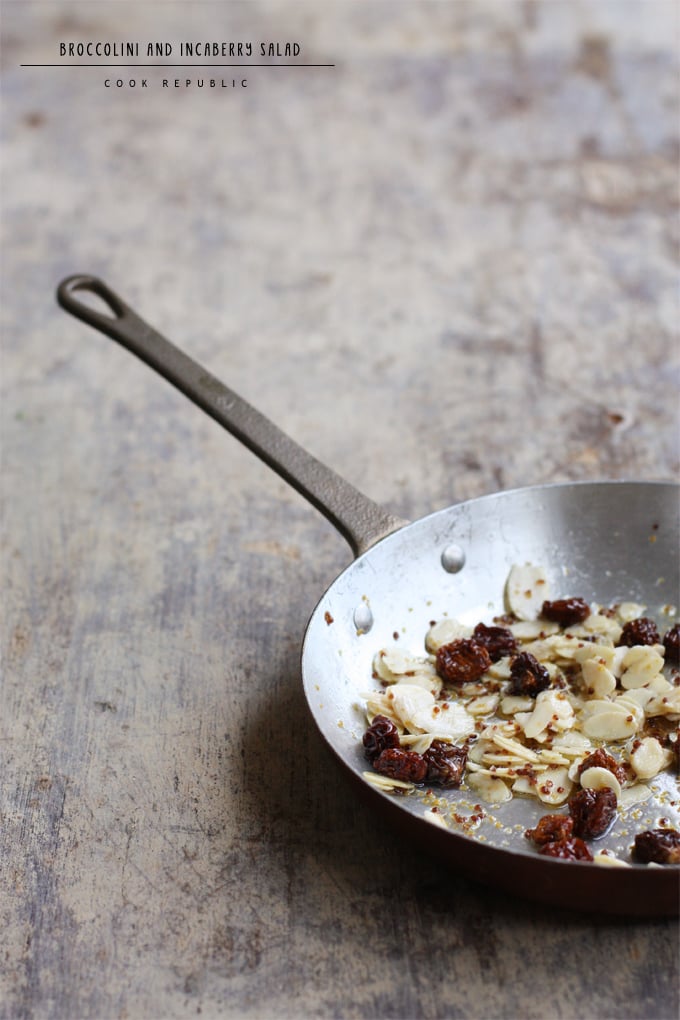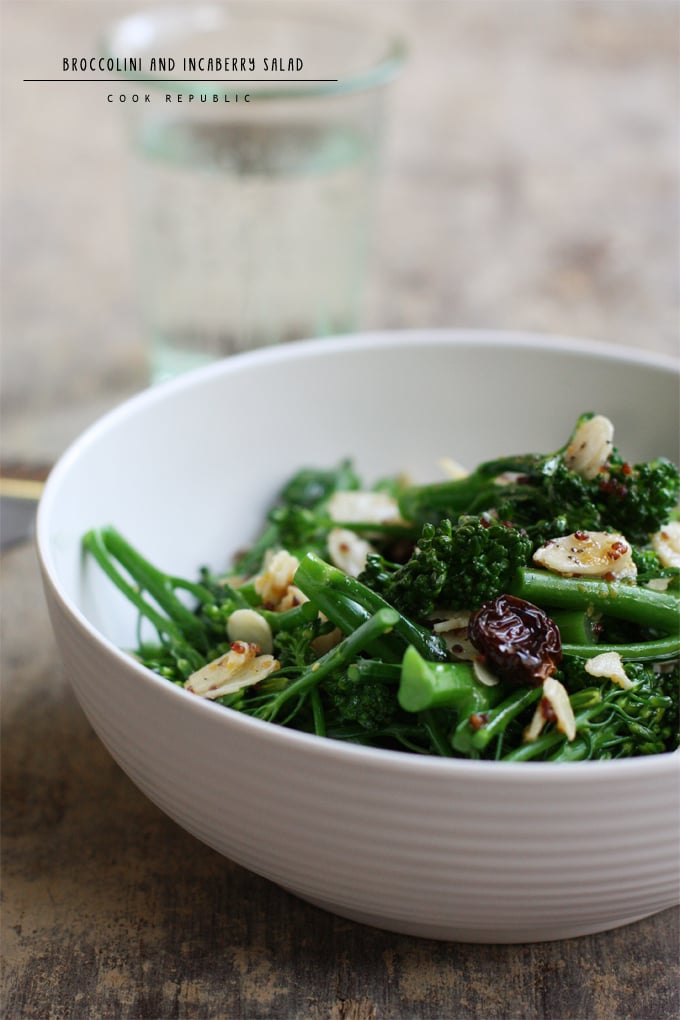 Amongst many other nice things the new year brings you, I hope it brings you strength, solidarity, magic, beauty, laughter and love. I also hope it brings you simplicity, because there is no greater joy than shedding the weight and the wants of this world. Happy New Year!
Hungry For More Recipes? Subscribe to my newsletter. Check out Facebook, Instagram and Pinterest to see everything I share! And if you love cooking and new cookbooks, join my free Cooking Club on Facebook!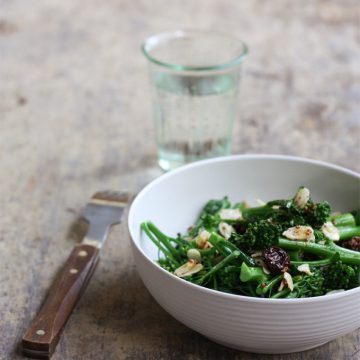 BROCCOLINI AND INCABERRY SALAD
A warm broccolini salad peppered with toasted almond flakes and tangy incaberries is easy to prepare and packed with flavour and nutrients. The mustard brings out and finishes off the flavours beautifully.
Print Recipe
Rate / Comment
Ingredients
1

bunch broccolini

,

end of stalks trimmed and chopped (175g approximately)

1

tablespoon

olive oil

1

tablespoon

wholegrain mustard

1/4

cup

slivered almonds

1/4

cup

incaberries
Instructions
Heat oil in a small frying pan over medium. Add mustard, berries and almonds. Sauté quickly and swiftly till mixed and almonds start turning golden (approximately 30 seconds). Add broccolini and cook for a minute tossing constantly till the green starts becoming deeper and appears glossy.

Remove and serve warm.
Notes
Incaberries can be easily substituted with dried cranberries or raisins.
This warm salad is great served on top of a grilled salmon steak with some crumbled goat's cheese.
Did you make my recipe?
I'd love to hear how you went! Tag me on Instagram @cookrepublic
Note - A box of fresh broccolini was sent to me by Aqua PR on behalf of Perfection Fresh, Australia. Visit the Broccolini Facebook Page.