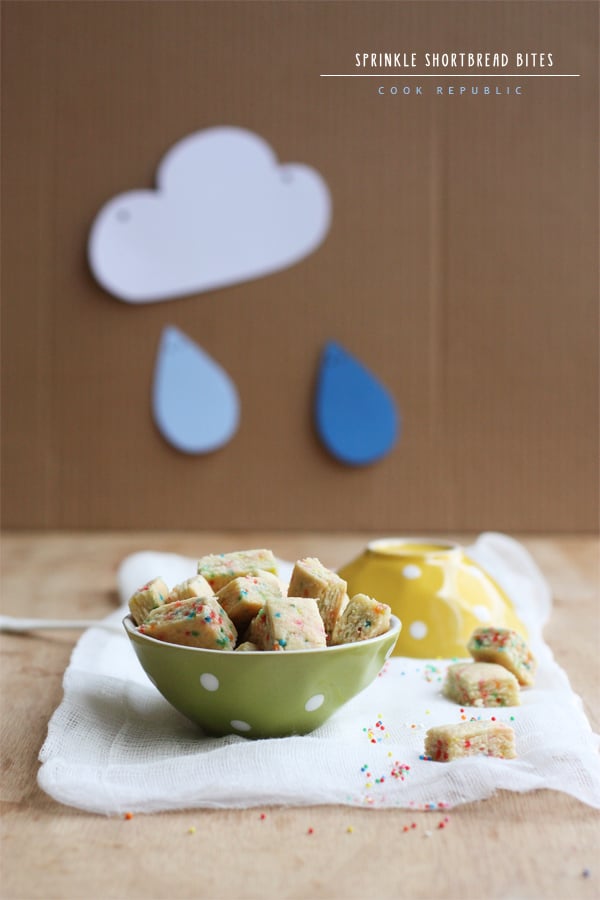 In exactly 32 hours, we will be woken up by very excited little boys eager to open their presents. Hopefully we would've gone to bed at a decent hour the night before, so we would be bright-eyed and alert. We would have also partially prepped our cups of coffee and tea so we would have steaming mugs ready by the time the first set of wrapping paper was torn to shreds. And most important of all, we would have a plate of festive little sprinkle shortbread bites to pop into our mouths. After all opening presents is a tough job and requires a tremendous amount of energy and restraint all at once.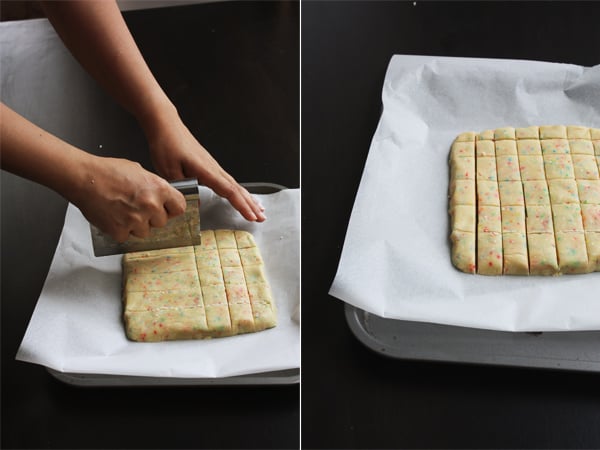 An extremely quick and cheerful looking shortbread, this recipe is low on sugar and has a delightful cheery appearance to it. On Christmas morning, I can think of nothing better to tide us by until a simple breakfast of Honey and Toast that has been requested by the boys before indulging in a traditional all-bells-and-whistle roast and gravy lunch.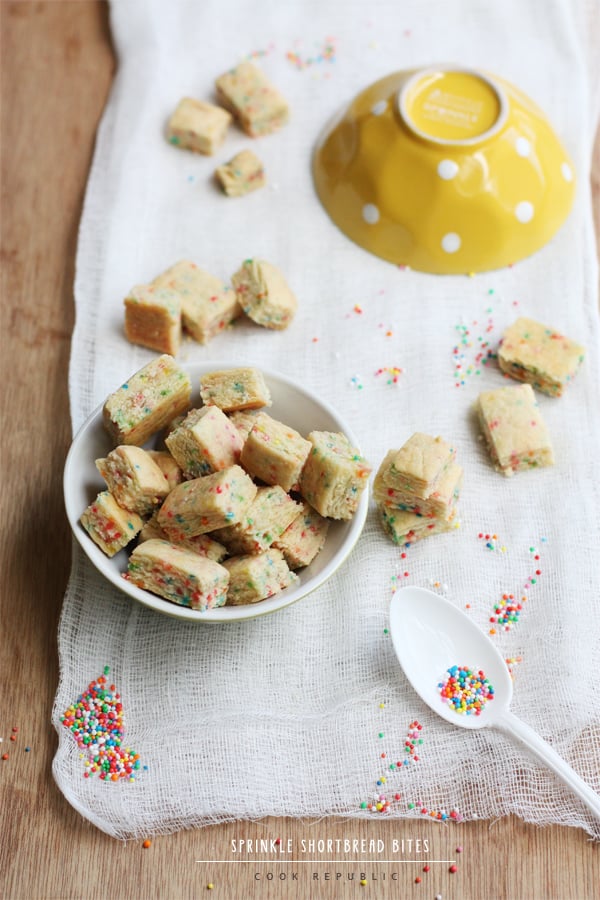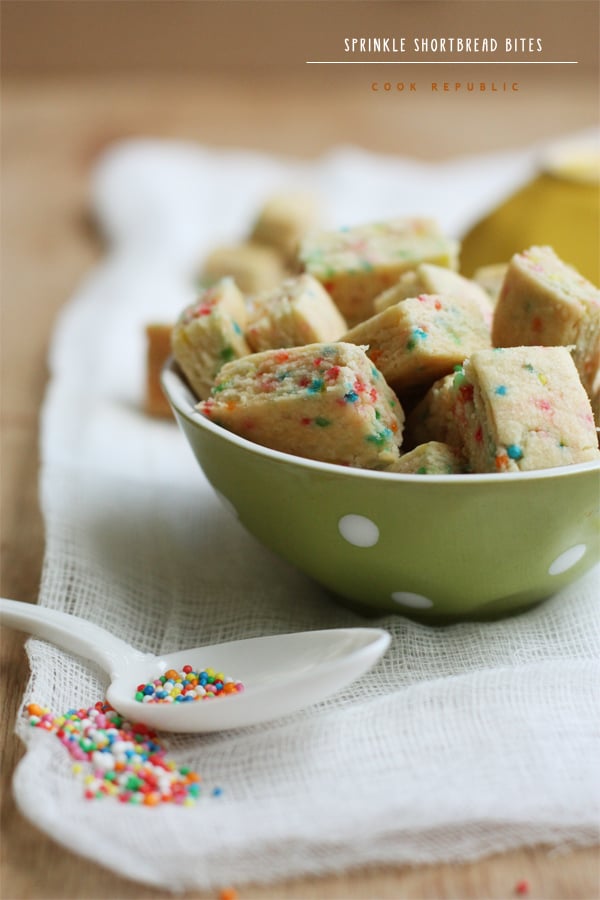 As I slow down and unwind for a few weeks to enjoy the simpler things in life, I hope you have some time off with loved ones. Merry Christmas to all my wonderful readers! Hope you and yours have plenty - food, laughter, joy, love and peace.
[print_this]
SPRINKLE SHORTBREAD BITES
A cheerful looking festive shortbread that is low in sugar and perfect for popping in your mouth for a leisurely Christmas morning spent with the family.
Makes - Approximately 40 to 50 mini bite sized pieces
Ingredients
1 1/4 cups all purpose flour
3 tablespoons caster sugar
1/2 cup cold butter, cut into 1/2 cm cubes
1 teaspoon vanilla extract
1 tablespoon milk
2 tablespoons coloured sprinkles (100s and 1000s)
Method
Preheat oven to (160C) 320F. Line a cookie sheet with baking paper.
In a bowl, stir together flour and sugar. Add vanilla extract. Using a pastry blender or a blunt icing spatula, cut in butter with deft strokes until the mixture starts to resemble breadcrumbs. (If you don't have a pastry blender or spatula, use the tip of your fingers to rub the cold butter into the flour till the mixture resembles breadcrumbs.)
Stir in colour sprinkles and milk. Roll mixture into a ball and knead until smooth.
Roll the mixture into an 8X5 inch rectangle which is about 1/2 inch high. Cut into bite sized squares, making sure you separate them slightly.
Bake for approximately 12 to 15 minutes until the bottoms start to brown and the top starts turning golden. Remove from the oven and transfer bites onto a wire rack.
Cool completely and store in an air-tight container until ready to use.
[/print_this]