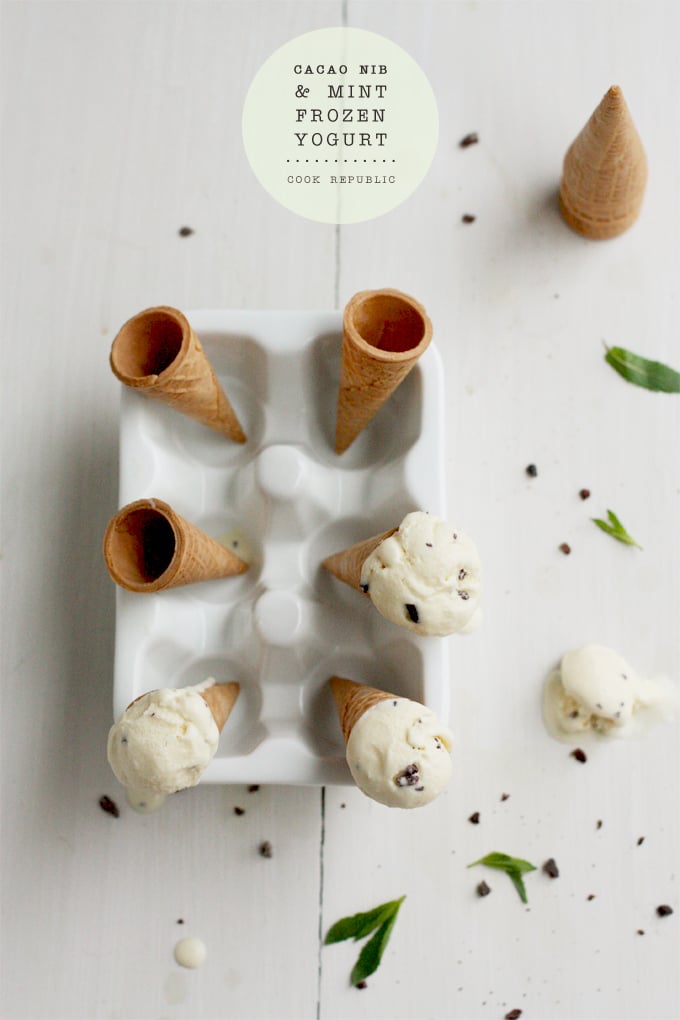 Once when I was seven and happily sucking on mint lollies perched atop a very small tree, my slightly older and much naughtier cousin who was sitting next to me swinging his legs said very matter of factly "You know, they make these lollies with toothpaste." When I looked at him quizzically, he nodded sagely with the wisdom that can only come from being nine "My friend went to a candy factory and saw them making them with toothpaste." How can you ever question confirmed proof like that?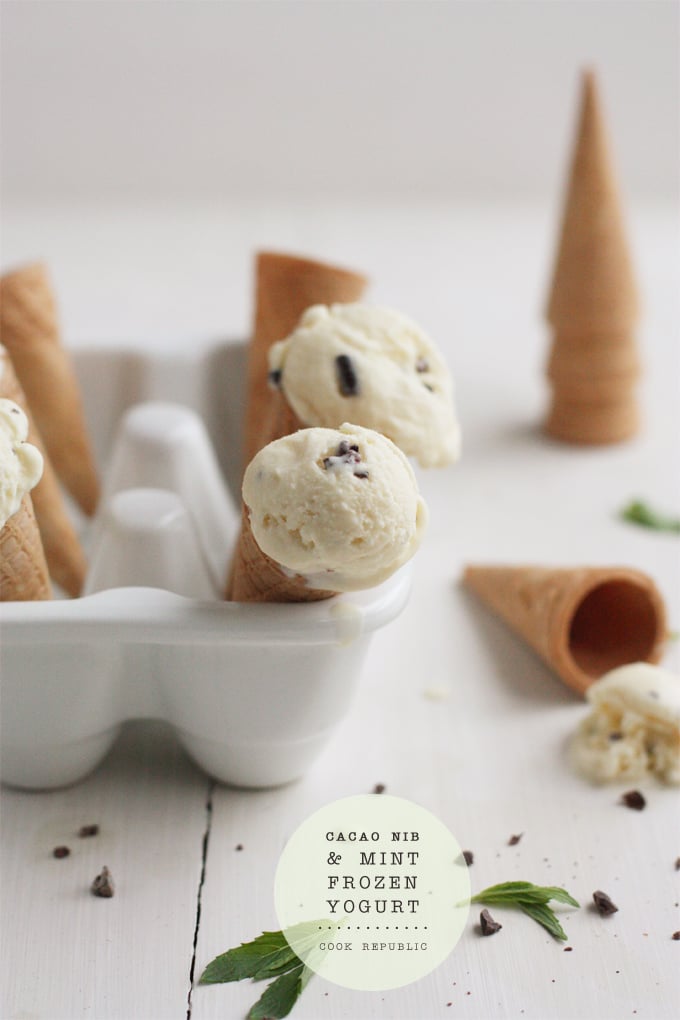 It bothered me that someone put toothpaste in lollies. We were not meant to swallow toothpaste, remember? I must've asked my mum when she was busy with my newborn brother and she replied "Yes, maybe they do." (Now a mother myself, I realize that she was barely listening!), but that was enough to put me off mint chocolates and lollies and ice creams for a long time. I was always the one to pass up after dinner mints. Then while holidaying in Sydney almost a decade ago, we queued up at the Copenhagen ice cream shop outside Opera House. There was a teenage boy and girl just behind me in the queue, siblings. The girl was declaring her undying love for the choc-chip peppermint ice cream despite her brother teasing her that she might as well just brush her teeth with toothpaste instead. Something clicked! I chucked caution to the wind, and instead of ordering just rum and raisin like I wanted to, I got a scoop of choc-chip and peppermint too. I quite liked it! Not a huge fan, but I liked it.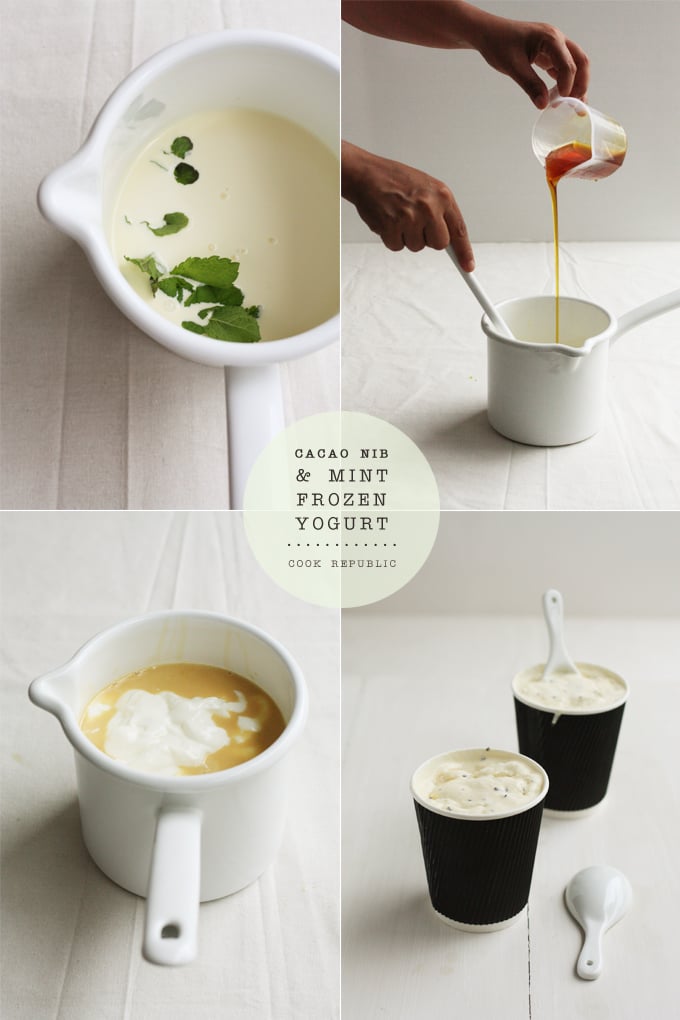 The Sprouted Kitchen cookbook by blogger Sara Forte has a simple and beautiful recipe for Chocolate Mint Frozen Yogurt. Having enjoyed the chocolate mint combination in ice cream form over the last few years, I was eager to find out what it would be like in yogurt form. So I adapted the recipe. I think I really love the chocolate-mint combination with yogurt. The sour tang of the yogurt is just amazing with the chocolate bits and the icy cool of the mint. I used Chobani Greek yogurt. I loved the fact that the end product was not very sweet and perfectly balanced with a great depth of flavour. I will be making this and have a small tub of this froyo handy in the freezer from time to time.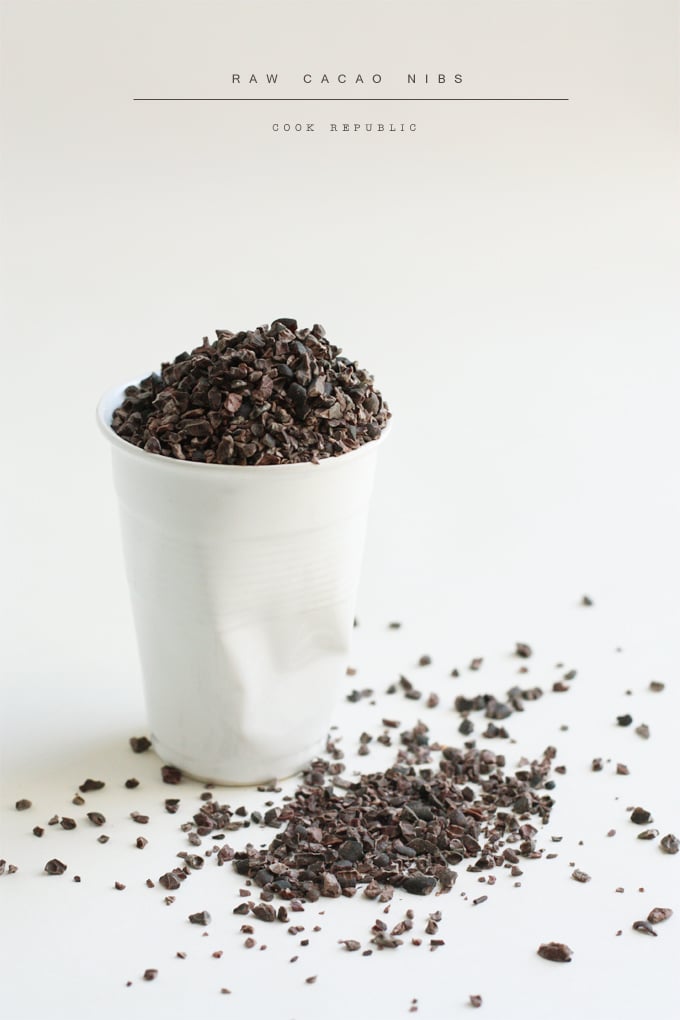 I used raw cacao nibs instead of regular chocolate and organic agave nectar as a sweetener. Cacao beans are the seeds of an Amazonian fruiting tree and the source of everything chocolate and cocoa. Cacao nibs are the crushed bits of the bean after the shell is removed. Cacao nibs are packed with antioxidants, magnesium and nutrients that facilitate youthful appearance, vigour and happiness. They can be eaten straight up, a small handful when you need a burst of energy or you could add them to trail mixes, smoothies, cookies or ground in your daily cup of coffee.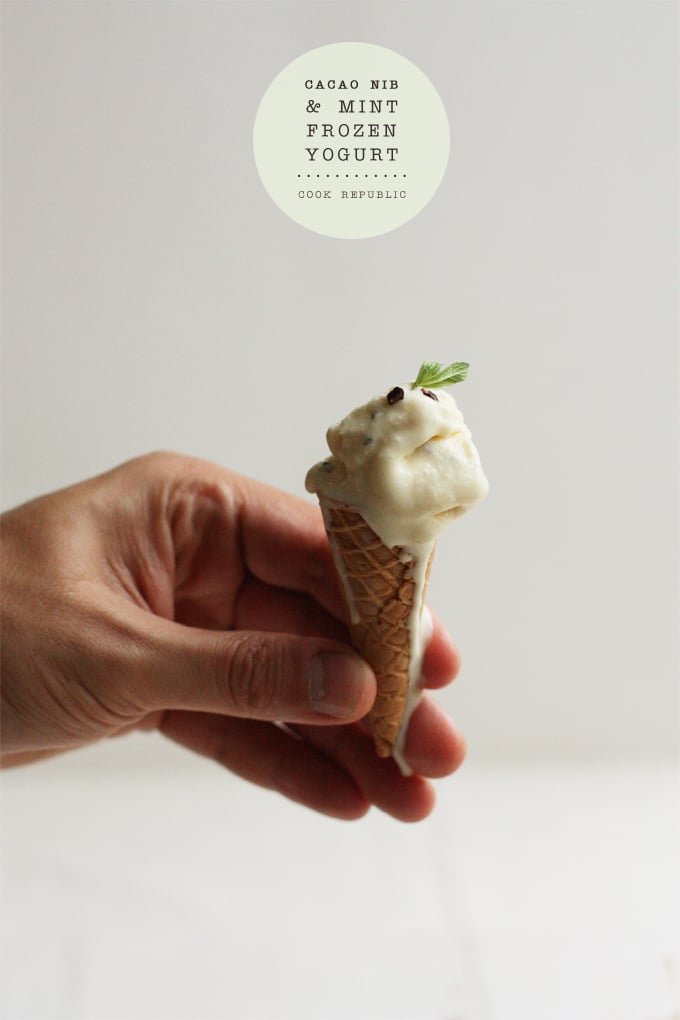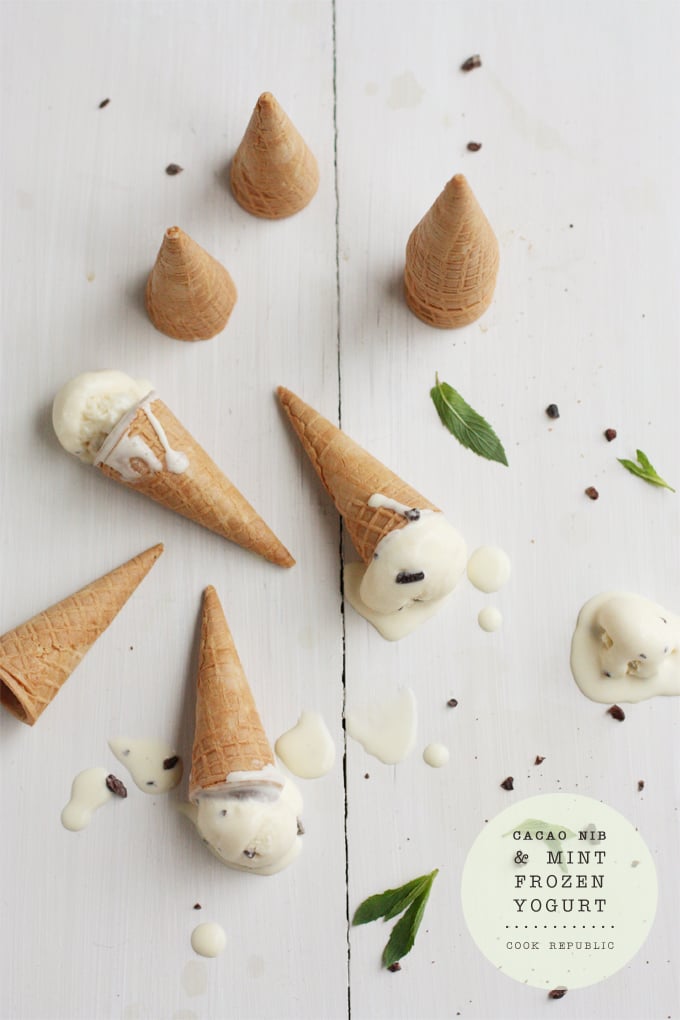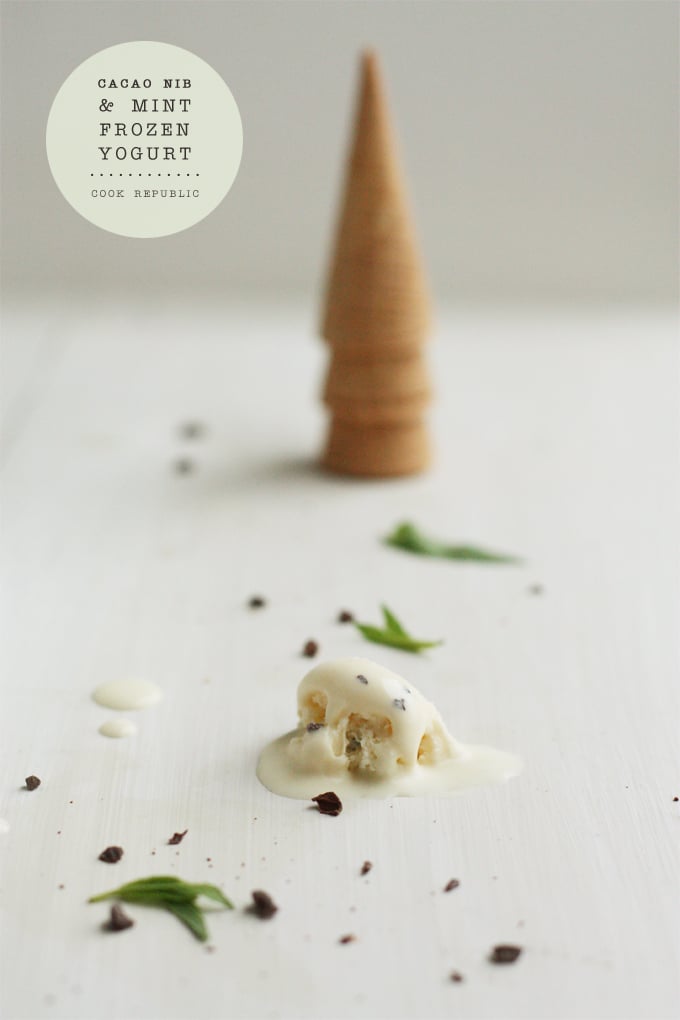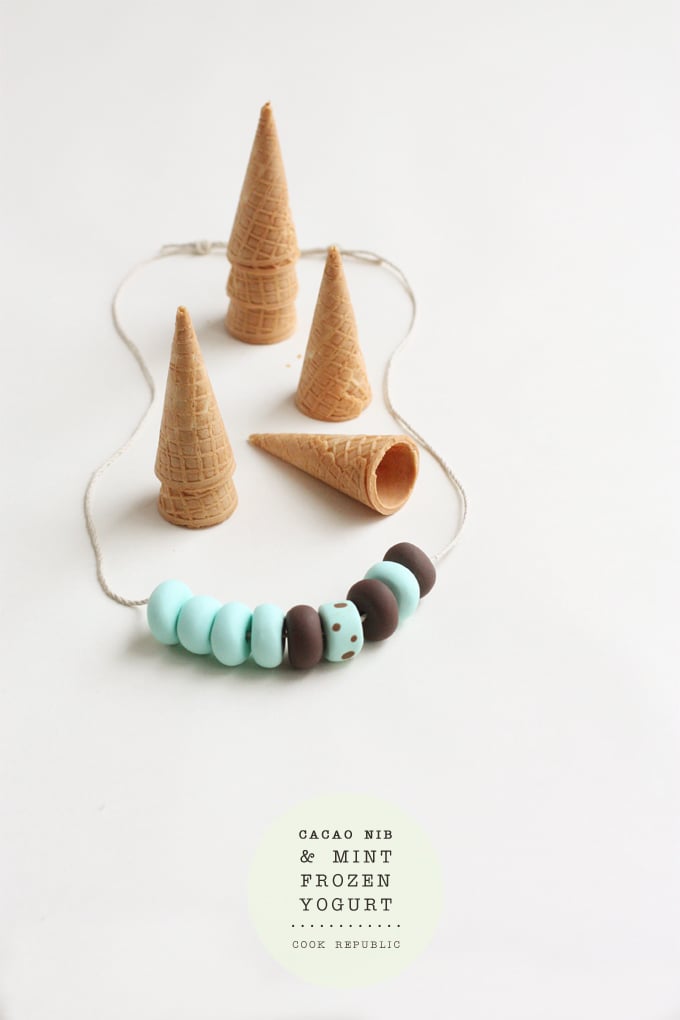 [print_this]
CACAO NIB AND MINT FROZEN YOGURT
adapted from The Sprouted Kitchen by Sara & Hugh Forte.
A simple recipe for a delectable creamy frozen treat. The chocolate mint frozen yogurt is sweetened with organic agave nectar and studded with raw cacao nibs.
Makes - To serve 6
Ingredients
300ml thickened cream (approximately 1 cup)
1/2 cup organic agave nectar
500g greek yogurt
handful of fresh mint leaves
1/2 teaspoon of peppermint extract
2 tablespoons raw cacao nibs
Method
Heat cream and mint leaves in a saucepan over low heat till it slowly starts to simmer. Remove from heat, add agave nectar and set aside for 30 minutes to steep.
Remove mint leaves from the mixture. Add yogurt and peppermint extract. Beat with an electric mixer until blended and smooth. Chill in the fridge for a couple of hours (or overnight).
Churn the yogurt mix using an ice cream maker (and following the maker's instructions). When finished churning, stir through the cacao nibs and freeze in air tight freezer-safe containers until ready to eat.
The froyo only needs about an hour in the freezer. When ready to eat, remove from freezer and rest for 5 minutes to soften it a bit.
[/print_this]