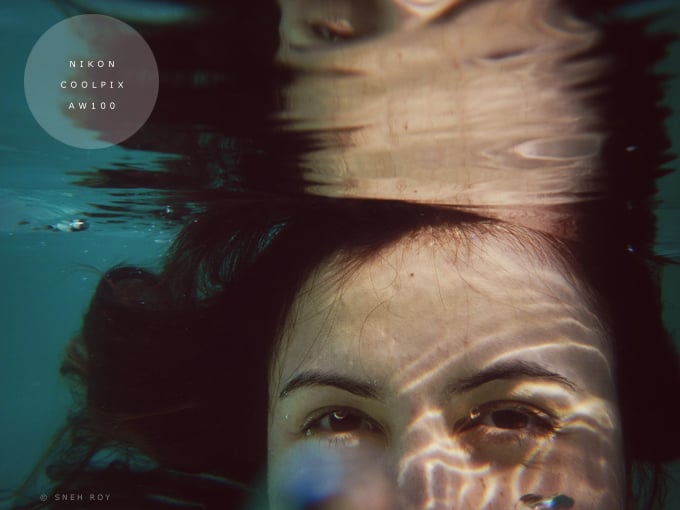 Today I saw the temperature gauge in my car hit 48 degree Celcius (118 degree Fahrenheit). That would be like sitting inside an oven while slow baking one of Donna Hay's cakes. After a drive to Sydney's Entertainment Quarter to spend some time at the pop-up Waterworld and a cool tataki-Asahi lunch, we headed back home and drifted in our pool for what seemed like a very long time. We love our pool. It is a little getaway, an escape right in our own backyard. Nick toils all year to keep it in top shape (yes, I have my own personal pool boy! *never thought I would ever get to say that*) and we all reap the joys of his hard work everytime the mercury climbs high. Over Christmas my pool boy bought this Nikon camera. It is the Nikon Coolpix AW100 waterproof and shockproof camera with GPS and Full HD 1080p video. Lets just say that our pool escapades have become even more fun now.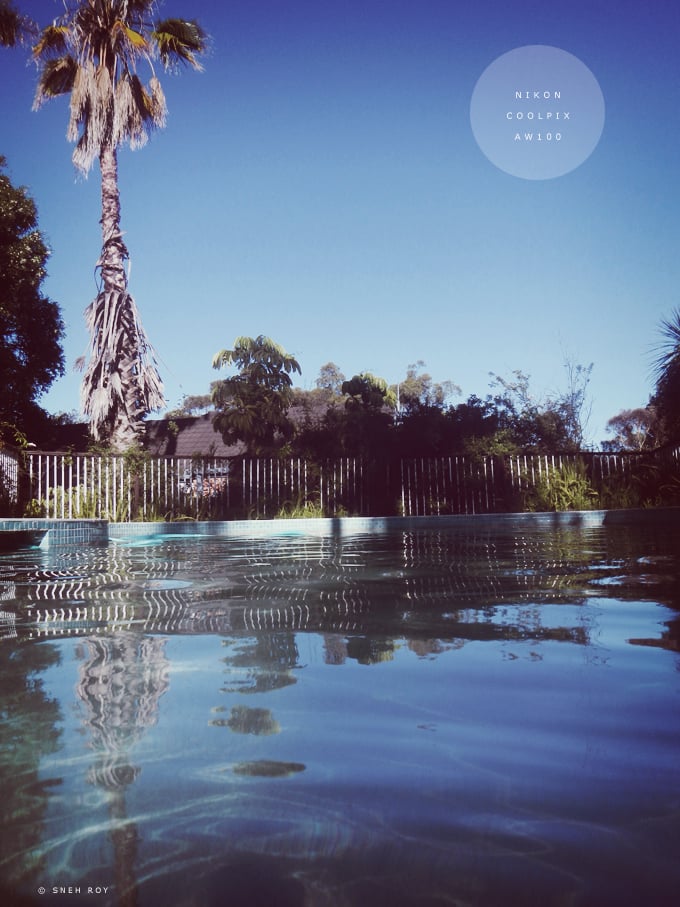 The Nikon Coolpix AW100 is a nifty little camera that comes in several splashes of brights and one very cool camo. Ours is the bright orange. It is compact and fits sungly in one hand for those fun underwater shots. It feels sturdy and has amazing clarity. Barring a slight lag between shots (this is no DSLR!), I find it great to use and abuse in and around water without the fear of getting water on the lens or dropping it (it is shockproof too!).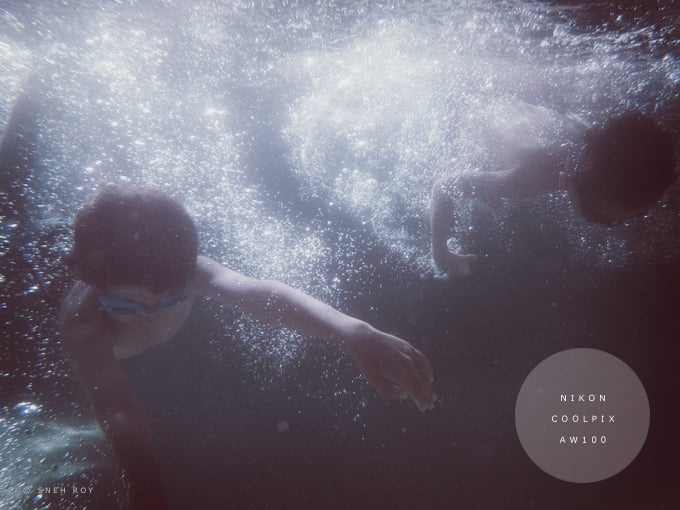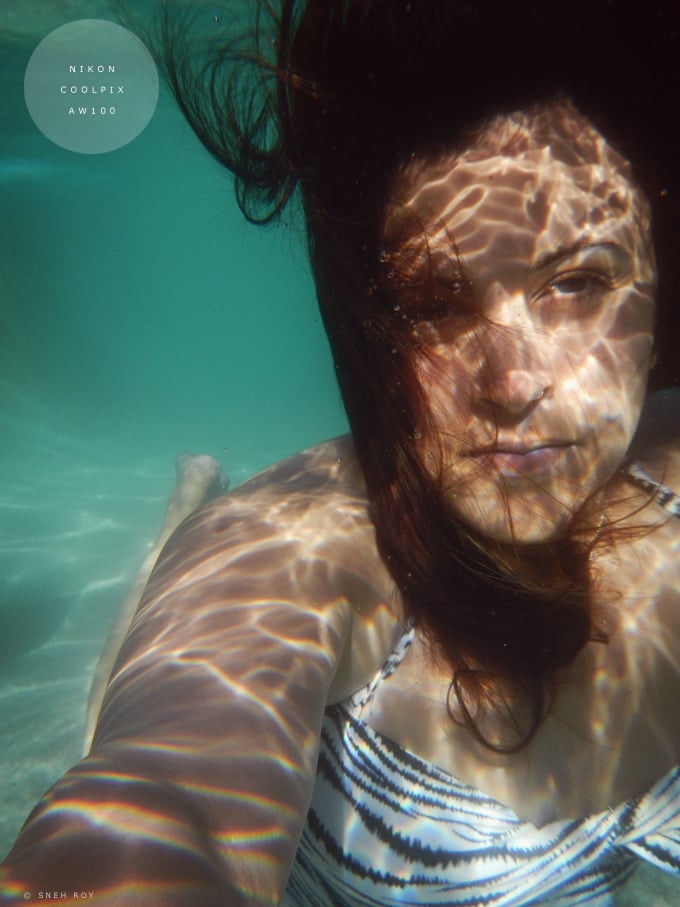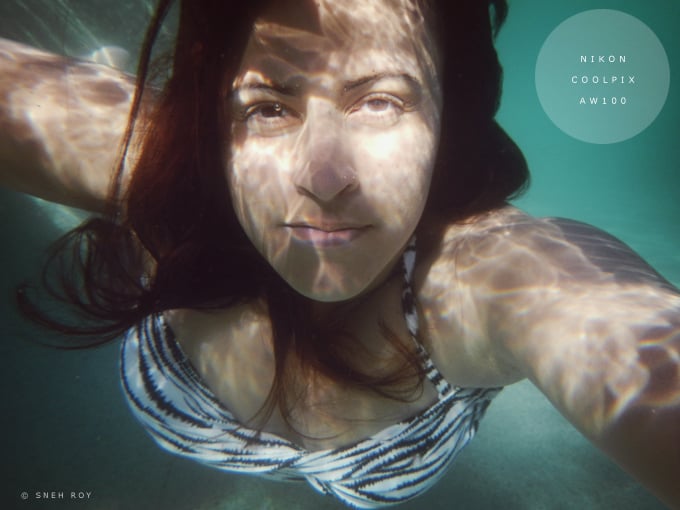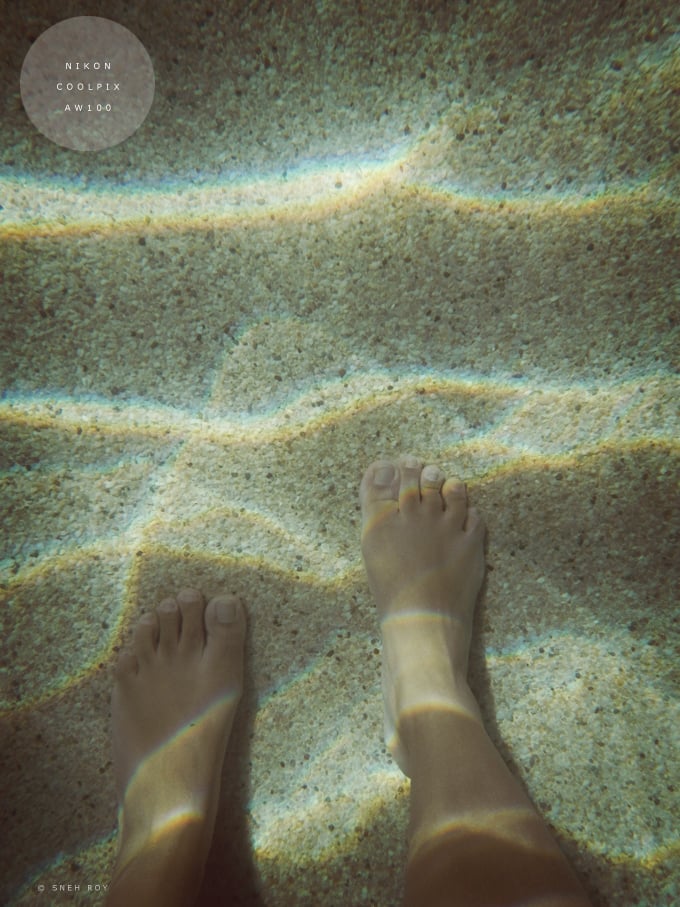 One afternoon I took it with me in the water for some quiet time and reflection. Of course I ended up spending most of my zen moments trying out all the different settings on it, but I did manage two minutes of complete passive nirvana. Two glorious minutes of floating in the water on my back, ears submerged and water rushing in till there was no more space for it to flow and everything went silent. I stared at the clouds dreamily, my eyes fluttering lazily and finally closing of their own accord, the camera loosely twined through my fingers. The gentle lap lap of the water was dulling my senses, serenading me to oblivion. Two minutes. Complete - Utter - Bliss. A moment of clarity. And then I heard it! The music from Jaws! In my head. My eyes flew open, I panicked, hit my feet at the bottom as I scrambled to stand up straight in chest high water. Damn you Steven Spielberg! 28 years on and I still can't be floating peacefully in my own pool for more than 2 minutes. On the upside though, I thought of making Milo ice cream in that brief moment before my eyes shut close. Don't you just love the randomness of your mind?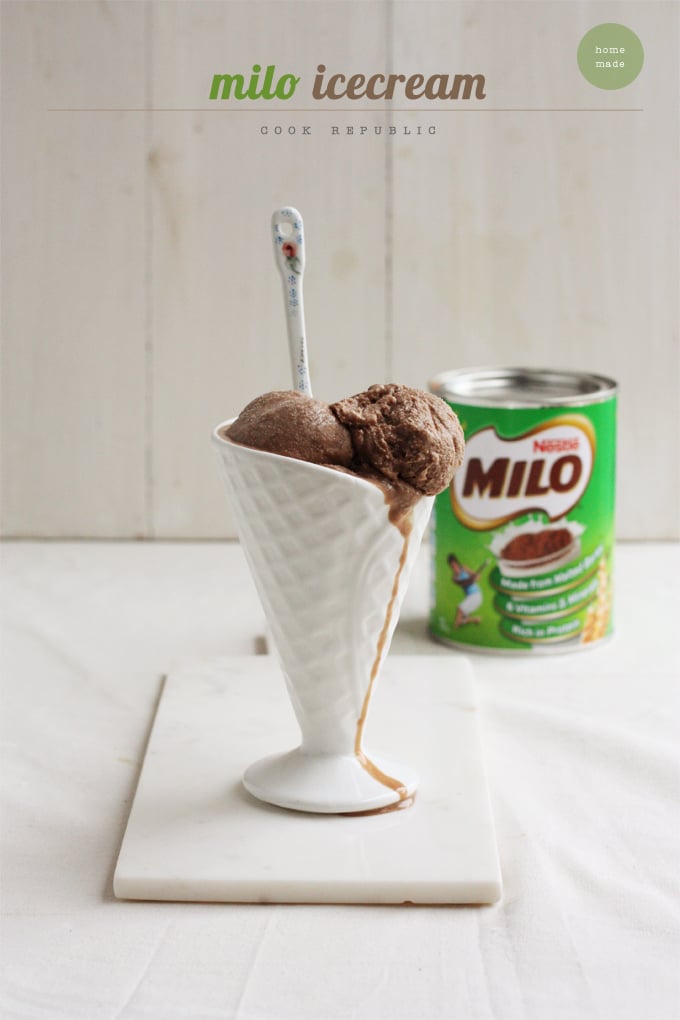 Hot on the heels of Cereal Milk ice cream, homemade Milo ice cream made complete sense. Milo is a malt and chocolate drink by Nestle and is a very popular beverage in cold or hot form in many parts of the world. Milo was originally developed by Thomas Mayne in Sydney, Australia in 1934 and is sold in their iconic green tin. We love hot Milo milk, Milo milkshake and even cold Milo custard. I was sure we would love Milo ice cream too. I have paired Milo with some salted chocolate for a creamy ice cream that is a mouthful and has a beautiful after taste. The recipe was adapted from the Humphry Slocombe ice cream book written by the ice cream revolutionists over at San Fransisco's hottest ice-creamery.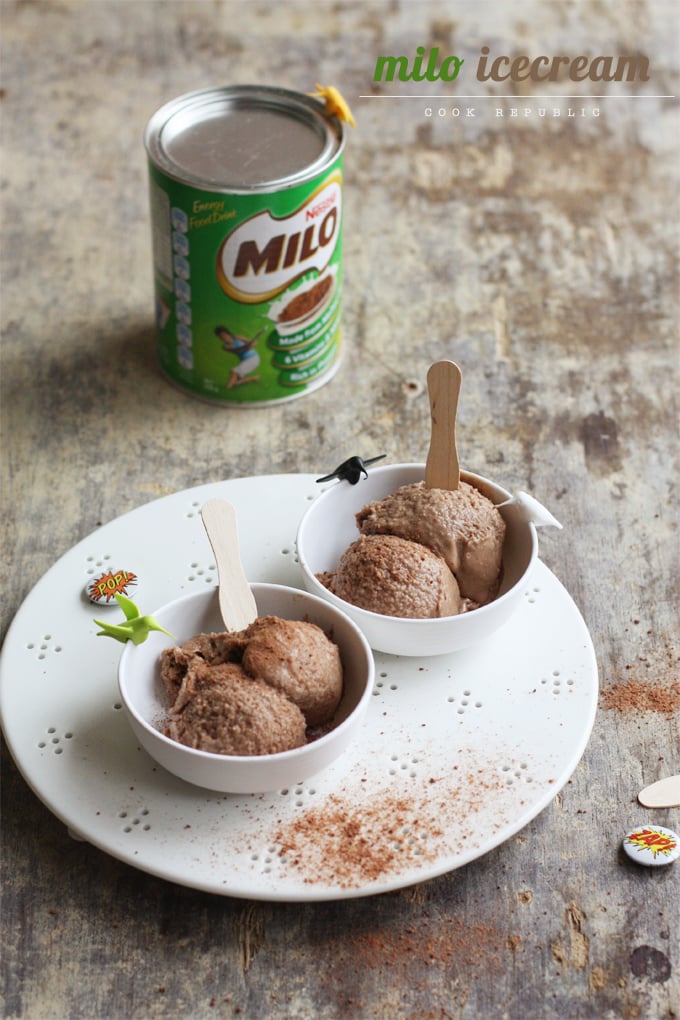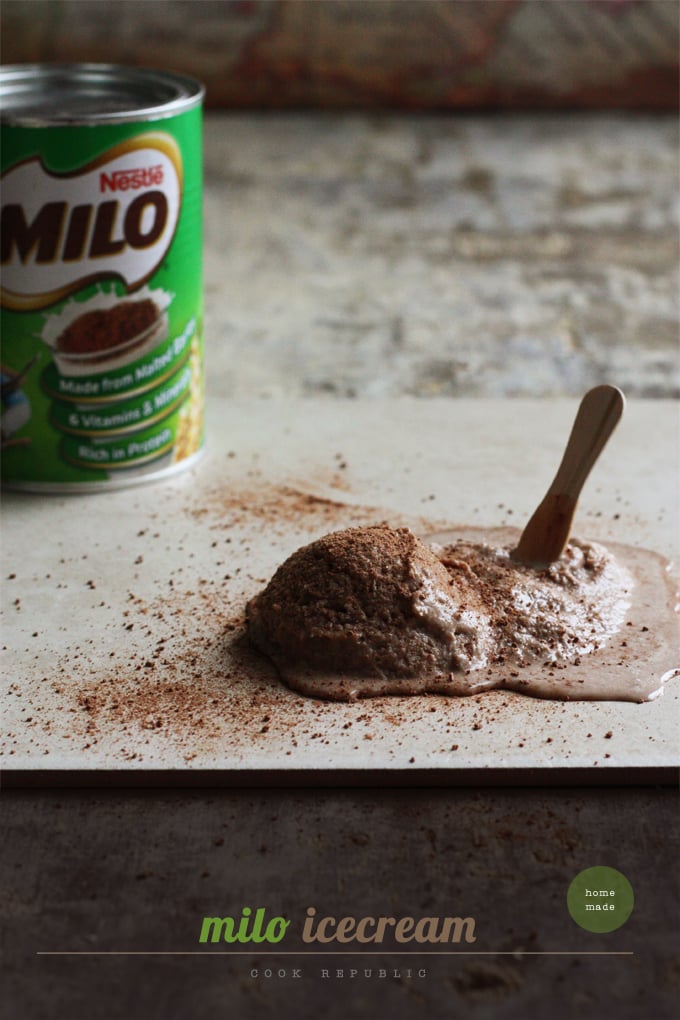 [print_this]
HOMEMADE MILO ICE CREAM
A creamy malt and chocolate ice cream made with Nestle's favourite malt powder - Milo. Homemade milo ice cream has the same wonderful sweet and salty flavour of Milo.
Makes - To serve 6
Ingredients
2 cups heavy cream
1 cup milk
3 egg yolks
1 cup brown sugar
150g milk chocolate, chopped
4 tablespoons milo
1 teaspoon salt
Method
In a large heavy bottomed saucepan, heat milk, cream and salt on medium; stirring occasionally until hot but not boiling. Remove from heat and cool for approximately 5 minutes.
In a large bowl, whisk together the egg yolks and sugar until well mixed. Slowly pour the cream mixture into the yolk mixture stirring contantly. Return the combined mixture to the saucepan on medium-low heat. Cook for about 3 minutes, stirring constantly with a wooden/rubber spatula. Make sure you scrape the bottom of the pan to avoid scorching. At the end of 3 minutes, the mixture will start to steam and will appear thickened. This is the custard.
Remove the custard from the heat. Put the chocolate and milo in a large heatproof bowl. Pour over the hot custard and whisk until chocolate is melted and mixture is smooth. Pour the custard through a strainer into a clean metal bowl. Cool completely.
Cover the bowl with clingfilm and chill in the fridge overnight (or at least an hour). When chilled, transfer to your ice cream maker and churn according to the manufacturer's instructions.
Enjoy straight away or freeze in the freezer for upto a week.
[/print_this]