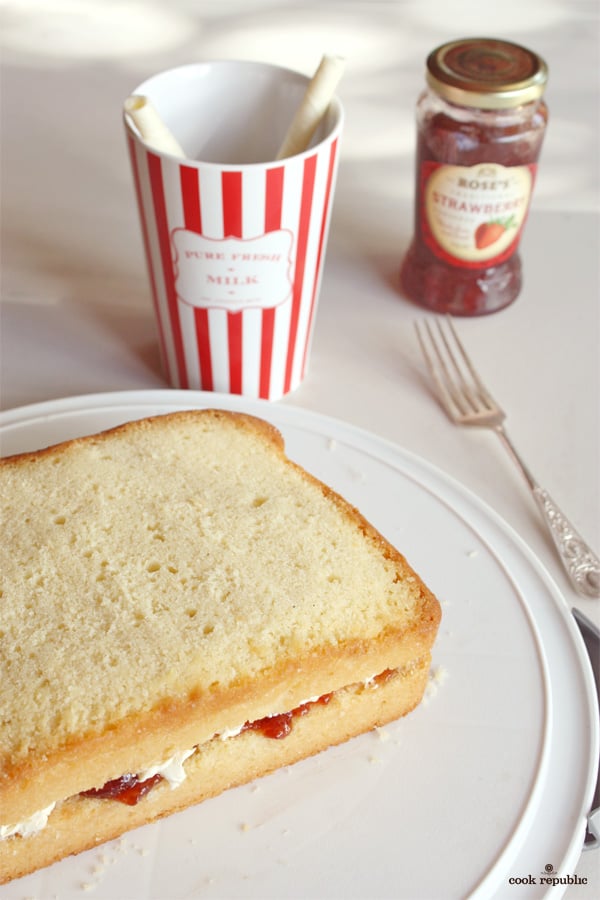 My youngest hit the ripe old age of 3 earlier this year and with a maturity that only a 3 year old can have, he proclaimed "I am a Chef!". For the 2 months prior to his birthday, he had been getting down and dirty with all things food. Wanting to make playdough every morning by mixing flour and water, randomly opening a cookbook and pointing to a particularly hard recipe and announcing "Let's make that!", insisting on dressing up in an apron and chef hat even to go to the toilet and wanting to stir everything I cook. It was only apt to have a Cooking Party for his birthday. And what would a cooking party be without a quirky food themed cake?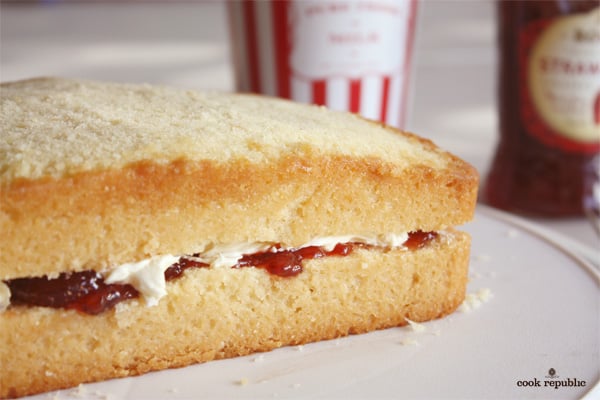 My boys are very fussy about cake. For the past few years, they have tried and tested my patience by managing to wrangle time consuming novelty cakes out of me for their birthdays and not having a single bite. "Make me a Thomas cake on tracks that looks like a real toy Mum!" "Make me an Optimus Prime cake Mum!" "Make me a magician's hat cake with a rabbit popping out Mum!". So this year, I was smart about it and didn't ask him what he wanted, knowing in my heart that if he says what he wants, I will kill myself trying to make it for him. Instead I aimed to make a cake that was as simple as simple can be, one that would almost be like a regular coffee cake that you would munch on in the afternoon, a cake they dare not refuse to eat because it had fancy icing (yes, my boys are finicky about icing and all things sugar).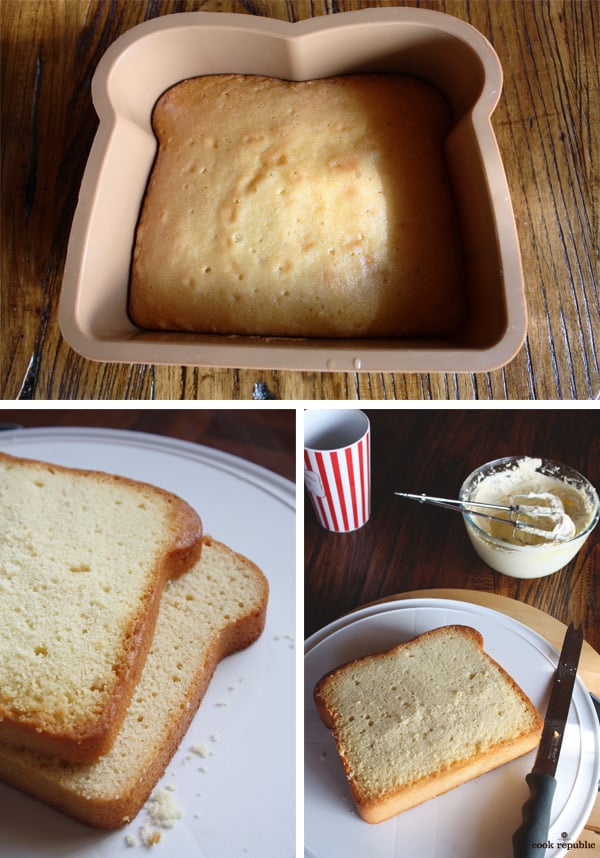 Having seen the Cakewich on a few blogs, I got myself a Cakewich pan and debated whether I wanted a savoury looking sandwich cake (with green lettuce, yellow mustard, red patty) or a sweet looking sandwich cake with a filling of jam and cream. The jam and cream won because it was simpler and I was pressed for time. I adapted a recipe for a White Chocolate Cake from Donna Hay's Modern Classics Book 2, whipped up some buttercream and bought some great quality strawberry conserve. I baked the cake on the eve of the party and put it in the fridge. On the day of the party an hour before guests were to arrive, I sliced the top of the cake to give it that unique sandwich look. I then sliced the cake in half and slathered on a layer of buttercream and topped it up with the strawberry jam. I carefully arranged the top half of the cake over the filling and voila, I had a great looking giant sandwich for my son's birthday cake. Easiest birthday cake ever!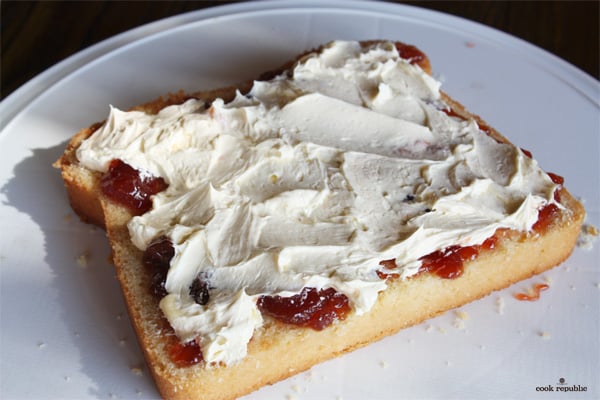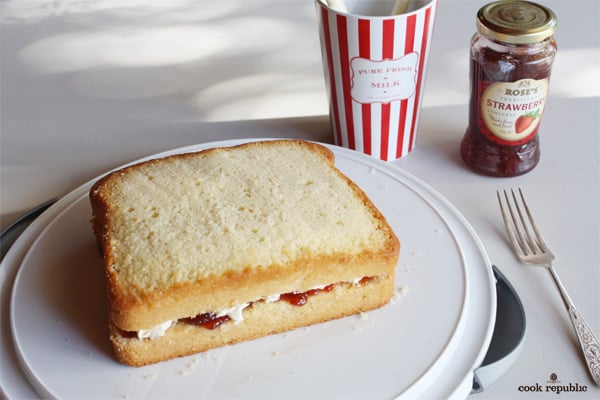 [print_this]
recipe
CAKEWICH - WHITE CHOCOLATE SANDWICH CAKE WITH JAM AND CREAM
Preparation Time - 20 minutes
Baking Time - 50 minutes
Assembling Time - 25 minutes
Serves - Tiny slices served a brood of 30 odd people at the party
Ingredients
For The Cake
200g butter, chopped
1 cup milk
1 1/2 cups caster sugar
150g white chocolate, chopped
2 1/4 cups plain flour, sifted
1 1/2 teaspoons baking powder
1 teaspoon vanilla extract
1/2 teaspoon strawberry essence
2 eggs
For The Buttercream
250g unsalted butter, softened
1 cup pure icing sugar, sifted
1 teaspoon vanilla extract
1 tablespoon milk
a jar of strawberry conserve to fill the cake
Method
To Make The Buttercream
Combine butter, icing sugar and vanilla extract in a bowl. Beat with an electric mixer until light and fluffy. Add the milk and beat until well combined.
To Make The Cake
Preheat the oven to 160°C. Place the butter, milk, sugar and chocolate in a saucepan over low heat. Stir until melted and smooth.
Combine flour, baking powder, vanilla extract, strawberry extract and eggs in a bowl. Add chocolate mixture and whisk until blended and smooth.
Pour cake batter in the Cakewich mould. Bake in the pre-heated oven for approximately 50 minutes until cooked through and golden. Remove and allow to cool in the mold. Chill the completely cooled cake for at least an hour (overnight is best).
To Assemble The Cakewich
Remove cooled cake from the Cakewich mould. Using a sharp serrated knife, carefully slice off the top 1-2mm of the cake to get the "bread slice" effect. Now slice the cake in half horizontally to get 2 bread slices.
Using an icing spatula, spread the buttercream evenly on the bottom half of the cake. Top the buttercream with uneven dollops of strawberry jam/conserve. Cover the buttercream and jam with the top slice of the cake to get the most delicious looking cake sandwich ever.
[/print_this]
Note : I have since baking this cake, sourced more Cakewich moulds from Kool Kitchen. The lovely Farial Ameen who owns the business was very helpful. Kool Kitchen can source very cool, quirky and unusual gadgets for your kitchens!