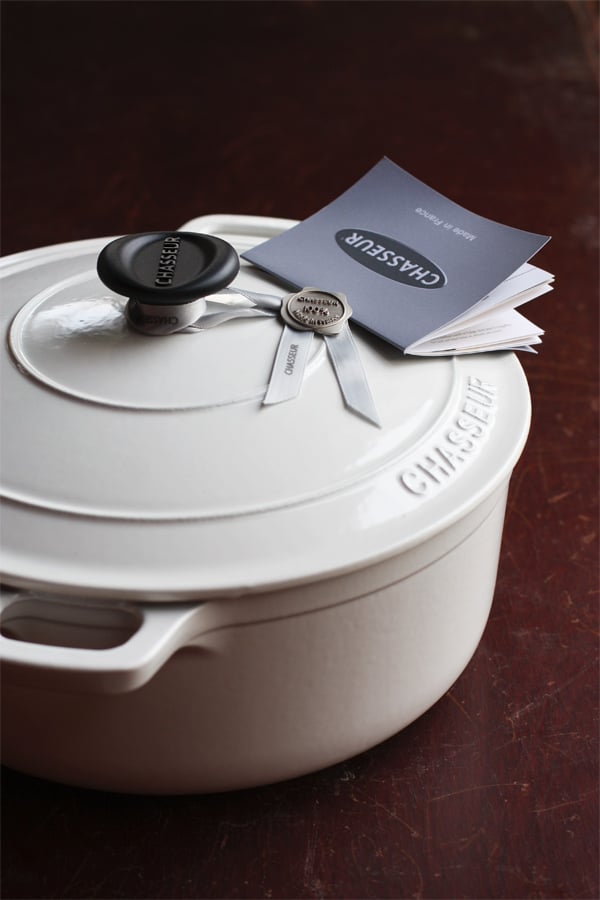 After buying a Cuisinart casserole a few months ago and cooking casseroles and stews lost in the dusty binder of recipes that I stopped cooking because of a lack of proper pot, I decided to take up my kitchen shenanigans by a notch. It was time to welcome a French oven in our modest little kitchen. When autumn had overstayed its welcome and I knew our favourite cousin Winter was due for an appearance I started researching my cast iron cookware. Le Creuset and Chasseur were of course the top runners and I was leaning towards a beautiful white French oven that was a perfect size for our family of four.
It was then that Kitchenware Direct contacted me and generously offered a gorgeous 3.8L Chasseur cast iron French oven to woo in my kitchen. In the most perfect shade of white. I was ecstatic to say the least and when the French Oven arrived, I was instantly enamoured by it. Often when you see a quality tool, you start feeling invincible. When Nick spots a snazzy looking chainsaw with XYZ horsepower and XYZ speed and features, I can see the wheels of his mind churning where he is picturing himself clearing the forest we live in with a mere flick of the hand. It was something similar then that I experienced when I saw and lifted (darned, it was heavy!) the cast iron pot. I felt that it would cook the most perfect meal and I wouldn't even have to try very hard. I was spot on.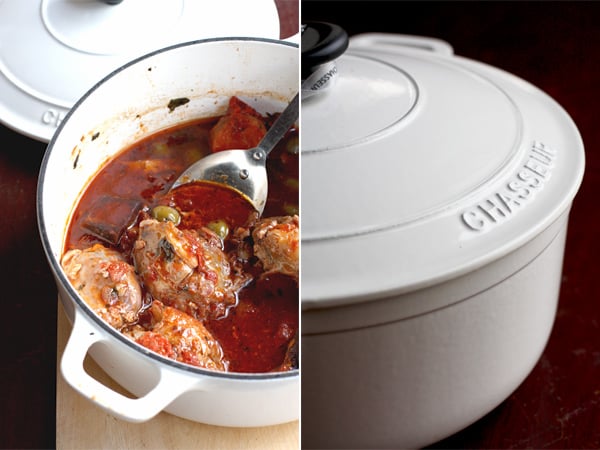 To put my theory to test, I took very basic ingredients. Chicken, garlic, purple carrots (Oh C'mon, I need to throw in a fancy one!), tomatoes, olives, basil, salt, pepper and oil. Using just these ingredients and trying very hard to not do anything spectacular, I basically chucked them all in the pot and told it to cook me a meal that would do it proud. And it listened. Yep, it is that intelligent! Combine that with being a stunner to look at and you've got yourself a keeper.
The Chasseur pot was quick to heat, cooked evenly, didn't burn anything and kept the food warm for a much longer duration than my everyday casserole. Since cooking the chicken, I have also made soup in this pot and it feels like it manages to seal the flavours in better than any pot or pan I've owned. I wonder why!
Chasseur cast iron cookware is made in France and the range comes in a plethora of colours that would compliment any kind of kitchen you could dream up of. They come with 10 year warranty and are suitable for induction cooktops. They are coated with enamel and oven safe up to 200C.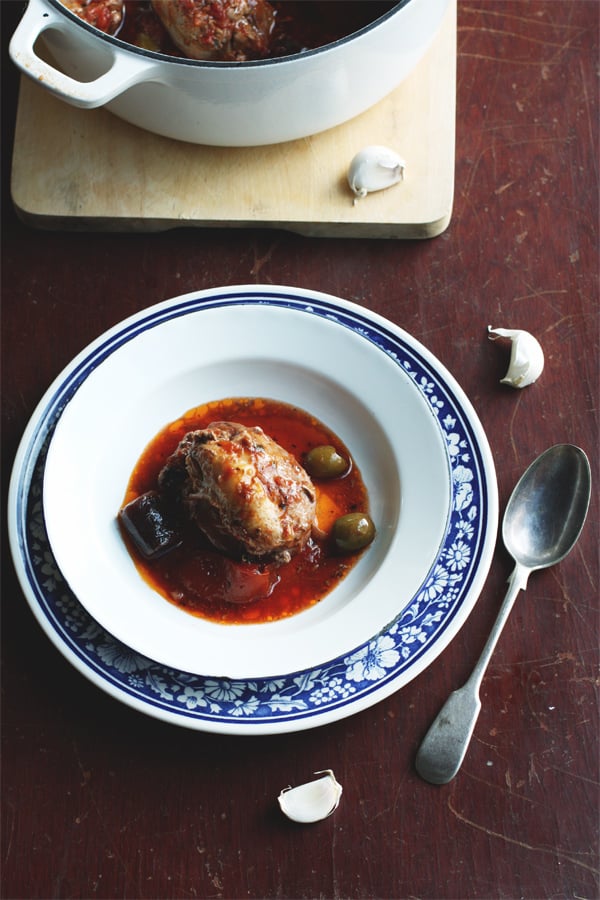 [print_this]
recipe
Chicken Olives And Purple Carrot Casserole

Preparation Time – 20 minutes
Cooking Time – 40 minutes
Serves – 6

Ingredients
6-8 chicken thigh pieces
1 large purple carrot, cut into rounds
1 large carrot, cut into rounds
10 cloves of garlic
3 tomatoes, coarsely chopped
1/2 cup pitted olives (I used pepper stuffed green olives)
1 cup torn basil leaves
1 tablespoon olive oil
salt to taste
freshly ground black pepper
1 cup pasta sauce
1/2 cup chicken stock

Method
Heat oil in the casserole on medium heat. Add the garlic and sauté for a minute. Add the chicken, salt and pepper and sauté for 4-5 minutes until the chicken starts browning. Add all the other ingredients, reduce heat to low, cover and simmer for 30 minutes.
Serve hot with crusty bread.
[/print_this]