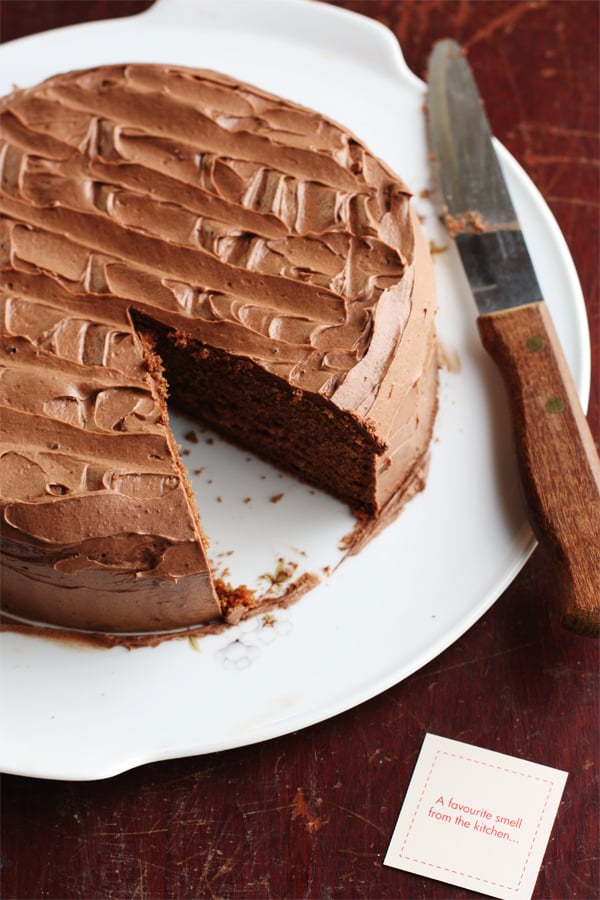 If you've had a childhood constant in your life that loved to cook and bake whether it was your mum, dad, granny, favourite aunt, matronly neighbour or the nice old man at the corner bakery; you would have had that special chocolate cake that was your absolute favourite. I had mine and then I grew up and what were simple joys of a young life untouched by adult responsibilities, disappeared. And so did my chocolate cake. Years passed when one lazy afternoon I baked a cake that I felt would win over my boys. A chocolate cake. Simple, no fuss, pure, buttery and spiked with good cocoa powder. I watched with happiness as they wolfed down the slices I had placed on their plates. I picked up my slice and whiffed the chocolate. Something familiar sparked in the dark alley of my brain. I took a bite and it all came back. I had found my Childhood Chocolate Cake.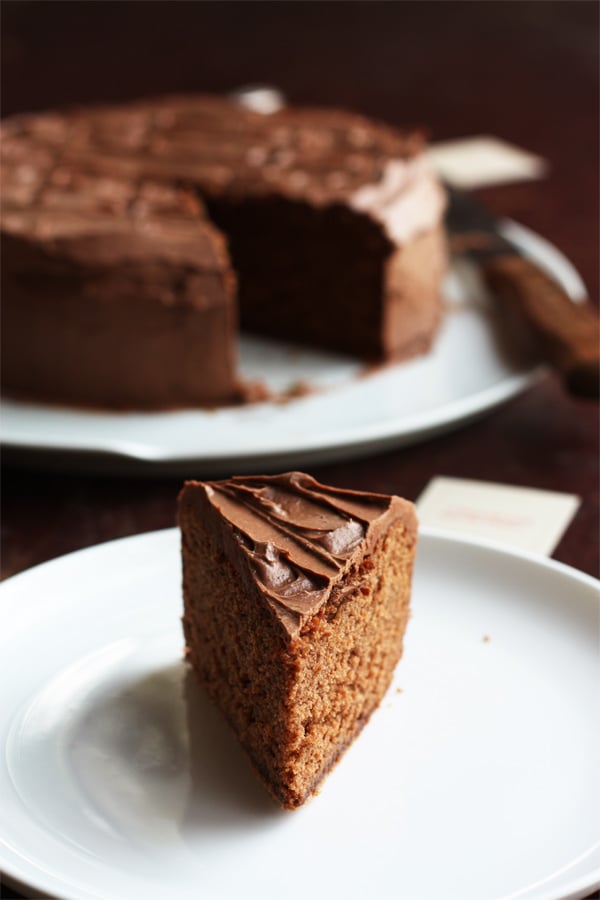 Rediscovering simple joys of your childhood as an adult is an unbelievable emotion. You feel like you've come a full circle and you have prevailed. I am amazed at how important a role food plays in all our lives right from when we are tiny little creatures running wild in the woods behind our homes to when we are all grown up and equipped to conquer the terrain of the urban jungle. And we always search, especially as parents for the things, the sights, the tastes and the smells that affected us as children so we can pass off some of that legacy to our own offsprings.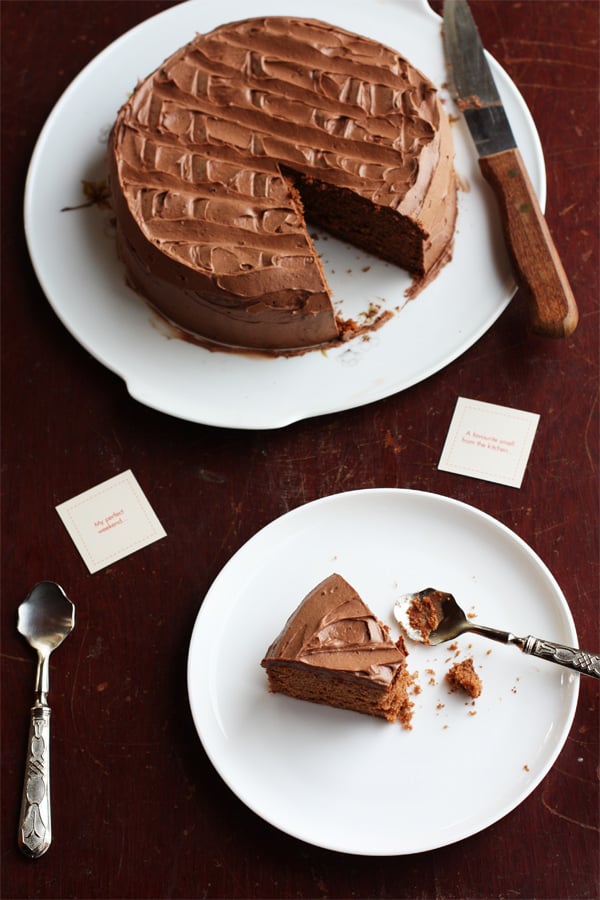 This chocolate cake was adapted from one of my favourite cookbooks of all time, Apples For Jam by Tessa Kiros. Apparently Tessa has thoughts very similar to mine when it comes to chocolate cakes and childhood memories. The instantly fudgy icing is the real winner in this recipe.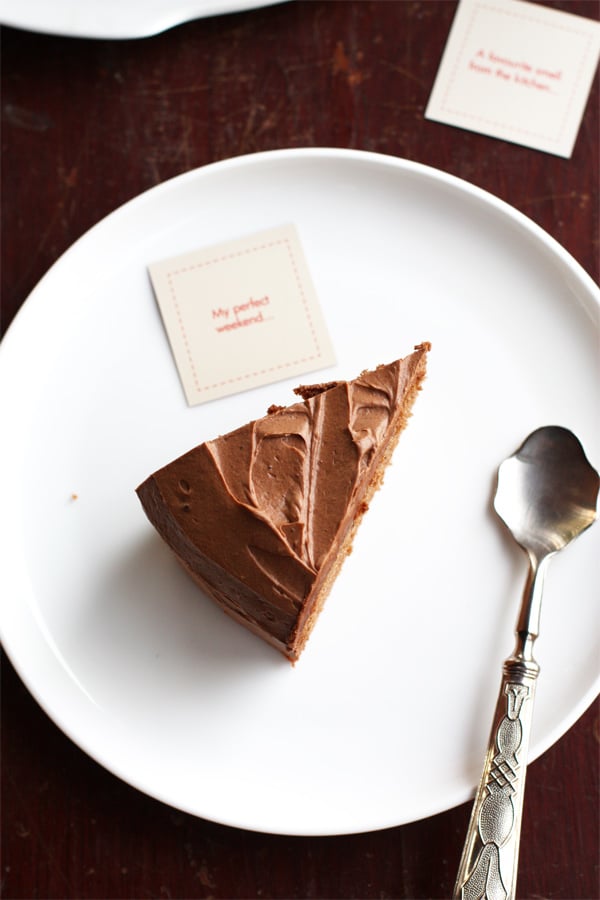 My props for the photo shoot included gorgeous silver plated Italian dessert spoons (sourced from ebay), a Mayfair & Jackson Coupe plate for the cake slice (Target), a floral cake plate of German origin (thrift store), rustic wood handle knife (thrift store) and dinner conversation starter cards (a birthday present from a friend and available at Kikki.K).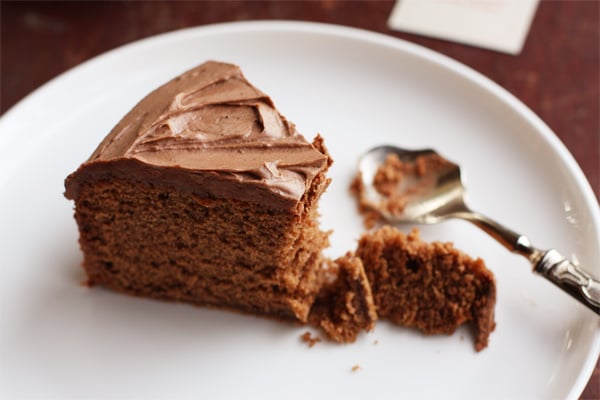 Click on Recipe Card for the full size version.

The cards I chose to use were My perfect weekend and A favourite smell from the kitchen. My perfect weekend would be one that had a slice of this cake at the breakfast table, actually make that several slices. And one of my favourite smells from the kitchen would have to be that of chocolate being cooked along with bread being baked. I was very lucky to have grown up only a stone's throw away from a Cadbury factory. The smell of chocolate was a constant of my childhood days. What would be your perfect weekend, foodwise? And what has to be your favourite smell from the kitchen?
[print_this]
recipe

Childhood Chocolate Cake
Preparation Time - 15 minutes
Baking Time - 45 minutes
Serves - 10
Ingredients
200g butter, softened
50g dark chocolate, broken up
30g cocoa powder
3 eggs
80g caster sugar
100g brown sugar
1 cup plain flour
1 1/2 teaspoons baking powder
3 tablespoons milk
icing
80g butter, softened
60g icing sugar
30g cocoa powder
3 teaspoons golden syrup
2 tablespoons milk

Method
Preheat oven to 180C/350F. Grease and flour a 24 centimeter springform tin. Melt butter in a saucepan over low heat. Add chocolate and cocoa. Stir until melted and smooth. Remove from heat.
In a large bowl whisk eggs and sugar until light and creamy. Add the butter chocolate mixture and beat some more. Add the flour, baking powder and milk and whisk until light, fluffy and smooth.
Scrape the cake batter into the prepared tin and bake in the pre heated oven for 40-45 minutes. Remove from oven and cool completely before removing from tin and placing on a serving plate.
To make the icing, combine all ingredients for icing in a large bowl and whisk with an electric beater until smooth and creamy. Spread on cooled cake with an icing spatula using swift smooth strokes.

My Notes
The addition of golden syrup makes this icing a winner in my opinion. It instantly makes it fudgy and spreadable so there is no need to chill before or after icing the cake.
Using the Cadbury brand cocoa powder for the icing resulted in a sweeter, milder and more child friendly version. When I baked this cake again and used Nestle's unsweetened dark cocoa powder, the icing was beautiful but definitely more grown up.
Half a cup of crushed nuts or jam and cream would also make a lovely variation when added to the cake.
[/print_this]