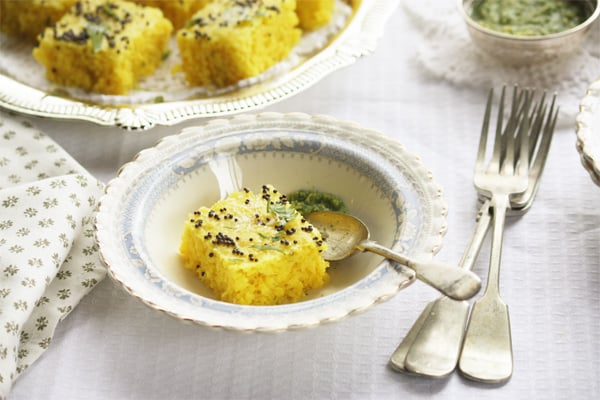 If you have grown up in Mumbai, then you will remember the big fluffy yellow khaman dhoklas that were a staple in most street food takeaway places in the city in all its various suburbs. Khaman Dhokla is a steamed savoury lentil cake topped with fresh coriander and grated coconut. It is a very popular snack in India's west and originates in the western state of Gujarat. Served with a green chutney and fried, salted green chilies, khaman dhokla is an interesting study in textures and flavours.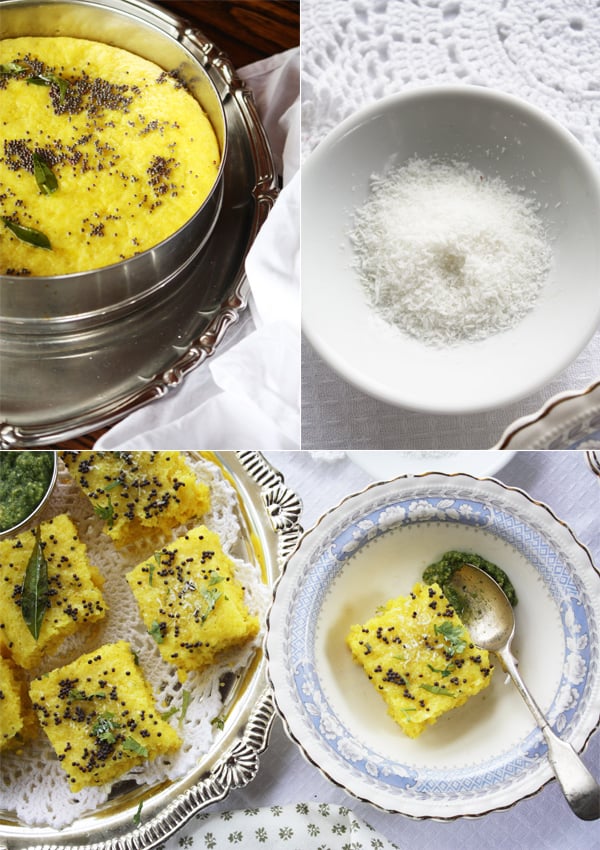 There are many different techniques to making the fluffiest khaman dhoklas and each shop has its own secret process. The most daunting of all is when you have to sprinkle water on the freshly steamed cake to make it lighter, spongier and fluffier. The bane of most home cooks, khaman dhoklas often turn out flat and stodgy. They did for me until a visit from mum fixed that. When I had my old site (Gel's Kitchen), these were on top of the most downloaded recipe list on the site. Ever since that site was laid to rest, I have received countless emails requesting the recipe.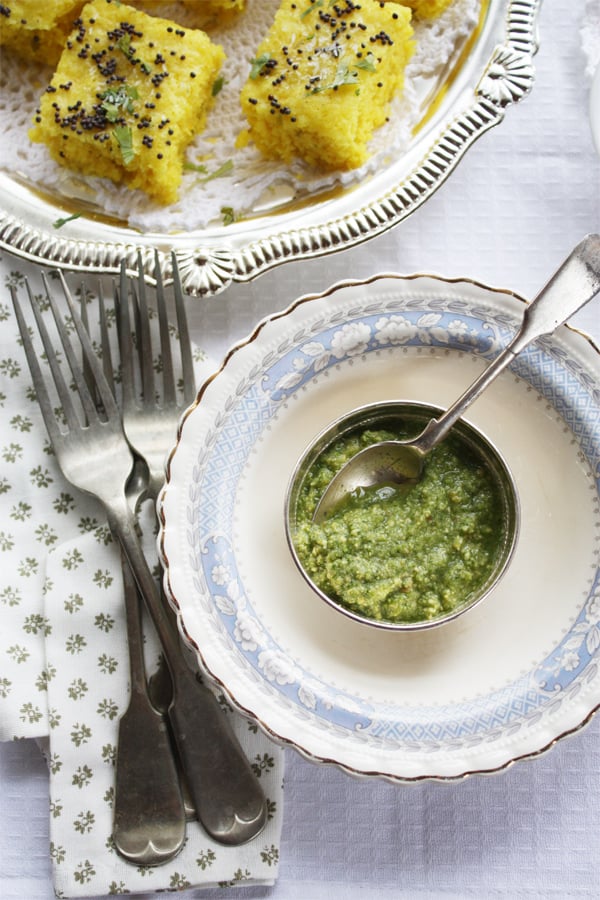 I was lucky enough to see my mum make these with extreme ease these holidays and try them out a couple of times to perfect the recipe. This recipe will have you making delightfully soft, fluffy and oh so delicious khaman dhoklas instantly. And since they are made of rawa (semolina), they are healthier than their nylon khaman counterparts which happen to be made up entirely of besan (Gram/Chickpea Flour). Make these dhoklas for your next potluck or picnic and watch them disappear.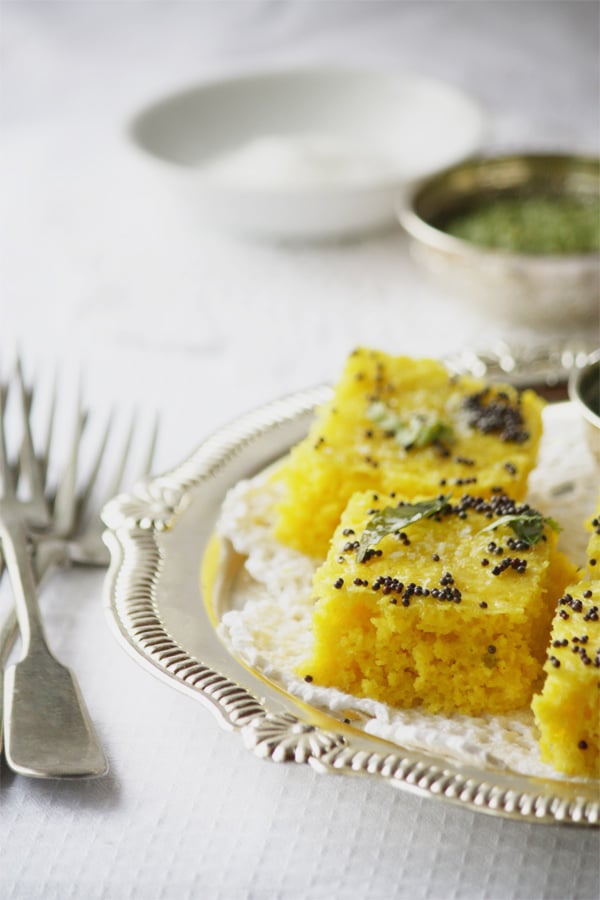 [print_this]
recipe
TRADITIONAL RAWA KHAMAN DHOKLA
(Steamed Savoury Indian Lentil And Semolina Cake)
Preparation Time - 20 minutes

Cooking Time - 20 minutes

Serves - 4
For The Dhokla
1/2 tsp turmeric powder
1 tbsp eno [fruit salts]
2 tbsp gram/chickpea flour [besan]
2 green chillies, finely chopped
3/4 cup fresh yogurt
1 cup water
juice of half a lemon
7-8 curry leaves, finely chopped
1 cup fine semolina (rawa)
3 tbsp sugar
1 tsp salt
1 inch piece ginger, finely chopped
For The Tempering
1/4 cup freshly chopped coriander leaves
1/4 cup grated coconut
2 tbsp oil for tempering
1 tsp mustard seeds
To Make The Dhoklas
Heat water in a steamer and bring to a boil on high heat. Lightly grease a shallow (at least 5cm tall) metal dish (steel/baking dish) with cooking oil and set aside.
Combine semolina, chickpea flour, ginger, green chillies, curry leaves, turmeric powder, salt, sugar, lemon juice and yoghurt in a large bowl. Whisk well with a balloon whisk. Slowly add water and keep whisking for 3-4 minutes until mixture is light and fluffy. Add more water if required to achieve a smooth, slightly thick pouring consistency. Stand for 3-4 minutes. Add Eno and whisk well till mixture rises and doubles in volume.
Lightly pour into the prepared dish, taking care that you don't over handle the mixture. This is to keep the air bubbles in which will get you that gorgeous fluffy texture. Steam in the steamer for 20 minutes. Remove from steamer and stand, covered for 5 minutes.
To Temper The Dhoklas
Heat oil in a small frying pan. When it is hot, add the mustard seeds till they crackle. Pour oil and mustard seeds over the dhoklas. Cut dhoklas into neat squares and serve hot sprinkled with fresh coriander leaves and coconut.
Notes
Place the dish with the dhokla mixture in a steamer which has been filled with water. Cover the mouth of the steamer with a lid wrapped in a tea towel. Place a heavy weight on top of the cover.
The dish needs to be at least 5cm tall. This is very vital to get the right height for the dhokla. Taller dhoklas have a more authentic feel to them as opposed to flatter ones.
You may also sprinkle sesame seeds on the prepared dhoklas for added flavour.
Khaman Dhoklas keep well for 2 days. They are great prepared a day earlier and need only be steamed for a delicious snack. I have catered very large quantities of these for big groups of people at my brother's wedding and also at a friend's wedding.
I also like to stir through 1/4 cup of spinach or 2 tablespoons of coriander seeds through the batter along with a pinch of garam masala for a tasty variation.
[/print_this]