I found a recipe for this gorgeous shortbread in a dog-eared 2006 food magazine. Staying true to my fiddly nature, I did tweak this recipe a bit and ended up with a version of the shortbread that would appeal to peanut butter cookie lovers and pure shortbread enthusiasts alike. I wasn't expecting the dough to churn out a never ending supply of the little stars [that is the shape I chose to go with .. tiny little stars, each measuring just under 4cm across], so be prepared to bake in batches. I baked them in three batches and still have some dough leftover for next week. The rice flour is a must in all shortbread recipes and it rightfully adds the appropriate texture and crunch. You may stick in extra chocolate bits, once you have cut the shapes out and laid them on the sheet for a more aesthetically pleasing look. I haven't and they still look irresistible, don't they? These will go very very quickly because of their tiny mouth-popping size. I just wanted to add that they would be fantastic for decorating cakes and desserts, stuck on top of a tiramisu serving or adorning the top of a delicious sundae.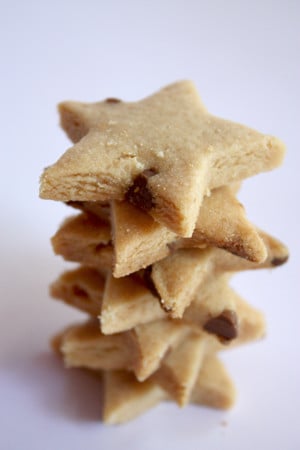 Choc Chip & Peanut Butter Shortbread
[Preparation Time : 15 minutes/ Baking Time : 20 minutes/ Makes 110 little stars]
Ingredients
125 g butter, cubed
½ cup crunchy peanut butter
2/3 cup caster sugar
1 egg
1 ½ cups plain flour, sifted
¾ cup rice flour, sifted
1 cup milk chocolate bits

Method
Preheat oven to 160oC. Grease and line a cookie sheet with baking paper.
In a large bowl beat butters and sugar until light and fluffy. Add egg and beat some more. Stir in the sifted flours and chocolate bits.
Roll the cookie dough between two sheets of baking paper. Cut star shapes with a cookie cutter and place them at least 3 cm apart on the cookie sheet. Bake for 15-20 minutes till cooked and golden. Cool on wire racks and store in an air-tight container.