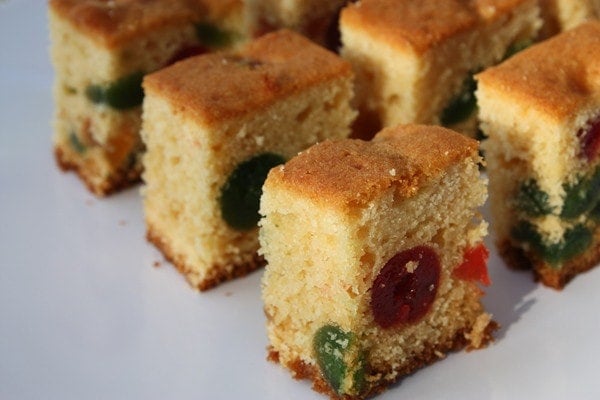 When I was younger and studying, I traveled a lot by train. Nick and I would usually grab a snack and our favorite daily with loads of crosswords to take care of our food and entertainment needs on the way to college. Our favorite was a mini-loaf that came in bright, cheery, colorful packaging and simply said Tutti Frutti Bread. It was one of the best things I had ever tasted. There were 12 miniature slices bundled in a loaf, the crusty brown edges tasting as beautiful as the golden spongy insides flecked with red, yellow and green glace fruit. The bread was light with just a hint of saltiness and tearing it up and devouring it as we solved the crossword on our hour-long journey was no trouble at all.
As times passed and things changed, we drifted away from those train rituals. We moved on and forgot all about the little things that we used to look forward to on our train rides. Then one evening while we sat and watched our two little boys playing in the backyard, one of us remembered the Tutti-Frutti bread just like that, out of the blue. With nostalgia clouding my thoughts, I decided that it couldn't really be all that difficult to try to recreate the taste and texture of that bread at home, ignoring the tiny little voice in my head that kept reminding me that it was almost 12 years since I had last tasted it. So began an experiment and I started browsing through recipes for fruit breads and fruit cakes, taking an occasional pause to close my eyes and try to remember the texture of the bread on my taste buds. I baked several breads and cakes and this most recent version of a cake was the closest I ever got to the fun little loaf that would get us so excited as we waited to board a train.
Tutti-Frutti Cake
[Preparation Time : 15 minutes/Baking Time : 50 minutes/ Serves : 8]
Ingredients
185g butter, softened
1 1/2 tsp strawberry essence
½ tsp vanilla extract
½ cup caster sugar
a pinch of salt
3 eggs
1 cup finely chopped mixed glace cherries
1/3 cup almond meal
1 ½ cups self-raising flour, sifted
½ cup plain flour, sifted
½ cup milk
2 tbsp orange juice
Method
Preheat oven to moderate [170oC]. Grease and line the base and sides of a 23cm square cake pan with baking paper letting it hang over the sides of the pan. Beat butter, essence, extract, sugar and salt in a large bowl until light and fluffy. Beat in eggs, one at a time until just combined. Stir in cherries, almond meal, flours, milk and orange juice. Spread cake mixture into prepared pan. Bake cake in the oven for approximately 50 minutes. Cool in the pan for 5 minutes then turn onto a wire rack to cool completely. Slice and serve with fresh fruits and ice cream or store in an airtight container to take with you on the train en route to the university.