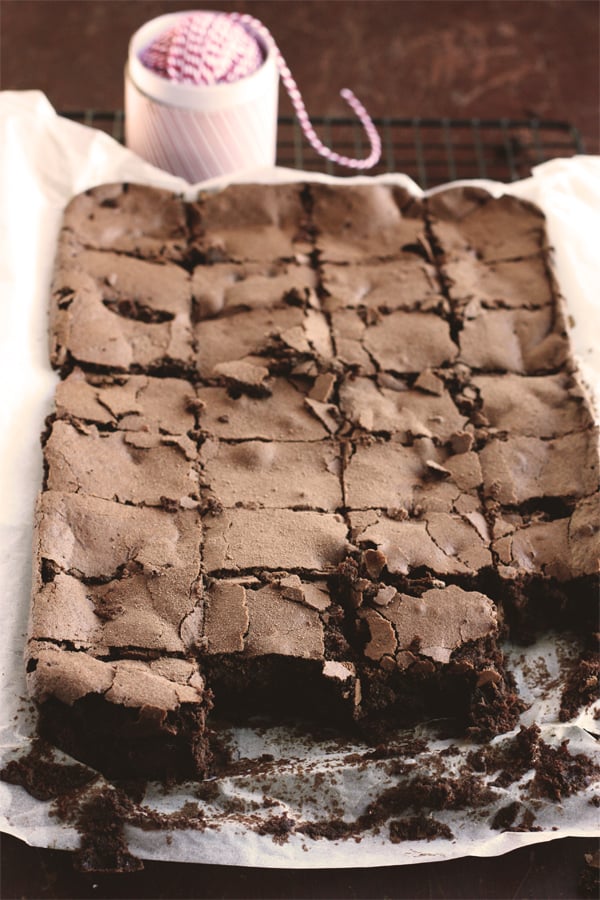 The inspiration for this brownie came from the
Bourke Street Bakery cookbook
. They have a delectable brownie recipe that calls for prunes macerated in alcohol for three days. As amazing as it sounds, I am always a tad skeptical about giving the kids anything alcohol soaked. So I decided to experiment with Assam tea.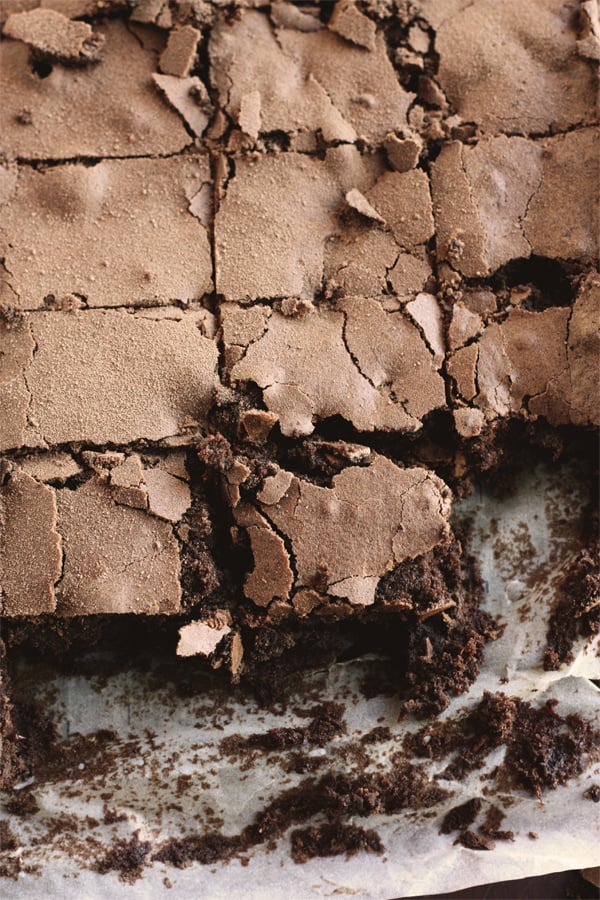 I brewed some hot, strong Assam tea and soaked the prunes in it. I let them soak for 24 hours. The brownies that I baked with them were moist with a beautiful flaky crust and chewy fudgey middle redolent with a delicate tea flavour. The chocolate and tea soaked prunes went very well together. Coming across a juicy prune as I bit into the brownie was a treat I was looking forward to in every bite.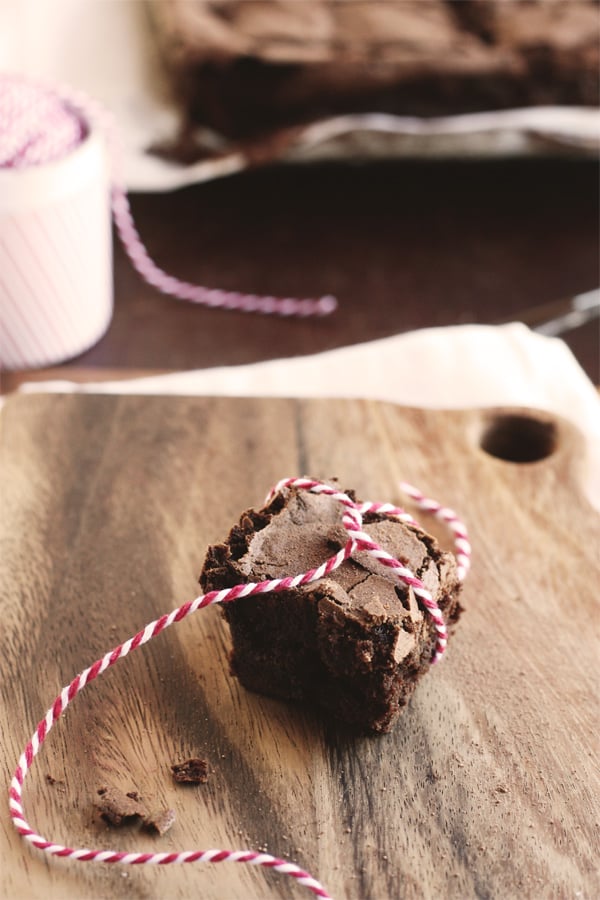 The kids had a customary brownie mainly to please me but were not crazy about it. The adults on the other hand couldn't stop at one. In retrospect I should I made the brownies with alcohol soaked brownies and just spared the kids the misery of having to eat a chocolate cake with suspicious bits in it.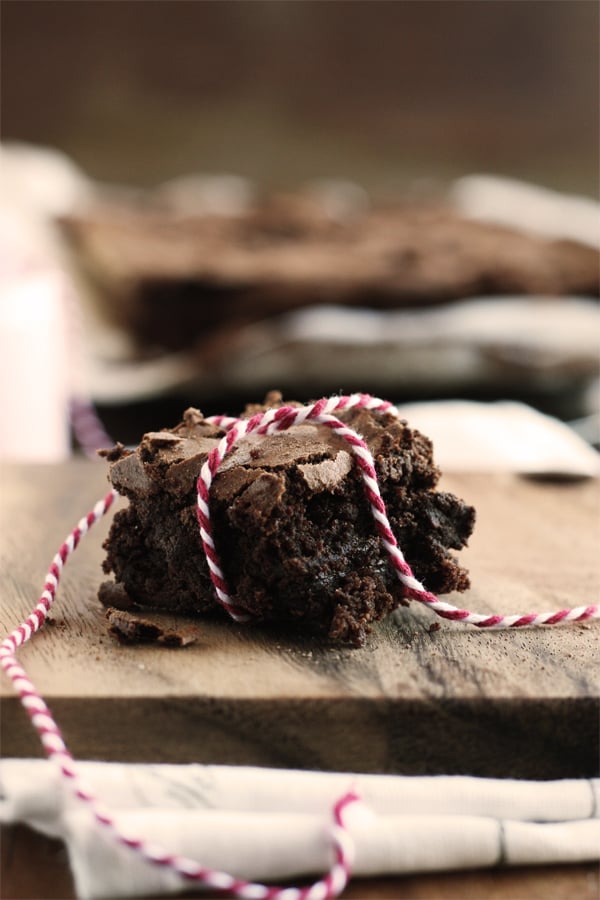 As with all Bourke Street Bakery recipes, this one is unique and hits the sweet spot. It is worth it just to have your friend bite into a brownie and amidst sighs of approval try to figure out what that beautiful taste is?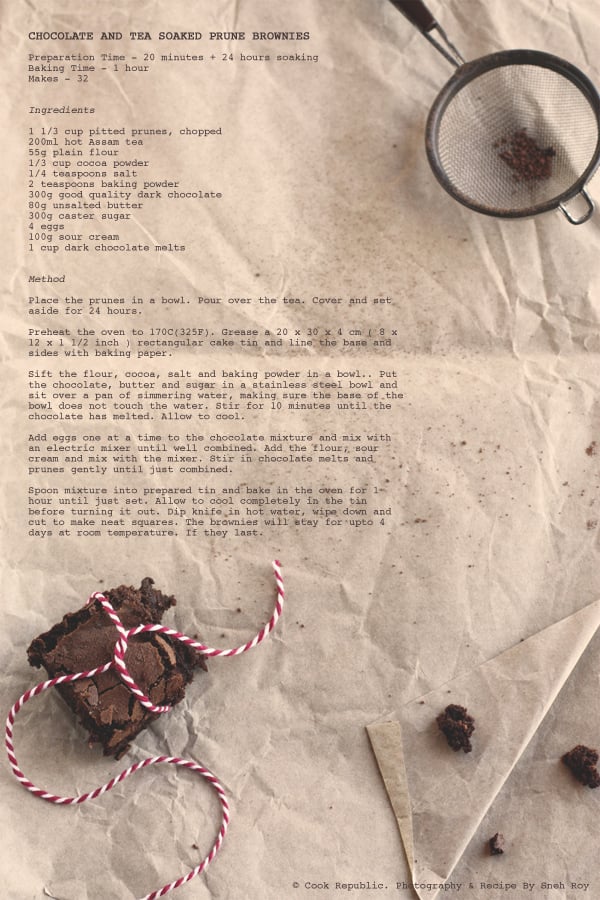 [print_this]
CHOCOLATE AND ASSAM TEA PRUNE BROWNIES
Preparation Time - 20 minutes + 24 hours soaking
Baking Time - 1 hour
Makes - 32
Ingredients
1 1/3 cup pitted prunes, chopped
200ml hot Assam tea
55g plain flour
1/3 cup cocoa powder
1/4 teaspoons salt
2 teaspoons baking powder
300g good quality dark chocolate
80g unsalted butter
300g caster sugar
4 eggs
100g sour cream
1 cup dark chocolate melts
Method
Place the prunes in a bowl. Pour over the tea. Cover and set aside for 24 hours.
Preheat the oven to 170C(325F). Grease a 20 x 30 x 4 cm ( 8 x 12 x 1 1/2 inch ) rectangular cake tin and line the base and sides with baking paper.
Sift the flour, cocoa, salt and baking powder in a bowl.. Put the chocolate, butter and sugar in a stainless steel bowl and sit over a pan of simmering water, making sure the base of the bowl does not touch the water. Stir for 10 minutes until the chocolate has melted. Allow to cool.
Add eggs one at a time to the chocolate mixture and mix with an electric mixer until well combined. Add the flour, sour cream and mix with the mixer. Stir in chocolate melts and prunes gently until just combined.
Spoon mixture into prepared tin and bake in the oven for 1 hour until just set. Allow to cool completely in the tin before turning it out. Dip knife in hot water, wipe down and cut to make neat squares. Dust with some cocoa powder. The brownies will stay for upto 4 days at room temperature. If they last.
[/print_this]