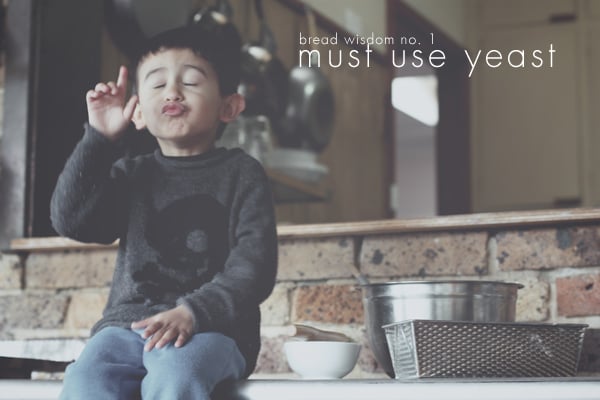 A few Wednesdays ago, Gummi Bear announced that he was going to bake bread. He didn't seem to care whether I was on board or not. He then proceeded to the kitchen and fished for a bowl. Next, he grabbed a wooden spoon and a stool in quick succession. After hoisting himself on the stool, so his tiny three-year-old self could see what was on the counter, he took a pause.
Very carefully he reached out for the egg carton and dragged it towards himself. My heart puffed with pride. "He knows what he is doing!!" I thought, forgiving him the mistake of grabbing some eggs for bread baking. I know he was recalling our cake making sessions and eggs seemed to symbolise baking in his head. Then he paused again and scratched his chin, "Let me Fink!" he mumbled. He rushed off and returned with a packet of instant noodles and an apple and dumped them unceremoniously in the bowl. "Oh Boy!"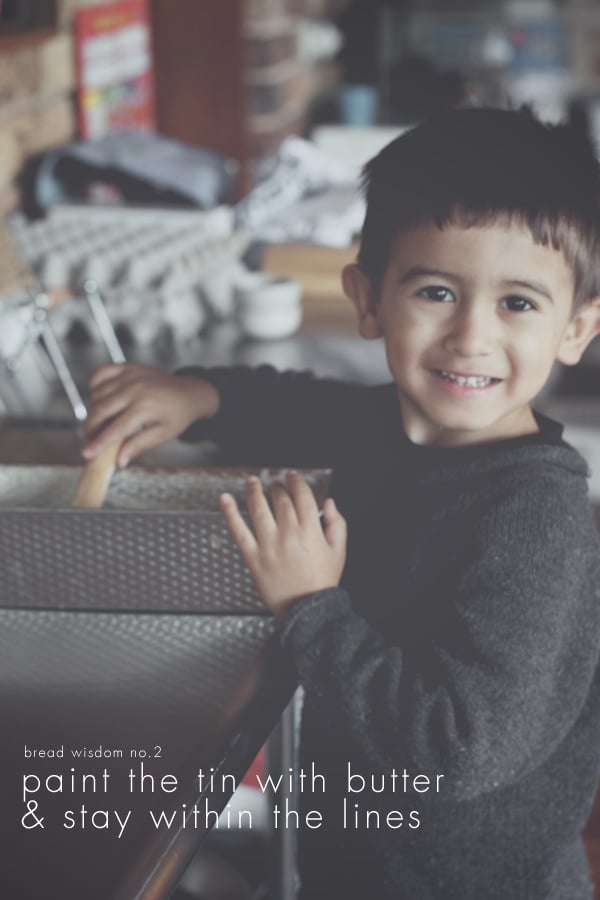 So began a gentle lecture and a chalk diagram on our massive chalkboard wall of all the ingredients needed for basic bread making.
"We must use Feast!"
he parroted after me.
"Feast is alive!"
and
"Feast makes the bread fluffy and full of holes!"
. Having been instantly smitten by a recipe for a
simple loaf of bread on Heidi Swanson's 101 Cookbooks
, I had filed it away for an occasion very much like the one on hand. With no kneading required, it was the perfect bread recipe for a bright eyed budding baker who didn't have the patience for kneading, resting, proving and all that hoopla.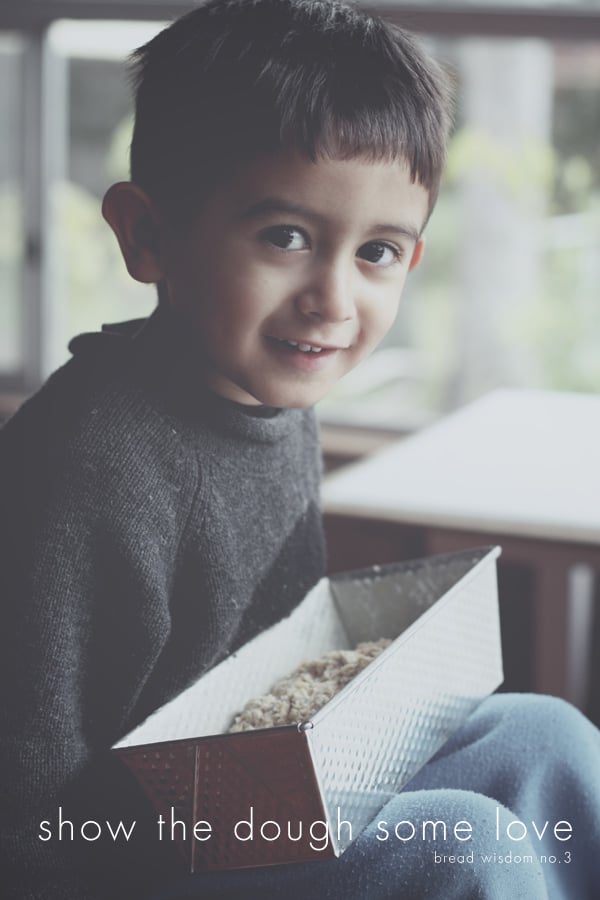 With brow furrowed in concentration, Gummi bear followed my instructions to a T. He tipped and mixed gently. He "painted" the bread tin with melted butter staying within the lines at all times. Once the dough was in, he asked me how it would become bread. "With the yeast, remember?" I reminded him. "Oh yes! The Feast!" he squeaked with joy. "But how Mum?" he didn't give up. "You have to be nice to the bread and show it love, then it rises perfectly" I told him simply. So he carefully sat down on a stool, put the bread tin on his lap and started singing to it.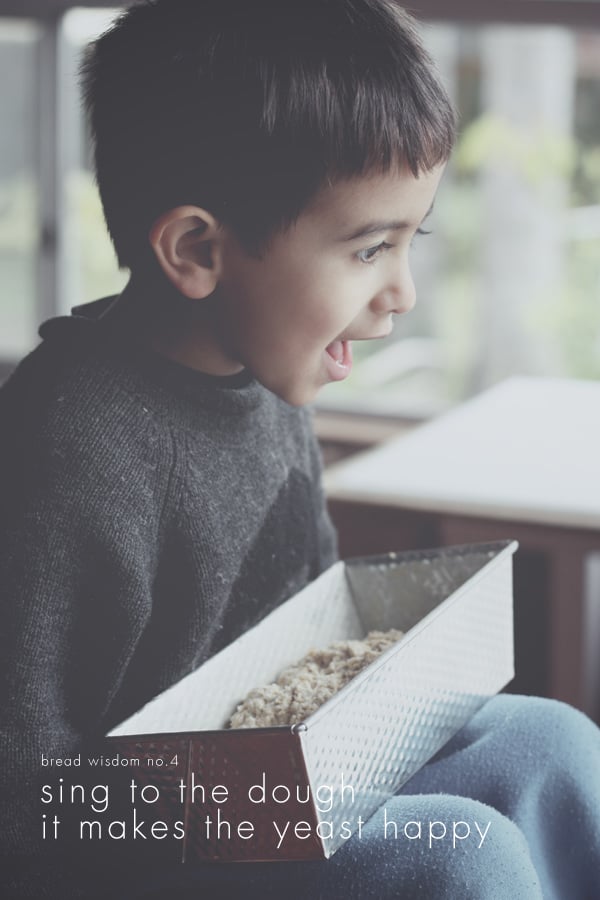 Rise little bready
Feast Feast
Rain Rain go away
Bready is feeping (sleeping)
rain rain go away
come again another day
(mumbling) (more mumbling)
(high pitched humming)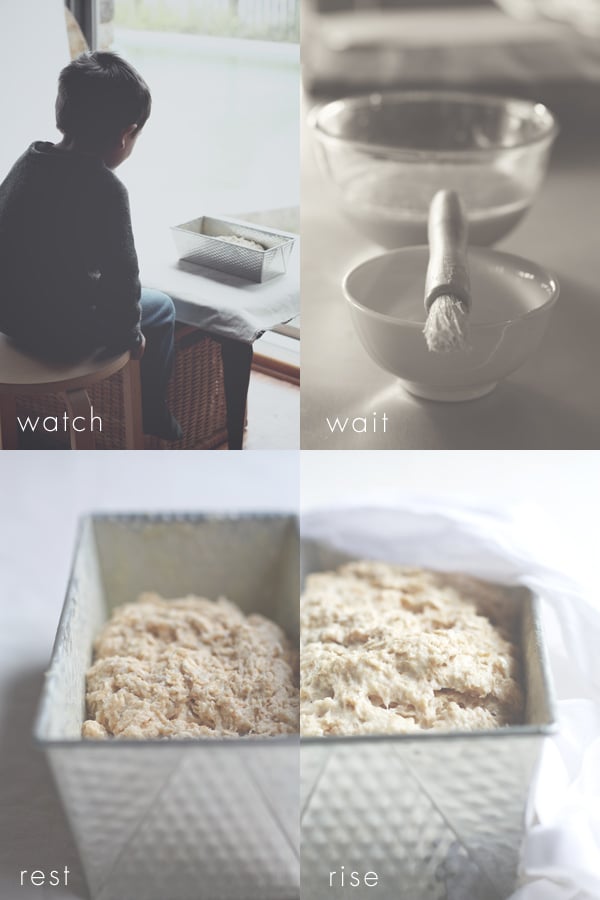 His mind wanders all over the place but he can be very entertaining! Once we put the bread in the oven, he fell asleep on the couch waiting for it to rise. When he awoke an hour later, he was super excited to see it had become bread with holes. He had one bite of the butter slathered slice and announced he would eat it later. Which he did. Thank God!
It was the most fun I had had baking in the kitchen in recent times. It was one of the quickest, no fuss and simplest bread I have ever baked. It was delicious even when I forgot the salt in the recipe (can't blame me! It is hard to concentrate when your second born is being so darned cute and asking a zillion questions!). That was easily solved by generous slatherings of
churned butter by Pepe Saya
. We tore bits off and relished the sweetness of honey in the bread. We toasted some slices and watched the golden butter melting in a golden pool of deliciousness. Oh, we had fun with this little brown bread!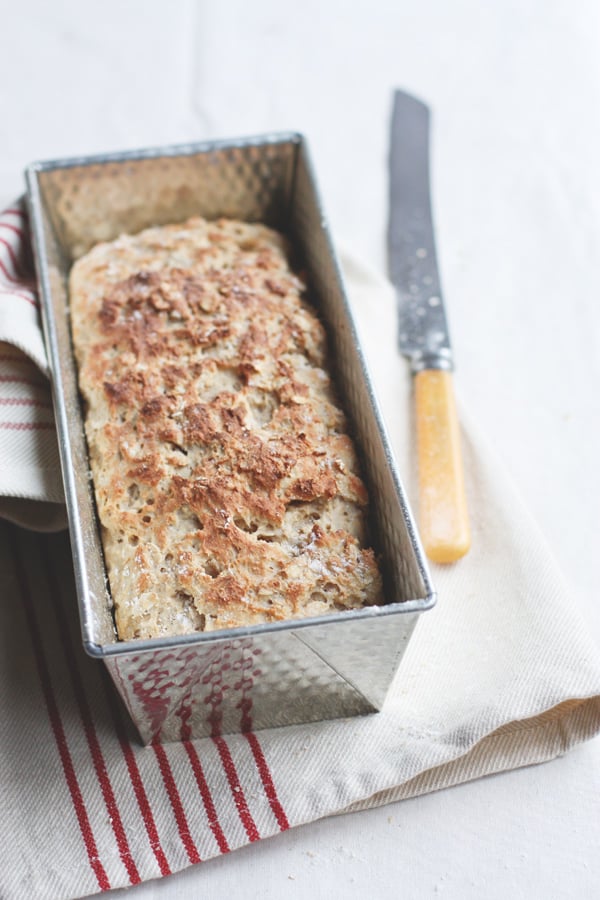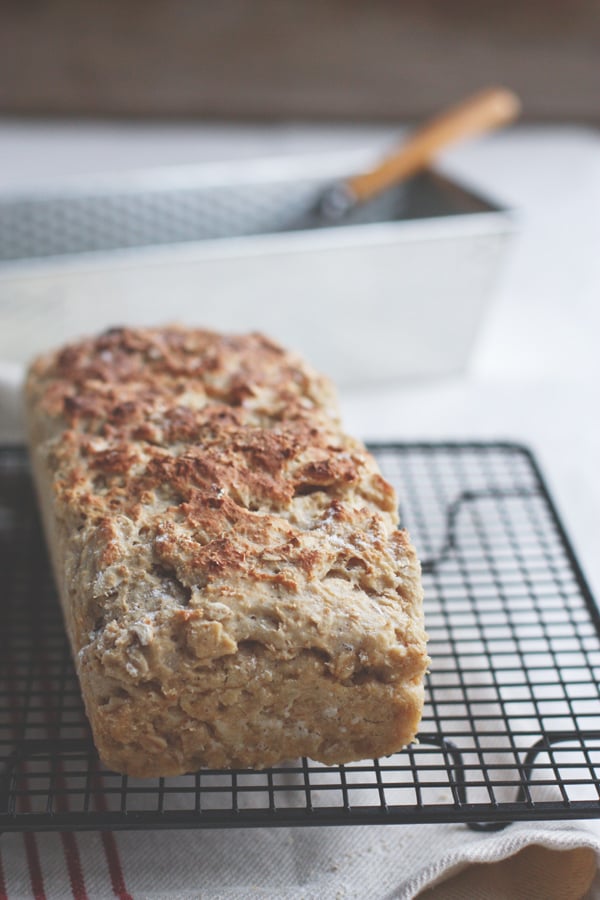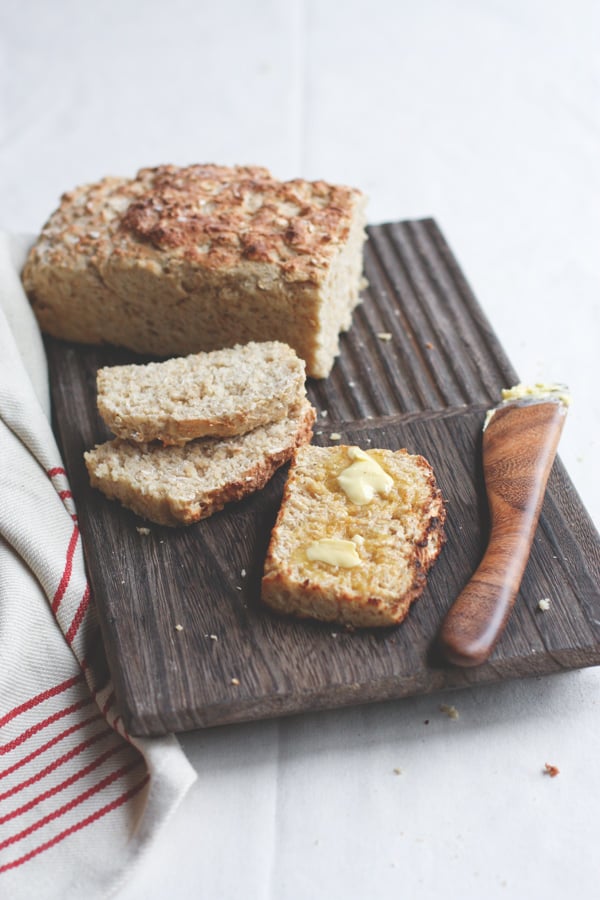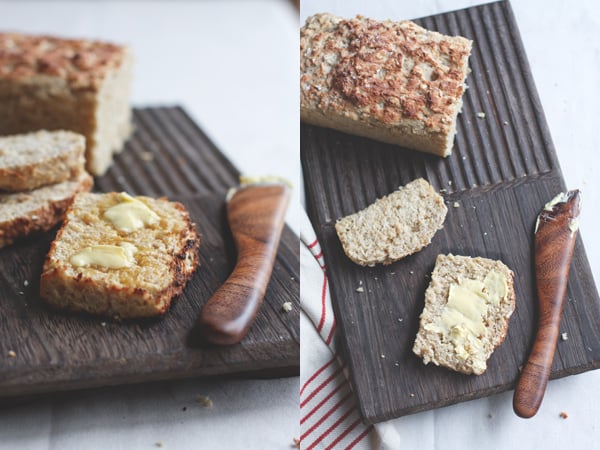 Hungry For More Recipes? Subscribe to my newsletter. Check out Facebook, Instagram and Pinterest to see everything I share! And if you love cooking and new cookbooks, join my free Cooking Club on Facebook!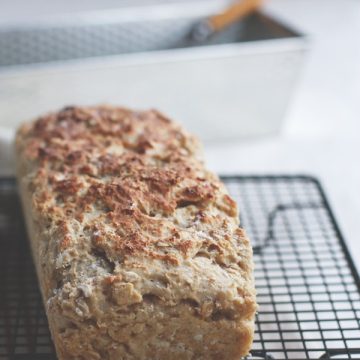 Ingredients
1

cup

plain flour

1

cup

wholemeal flour

1

cup

rolled oats

1

tablespoon

honey

1

packet dry instant yeast

,

7g

1 1/4

cup

warm water

1

tablespoon

melted butter

,

for brushing

1/4

teaspoon

sea salt flakes
Instructions
Preheat the oven to 180C (350F). Using a pastry brush, paint the insides of an 8 inch loaf tin with melted butter. Set aside.

In a small bowl pour the warm water, sprinkle yeast over it and stir. Add honey and mix well. Set aside for few minutes until it bubbles and swells.

In a large bowl combine flours, salt and oats. Add the yeast mixture and mix well. Spoon dough into prepared tin, cover tin with a clean tea towel and leave in a warm spot to rise for 30 minutes.

(You may sing to the dough at this point.)

Take the tea towel off and put the tin the oven. Bake in pre heated oven for approximately 40 minutes until risen and cooked. Enjoy warm with lashings of salted butter.
Did you make my recipe?
I'd love to hear how you went! Tag me on Instagram @cookrepublic