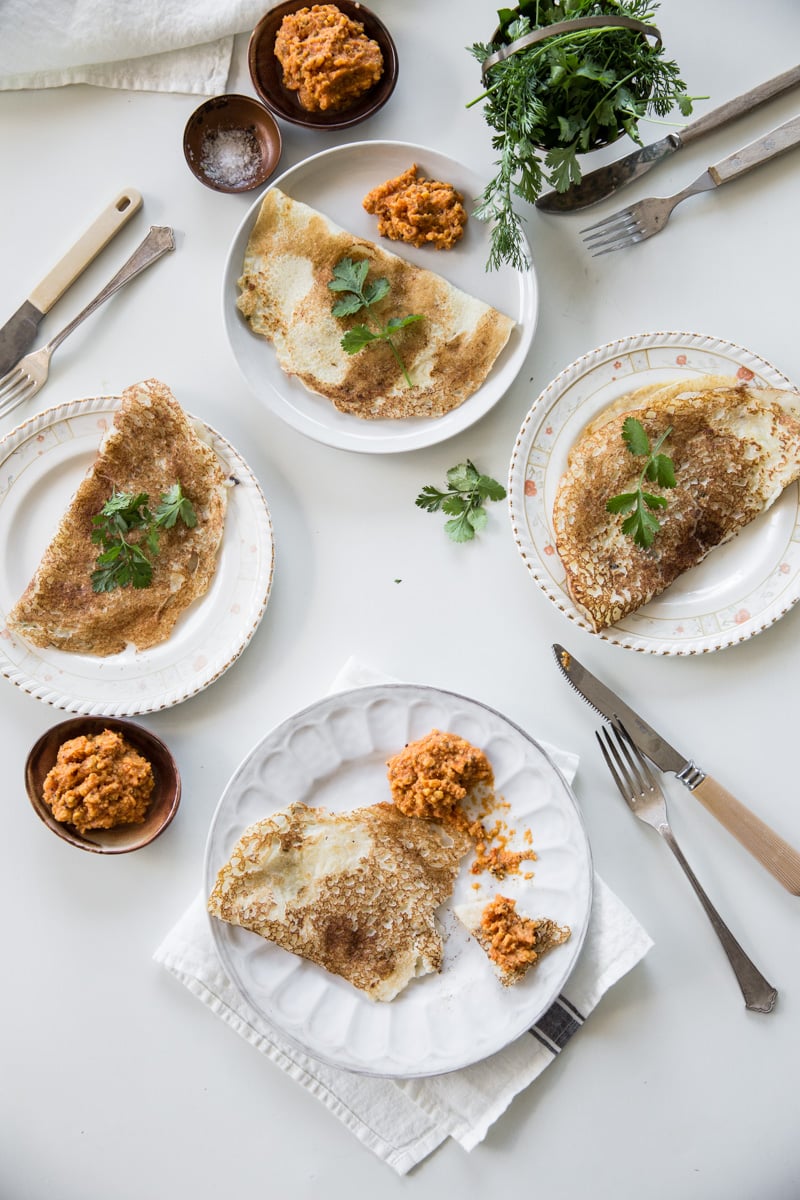 I have used Greek yoghurt for most recipes calling for yoghurt over the last two decades. But I have dearly missed Dahi - a traditional Indian pot set yoghurt that I grew up with in India. It has a silky texture from the pot setting and a delightfully addictive creamy taste with a slight tang that comes from the use of specific live cultures. Nick who was the official yoghurt setter in his family and later in ours, was the one who spotted Moo Dahi at our local Coles a few months ago. Immediate, utter excitement! Nostalgia! That was followed by memories of breaking the surface of the set yoghurt with a spoon a-la-creme-caramel and scooping it in my mouth. This was the real deal and it was locally made by Moo Premium Foods, an award winning family run business in South Australia. It had that authentic taste I loved and a quick look at the three ingredients it was made of told me that it was completely natural without any additives. Just like homemade dahi. After buying enough tubs to tide us through a catastrophe (because you never know, you might not find another tub again!) and just gorging on good old dahi with a spoon night after night, I decided that it was time to be a little less greedy and start cooking with it. I also noticed that the Dahi tubs were always present at Coles, so my fear that they would disappear was laid to rest. When Moo Premium Foods contacted me to create a recipe with their silky smooth dahi, I was overjoyed. Moo Dahi is extremely versatile and works like a charm in smoothies, dips, raitas, curries and marinades. But I wanted to create something more unique and tangible that would showcase the flavour of the dahi.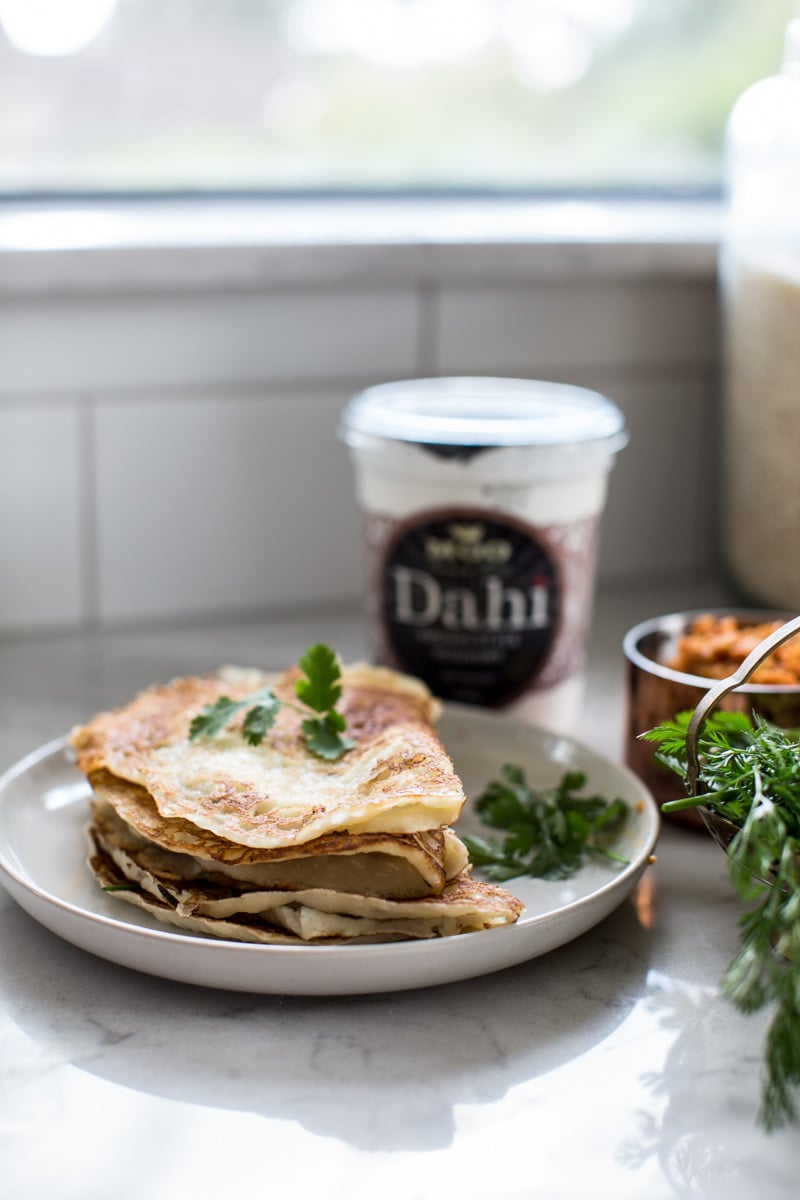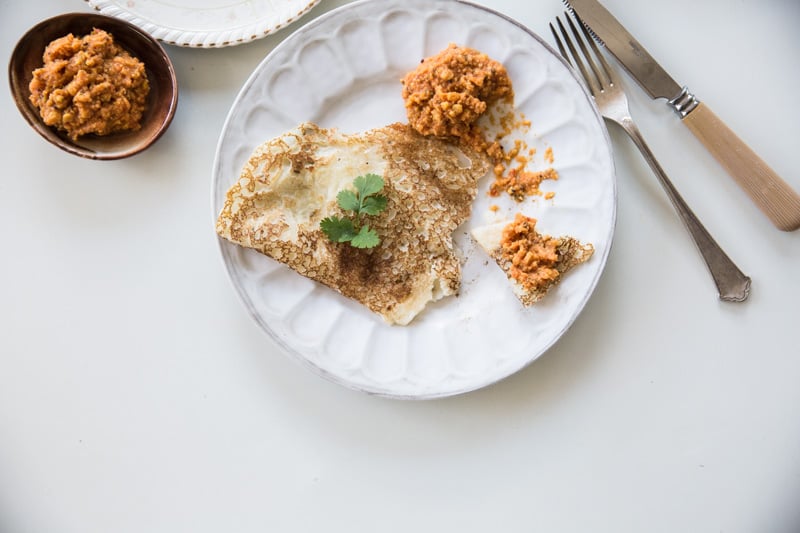 We rarely ever eat out at an Indian restaurant because I tend to make most of the dishes from this cuisine's spectrum at home. On those rare occasions when we dine at an Indian place, I make sure it has dosas. Because I love them and find them a tad time consuming to make at home. Dosa is a paper thin crepe made from fermented daal batter and hails from Southern India. The traditional method involves a lengthy fermentation process often spanning two days but produces a tangy and beautifully sour flavour that is as priced as a good sourdough. Over the years, I have learned to use yoghurt to produce almost equally pleasing results with that authentic fermented sour taste without the actual need for lengthy fermentation. With Moo Dahi, I had the perfect arsenal to make a version of my favourite dish. A Dosa. A Coconut Dosa. Very James Bond, don't you think?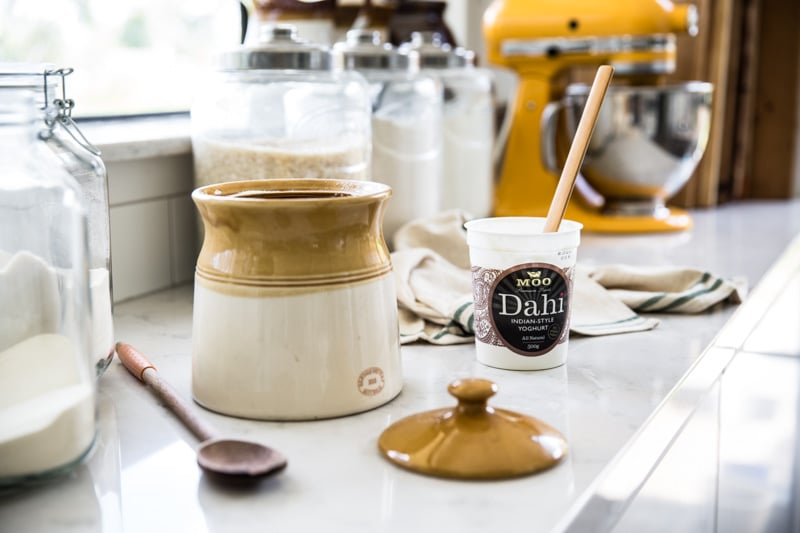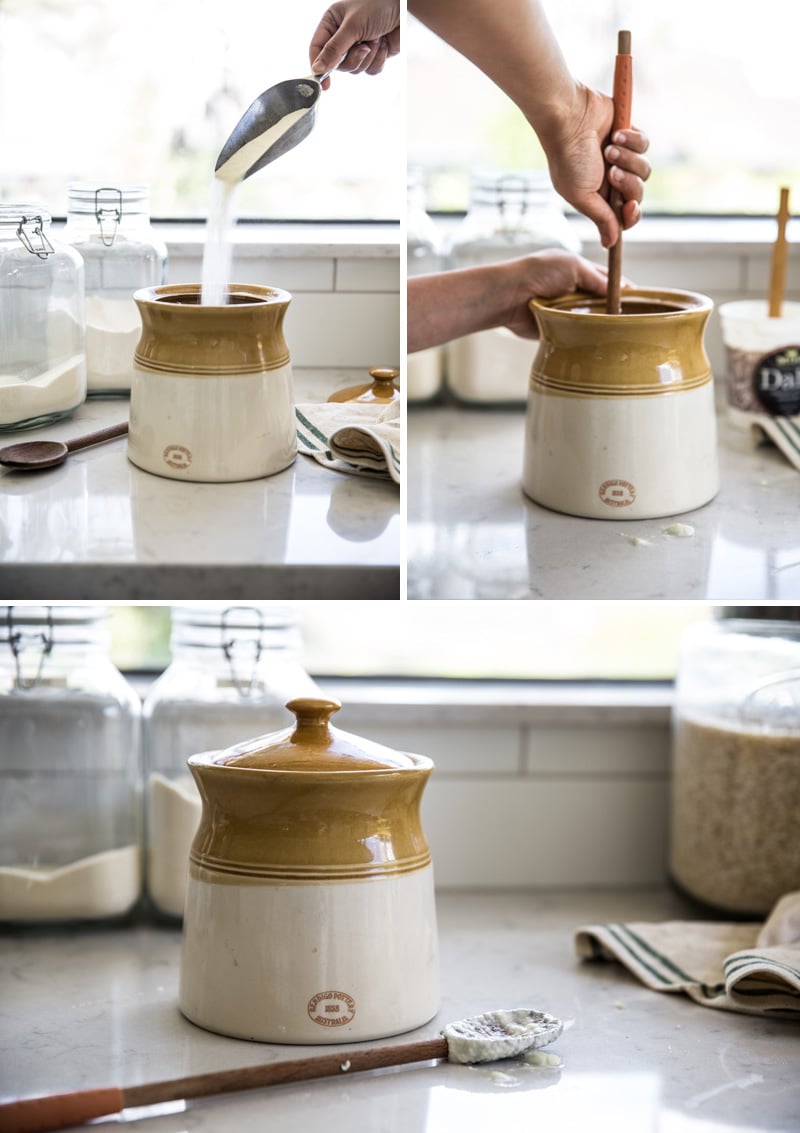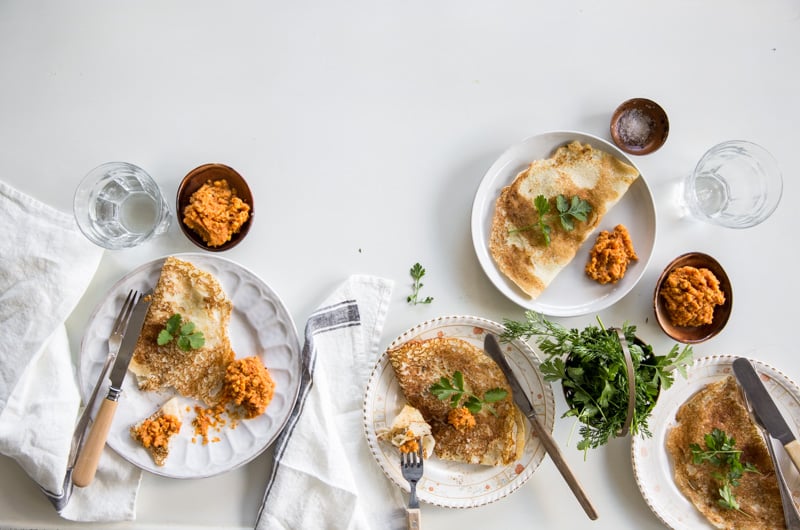 This Dosa is softer like a crepe and not as crispy as the traditional dosa. But it is lighter, more-ish and incredibly tasty. It is also pretty as a picture with the semolina making the crepe lacy. Served with a chickpea chutney that will remind you of sambar, the spicy vegetarian daal accompanying dosas, this dish will satisfy your dosa cravings. A 30 minute resting time is sufficient, but if you let it sit overnight in a vintage pottery jar then the flavour intensifies and becomes incredibly more delicious. This dahi and the dosa that resulted hit all the right spots especially because I rested the batter in a Bendigo pottery jar I found recently that took me back to my childhood when I used to pickle mangoes and ferment vegetables on a terrace with my mum in jars almost identical to this one.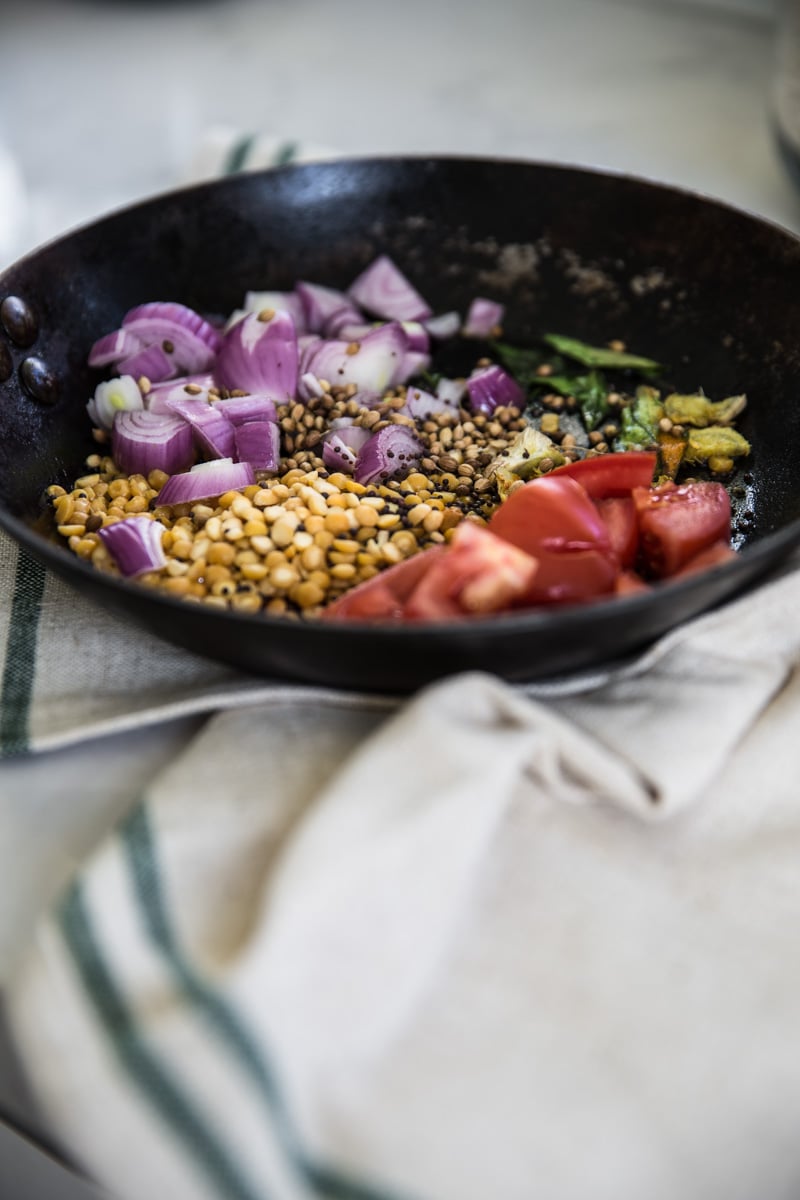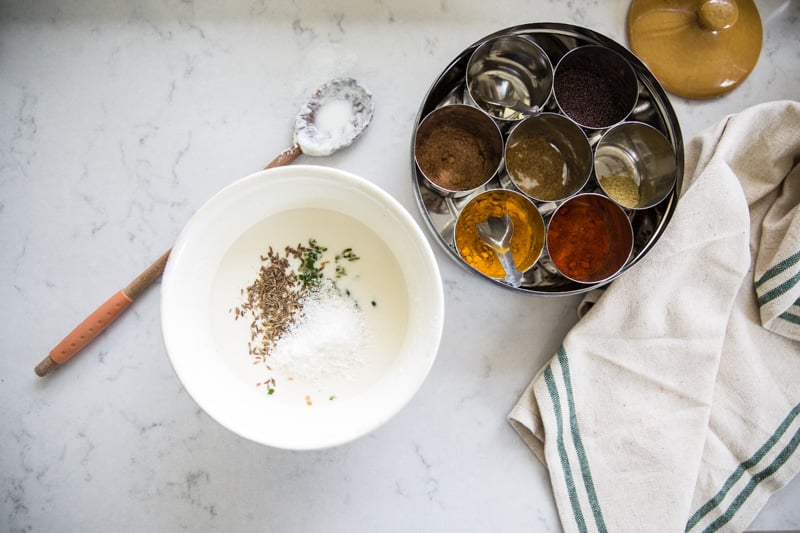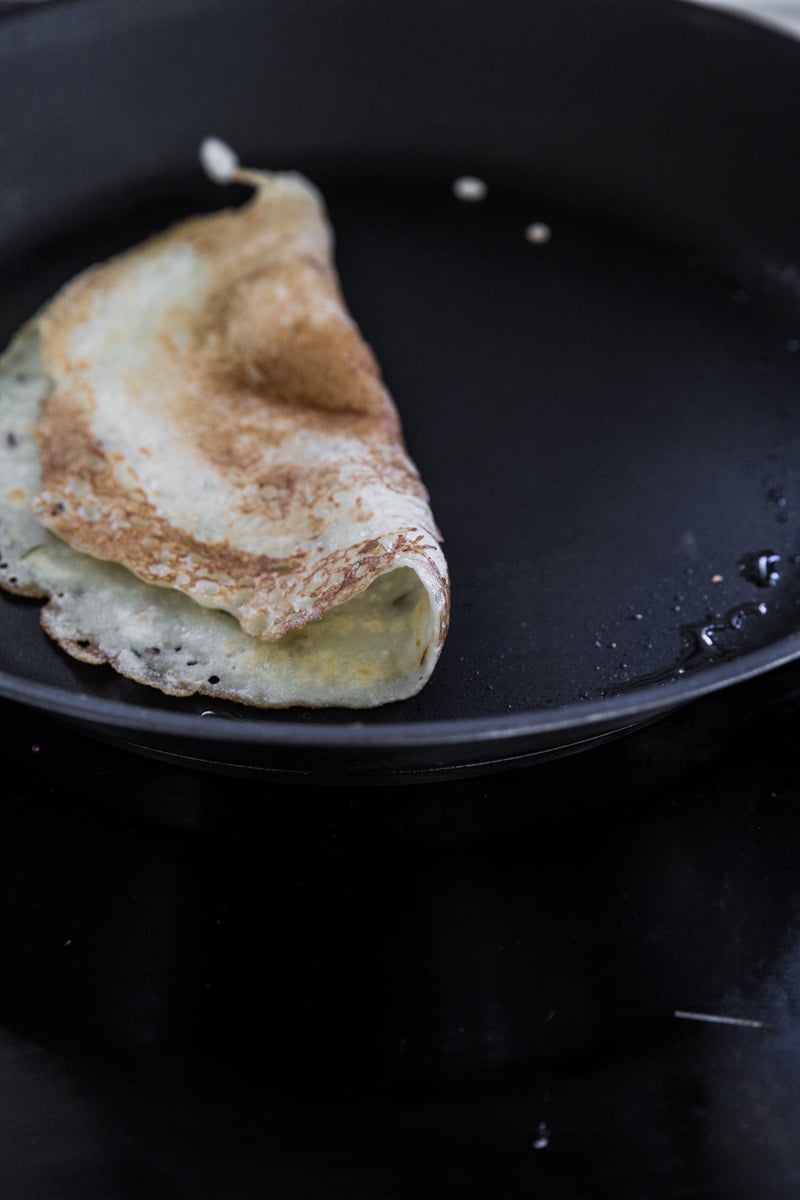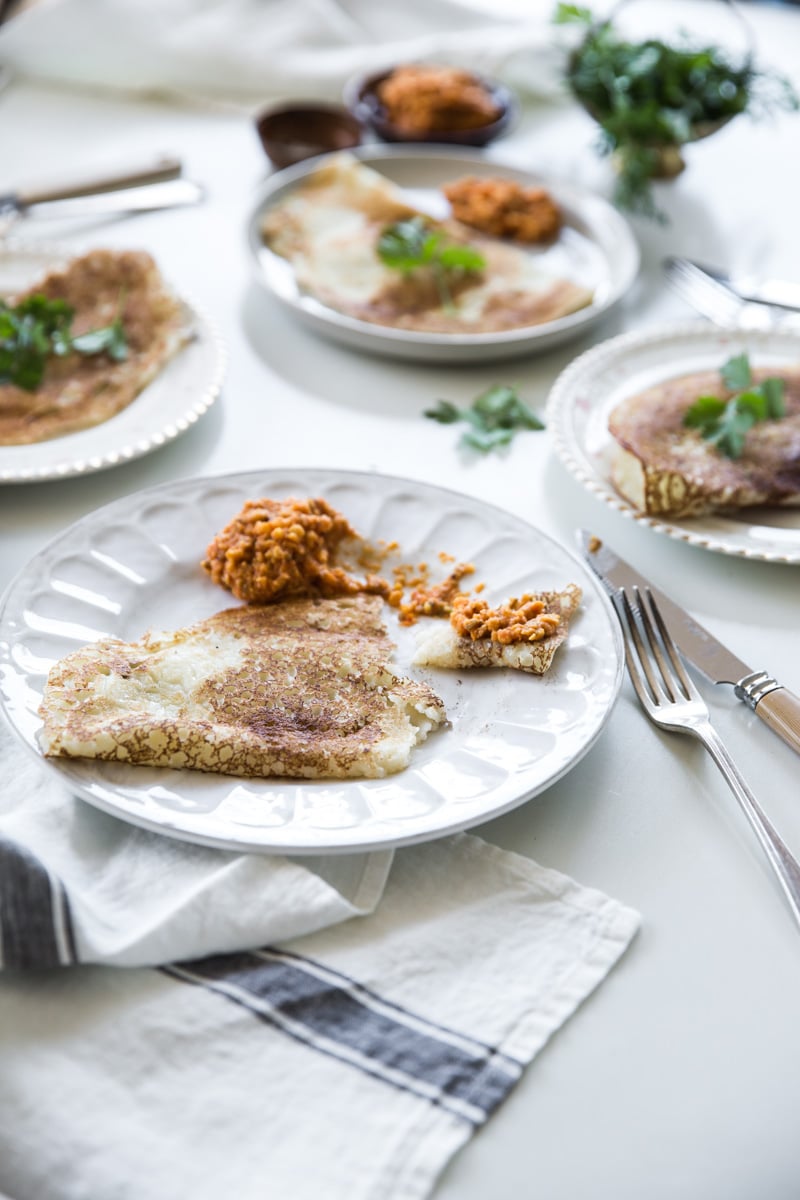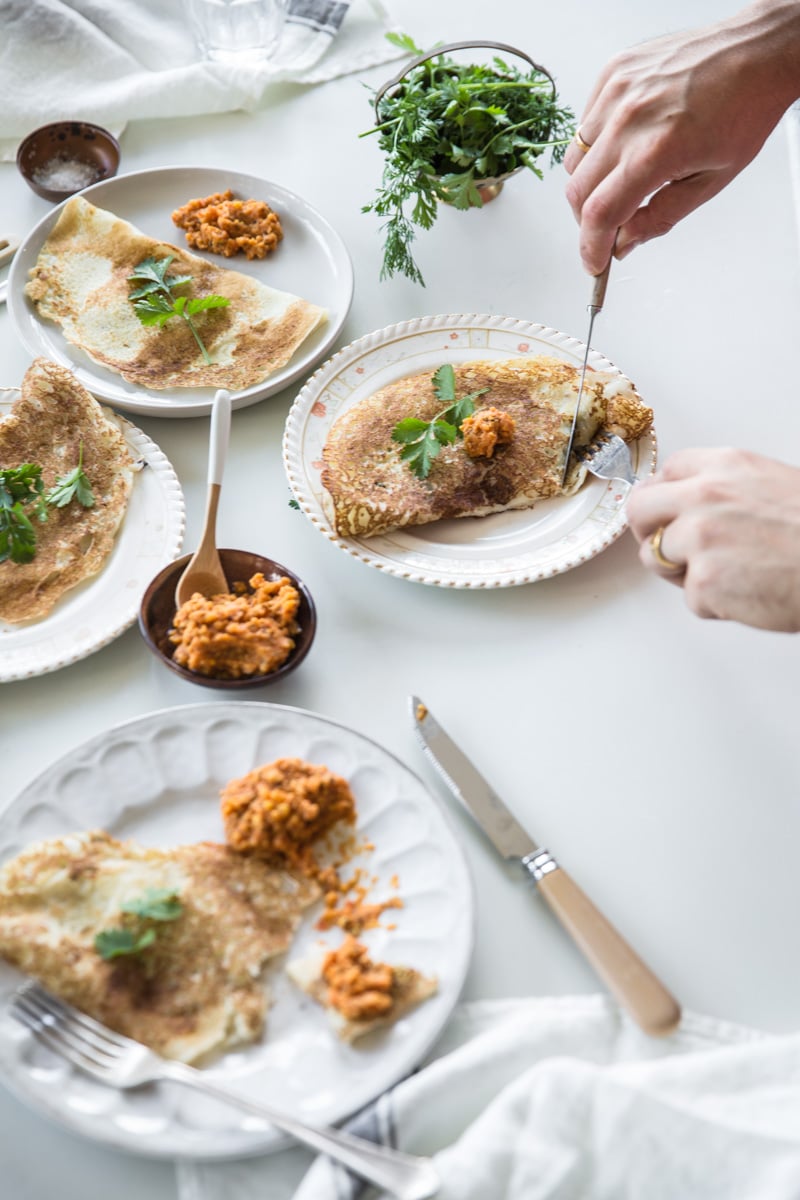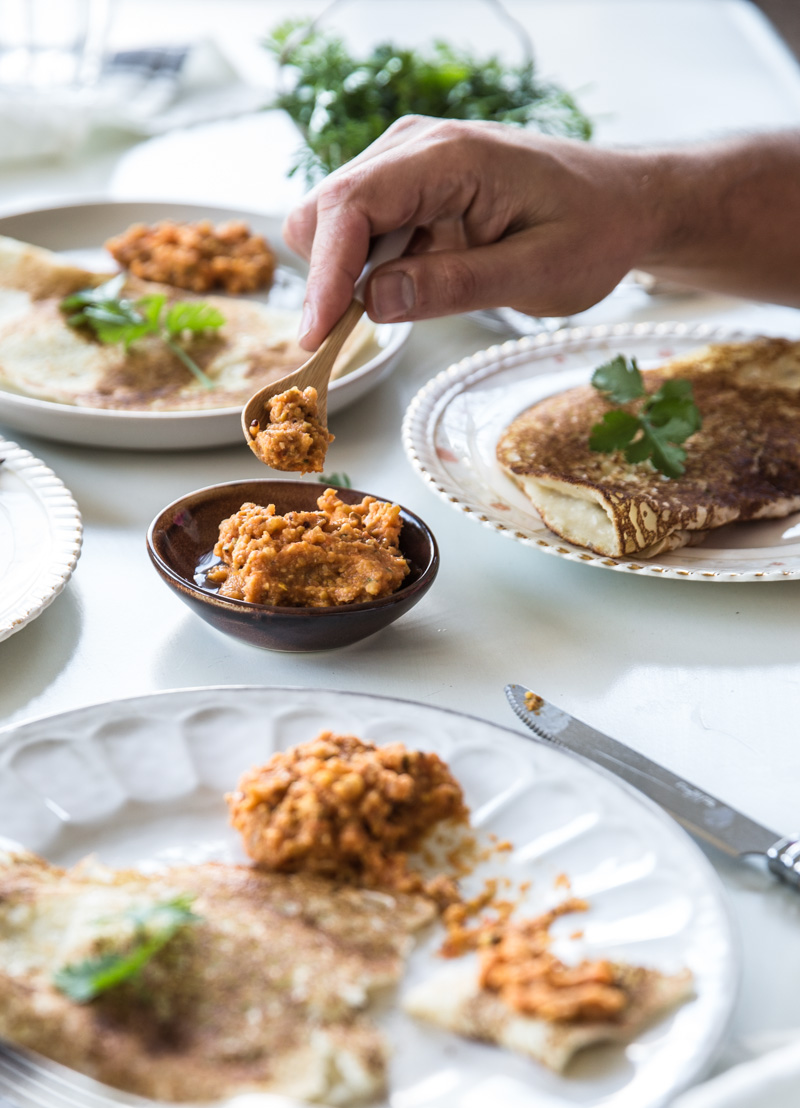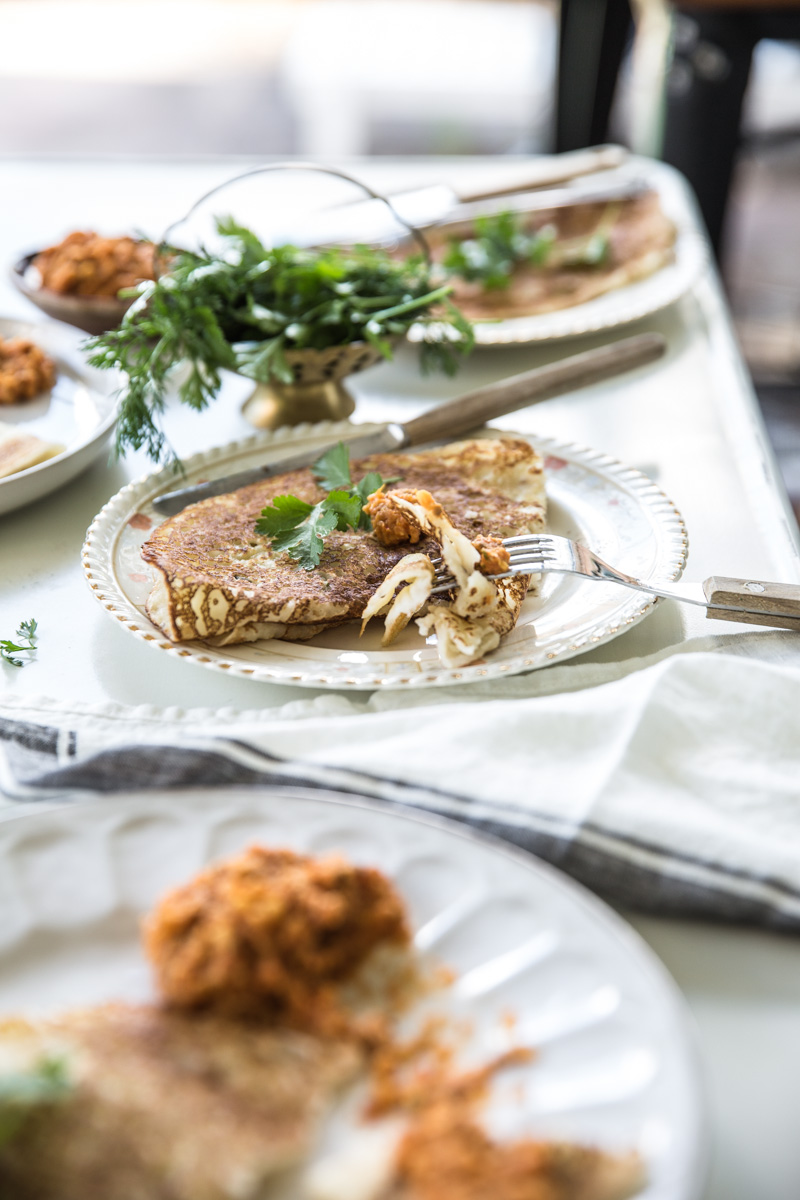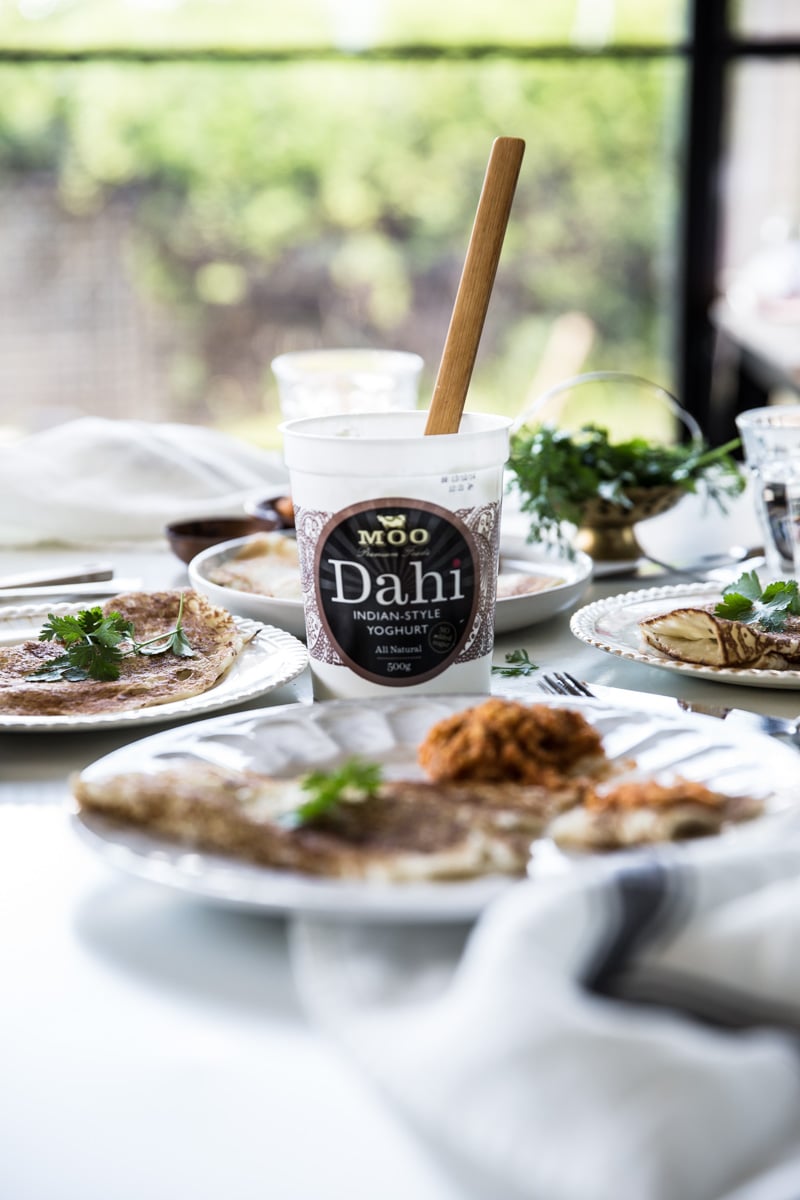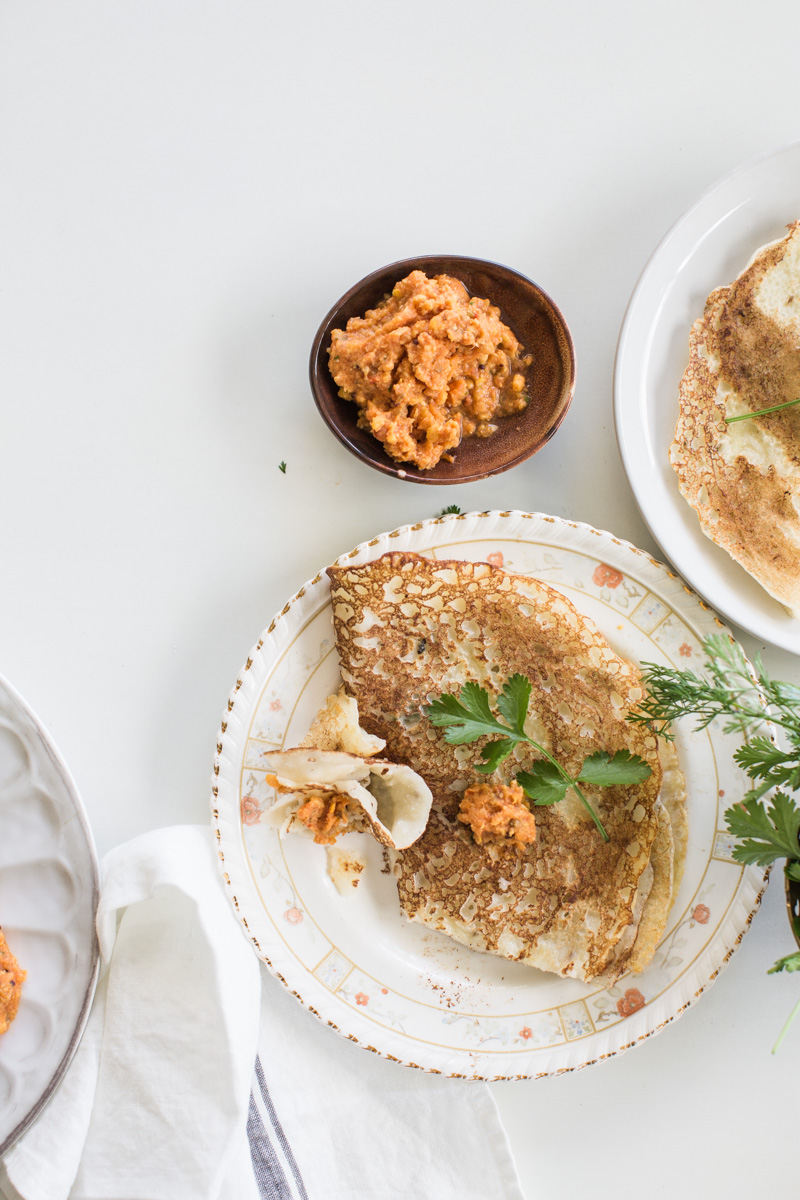 [print_this]
COCONUT YOGHURT DOSA WITH SPICY CHICKPEA CHUTNEY
An instant dosa recipe made light with semolina, coconut flour and Indian style yoghurt without the need for lengthy fermentation. This dosa is incredibly light , delicious and goes beautifully with the spicy chutney.
Ingredients
For The Dosa
1 cup (180g) semolina
1 tablespoon coconut flour
1/2 cup dahi/yoghurt (I used Moo Indian Dahi)
1 3/4 cups water
1/2 tablespoon sea salt flakes
1 small green chilli, deseeded and finely chopped
2 tablespoons desiccated coconut
1/2 teaspoon cumin seeds
coconut oil for pan frying
fresh coriander, to serve
For The Chutney
1 tablespoon coconut oil
1 teaspoon mustard seeds
1 tablespoon coriander seeds
1/4 cup yellow split pea (chana dal) soaked in hot water for 30 minutes
1 tablespoon grated ginger
1 small onion, coarsely chopped
2 small tomatoes, diced
1/4 teaspoon ground turmeric
1/4 teaspoon chilli flakes
salt to taste
1/4 cup water
Method
Place semolina, coconut flour, dahi, water and salt in a wide mouth ceramic jar or large bowl. Mix well. Cover and set aside for 30 minutes.
Add green chilli, desiccated coconut and cumin seeds. Mix well. Heat a few drops of coconut oil in a large non-stick frying pan on medium. Pour half cup batter in the center of the pan using a ladle. Gently using the back of the ladle's bowl, spread the batter in an even swirly circle fanning from the center to the outside of the pan. Cook for a couple of minutes until bubbles appear on the surface. Fold over and serve on a plate topped with fresh coriander and chutney. Repeat with the remaining batter and more oil.
To make the chutney, heat oil in a small frying pan on medium. Add mustard seeds, coriander seeds, yellow split peas, ginger and onion. Sauté for a few minutes until the onions start turning soft and golden. Add the tomatoes, turmeric, chilli flakes and salt. Reduce heat to low and sauté for 20 minutes until the tomatoes are cooked. Remove from heat and cool. Place in a processor along with the water and process coarsely. Spoon into a large bowl and serve with the dosas.
My Notes
The chana dal for the chutney can be found in Indian stores. It is essentially split chickpeas and is not to be confused with the yellow split peas available in supermarkets. Split pigeon pea can be substituted for chana dal. If neither is available, use canned drained chickpeas and skip the soaking.
You can use these coconut dosas as wraps. You can even freeze them with a sheet of baking paper between each cooked dosa.
[/print_this]