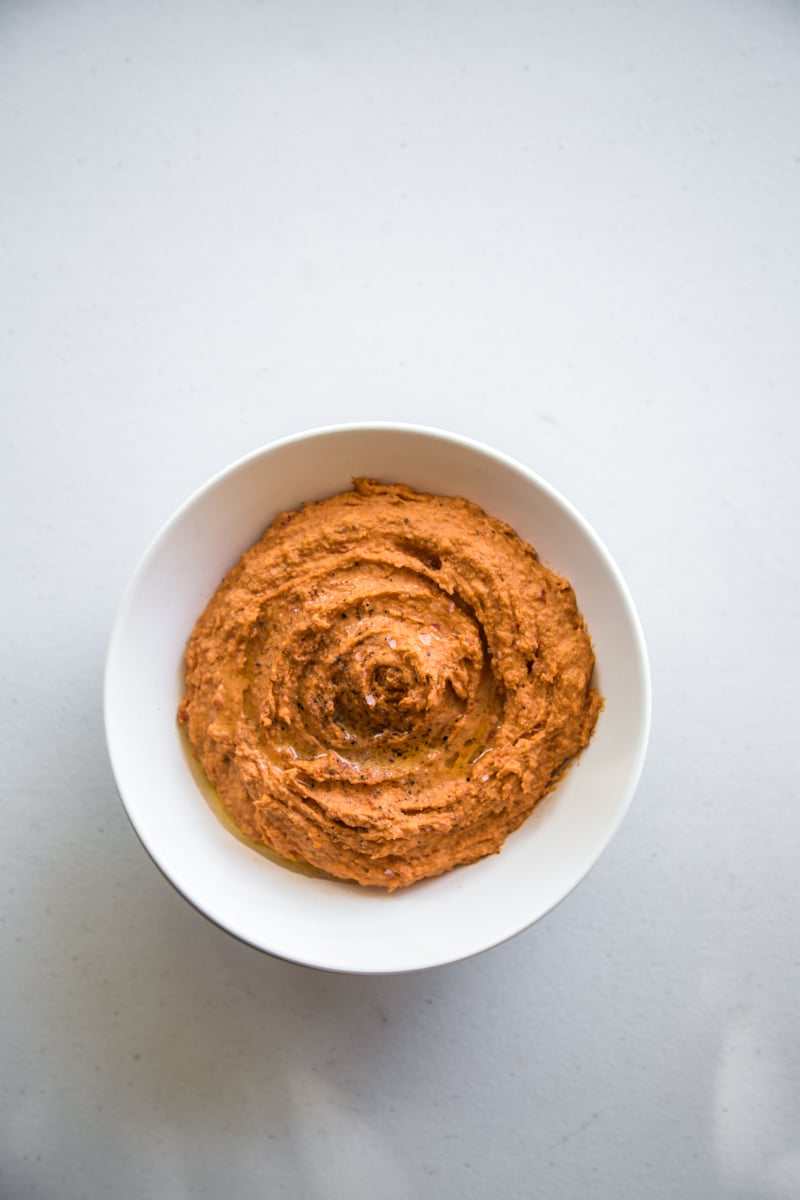 I have been testing and developing recipes for clients over an extensive two month period. It is wonderfully creative, often a challenge and always very satisfying. But it also makes me ache for simpler days where I cook something off the top of my head or draw inspiration simply from the produce bowl on the counter. Five or six ingredients at best, cooked and put together very organically without measuring cups, spoons or recipe journals dotted with scribbled notes. I don't usually share such recipes because there are dozens of similar ones floating around on the inter webs but for the sake of that simplicity I was talking about, I will share one such recipe that I seem to be throwing together in those quiet moments.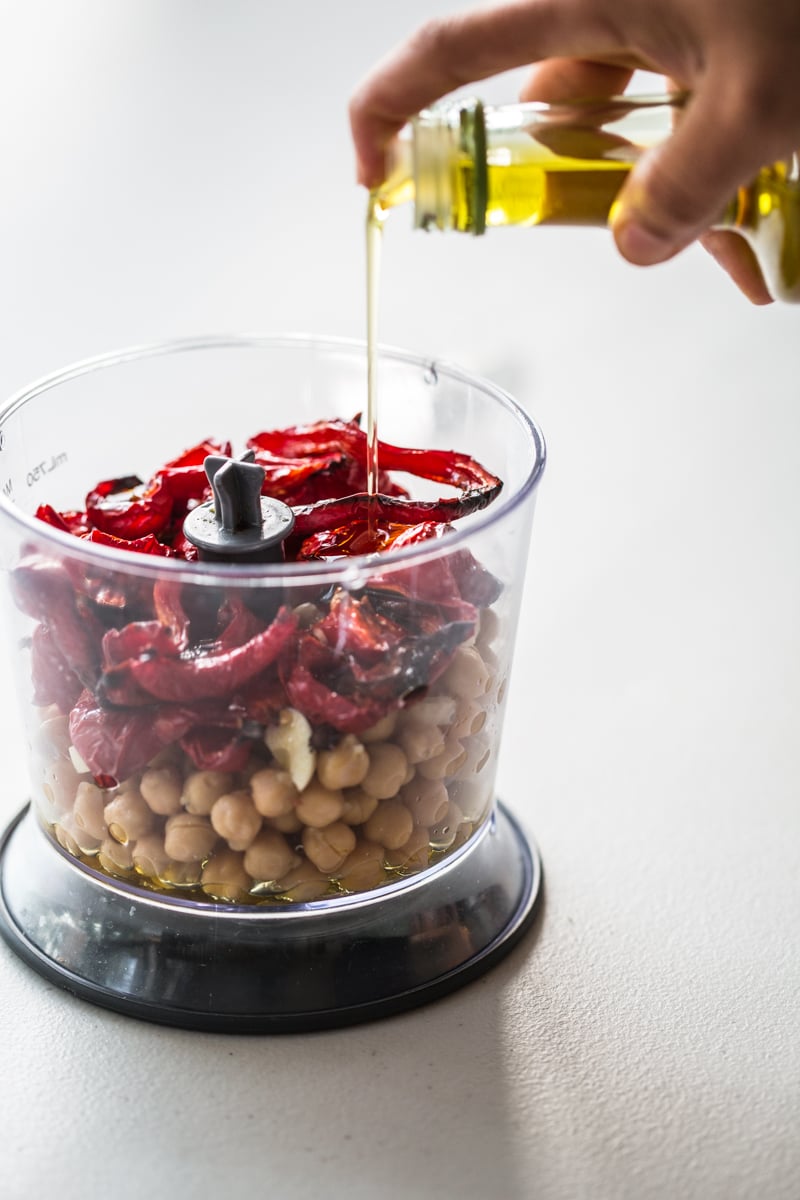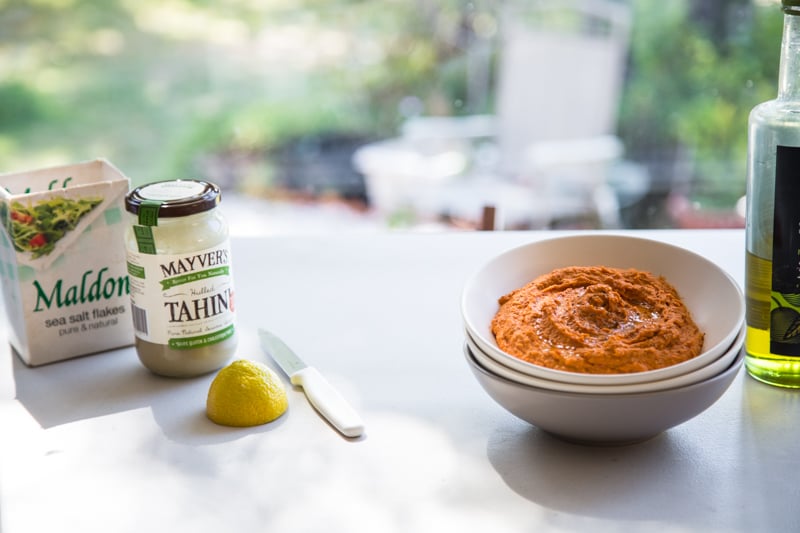 There is nothing much to this hummus recipe. Much like a pesto, the base is the same and if you have never made it before, you will find it on a million websites. A classic base is the starting point of a great seasonal masterpiece. I have taken a hummus recipe that I have been making with my eyes closed (not quite literally!) for many years and added oven charred red capsicum to the mix. Red capsicums are in abundance at the moment with the weather getting hotter every few weeks. It seemed like a no brainer to use them. But it is not the end recipe that I wanted to talk about. I wanted to draw on the inspiration that comes from the process and from what you can create with the end result. The beauty of 5 simple ingredients is that they spark creativity if you take your time processing them.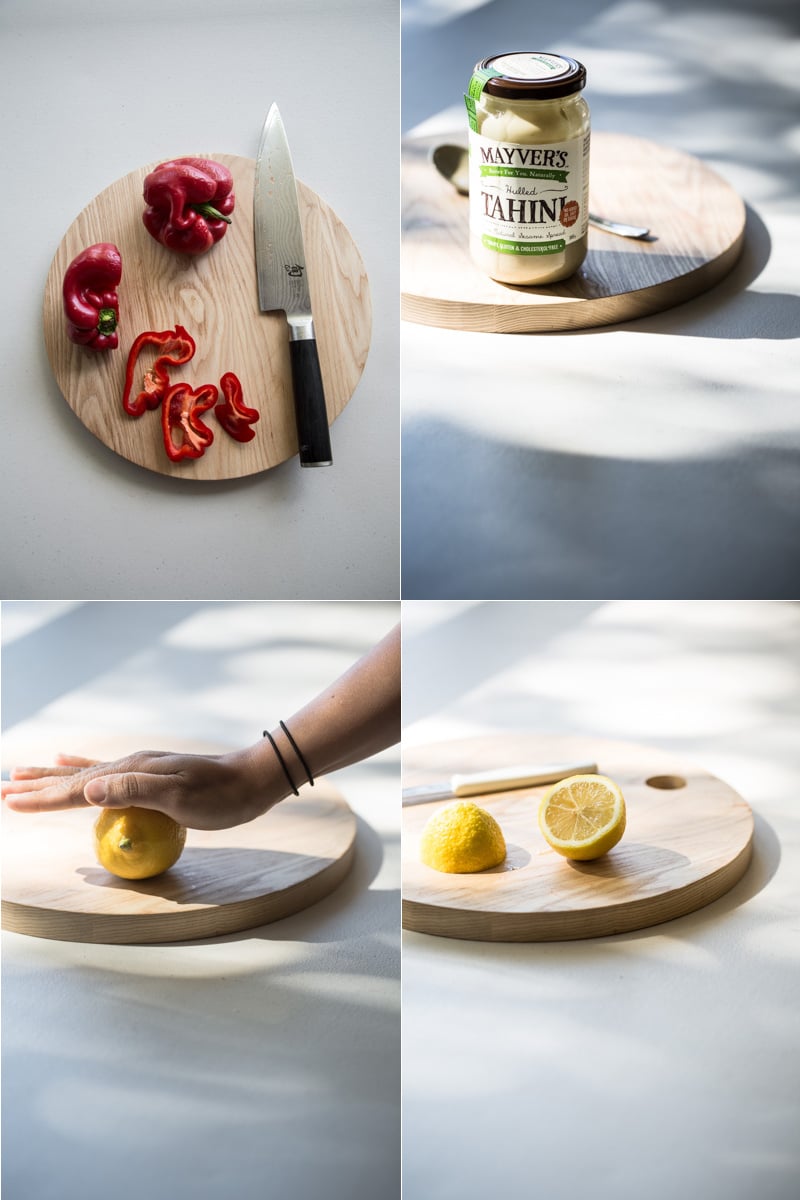 Every time I make this hummus, I make a mental note of how I can squeeze more juice out of a lemon by pressing and rolling it on the countertop. I marvel at how a roughly cut capsicum drizzled with extra virgin olive oil and roasted in the oven for 25 minutes becomes a smoky charred treat that I want to make more of so I can top my pizzas and layer my sandwiches with it. A quick blast of chickpeas and garlic in the food processor enlightens me to the extremely versatile nature of the hummus mix. If I added a cup full of breadcrumbs and chopped greens, I could shape these into patties and bake instant red tinged falafels in the oven. From there I could simmer them in a veggie sauce for a vegetarian meatball meal or wrap them tight as a mummy with some quinoa in spinach wraps and toast them for a hearty lunch. This is why I like to share a simple pantry staple like this hummus for instance, because it sets your mind free. Inspiration and reverie aside, I love spreading this on a flat plate and topping it with some sautéed asparagus and a poached egg. So if you haven't made something dead simple in a while because you are surrounded with too many recipes and too much inspiration and you just don't know where to start, start small. Make a pesto or a hummus! It is satisfying beyond words.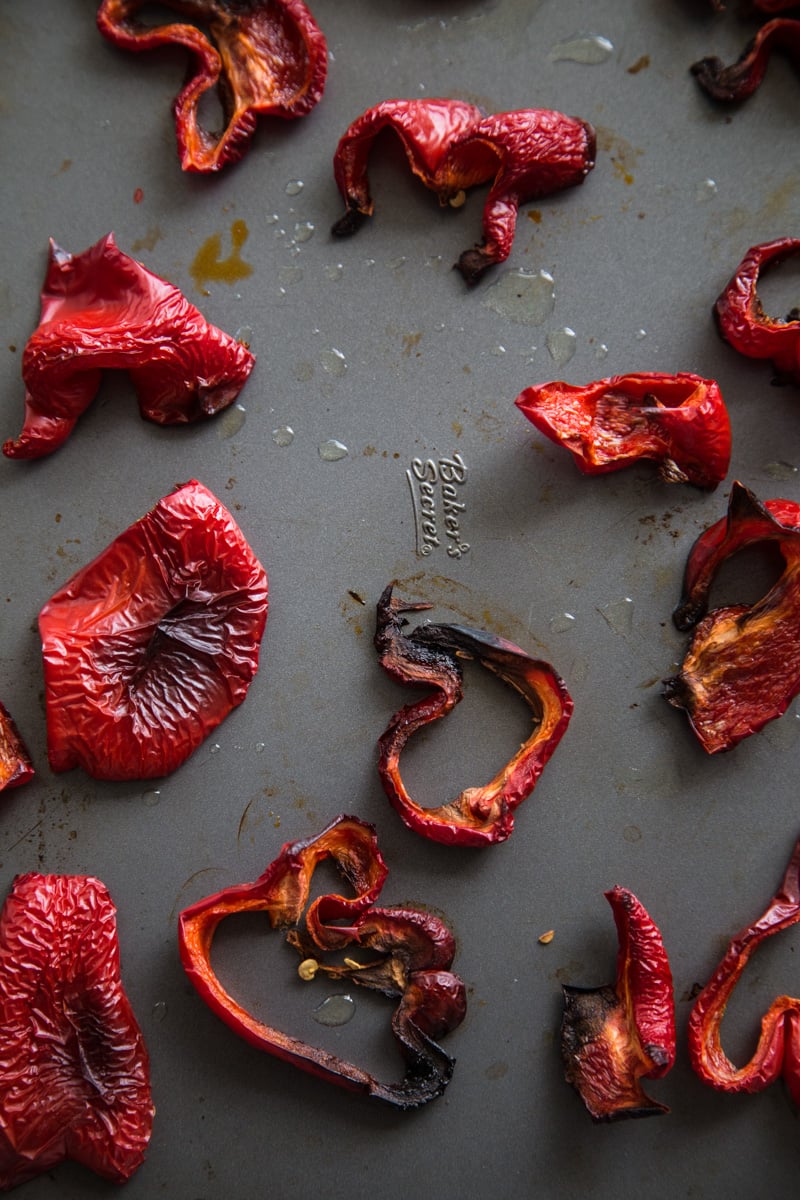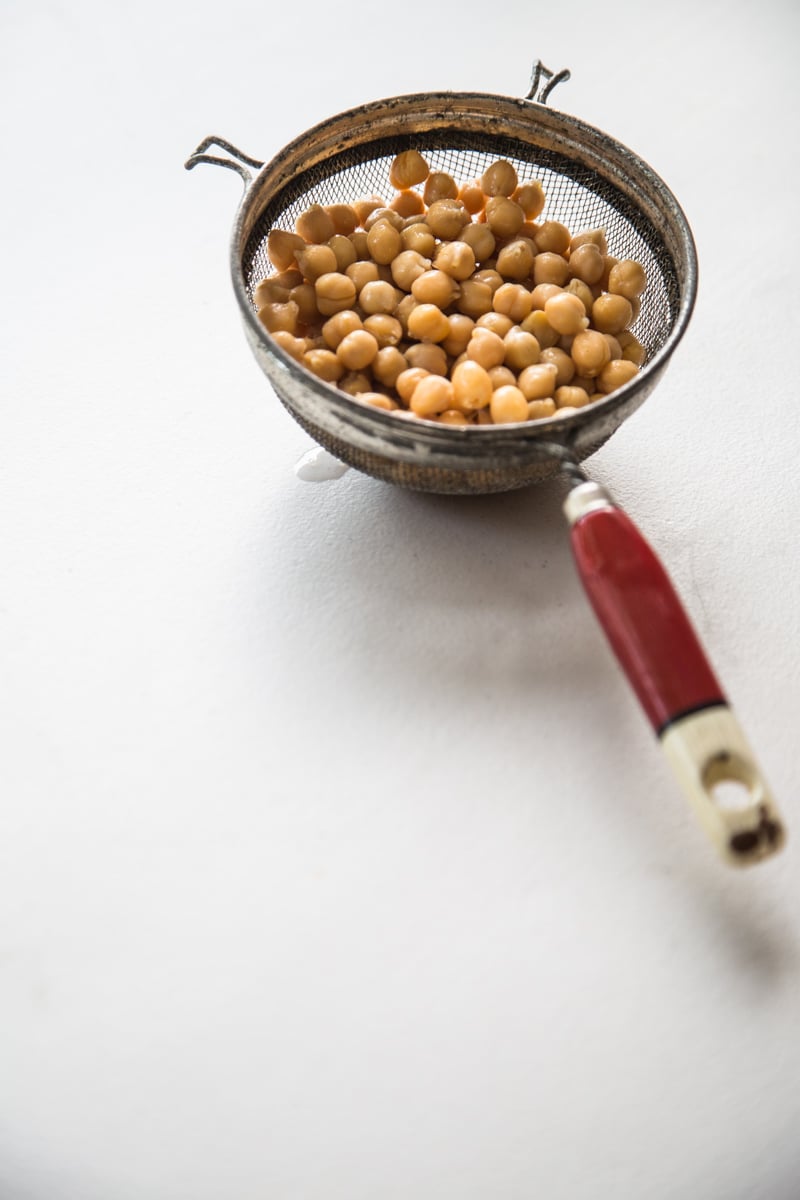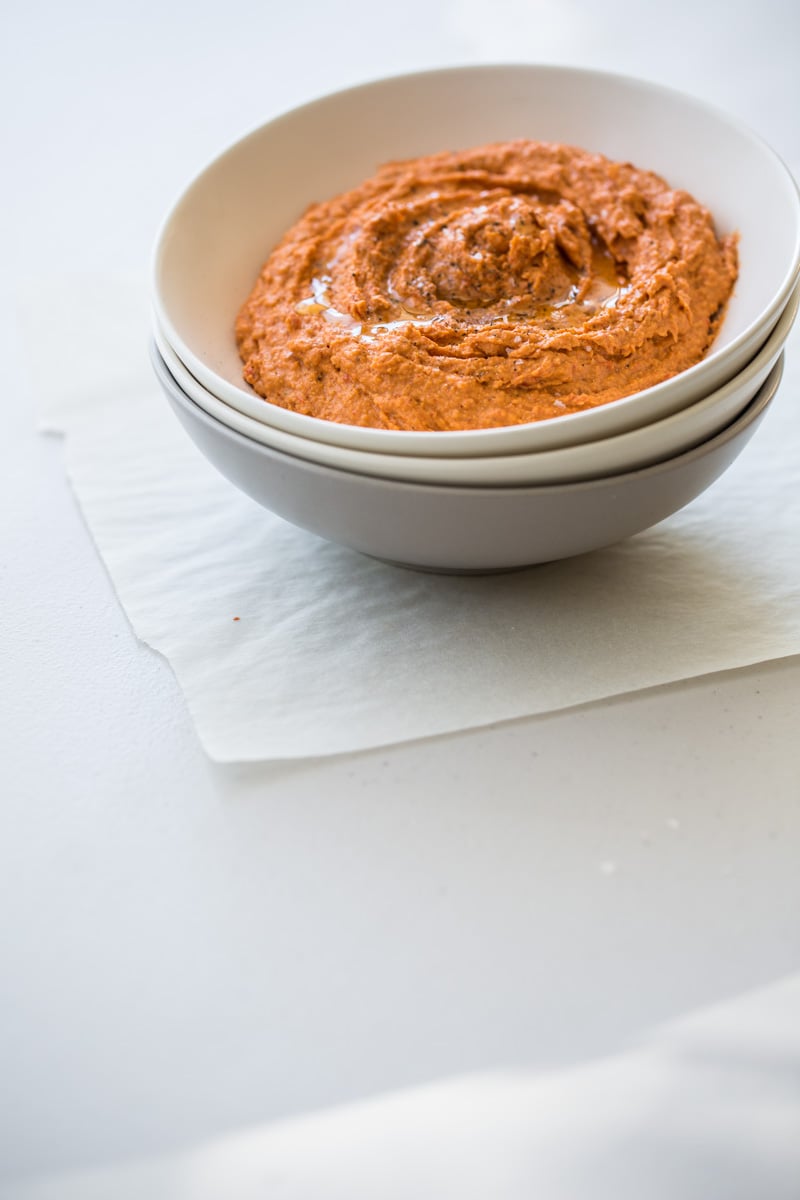 [print_this]
ROASTED RED CAPSICUM HUMMUS | gluten-free / vegan / sugar free
A classic pantry staple with the added goodness of oven charred capsicum, this hummus is extremely versatile as a dip, spread or base for sautéed asparagus and poached eggs.
Makes - 2 cups
Ingredients
1 400g can chickpeas, rinsed and drained
2 garlic cloves
juice of half a large lemon
2 tablespoons tahini
1 teaspoon ground cumin
1 large red capsicum
1/3 cup olive oil
salt and pepper to taste
extra virgin olive oil to drizzle
Method
Pre-heat oven to 200C. Trim, deseed and chop the capsicum. Place on a rimmed baking tray. Drizzle lightly with olive oil and toss. Roast in the oven for approximately 25 minutes until edges start to char. Remove from oven and cool slightly.
Place chickpeas, garlic, tahini, cumin, lemon, salt, pepper, olive oil and capsicum in the jug of a small food processor. Process until smooth. Add extra olive oil if too stodgy.
Spoon into a plate. Drizzle with extra olive oil. Sprinkle with black pepper and serve.
[/print_this]