Finding a cookie recipe that is like a blank canvas that you can paint on with different colours every single time is like finding the treasure at the end of the rainbow, rare but so worth it. The recipe I am about to share is that blank canvas for me.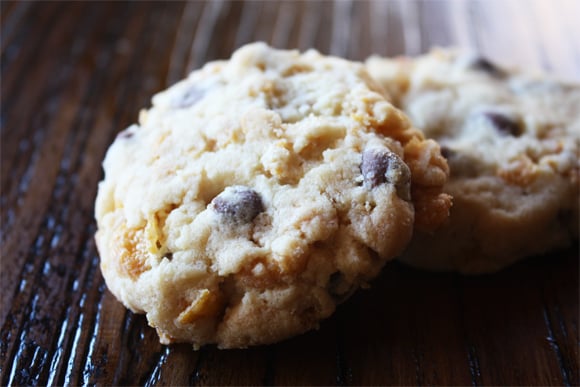 I found this recipe in a very old cooking magazine, late 90s I think. It looked relatively easy, so I made it and it was the perfect crumbly cookie recipe a baker could ask for. I loved it even more because it didn't have egg as an ingredient, which meant my cookies would be crisp and would not go bad for a very long time, if they managed to survive being eaten for that long. Looking at the ingredients, I felt that the two main stars of the recipe "cornflakes" and "chocolate chips" could be easily replaced for other ingredients to get variations and I was right. So began a week long cookie fest to fill up my Maxwell & Williams' Old English Cookie Jar.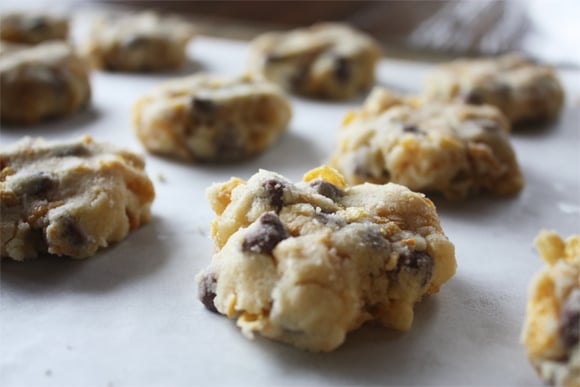 [print_this]
recipe
Cornflake Choc Chip Cookies
Preparation Time - 15 minutes | Baking Time - 15 minutes | Makes 20
Ingredients
125g butter, chopped, softened
2/3 cup caster sugar
1 teaspoon vanilla essence
1 1/4 cups self-raising flour, sifted
1 tablespoon milk
1 1/2 cups cornflakes
2/3 cup milk chocolate bits
Method
Preheat oven to 180°C. Line a large flat baking tray with baking paper.
Using an electric mixer, cream butter, sugar and vanilla in a bowl until pale and creamy. Add flour. Mix on low speed until just combined. Add milk. Stir until dough comes together. Using a wooden spoon, stir in cornflakes and chocolate bits.
Roll tablespoonfuls of mixture into balls. Place on the baking paper a few centimetres apart, allowing room to spread. Flatten slightly with finger tips or spatula.
Bake cookies for 12-15 minutes until light golden. Stand for 5 minutes. Transfer to a wire rack to cool completely. Repeat with remaining cookie mixture.
[/print_this]