As bakers, we underestimate the value of having a frozen loaf of a delicious cake or bread in the freezer. A frozen slab of something spongy and fluffy, just waiting to be heated or toasted in the oven will cure those midday blues and save your skin when you have to magically conjure up a treat for unexpected guests late one evening.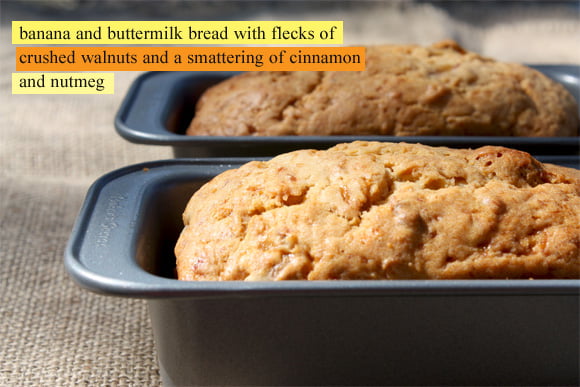 In addition to vowing to replenish my cookie jar every week with freshly baked cookies, I have decided to bake a bulk lot of some bread to have as a backup in my freezer. As I have mentioned before that there is no lack of overripe bananas at any given time in this household, different kinds of banana breads and cakes seem like the most logical thing to bake.
Today I doubled a basic banana bread recipe from Marie Claire's Kitchen cookbook. I wasn't sure how the doubling would work and I was right, the batter was a tad dry. So I added some fresh buttermilk. I divided the batter in 3 parts. I baked a big loaf of plain banana bread sprinkled with nutmeg and cinnamon. I stirred through coarsely ground walnuts through the other two parts and baked them in mini loaf pans to freeze or give away. With my baking urges satisfied, I sat down to blog about it, my senses teased with the aroma drifting from the kitchen. The loaves rose well, because I tweaked baking time for the bigger and smaller pans separately. The bread tasted fantastic, warm from the oven and served with a dollop of vanilla bean ice cream. It tasted even better the next day for breakfast, toasted and buttered to perfection.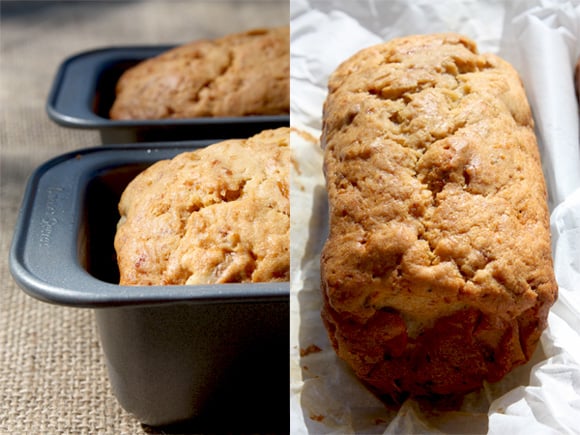 [print_this]
recipe
Basic Banana Bread With A Walnut Variation
Preparation Time - 15 minutes | Baking Time - 50 minutes & 40 minutes | Makes 1 large banana bread loaf and two small banana and walnut loaves
Ingredients
180 grams unsalted butter, softened
1 cup superfine caster sugar
4 eggs
1 teaspoon natural vanilla extract
4 cups plain flour
3 teaspoons baking powder
5 large ripe bananas
grated zest of 1 orange
1 teaspoon ground nutmeg
1 teaspoon ground cinnamon
1/4 cup buttermilk
a pinch of salt
Method
Preheat oven to 180°C (350°F). Combine all ingredients in a food processor and process to a smooth batter. Alternatively, combine all ingredients in a large bowl and whisk with an electric blender until well combined.
Grease and line a large 26cm x 15cm loaf pan with baking paper. Spoon half of the batter into this pan and bake for approximately 50-55 minutes until well risen, browned and cooked through.
Grease and line two small 17cm x 8cm loaf pans with baking paper. To the remaining batter, add 1/4 cup coarsely crushed walnuts. Mix well. Spoon mixture equally between both pans and bake approximately for 35-40 minutes until golden risen and cooked through when tested with a skewer inserted through the middle.
[/print_this]