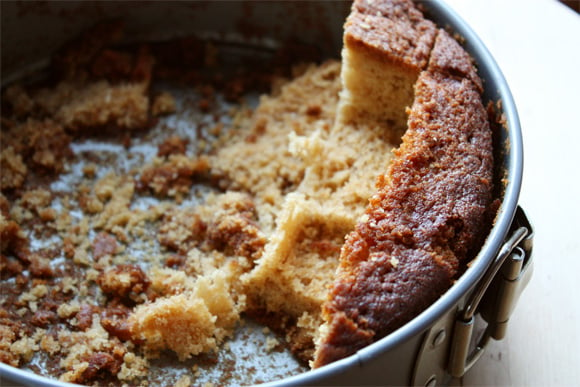 For almost a year I have stored in my pantry a bottle of rice bran oil that happened to be in one of the show bags at the Good Food And Wine Show. We are prolific olive oil users in this house with the exception of chili oil and sesame oil for asian cuisine. So rice bran oil just sits there all by itself not knowing what to do with itself.
Over the recent weeks, I have undertaken the extremely fun task of emptying my pantry of long forgotten [but still edible] ingredients and using them to make my weekly cooking adventures more interesting. This exercise not only ensures that we have something fresh and exciting every single night for dinner, but also saves some dollars. I came across a recipe for Cardamom teacake in a recent cooking magazine. How can you not make something that sounds as fragrant as a cardamom teacake, right? And then I saw rice bran oil on the ingredient list and I was whisking and beating within minutes.
I swapped some ingredients and introduced some wholemeal flour for earthiness and texture. The resulting cake was light, not very sweet and extremely moreish. Needless to say, my shopping trolley this week had a bottle of rice bran oil.
[print_this]
recipe
HEALTHY CARDAMOM TEACAKE
Preparation Time - 10 minutes | Baking Time - 50 minutes | Serves 10
Ingredients
1 1/2 cups self-raising flour
1/2 cup wholemeal flour
1 1/2 tsp ground cardamom
1/2 tsp ground cinnamon
a pinch of salt
1 cup caster sugar
3 eggs, well beaten
1 cup rice bran oil
1/2 cup milk
icing sugar to dust
Method
Preheat oven to 180°C. Spray a 20cm ring tin with cooking oil spray [I use olive oil spray].
Sift together flours, cardamom, cinnamon and salt. Stir in the sugar. Whisk together eggs, oil and milk until combined. Spoon mixture into prepared pan.
Bake for approximately 50 minutes until golden and cooked through. Turn out onto a wire rack to cool. Dust with icing sugar and serve.
[/print_this]