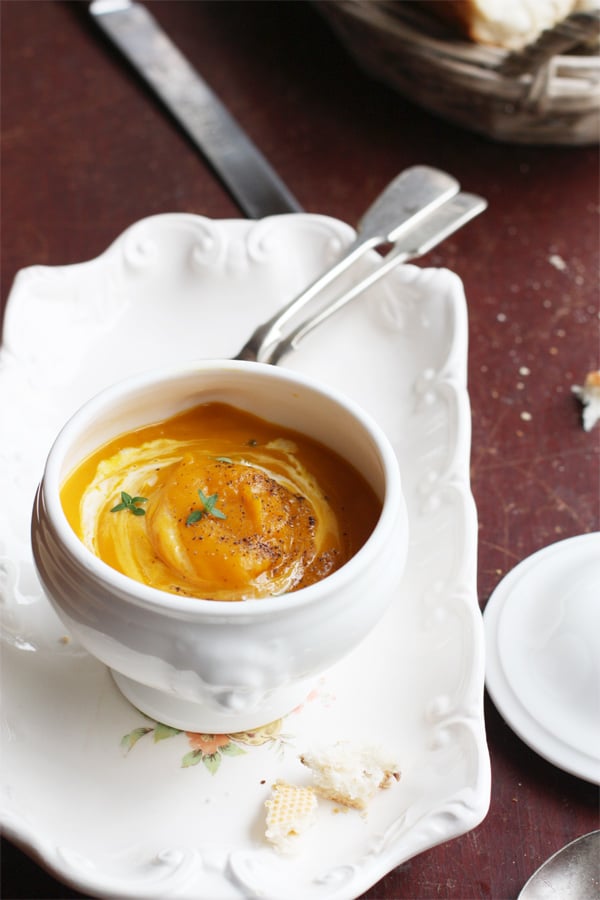 I love real stock that is made from scratch, stock that is simmered slowly with the freshest of ingredients. I have made fresh stock a handful of times. The rest of the time, I have used store bought stock. Don't judge me! I plan to go back to simmering my own stock after my chickens have flown their coop and when time is not such a novelty. It is a promise, I hear echoing all around me as enthusiastic cooks (most of them all parents and juggling more than they can) pledge to create their own stocks on a regular basis in the future.
Post Sponsored By Nuffnang.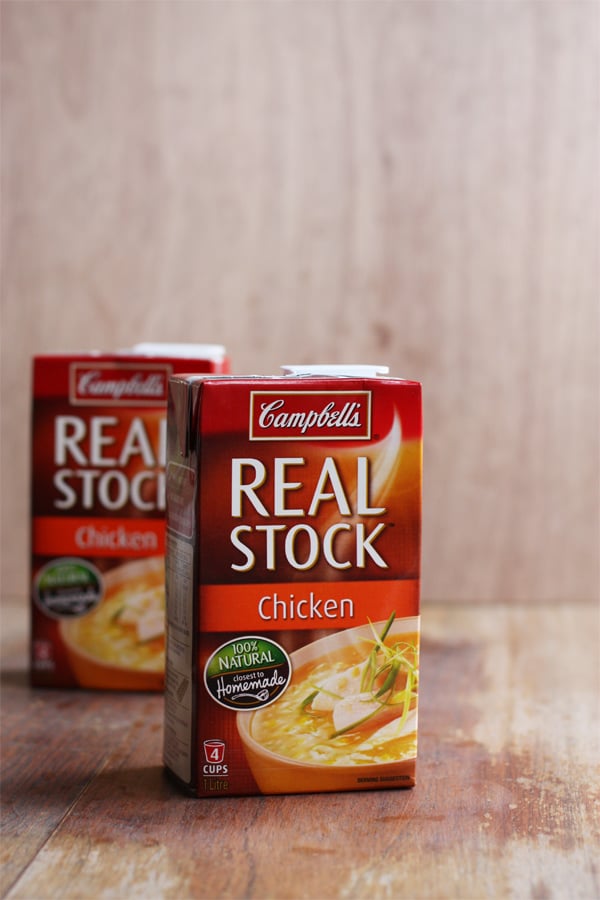 I have been using stock in powder form all these years. My reasoning for using powdered stock was that it was more compact to store in my pantry and that it allowed me greater control to achieve the intensity of flavour I was after. When the guys at Campbell's came out with their range of Real Stock pastes in handy little tubes, I was at the shops faster than you could say "Pronto!", probably just after the first of their ads hit prime time slots.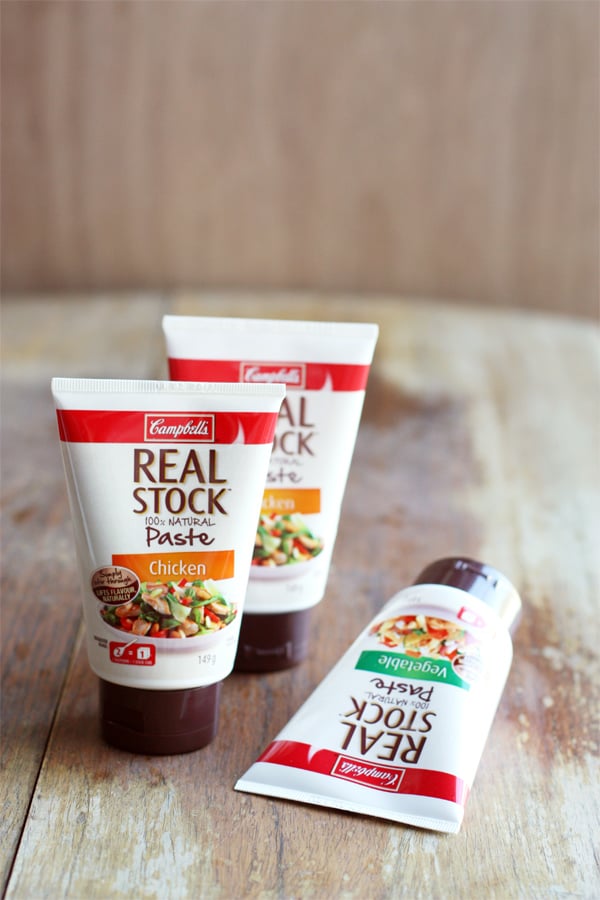 I love the stock tubes. They are a lifesaver in my busy little life and are the equivalent of that little black dress you ought to have in your closet. A classic! Something that makes you look good without going to all the trouble. I love getting squeeze happy with these tubes. I season, marinate and stir fry straight from the tube. I make sauces, curries and dressings. I especially find them great for Asian and Country style cooking. They render a very buttery, fresh taste to the recipe that is as close as it can be to the real stock you dream of simmering away one day.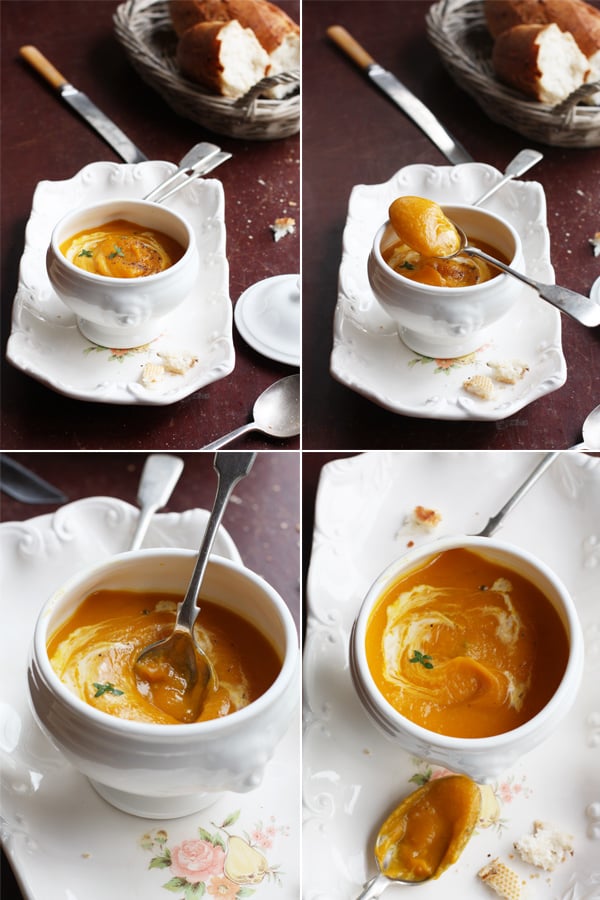 In the two beautiful recipes I am going to share today, I have used the Campbell's Real Chicken Stock, the Real Salt-Reduced Chicken Stock and the Real Chicken Stock Paste. These recipes mean comfort food for my family and me. They are usually made for huddling around the dinner table under the light and warmth of our gorgeous cut glass pendant when the evening is particularly dark and chilly. My boys love dunking their bread in the pumpkin soup and Nick has a weakness for these juicy, buttery and plump mushrooms.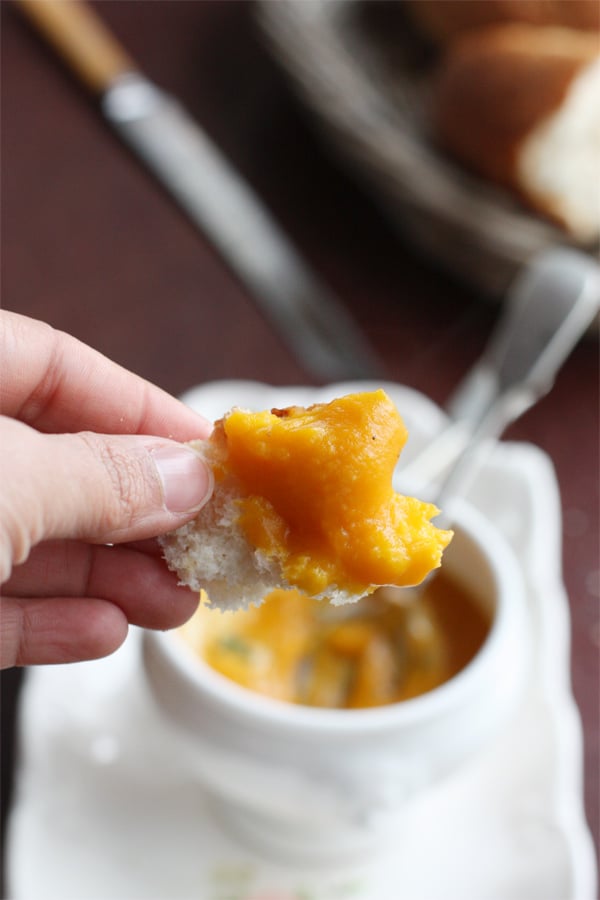 [print_this]
Cream Of Pumpkin Soup
Preparation Time - 20 minutes
Cooking Time - 40 minutes
Serves - 4
Ingredients
1 large butternut pumpkin (1.5 kg approximately)
1 large red onion, peeled and finely diced
1 clove of garlic, roughly chopped
1 tablespoon olive oil
1 litre Campbells Real Chicken Stock
1 bay leaf
1/4 cup cooking cream
2 tablespoons light pouring cream to serve
few springs of fresh thyme
salt to taste
freshly ground black pepper
Method
Peel and cut the pumpkin into 2cm cubes.
Heat oil in a heavy bottomed saucepan on medium. Add onion and garlic. Stir fry until onions turn golden. Add pumpkin cubes, reduce heat and cook until pumpkin becomes tender for about 8 minutes. Add the stock and bay leaf. Cover and simmer on medium heat for 25 minutes until pumpkin is cooked through.
Remove the bay leaf and blend into a puree with a stick blender. Reduce heat to low. Add the cooking cream and simmer for 5 minutes. Remove from heat. Season with salt and pepper. Stir through the thyme and top with fresh cream.
Serve with crusty bread for a delicious warming meal.
[/print_this]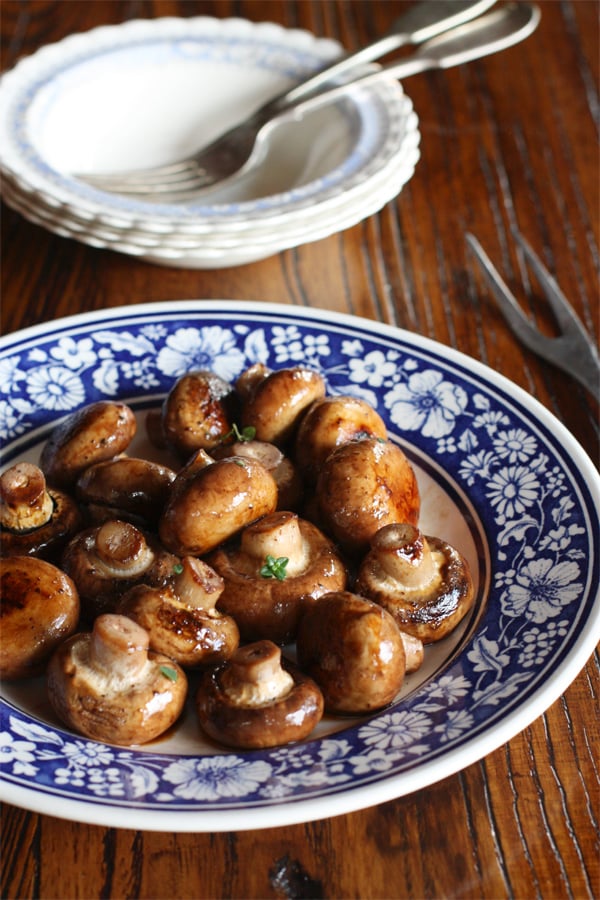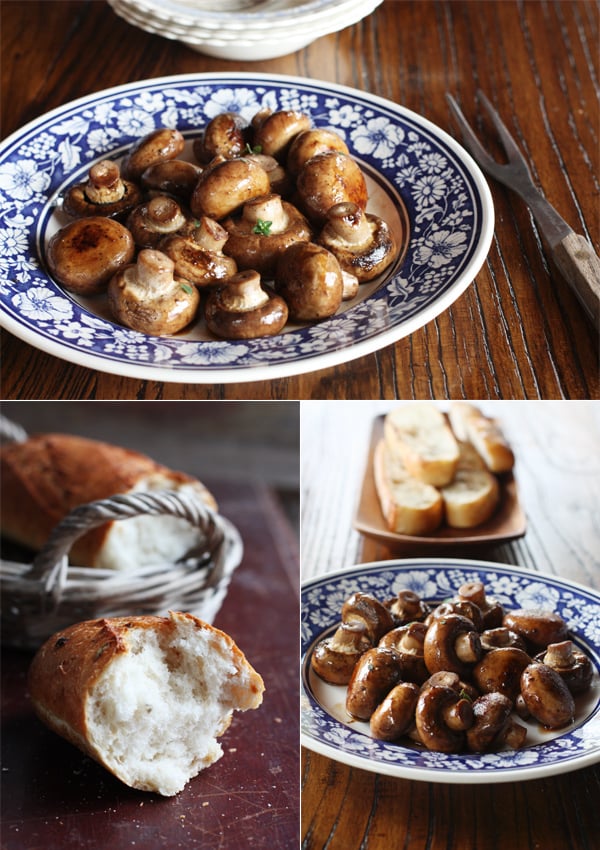 [print_this]
Chicken Stock Glazed Swiss Mushrooms
Preparation Time And Cooking Time - 15 minutes
Serves - 2
Ingredients
500g swiss brown mushrooms
1 tablespoon olive oil
1 tablespoon balsamic or cherry vinegar
1/4 cup Campbell's Real Stock Chicken Liquid Stock (Salt Reduced)
coarse sea salt flakes
freshly ground black pepper
thyme for garnish
1 teaspoon For Campbell's Real Chicken Stock Paste to stir through
Method
Wash and pat dry the mushrooms. In a heavy bottomed French skillet, heat oil on medium. Add the mushrooms and swirl the pan to coat them evenly with the oil.
Add vinegar and mix to coat evenly. Add the chicken stock, increase heat to high and cook for approximately 5-6 minutes until mushrooms are just cooked and have a glossy sheen. When the stock has dried up, stir through the chicken stock paste for a flavour hit and remove from heat.
Season with salt and pepper. Garnish with thyme and serve hot.
[/print_this]