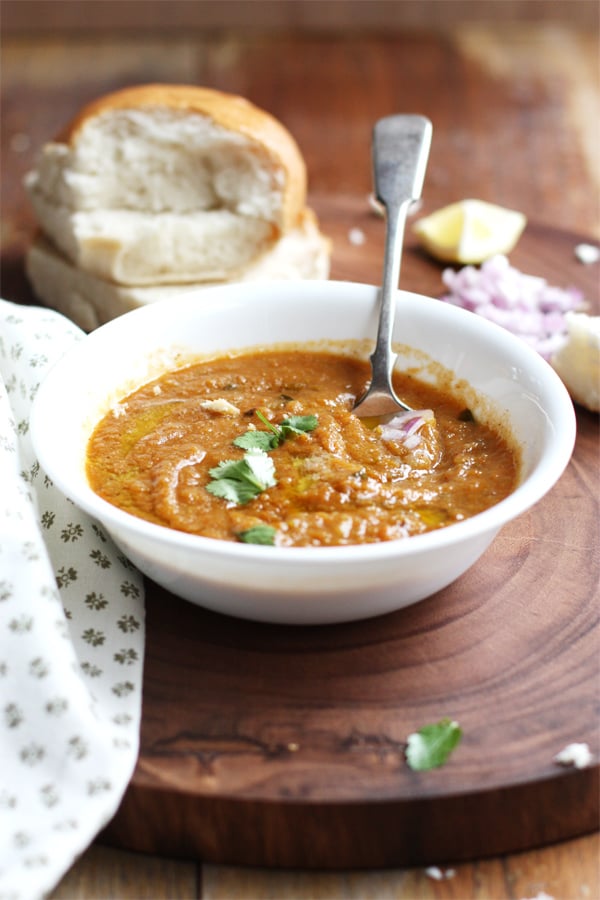 Pav Bhaji is essentially a ragout of boiled, mashed and slow simmered vegetables spiked with a tantalising array of spices and served to be lapped up with crusty pan fried bread, a dash of lemon and a lashing of sweet red onions. It is the most explosive of vegetarian flavours revealing themselves on your palate. Have I got your attention yet?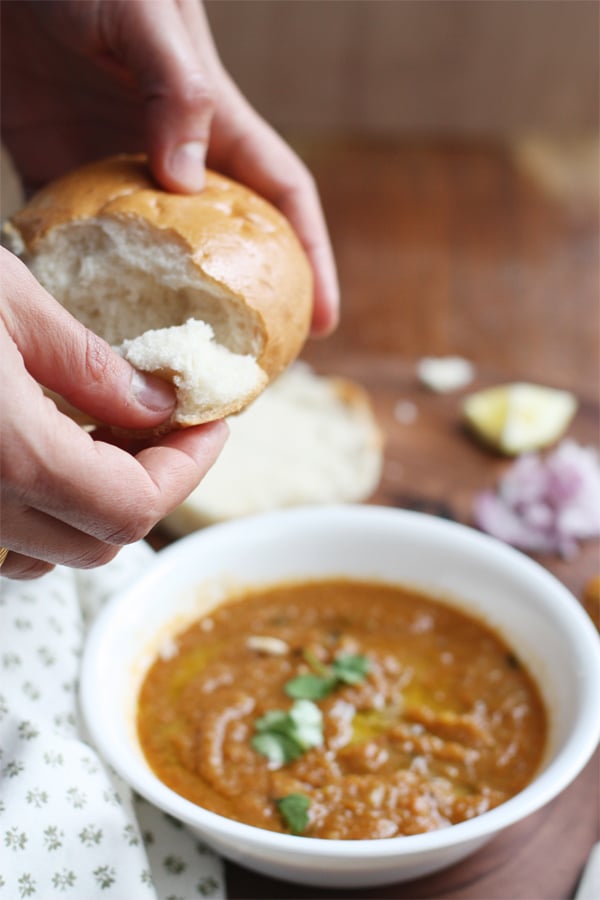 This Mumbai street food is my family's all time favourite food. It is similar to the Sloppy Joe of the west. What is really great about this wonderful dish is that it is packed with the goodness of many vegetables. How many street food recipes can boast of that? It is true that no one can make this dish in that truly authentic street style made famous by the roadside hawkers of Mumbai. But one can come very close. People living outside India often face one very looming question ... where can they find Pav? Although plain bread loaves, dinner rolls or buns can be substituted, we still crave for the authentic Pav. Well, look no further. If you are willing to roll up your sleeves and dig in some dough, Pav is one of the easiest things to make in your kitchen.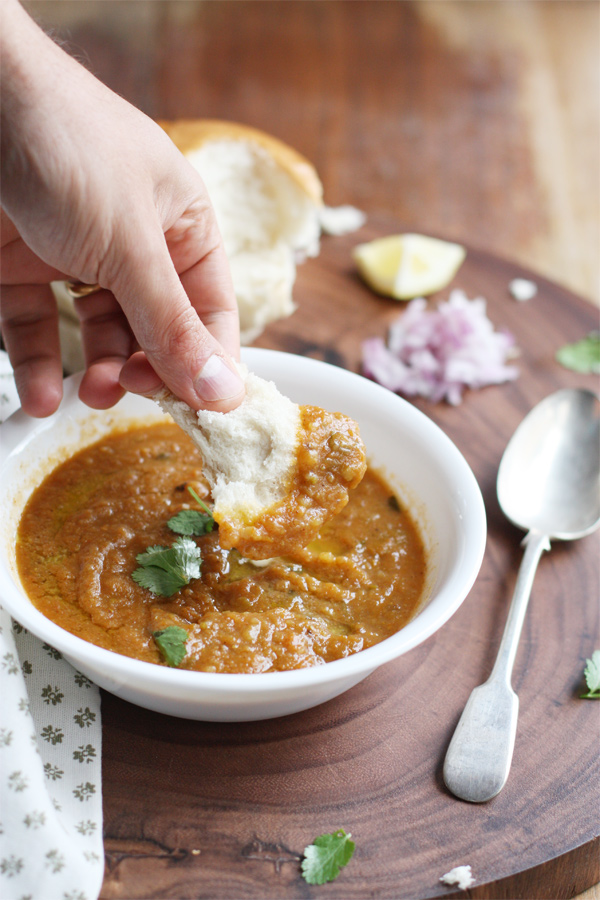 In Indian street side fast food joints, the bhaji (vegetable ragout) is roasted on a massive tawa (a flat giant cast iron pan) on very high heat, usually right before your eyes as your tastebuds salivate with the smell of the saucy vegetables browning in butter and your ears come alive with the sizzle of the pan. Don't let the prep deter you. Once you have the ingredients in the pan, the recipe basically cooks itself. In the pictures below, I have used store bought dinner rolls. But the pav recipe I share, really works. I have baked it several times in the past with great success. The recipe for the bhaji I share today is a true family recipe that I have tried to perfect over the years. I hope you like it!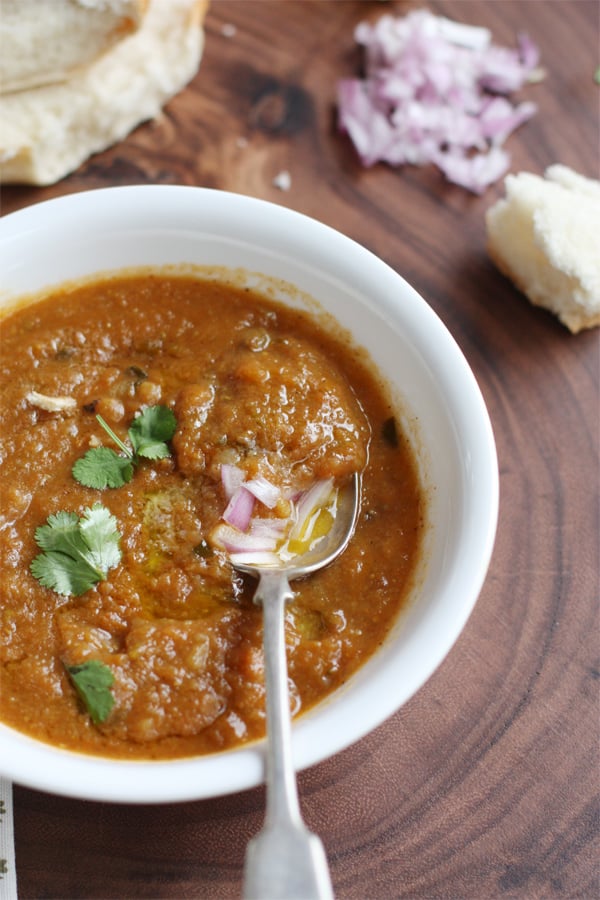 [print_this]
Pav Bhaji - Indian Sloppy Joes
Preparation Time - 40 minutes

Cooking Time - 1 hour

Serves - 10
For The Pav
2 cups bread flour
2 teaspoons semolina
2 teaspoons yeast
1 cup warm water
1 teaspoon salt
For The Bhaji
2 cups cauliflower florets
3 potatoes, peeled and roughly chopped
2 large carrots, peeled and roughly chopped
1 cup green peas
1/2 green capsicum, finely chopped
6 large red tomatoes, chopped roughly
3 large red onions, roughly chopped
4 green chillies, finely chopped
10 cloves of garlic
2 teaspoons garam masala
2 teaspoons pav bhaji masala [optional]
1 teaspoon turmeric powder
1 teaspoon coriander powder
2 teaspoons cumin powder
1 teaspoon red chilli powder
salt to taste
1/2 cup tomato ketchup
a handful of chopped coriander leaves
2 tablespoons oil
50g butter
8 cups water + more if needed
Method
To make the Pav
Mix the yeast with the warm water in a bowl and allow to stand for 15 mins till it ferments and becomes frothy. Combine the flour, semolina and salt in a bowl. Start kneading the dough by adding small quantities of the yeast water over time. Stop when you have a dough of smooth consistency and is not dimpled. Cover the bowl with a thin, damp cloth and stand for 40 mins. The dough will rise to twice its size. Punch it and knead it again. Stand for another 10 mins. Now your dough is ready. Shape the dough into a flat, broad, loaflike form. With a spatula, make grooves onto the dough to form 6-8 pav. Bake in a pre-heated oven at 180C for 50 mins. You may apply an egg wash (brushing the top of the bread with whisked egg) before baking, if you wish for nicely browned pav.
To make the Bhaji
In a large saucepan combine potato, cauliflower, carrot and green peas with 8 cups of water. Cover and boil on high heat for 30 minutes until vegetables are tender. Alternatively, you may pressure cook the vegetables on high. Remove from heat. Using a hand blender, purée the vegetables coarsely. Set aside.
Heat oil in a huge wok/saucepan on medium. Puree tomatoes, onions, green chillies and garlic in a blender. Add the puree to the wok along with the turmeric powder, coriander powder, cumin powder, red chilli powder, salt and garam masala. Add pav bhaji masala if using it. Sautee the mixture for 10 mins till it acquires a rich, roasted colour. Add the puréed vegetables, chopped capsicum, chopped coriander and tomato ketchup. Stir well and simmer on low heat for 40 mins adding water every now and then to thin it as it cooks and prevent the ragout from sticking to the bottom of the pan. You may add more water if you desire a thinner consistency.
My Notes
To serve pav, pan fry the pav in a little ghee or butter.
Serve bhaji with a dollop of butter, a lemon wedge, finely chopped red onion and fresh coriander leaves.
Always make extra Bhaji and heat leftovers next day for a richer flavour.
The bhaji can be spread lightly on bread/wrap, topped with lettuce and cheese and pressed in a sandwich press for a delicious sandwich.
Bhaji and naan/crusty bread is the perfect picnic food on a cold cold day.
[/print_this]