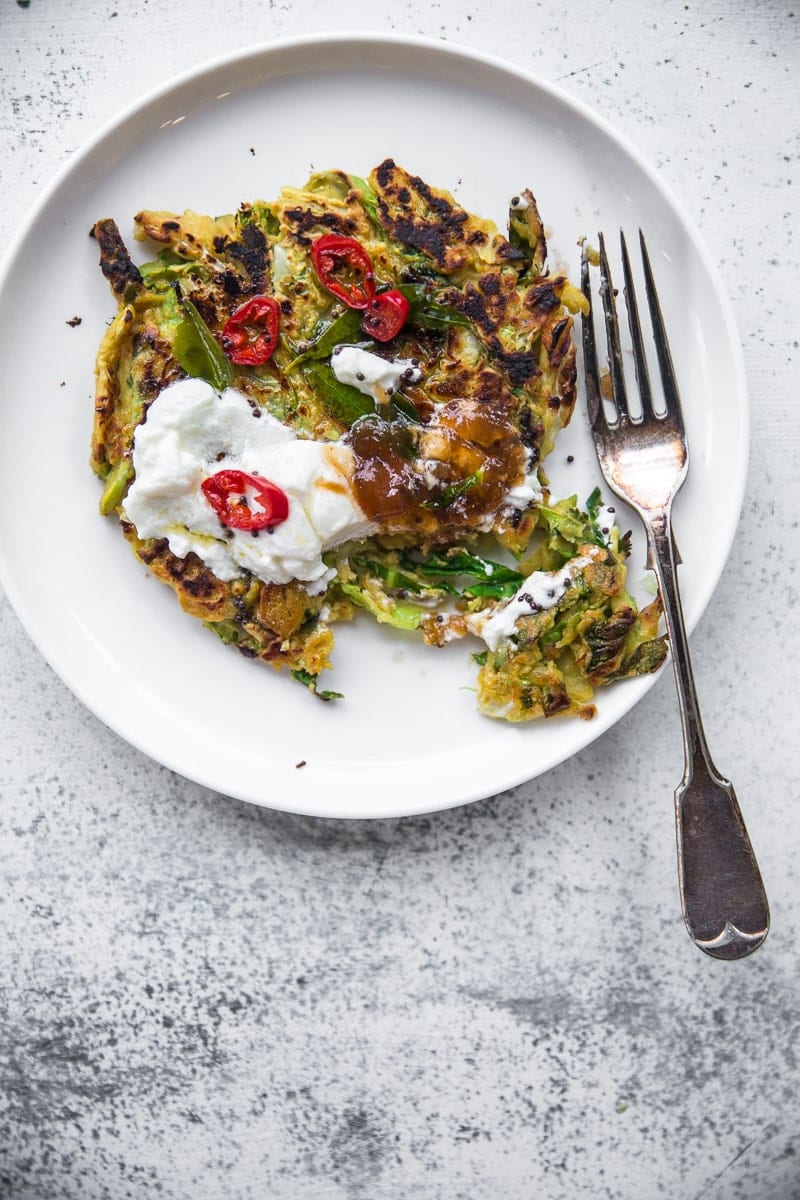 Eggless Fritters Make For Super Crispy Vegan Snacks
Fritters make such excellent light meals. In the western world, there is a common misconception that fritters need eggs and or milk to bind. This is not true. Just flour and water is enough to make the perfect fritter batter. Or pancake batter. Depending on what you want to call it. Coming from a culture where vegetables are celebrated and meat and eggs are scarce, you learn to create fabulously delicious recipes using just plant based goodness. The fact that they are gentler on your gut, lighter and healthier; is just an added bonus. This cabbage fritter is a perfect example.
Heavily influenced by the Okonomiyaki - Japan's famous cabbage pancake; this cabbage fritter has definite Indian roots. The mix of flavours and the play on textures is incredible for a very delicious and satisfying meal. Just like any fritter, the recipe comes together in a matter of minutes and then a quick pan fry later, you can heap all the toppings and garnishes for an explosion of savoury flavours. There are no animal products which makes it vegan and the clever use of besan and rice flour makes it not only gluten free but nice and crispy around the edges.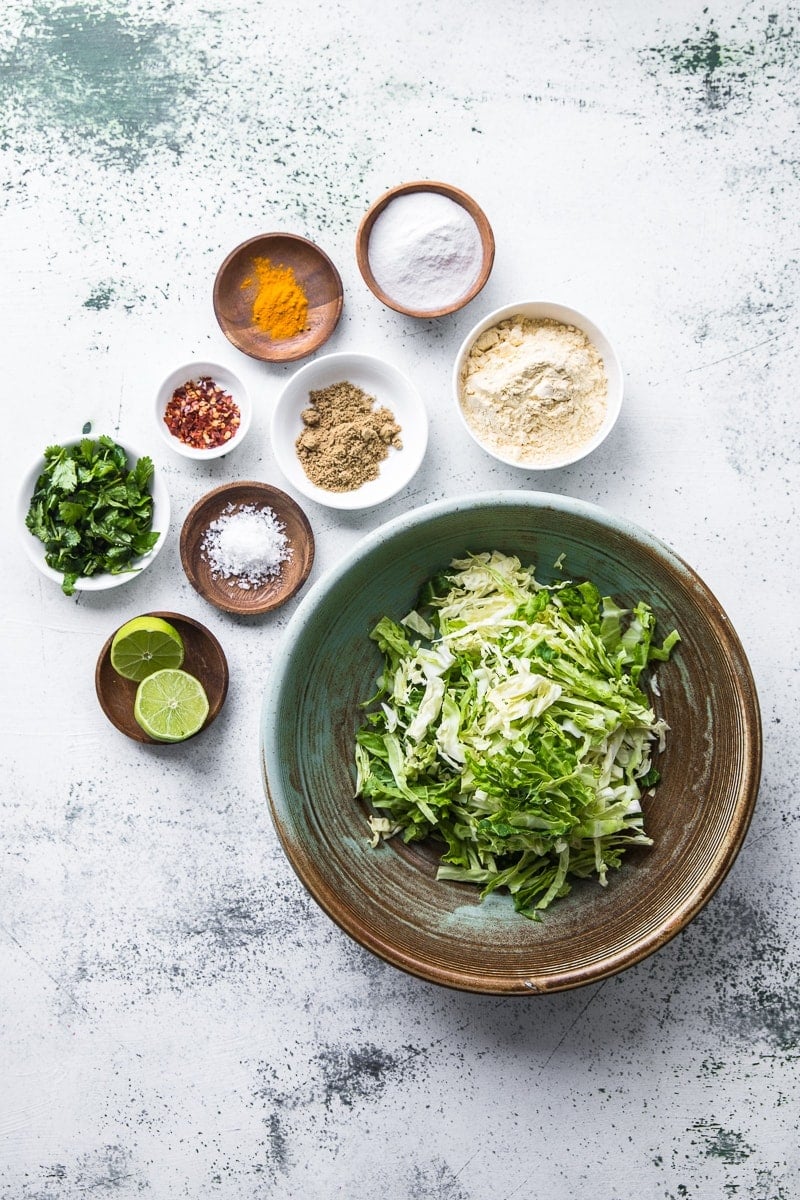 Inspired by a recipe in a past Donna Hay magazine, I have modified the quantity of flours and spices heavily to create a more flavourful batter that binds really well. The curry leaf oil is brilliant. It brings back memories of childhood in India and the heady scent of curry leaves in the hot summer air as the breeze rustled its leaves. Known as kadi patta, this beautiful small tree is native to India and has many amazing health benefits. It is proven to reduce bad cholesterol (LDL), relieve nausea and morning sickness, assist in weight loss, strengthen hair roots and assist in hair growth, help liver and eye health and cure indigestion. We have two small curry leaf trees growing in our backyard, one in a pot and one in the ground. So I am never without curry leaves.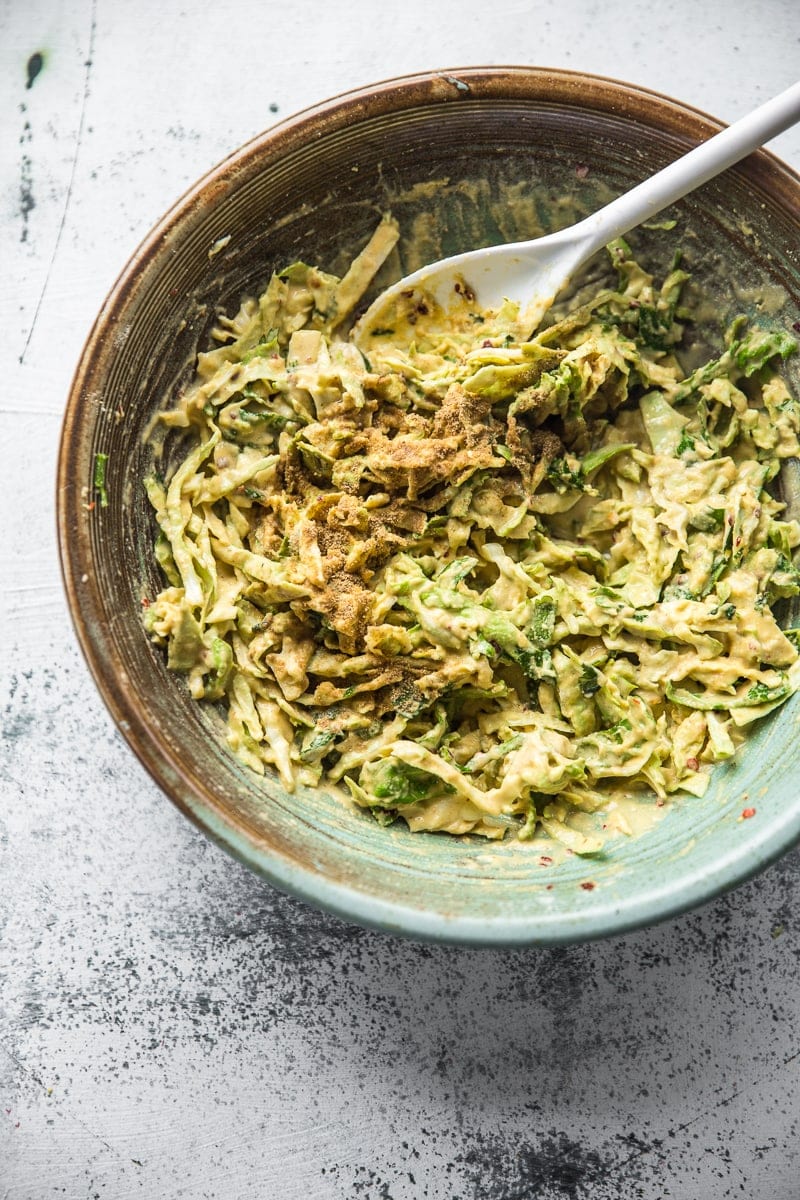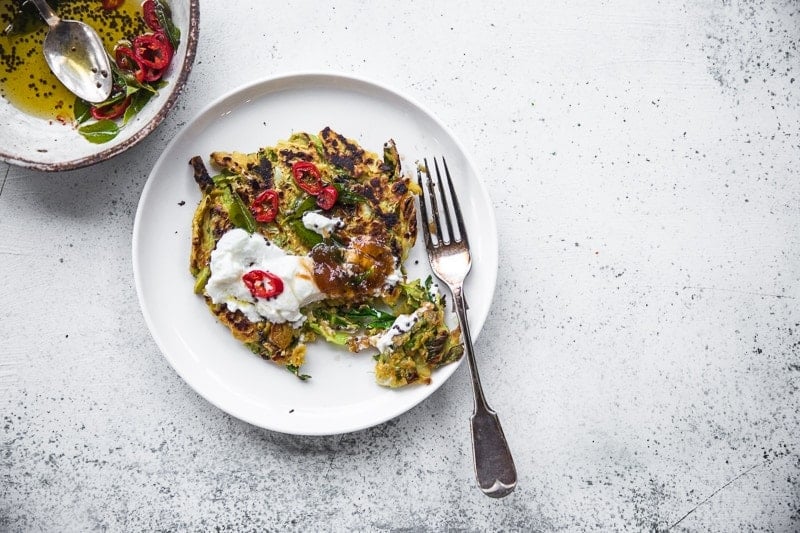 The curry leaf oil can be made in exactly two minutes using the method of tempering or tadka. It is a fragrant and flavourful topping for anything that takes your fancy - most suited to daals, curries and soups for that added kick. Packaged in tiny glass bottles, it makes an excellent present too. The cabbage fritter tastes amazing with this curry leaf oil spooned on top along with some yoghurt and mango chutney. I hope you love this recipe, it is so vibrant and filled with goodness. Don't forget to leave your feedback in the comments and rating below. xx
Recipe
Hungry For More Recipes? Subscribe to my newsletter. Check out Facebook, Instagram and Pinterest to see everything I share! And if you love cooking and new cookbooks, join my free Cooking Club on Facebook!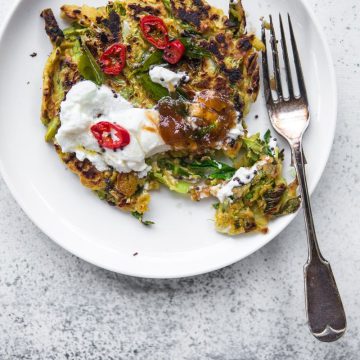 Ingredients
for the cabbage fritters

3

cups

(

180

g

)

shredded drumhead cabbage

1/2

cup

fresh coriander leaves

,

chopped

1

cup

(

125

g

)

besan

1/4

cup

(

40

g

)

rice flour

1 1/2

tablespoons

sea salt flakes

1

teaspoon

red chilli flakes

1 1/2

tablespoons

ground cumin

1/2

teaspoon

ground turmeric

juice of 1 lime

1

cup

(

250

ml

)

soda water

1-2

tablespoon

olive oil for pan frying

for the chilli and curry leaf oil

1/4

cup

(

60

ml

)

olive oil

1

tablespoon

brown mustard seeds

1

long red chilli

,

thinly sliced

12-15

curry leaves

to serve

mango chutney

,

coconut yoghurt, extra coriander
Instructions
To prepare the curry leaf oil, place oil in a small saucepan on medium high. Add the mustard seeds. In a few seconds when they start to crackle and spit, add the chilli and curry leaves. Reduce heat to low and cook for a minute until warmed through. Remove from heat and set aside.

To prepare the fritters, place cabbage, besan, rice flour, salt, chilli, cumin, turmeric, lime juice and soda water in a large bowl. Mix well to form a thick batter.

Heat a bit of oil in a large frying pan on medium. Drop a cup of batter in the centre of the pan and flatten/spread it a bit with a spatula. Allow to cook for 4-5 minutes until the base is crispy and starting to brown around the edges. Carefully flip the fritter and cook the other side for 3-4 minutes until crispy and starting to brown. Press down on the fritter to ensure there are no wet, uncooked bits. Remove to a plate. Repeat with the remaining batter.

To serve, top the fritter with coconut yoghurt and a small dollop of mango chutney. Spoon some curry leaf oil (make sure you get chilli slices and curry leaves) on the yoghurt. Garnish with coriander.
Notes
Cabbage - The variety of cabbage is important to the fritter. You could make it with any cabbage but a drumhead cabbage will produce the best result and make it really crispy. I find that drumhead cabbage is firmer and releases less water when cooked compared to its other cabbage counterparts.
Adjusting Heat When Cooking - Whenever you are pan-frying batter, it is important to not cook it on very high heat and this can cook the outsides super quickly while retaining uncooked soggy bits in the middle. I start pan-frying fritters/pancakes on medium and then medium-low when both sides are cooked to ensure both outside and inside gets cooked.
Did you make my recipe?
I'd love to hear how you went! Tag me on Instagram @cookrepublic