Every year on Christmas eve we set out a plate with two freshly baked Christmas themed cookies and a small glass of cold milk to wash them down. Yes, for Santa!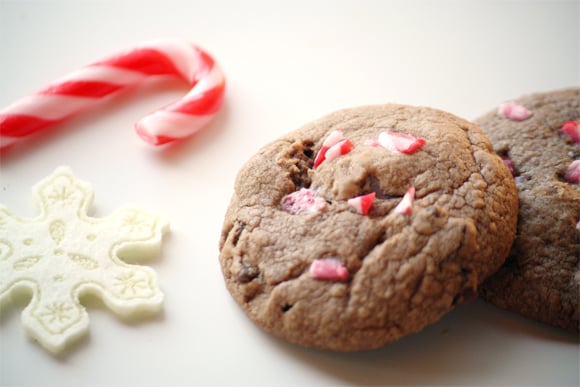 We used to place a tiny carrot next to the plate too but that would never get eaten. We assumed Rudolf and his cohorts were just not hungry or didn't like carrots very much, so we stopped the carrot ritual. We just stuck with the good old cookie ritual because we knew the big man liked em'.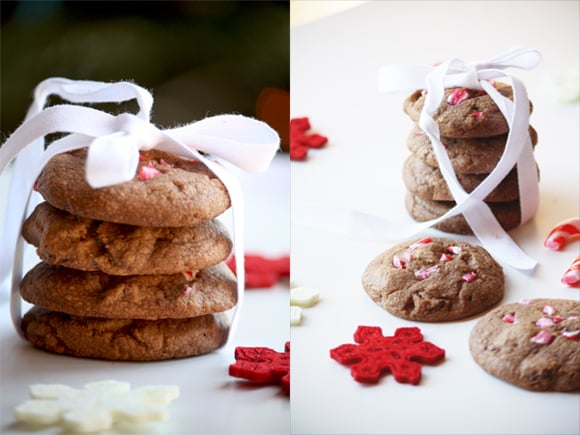 This year on Christmas eve, I was still flicking pages of a 2 year old Donna Hay magazine when inspiration struck in the form of a chocolate loaded cookie sprinkled festively with crushed candy cane. I had 60 minutes to start with them and put them on a plate for the kids to do their ritual before they went excitedly to bed. 60 minutes was plenty to bake 24 of these crunchy and chewy cookies that were made for dunking in cold milk. The recipe was all wrong which I realized as soon as I started assembling ingredients, but doubling the flour content and chilling the dough for 20 minutes worked like a charm.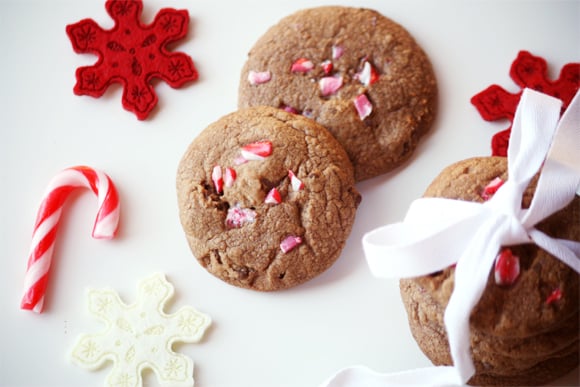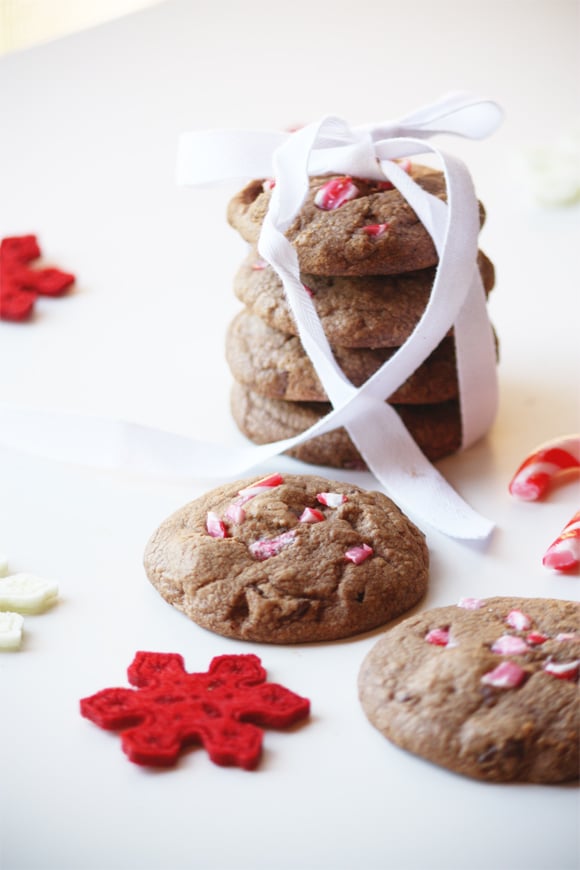 [print_this]
recipe
DARK CHOCOLATE AND CANDY CANE COOKIES
Preparation Time - 15 minutes | Baking Time - 15 minutes | Makes 24
Ingredients
120g dark chocolate, melted
80g dark chocolate, chopped
110g butter, softened and chopped
1 cup brown sugar
1 egg
1 teaspoon vanilla extract
1/4 cup cocoa, sifted
2 cups plain flour, sifted
1 teaspoon baking powder
8 large candy canes, crushed coarsely
Method
Preheat oven to 160°C (320°F). Place butter and sugar in the bowl of an electric mixer and beat for 5 minutes until light and creamy.. Add egg, vanilla, melted chocolate, flour, cocoa and baking powder. Beat until just combined. Fold through chopped chocolate. Cover bowl with cling wrap and refrigerate for 20 minutes. (The recipe didn't call for chilling the dough but when I was baking these cookies, it was quite warm with Sydney in the throes of summer and I felt that chilling the dough helped me handle the cookies better.)
Roll tablespoons of chilled dough onto a cookie sheet lined with baking paper. Place rolled dough a few centimeters apart to allow for cookies to expand. Flatten each cookie slightly and press a generous amount of crushed candy cane on top of each cookie.
Bake in pre-heated oven for approximately 15 minutes until edges are firm. Cool on wire racks. Serve with cold milk. (These are great for dunking!)
[/print_this]