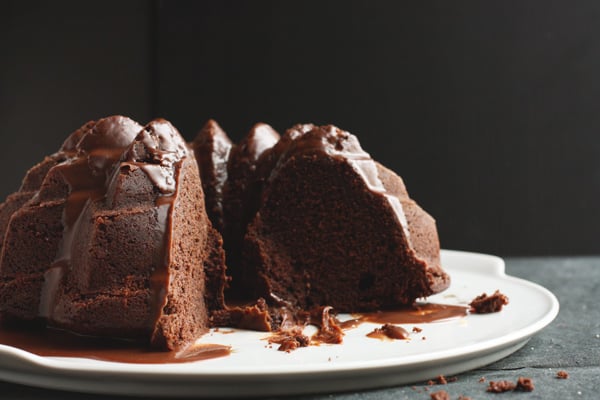 I find baking in bundt pans very fiddly. I like ogling at cake pictures on sites like
Sweetapolita
and wondering "How the heck does she manage to get it out of that bundt completely intact?". See that is my biggest problem with bundt pans. No matter how well I grease and flour them, some stubborn nook and cranny will just refuse to release the cake and make me happy. Instead, I will have to carefully pick the piece of cake that got stuck with a pair of food grade tweezers (Oh, who am I kidding! I just use a chopstick to scrape it out!) and then sculpt it back on the cake so you guys can wonder "Now how the heck did she manage to get the cake out of the bundt pan intact?"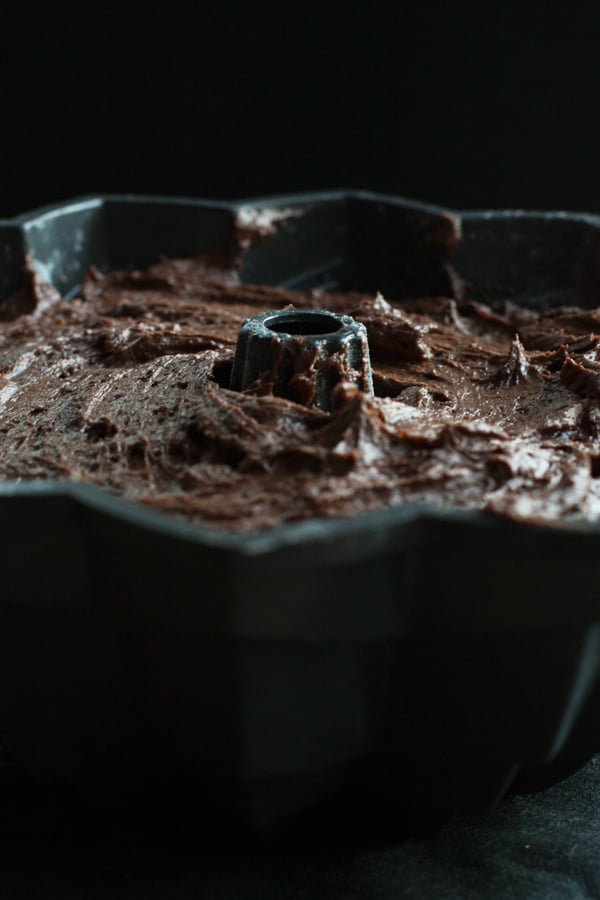 Despite this very annoying issue, I am overcome with the urge to occasionally brave the bundt. Having bought a surprisingly cheap and even more surprisingly sturdy sunflower bundt from Target of all places, I wanted to bake a cake that looked beautiful when it was plopped on its head.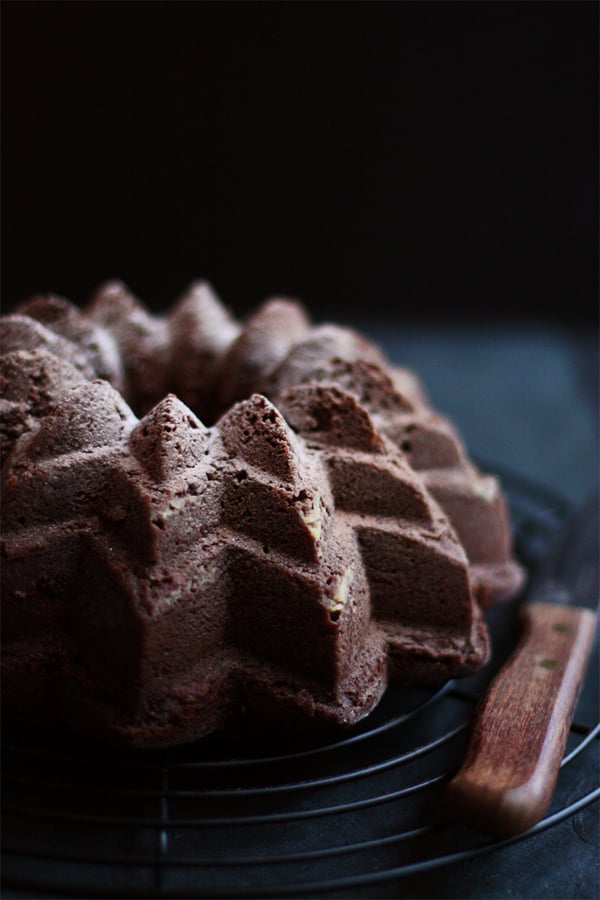 After some trial and error on my polished aluminium traditional German bundts, I was ready to give the dark metal sunflower bundt tin a go. Choosing a cake recipe is very vital while baking in a bundt tin. You will need an almost madeira cake like recipe or a butter cake recipe that is not very moist. Having baked a gorgeous chocolate cake from my signed copy of
Donna Hay's
Simple Essentials Chocolate in the past, I knew that was the right recipe. The cake baked beautifully and after I had let it cool enough (the recipe says 10 minutes), I started on the bit which I dread most. The turning the cake out of the bundt tin.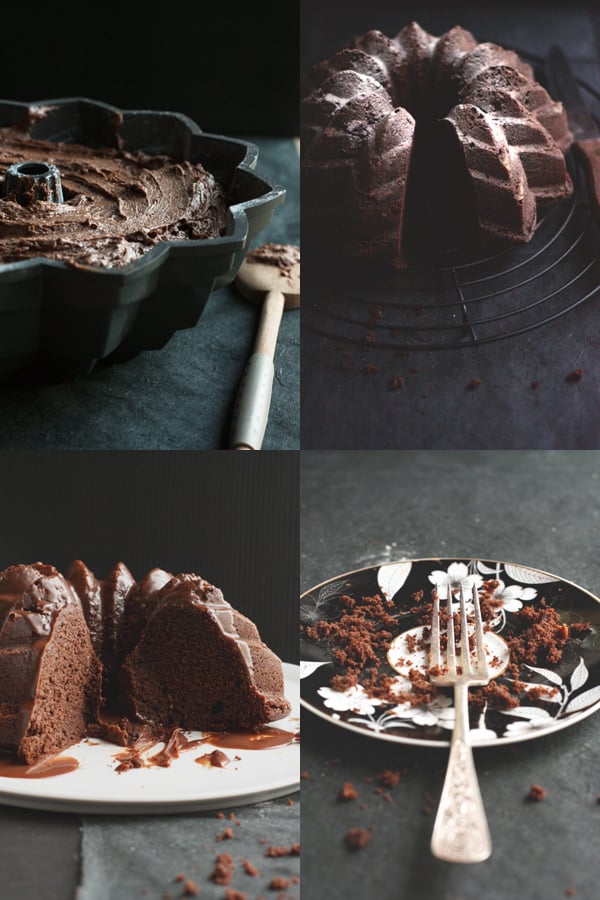 When I had whacked and smacked the sides of the tin like a banshee for nearly 5 minutes and loosened the edges slightly with a butter knife, it was time. The moment of truth. As I heard the cake descend on the wire rack, I viscerally felt my heart descend to my stomach too. I lifted the tin off the cake and there it stood, like a decadent, wicked alien spacecraft with all its beautiful spongy grooves and edges. The Chocolate Sunflower Bundt Cake had landed - in one piece.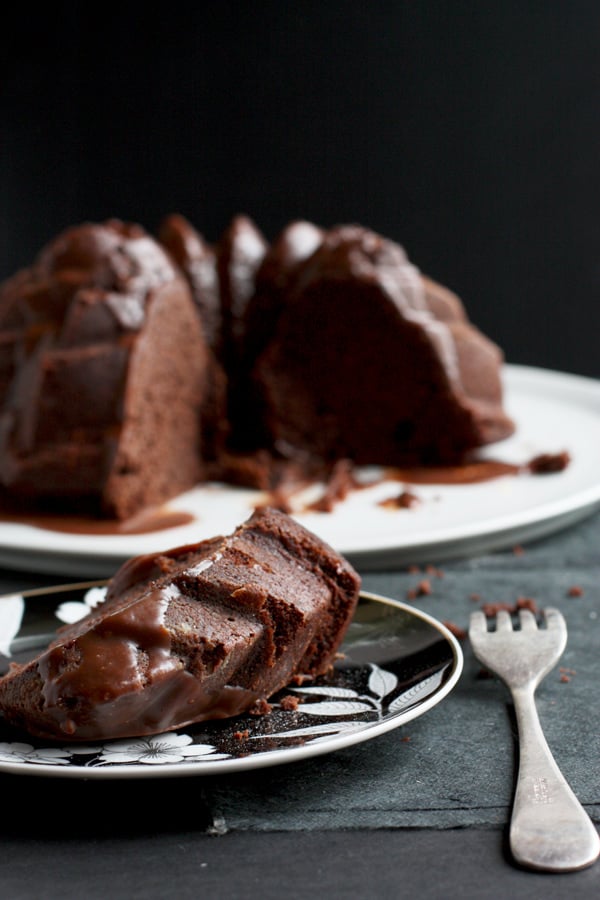 Hungry For More Recipes? Subscribe to my newsletter. Check out Facebook, Instagram and Pinterest to see everything I share! And if you love cooking and new cookbooks, join my free Cooking Club on Facebook!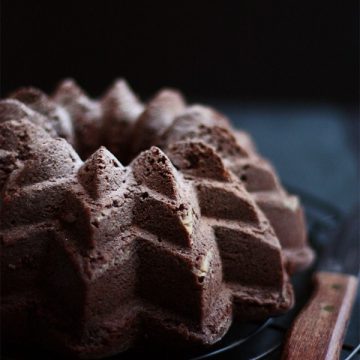 Ingredients
For The Cake
375

g

butter

,

softened

1 1/2

cups

brown sugar

3

eggs

2

cups

plain flour

,

sifted

2

teaspoons

baking powder

2/3

cup

cocoa

,

sifted

3/4

cup

milk

extra cocoa to dust
For The Chocolate Glaze
150

g

chopped dark couverture chocolate

1/2

cup

pouring cream
Instructions
To Make The Cake
Grease a bunt pan/cake pan of your choice (8 to 9 inches round) with melted butter and dust with flour. Set aside. Pre-heat oven to 160C (320F).

Place butter and sugar in a bowl and beat with an electric mixture until pale and fluffy for about 8 minutes. Add the eggs and beat well. Fold through the flour, baking powder and cocoa. Stir in the milk.

Spoon the mixture in the prepared tin and bake for 1 hour 10 minutes approximately until cooked through when tested in the centre with a skewer. Remove from the oven. Cool in the tin for 10 minutes and then gently turn onto a wire rack to cool.
To Make The Glaze
Place dark chocolate and cream in a heavy bottomed small saucepan over low heat, stirring until melted and smooth. Allow the mixture to stand for 10 minutes until thickened slightly.

Once the cake is completely cooled, pour the glaze over the cake. Cover and refrigerate cake or serve as is with the runny glaze.
Did you make my recipe?
I'd love to hear how you went! Tag me on Instagram @cookrepublic