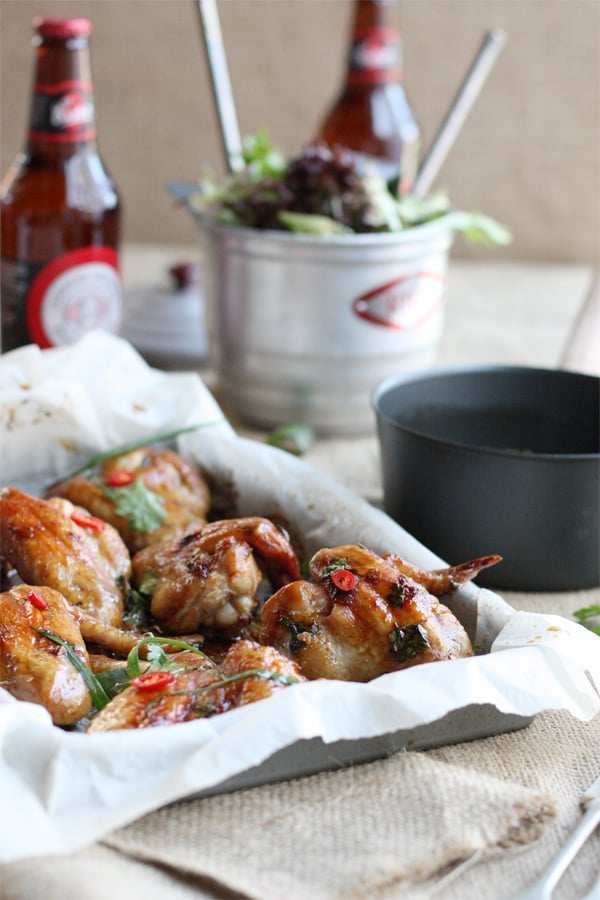 The weather has turned like clockwork and the new leaves not only say "Hark! Spring is here." but also stir a very rational urge to eat lighter and healthier. I often find that lighter and healthier food is more packed with flavour. It is but natural that what it lacks in richness is compensated by an explosion of flavours. Another advantage of lighter food is that it is extremely quick to put together. Hence lightweight lunches are the hallmark of spring.
Post Sponsored By Nuffnang.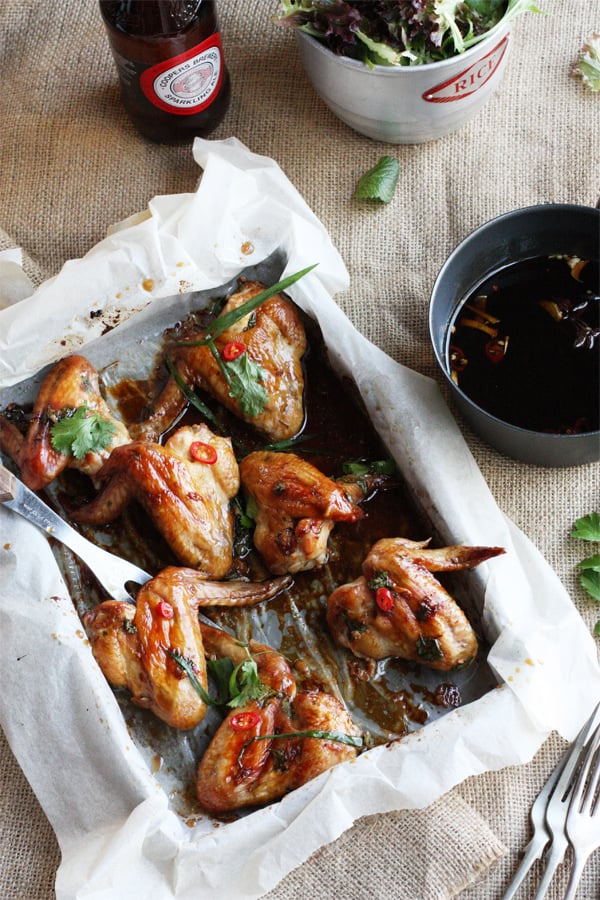 A mid week meal for me is usually a healthy sandwich, noodles and soup or a vegetarian omelette. But when the man of the house works from home, lunch almost becomes a cause to celebrate his fantastic company. To that effect, I decided to create a simple, light and flavourful lunch of glazed, buttery chicken wings and an amazing ginger caramel and chili dipping sauce that packed a punch. With some fresh salad leaves on the side and a bottle of frothy beer (that eventually got forgotten because the chicken wings were so amazing!), we had a lovely meal for two on a lazy Monday afternoon at the start of spring in Sydney.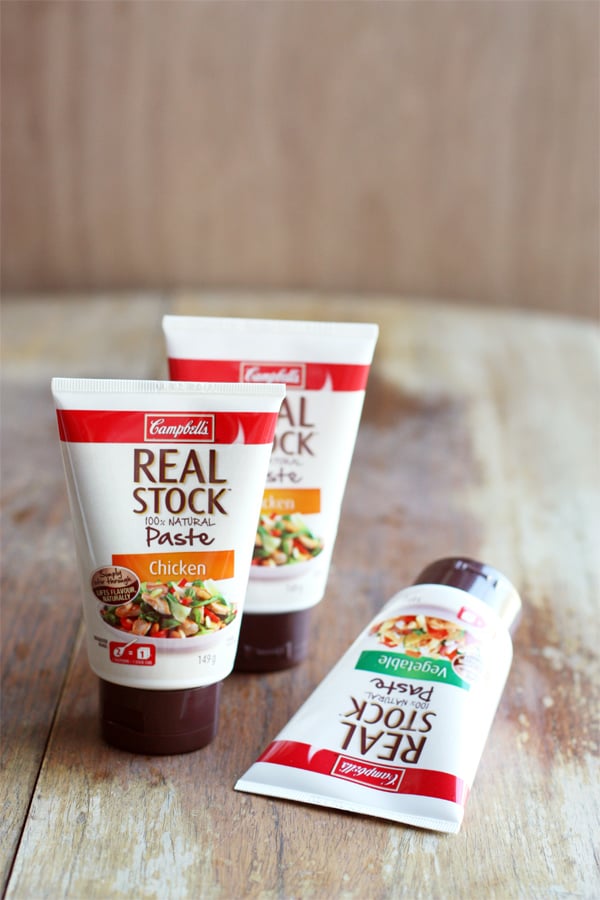 The marinade is what makes this chicken dish go from simple to special. I have been creating my own marinades for a while, sometimes bashing up fresh ingredients in a mortar and pestle and at other times whisking up beautiful flavours in a glass bowl. The star ingredient of my marinade is the Campbell's Real Chicken Stock Paste. It is rich and robust in flavour and works well with any style you might want to experiment with. Inspired by a recipe I saw online, I injected a very distinct Asian flavour into my chicken wings and dipping sauce.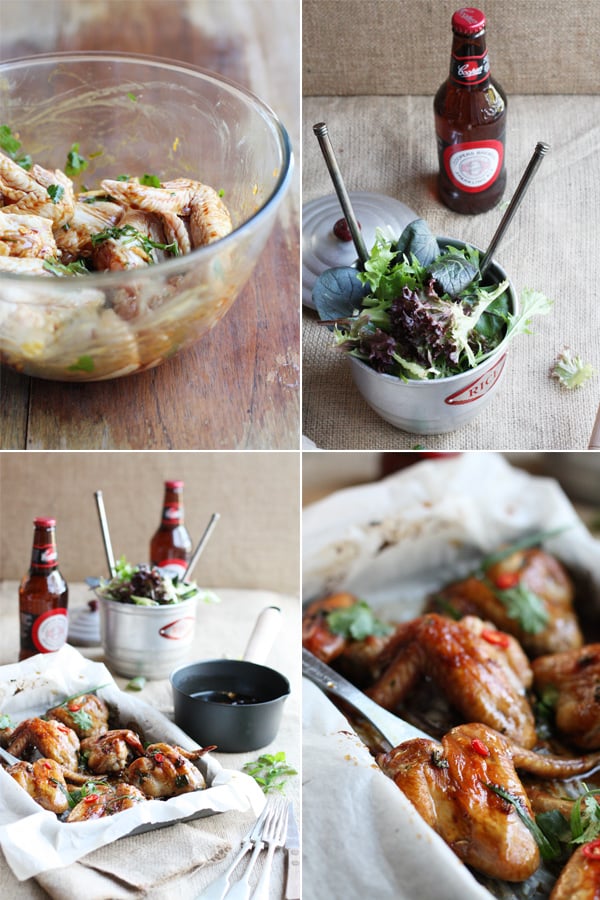 [print_this]
Golden Chicken Wings With Ginger Caramel And Chili Sauce
Preparation Time - 20 minutes
Cooking Time - 40 minutes
Serves - 4
Ingredients
For Chicken Wings
1kg chicken wings
2 green spring onions, thinly sliced (to garnish)
2-3 stalks fresh coriander (to garnish)
For The Marinade
2 teaspoons Campbell's Real Chicken Stock Paste (or 1 teaspoon concentrated chicken stock and 1 teaspoon hoisin sauce) (or 1 tablespoon hoisin sauce and 1 tablespoon regular chicken stock)
3 large cloves garlic, crushed
1 inch piece ginger, grated
1/4 cup fresh coriander leaves and stalks, chopped
2 tablespoons sweet soy sauce
2 tablespoons olive oil
For The Ginger Caramel And Chili Dipping Sauce
1 cup apple cider vinegar
1 cup brown sugar
3 star anise pods
1 teaspoon finely sliced fresh ginger
1 small red chili, finely sliced
Method
Preheat oven to 200C. Line a baking tray with baking paper.
In a large bowl, combine all ingredients for the marinade and mix well. Add the chicken, mix to coat completely with the marinade. Set aside for 10 minutes.
In a small heavy bottomed saucepan, combine all ingredients for the dipping sauce and bring to a boil on high. Reduce heat to low and simmer gently for 10 minutes until slightly sticky and thick. Remove from heat.
Place marinated chicken on prepared baking tray and bake in the pre-heated oven for approximately 40 minutes until golden and cooked.
Garnish with spring onion and coriander leaves. (I also tossed in a few extra chill slices in the end).
[/print_this]
So tell me, whats your favourite mid week light brunch/lunch? I'd love to see your recipe and give it a go myself!