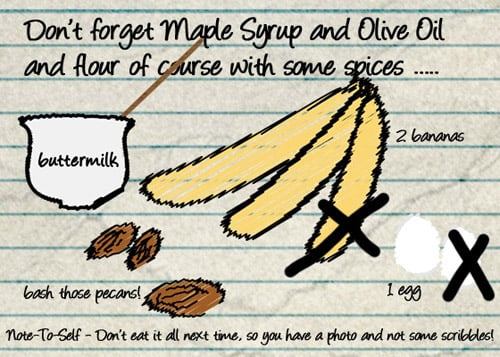 You have been forewarned. There are no delicious, crumbly, nut-flecked pictures of banana bread in this post. Continue reading at your own risk.
Sorry about that little bit of melodrama, I just felt like it. I was not going to post this recipe simply because I baked it late in the evening and believe it or not, none of it was left next morning when the light was good and I could've gotten gorgeous shots of the bread. But the recipe was too good to not share. My own invention, I might add, I didn't use butter or sugar. That sparked your interest, didn't it? I have supplemented more commonly used ingredients with healthier counterparts wherever possible and the bread was amazingly moist on the inside, golden and crumbly on the outside and was even better toasted. This time around I have used pecans and the play on flavors when buttermilk and maple syrup combines, is fantastic. It is also very light. No wonder, none was left the next morning.
HEALTHY WHOLEMEAL BANANA MAPLE BREAD
[Preparation Time : 20 minutes/ Baking Time : 30 minutes/ Makes 1 Loaf]
Ingredients
1 cup plain flour
1 cup wholemeal flour
2 tsp baking powder
1/2 cup buttermilk
1/2 cup maple syrup
1/2 cup olive oil
1 egg
2 ripe bananas, mashed
1 tsp mixed spice
a pinch of salt
1/2 tsp ground cinnamon
1/2 cup pecans, coarsely crushed

Method
Preheat oven to 190oC. Grease and line a 9-inch loaf pan with baking paper.
Sift flours, baking powder, spice, salt and cinnamon in a bowl. Toss in the pecans and mix. In a separate bowl whisk maple syrup, olive oil and egg till creamy for about 2-3 minutes. Add the banana and flour mixture. Mix well using a wooden spoon.
Spread evenly in prepared pan and bake for approximately 30 minutes until golden, well risen and cooked through.
Cool completely. Slice, toast and slather with butter.