The perfect Christmas Spice Cookie is one packed with warming, delicious spices. These delicious Festive Spice Cookies are crumbly and coated with icing sugar. Inspired by the famous German Pfeffernusse, these cookies make a great gourmet gift.
Festive Spice Cookies - A Wonderful Homemade Gift
Perhaps, my most favourite thing about the holiday season is bringing out all my baking books and Christmas specials that I have collected over the years and shortlisting a dozen cookie recipes to bake and pack in beautiful boxes to give away friends and family.
The anticipation of what the cookie box (or basket) will look like starts building in mid-November. And the magically festive aroma of warm spices being baked in buttery, crumbly treats starts filling my kitchen as I bake batch after batch to perfect the recipe.
This year's Christmas cookie box is starting to look really special with festive cookies from different parts of the world, buttery shortbreads, homemade fudge and hand-wrapped caramels kissed with salt. Oh, the excitement!
How To Make German Gingerbread Spice Mix?
I will be sharing many special Christmas recipes over the next few weeks, but I wanted to start the holiday season with this family favourite - Festive Spice Cookies. Inspired by the dollar-coin-tiny German Pfeffernusse cookies covered in a coating of sugar icing, my festive spice cookies are infinitely easier and crumbly. Instead of dipping them in liquid icing, I roll them in soft icing sugar powder. They look snow-kissed and absolutely beautiful and go very well with hot tea.
I grind a special homemade spice mix for my Christmas spice cookies. Decoding the ingredients in Lebkuchengewürz which is a traditional German gingerbread spice mix, I created a blend that was incredibly fragrant and complex. A combination of whole and ground spices is crushed to a fine powder using a mortar and pestle. The quantity below makes about three tablespoons and I use up all of it in the recipe (you can use 2 tablespoons if you find the after taste of spices too strong). Spices mellow after baking on the first day but continue to develop in flavour over the next few days. I find it is best to pack a good amount of spices in your spice cookies to ensure that the beautiful warmth of the spices comes through after baking.
Recipe
Hungry For More Recipes? Subscribe to my newsletter. Check out Facebook, Instagram and Pinterest to see everything I share! And if you love cooking and new cookbooks, join my free Cooking Club on Facebook!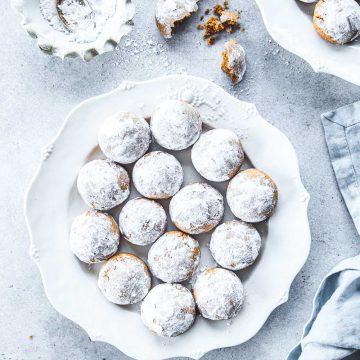 Ingredients
150

g

butter

,

softened

180

g

rapadura sugar

1

teaspoon

vanilla extract

1

egg

360

g

plain flour

50

g

almond meal

1

teaspoon

baking powder

½

teaspoon

peppercorns

½

teaspoon

cloves

2

star anise

2

teaspoons

ground cinnamon

1

teaspoon

ground ginger

½

teaspoon

ground cardamom

¼

teaspoon

ground nutmeg

¼

teaspoon

ground mace

Icing sugar – to coat
Instructions
Pre-heat oven to 180°C. Line a large, rimmed cookie sheet or two with baking paper.

Place butter, sugar, vanilla and egg in the bowl on an electric mixer. Whisk until pale and creamy.

Add flour, almond meal and baking powder to the egg mixture.

Prepare the spice mix by grinding peppercorns, cloves, star anise, cinnamon, ginger, cardamom, nutmeg and mace to a fine powder using a mortar and pestle.

Add the spice mix to the flour in the bowl. Mix well and knead into a dough.

Roll about a tablespoon and half of the cookie dough into a ball and flatten slightly against your palm to form a cookie with a flat base and a rounded top. Repeat with the remaining dough to get approximately 28 cookies.

Place the cookies 2-inches apart on the prepared cookie sheets.

Bake in the preheated oven for 15-17 minutes until golden and cooked through.

Remove from the oven and cool completely on wire racks.

Fill a small shallow bowl with icing sugar. Dip and swirl the rounded top of each cookie in the icing sugar until fully coated. Store in an air-tight glass container for up to a week in a cool corner of your kitchen.
Notes
Spice Mix - Spice mix can be made ahead and stored in a small lidded glass jar in your pantry for up to 2 months. It can be easily scaled up. The quantity in this recipe makes approximately 3 tablespoons (18g).  Using Spice Mix - I use up the entire amount (approximately 18g) in this recipe. The cookies come out nice and strong in flavour which deepens as the days go by. If you would like less spice, try adding 2 or 2.5 tablespoons of the mix.  Glaze Variation - To make these Pfeffernusse cookies more authentic, you can dip them in the glaze instead of powdered icing sugar. To make the glaze, combine a cup of icing sugar and 2-3 tablespoons of hot water in a bowl until smooth. Dip each cookie, rounded side down in the glaze and place on wire racks to drain and harden.
Did you make my recipe?
I'd love to hear how you went! Tag me on Instagram @cookrepublic