You are going to love this delicious classic Vegan Spaghetti Puttanesca recipe made without anchovies. A few delicious, secret, plant-based ingredients add the same umami hit making this comforting pasta dish a weeknight winner!
How To Make A Vegan Puttanesca Sauce?
If you have made my Classic Homemade Puttanesca Sauce, you already know how delicious it is. This Vegan version that I share today is equally delicious. The Puttanesca sauce originated in Italy in the mid-twentieth century and was made up of tomatoes, olives, capers, garlic and lots of olive oil. A name with a coloured history, it is believed by many a food historian that Puttanesca (derived from the word "puttana" meaning prostitute) was a sauce that was first cooked up in the brothels of Naples.
Despite the origin of the name, the dish itself has humble pantry/store-cupboard origins. And a few variations. Within the different regions of Italy, a Sicilian version of this sauce has green peppers and one from Palermo that has anchovies, raisins and olives. The most famous Neopolitan version has anchovies and oregano. The base is always the same - lots of fragrant, umami, salty and briny flavours from olives, capers, tomatoes and garlic.
I have made this Puttanesca sauce without anchovies. Instead, I added miso paste and nutritional yeast. Although it was delicious, I felt it lacking in the umami department. Anchovies are a pretty strong flavoured ingredient and taking them out made the dish feel incomplete in a way that miso and yeast couldn't make up for.
Key Ingredients For Vegan Puttanesca
Dulse - So, I started experimenting with sea-flavours. And I found gold with seaweed. Dulse is a red seaweed found in the North Pacific and Atlantic oceans. It is rich in calcium, potassium and iodine helping lower blood pressure, making bones stronger and improving thyroid function. And you don't need a lot to reap the benefits. You can buy it at health stores or speciality Asian grocers. And if you can't find it, good old nori (black seaweed) is a great option. Make sure you crush the seaweed really fine before using it.
San Marzano Tomatoes - For years, I looked for this particular variety of tomatoes. Hailing from Italy, this variety of plum tomatoes is similar to Roma but the fruit is longer with more flesh and fewer seeds. They are grown in volcanic soil. This makes their taste is sweeter and more robust with very little acidity. When cooked in a sauce base, they add a delightfully mouthy rich taste to the finished dish. Here in Australia, there are quite a few brands of tinned tomatoes that say "San Marzano tomatoes" on the label. Other brands like Annalisa simply say Italian tomatoes but the label has pictures of really long tomatoes on a vine. My favourite is Mutti's San Marzano whole peeled tomatoes. I stock enough in my pantry to survive an apocalypse.
Kalamata Olives - Try and buy really good quality Kalamata olives. The bigger, meatier fruit will always have the best taste. I recommend sourcing from small, local olive farmers. They usually have really good kalamata olives ageing nicely in jars of brine.
Miso Paste - I love the Merumiso brand. Their mild chickpea miso is my favourite. They also do a nice white and red rice miso.
Enjoy making this delightful Spaghetti Puttanesca! It is such a good meal for warm weather. If you love it, I'd like to hear your thoughts in the comments/rating below. Thanks as always guys! Happy cooking x
Recipe
Hungry For More Recipes? Subscribe to my newsletter. Check out Facebook, Instagram and Pinterest to see everything I share! And if you love cooking and new cookbooks, join my free Cooking Club on Facebook!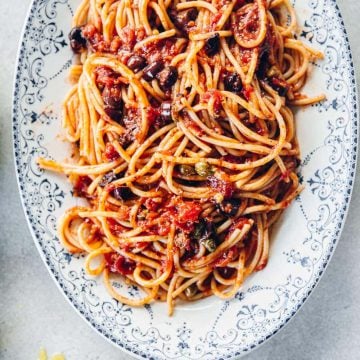 Ingredients
300

g

dry spaghetti

2

tablespoons

olive oil

1

teaspoon

red chilli flakes

8

garlic cloves

,

minced

2

tablespoons

baby capers

½

cup

sliced kalamata olives

1

X 400g can San Marzano tomatoes

½

cup

passata

1

teaspoon

dried oregano

2

teaspoons

miso paste

1

teaspoon

dulse flakes

,

or ground seaweed/nori

1

teaspoon

sugar

Fresh chopped parsley leaves

,

nutritional yeast flakes, olive oil – to serve
Instructions
Cook spaghetti in a large pot of salted boiling water for 8-10 minutes until al dente. Remove from heat and set aside.

Heat oil in a large sauté pan on medium. Add chilli flakes, garlic, capers and olives. Sauté

For a couple of minutes until fragrant and garlic is golden.

Add canned tomatoes, passata and oregano. Reduce heat to medium-low and simmer for 20 minutes until the sauce turns darker and oil pools around the edges.

Add miso paste, dulse flakes and sugar. Mix well. Cook for another minute or two.

Remove from heat. Drain the spaghetti, reserving some of the cooking liquid. Add the cooked spaghetti to the sauce. If too thick, loosen with a ladle of the cooking liquid.

Sprinkle parsley and nutritional yeast flakes. Drizzle lightly with extra virgin olive oil and serve immediately.
Notes
Pasta - As a rough guide, cook 75g raw pasta per person.  Dulse - Dulse is a red seaweed. It can be ordered in flake or powdered form from specialty herb and health stores. If you can't find dulse, substitute with nori (regular green seaweed). Nori sheets can be found in the Asian section of most supermarkets.
Did you make my recipe?
I'd love to hear how you went! Tag me on Instagram @cookrepublic