Your search for the easiest, multiple-tested, foolproof buttery homemade caramels ends here! Try my recipe for the most delicious Homemade Chewy Caramels today. I guarantee you will love it. It is the most delightful treat for the whole family. Perfect for gifting over Christmas!
Homemade Chewy Caramels For Christmas
I have been making my buttery chewy caramels for Christmas now, three years in a row. And they are the most delicious caramels you will ever taste. And would you believe how incredibly easy they are to make? Just dump all ingredients in a pan, cook to the right temperature, pour in a tin and set overnight. Cut into tiny squares and wrap in baking paper. There is something so charming about making homemade toffee. I love it!
At Christmas, I add these beautiful toffee-shaped Caramels to all my cookie boxes that I gift friends and family. I have tested this recipe more than a dozen times. This is to ensure that when you make it, you will have the most perfect batch of caramels right away if you just follow all the important tips I share below.
What You Will Need To Make The Best Homemade Caramels?
A 3-litre capacity, heavy-bottomed saucepan with a slight lip around the rim. The lip helps to attach the candy thermometer and also to pour cleanly.
A candy thermometer. These can be found at any homewares or specialty cake-decoration stores. It can be digital or analog. The analog ones usually have markings on them that indicate the stages of candy (soft ball, hard ball, soft crack etc.)
A silicone spoon. A square cake tin. Lots of baking paper.
Using the right kind of cream. Double thick cream is the best, But it can be substituted with thickened cream. The higher the amount of dairy in the recipe (cream and butter) the lighter and softer your caramel will be. If you use less dairy, your caramel will be darker and harder. Stick with my recipe for the perfect balance.
The caramel cooks in a maximum of 11-14 minutes. Make sure you don't walk away during that time.
For reference, this recipe needs to cook at an initial high temperature for 4 minutes, followed by medium to medium-high temperature for another 11-14 minutes. I cook on induction (high is 8-9 and medium is 7).
Caramel Temperatures And Chewiness Factor
When cooking this caramel recipe on medium to medium-high heat,
A. Caramel reaches Soft ball stage at 6 minutes (115°C / 240°F)
Caramel is too soft to form any kind of solid shape. This caramel is more suited to a thick bottled sauce which can be given away as gourmet presents.
B. Caramel reaches Firm Ball stage at 11 minutes (121°C / 250°F)
A firm ball stage is when a drop of hot caramel mixture is dropped in cold water, it forms a firm but pliable ball that can be reshaped. This is the ideal temperature for a perfect chewy homemade caramel. All the pictures in this post are of caramels cooked at this temperature. The caramels hold their shape well. They are soft and almost melt in your mouth with the right amount of chew.
C. Caramel reaches Hard Ball stage at 14 minutes (124°C/ 255°F)
A hard ball stage is when the liquid content of the caramel is reduced further by cooking at a higher temperature. This results in a firmer caramel that has a rope-like texture and much more chew. It is hard and not very easy to reshape. When you chew, you have to work your jaw a little bit harder.
How To Save A Caramel that is too soft and liquid-like?
After you have cooked and set your caramel for at least 8 hours, if it still remains gooey and very liquid-like, chances are you have undercooked it. That means, it did not reach the firm ball or hard ball temperature and was taken off the heat during the soft ball stage.
If this happens, you can still rescue your caramel. Pour it in a clean, heavy-bottomed saucepan. Stir and mix it well with a silicone spoon. Cook on high heat for approximately 3-4 minutes until it comes to a boil. Reduce heat to medium and insert a candy thermometer into the caramel mixture. Cook for 9-11 minutes without stirring until it reaches 121°C / 250°F to 124°C / 255°F. Turn the heat off. Cool for 3 minutes and carefully pour in a 20cm square cake tin lined with baking paper.
Recipe
Hungry For More Recipes? Subscribe to my newsletter. Check out Facebook, Instagram and Pinterest to see everything I share! And if you love cooking and new cookbooks, join my free Cooking Club on Facebook!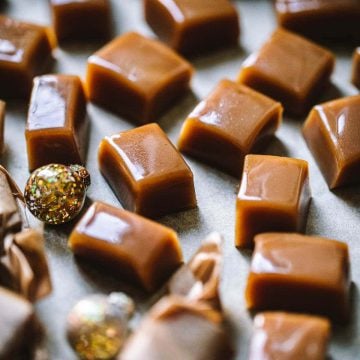 Ingredients
300

ml

double cream

100

g

salted butter

330

g

(

1.50

cups

)

raw sugar

350

g

(

1

cups

)

golden syrup

2

teaspoon

vanilla extract
Instructions
Lightly grease a 20cm square cake tin with butter and line with baking paper.

Place all ingredients in a large, heavy-bottomed saucepan.

Cook on high heat, stirring occasionally until the sugar has dissolved and the mixture comes to a boil. This will take about 4 minutes on medium-high to high heat.

Reduce heat to medium and insert a candy thermometer in the caramel mixture. Cook without stirring for approximately 9-12 minutes or until the temperature reaches 121°C (250°F).

Remove the pan from heat. Remove the thermometer from the pan. Allow caramel mixture to cool slightly for 3-4 minutes. Carefully pour the hot caramel into the lined tin.

Set aside to cool and set for 8 hours or overnight.

Lift the caramel out of the tin and onto a cutting board using the edges of the baking paper. Using a long (20cm) shark knife, cut the caramel into square or rectangle pieces of desired size (1-inch squares are the perfect size for popping in the mouth). This recipe yields approximately 56 pieces (7 rows, each cut into 8 squares).

Cut 56 pieces of baking paper, each 12cm X 12cm in size.

Wrap each caramel in baking paper and twist the ends to form a toffee.
Notes
Double Cream – Double cream is cream with a high fat content (45%-48%). It is also called heavy cream or double thick cream and is easily available in supermarkets. It can be substituted with thickened cream which has a slightly less fat content (35%). This substitution results in a darker coloured caramel.
Golden Syrup – Golden syrup, also known as light treacle in the U.K., is inverted sugar syrup, made by either refining sugar or by adding acid to a sugar-water solution. It has a beautiful amber colour and a texture similar to honey. It can be substituted with corn syrup in same quantities even though it is lighter than golden syrup. Dark corn syrup will yield a darker caramel.
Butter – I use salted butter to give the caramel a beautiful depth of flavour. You can use unsalted butter and optionally add sea salt flakes on top of the cooled set caramel before slicing.
Caramel Temperature – On medium to medium-high heat,
- Caramel reaches Soft ball stage at 6 minutes (115°C / 240°F)
- Caramel reaches Firm Ball stage at 11 minutes (121°C / 250°F)
- Caramel reaches Hard Ball stage at 14 minutes (124°C/ 255°F)
For this recipe, I cook my caramel till it just hits 121°C / 250°F
Topping & Flavour Variations
- Add a tablespoon of whiskey/rum/orange liqueur/brandy/hazelnut liqueur after cooking during the cooling stage. Mix and then pour in the tin to set.
- After the caramel has set in the tin for an hour, add nuts like salted peanuts, pistachios, candied or plain pecans to the top. Follow this if you only want a light topping of nuts.
- If adding more nuts (half a cup or one cup), add them just after cooking. Mix well and then pour the nut studded caramel into the tin.
- Sea salt flakes can be added on top after the caramels have set for 8 hours.
Sugar Content - I have successfully created another version of this caramel that uses less sugar. Just halve the golden syrup to half a cup and follow the recipe exactly for a lower-sugar version.
Did you make my recipe?
I'd love to hear how you went! Tag me on Instagram @cookrepublic