A one-bowl, mix-and-bake Vegan Zucchini Bread recipe packed with pecan nuts, olive oil and loads of spices for a nutritious breakfast or snack. This foolproof breakfast bread has the best texture, a gorgeous crust that toasts to perfection and a soft, airy crumb that tastes delicious.
How To Avoid A Soggy Mess When Baking With Zucchini?
When summer hits its peak and zucchinis are flowing freely, whether you are a home gardener or an avid market buyer; the best thing to do is make zucchini bread. A good zucchini spice bread has a delightfully delicate flavour. Spices like cardamom and nutmeg offset the herbaceous quality of the summer vegetable. But baking with zucchini often strikes fear in the hearts of many. Because zucchini weeps and often creates a big, soggy, inedible bake if not drained properly.
Fresh zucchini has the most water content. Older zucchini tend to be drier. Regardless of the age of zucchini, you need to grate and drain the liquid before baking to avoid it weeping into your batter and making it loose. I grate my zucchini on a box grater. A box grater usually has two sizes of holes - one for a thicker shred and one for a thinner shred (as pictured in the photos below). As a rule of thumb, I use the thicker shreds for pan cooking (fritters) and the thinner shreds for baking (cakes, loaves, savoury bakes).
When I am baking a sweet zucchini cake or loaf, I sprinkle a scant amount of sugar on the grated zucchini and rest it for 10 minutes. This draws a lot of the water out and makes it easier to squeeze. I place the grated zucchini in a fine sieve over a bowl or the sink and press down on it to squeeze the liquid out. I find that squeezing for 3-4 minutes (for a fresh grated zucchini) is the perfect amount of time for removing all the excess water. At the end of your squeezing session, you should be left with grated zucchini that feels quite dry and you should not be able to squeeze any more liquid out. This squeezed grated zucchini along with a good amount of finely chopped nuts will give your bake that perfect dry, airy and open crumb.
Making The Best Vegan Zucchini Bread Packed With Flavour & Nutrition
Flour - I love using unbleached spelt flour for all my breakfast bakes. You can of course substitute with regular plain flour or event buckwheat or sorghum flours for a gluten free version.
Fat - I use good quality extra virgin olive oil (medium strength). It is a great substitute for butter and makes the bread lighter and more floral in taste.
Nuts - My choice of nuts for this bread is pecan. It pairs really well with the flavour of zucchini and spices. If you don't have pecan nuts, try almond instead. Walnuts and hazelnuts are too overpowering in taste for this recipe.
Egg - A flax egg makes this recipe effortlessly vegan. Flax seed meal is an excellent source of dietary fiber, omega 3 fatty acids, vitamins B1 and B6 and magnesium. You can make a flax egg by mixing a tablespoon of flax seed meal with 3 tablespoons of water.
Spices - The combination of cardamom, cinnamon, ginger, nutmeg and black pepper is a staple in gingerbread recipes. In this vegan zucchini bread recipe, I have dialed down the quantities to add warmth and fragrance while allowing the zucchini flavours to shine and come through.
This beautiful Vegan Zucchini Bread is a wonderful addition to your weekly meal prep. It keeps well in a cool corner of your kitchen for up to 4 days, longer if stored in the fridge. Slices can also be frozen wrapped in baking paper in individual freezer bags. Pop straight in the toaster to reheat and eat. If you make this Zucchini Bread, please share your feedback and photos with me by either commenting below or sharing on Instagram with #cookrepublic @cookrepublic
Recipe
Hungry For More Recipes? Subscribe to my newsletter. Check out Facebook, Instagram and Pinterest to see everything I share! And if you love cooking and new cookbooks, join my free Cooking Club on Facebook!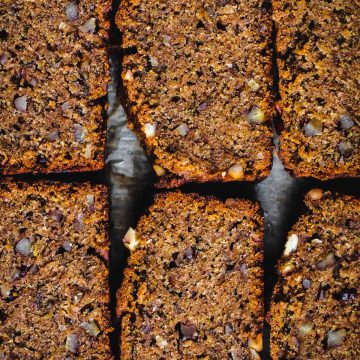 Ingredients
500

g

zucchini

,

trimmed and grated (2 large)

1

tablespoon

raw sugar

1 ½

cups

(

225

g

)

spelt flour

½

cup

(

70

g

)

pecan nuts

,

finely chopped

115

g

rapadura sugar

125

ml

olive oil

1

flax egg

,

(Note 1)

2

teaspoons

baking powder

1

teaspoon

ground ginger

1

teaspoon

ground cinnamon

1

teaspoon

ground cardamom

½

teaspoon

ground nutmeg

Pinch

of black pepper

Pinch

of salt
Instructions
Preheat oven to 180°C (160°C fan-forced).

Place grated zucchini in a medium bowl. Sprinkle with a tablespoon of raw sugar. Set aside for 5 minutes. Scoop grated zucchini in a fine sieve and press down to squeeze and drain as much liquid as you can. When you are done, the grated zucchini should be quite dry to touch and hardly any liquid should squeeze out.

Add zucchini to a large bowl. Add flour, pecan nuts, rapadura sugar, olive oil, flax egg, baking powder, ginger, cardamom, cinnamon, nutmeg, pepper and salt to the bowl. Mix with a spoon until thoroughly combined.

Line a rectangle loaf tin (22cm X 11cm X 7cm) with baking paper. Spoon the batter in the prepared tin and smooth the top. Bake in the preheated oven for 55 minutes until the bread is done. Switch off the oven and let the bread rest in the warm oven for a further 5 minutes. Remove from oven and cool to room temperature in the tin before slicing and enjoying.
Notes
Flax Egg - Make a flax egg by mixing 1 tablespoon flax meal in 3 tablespoons water. Flax egg can be replaced with a hen's egg if you don't mind the recipe not being vegan.
Batter Consistency - The consistency of the batter should be thick but moist (not dry) and easily mixed with a spoon.
Storage - Zucchini Bread keeps well in a cool corner of the kitchen for 4 days. Will stay fresh longer (7-8 days) if stored in the fridge in an air-tight container. 
Did you make my recipe?
I'd love to hear how you went! Tag me on Instagram @cookrepublic