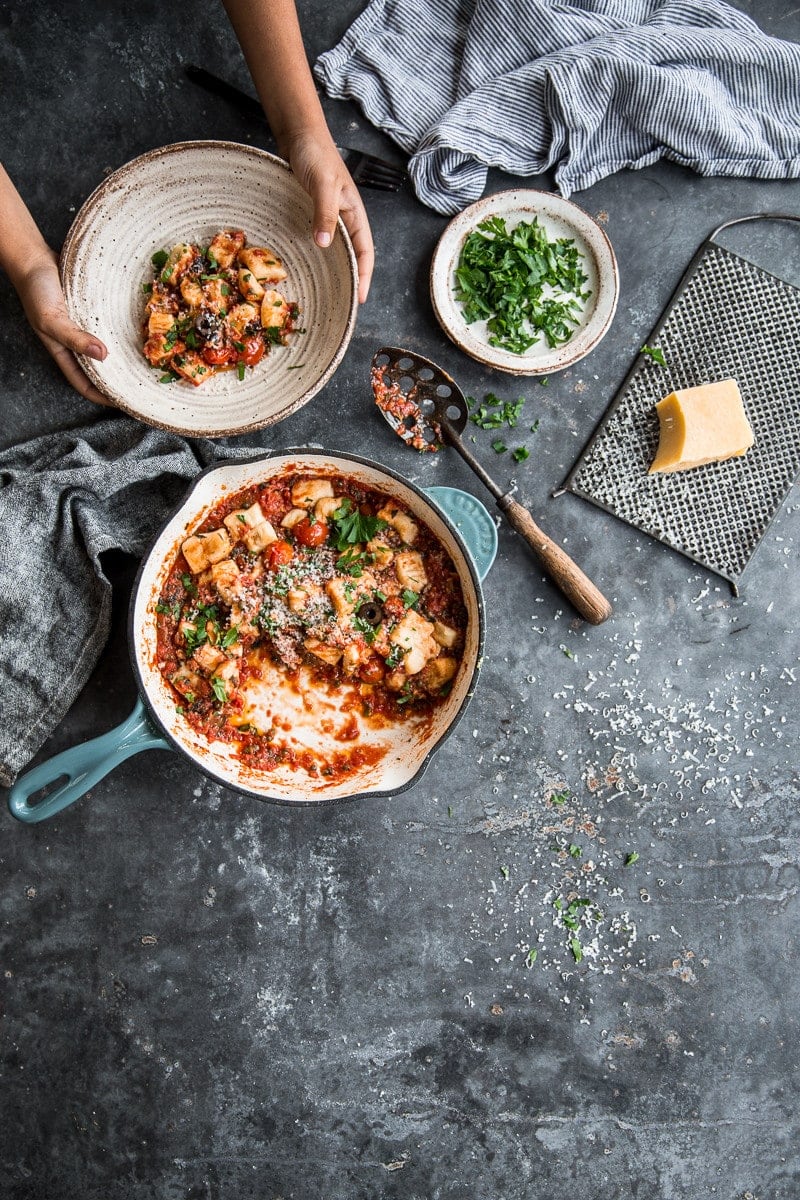 I love watching cooking shows that are not contained within the kitchen. Shows that follow the host around a new country or city, while they explore the gorgeous local produce and famous dishes to later re-create in their kitchens. For me, it is the armchair travel aspect of the show that takes me to places I have never been while experiencing a food culture I long to explore. While I have many favourites on Food Network, I am particularly excited about a show premiering tonight, Born To Cook: Jack Stein Down Under. You guessed it right! Jack Stein the middle son of acclaimed celebrity chef Rick Stein, has a brand new Aussie show and it makes for some very good viewing.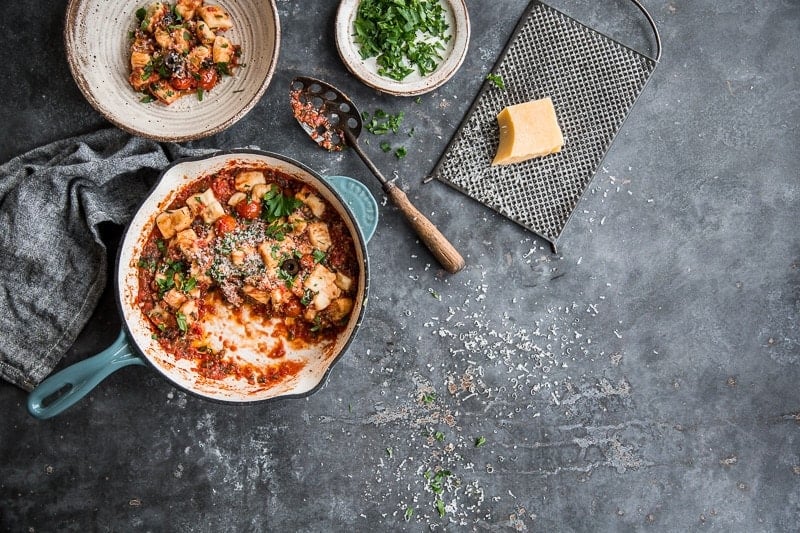 With the same easy-going manner as his dad and oozing British charm by the buckets, Jack Stein who recently took over the workings of all of the Stein restaurants is in Australia's glorious Margaret River region for food and inspiration. And this is my favourite part, exploring pockets of South Western Australia's most famous food mecca through the eyes of a very down-to-earth chef who admits during the course of the show that he is rubbish as a pastry chef and that he once tried to impress a girl by drinking a litre of Crème Anglaise??? This 4-part series is a humour-driven philosophical feast of natural produce and the exploration of the connection of food and people to the land.
I must admit that when I watch cooking shows, it inspires me to cook things I would've shied away from. They just make it look so easy on TV. And more often than not, it really is easy. I was lucky enough to watch some of the episodes that hadn't been aired and a segment on capers really piqued my interest. Having been on a caper bender recently (if you have been following my recent recipes!), Jack's puttanesca sauce just made me want to master the classic. Puttanesca is one of my favourite pasta sauce with its tart complex flavours from olives, capers and anchovies. So, I followed his recipe with a few tweaks and within 30 minutes had mastered a classic pasta sauce. Since I was already in inspired chef mode, I decided to make gnocchi from scratch instead of using dried pasta.
How To Make Perfect Homemade Gnocchi With Everyday Sebago Potatoes?
I have made gnocchi on a number of occasions and this recipe is the most perfect gnocchi recipe you will ever find. It binds well, is easy to handle and will produce the most silky and chewy gnocchi ever. My recipe uses Sebago (brushed) potatoes. They are excellent for boiling and mashing. Any variety that states that it is good for mashing will work well in this recipe. Make sure that they are well and truly boiled. This helps produce a smooth mash which in turn produces the best gnocchi.
I have included notes to make vegan versions of both the gnocchi and puttanesca in the recipe below. I have made these vegan versions myself and the recipe is spot on. Rivs, my oldest, has been making this with me since he was little and he can make gnocchi in a matter of minutes. I hope you make this, it is a gorgeous recipe and so simple you won't believe it!
note - This post is sponsored by SBS. All musings and opinions are my own.
Recipe
Hungry For More Recipes? Subscribe to my newsletter. Check out Facebook, Instagram and Pinterest to see everything I share! And if you love cooking and new cookbooks, join my free Cooking Club on Facebook!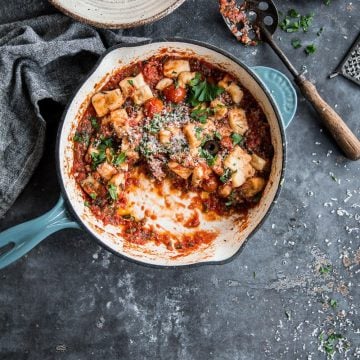 Ingredients
For the puttanesca
3

tablespoons

olive oil

3

garlic cloves

1

sprig of rosemary

,

leaves finely chopped

4

sage leaves

,

shredded thinly

1

teaspoon

red chilli flakes

55

g

salted capers

,

drained

110

g

small black pitted olives

,

sliced

50

g

can of anchovy fillets in oil

,

drained and chopped

1

tablespoon

chopped oregano

400

g

can chopped tomatoes

8

cherry tomatoes

,

halved

2

tablespoons

chopped flat-leaf parsley

salt and freshly ground black pepper

,

to taste
For the gnocchi
400

g

potatoes

,

boiled and peeled

1

cup

(

160

g

)

plain flour

1

egg

,

lightly whisked

10

g

grated parmesan

½

teaspoon

seas salt flakes

freshly ground black pepper

extra flour

,

to dust

grated parmesan

,

to serve
Instructions
To make the puttanesca
Heat oil in an oven proof cast-iron skillet on medium. Add garlic, rosemary, sage and chilli. Sauté for a few seconds until glazed and just starting to turn golden. Add capers, olives, anchovies (replace with vegan substitute if making a vegan version – see notes), oregano, chopped tomatoes and cherry tomatoes. Mix well. Reduce heat to medium low and simmer for 10-15 minutes. Remove from heat. Adjust seasoning to taste.
To make the gnocchi
Place all the ingredients for the gnocchi in a large bowl and mash it up using a potato masher. Gather the mash with your hands and form a dough ball. Divide the dough into two portions.

Dust a work surface generously with flour. Place one of the dough portions on the dusted surface and knead it to a firm shape. Placing both palms on the dough, start rolling it as if it were a rolling pin. This will stretch the dough into a long tube shape. Continue doing this until your dough tube is about half an inch in thickness (diameter). Dust with flour as and when needed to avoid sticking.

Using a small sharp fruit knife, cut the dough into 2cm wide pieces. Use a fork to indent all the pieces.

Bring water to a boil in a large saucepan. Drop gnocchi gently into the boiling water. The gnocchi will float to the top in 2-3 minutes. Remove the gnocchi with a slotted spoon and drop them into the prepared puttanesca sauce.

Garnish with parsley and serve hot with extra grated parmesan.
Notes
For a vegan puttanesca, replace anchovy fillets with a tablespoon of miso paste and a teaspoon of nutritional yeast (savoury yeast flakes).
For a vegan gnocchi, replace egg and parmesan with 2-3 tablespoons of olive oil. It should be just enough to bind it into pliable dough. Skip the extra parmesan on the finished dish in the end and sprinkle with yeast flakes instead.
Did you make my recipe?
I'd love to hear how you went! Tag me on Instagram @cookrepublic