I have my favourite pizzas. Pizzas I have shared with Nick mostly on a holiday. New flavours and combinations that instantly rooted deep in my heart. The grand Kathmandu, the comforting Europa, the utterly delicious Byron Bay and the wicked Malibu. I don't know what makes it more exciting, the names or the unusual topping of ingredients. But a simple pizza naked of grand toppings is what I crave the most. And for that reason, the Margherita Pizza has to be my most beloved.
Simplicity is highly underrated. A homemade pizza crust, crispy from the addition of semolina is sensationalised by the simple addition of tomato sauce, basil leaves and cheese. Red, green and white. The colours of the Italian flag and the foundation of the infamous Margherita pizza that was created by chef Rafaelle Esposito for the beloved Queen of the masses in the late 1800s, Queen Margherita. A pizza and a history lesson. A perfect weekend culinary project to share with the kids.
I do not like the taste of the over-processed almost burgundy sauce they sell under the guise of pizza sauce at the supermarket. So I make my own. And there is nothing to it really. A good homemade pizza sauce is bursting with the robust flavours of ripe tomatoes, made pungent with garlic and basil. If tomatoes are in season, I like to use fresh tomatoes. I especially love truss tomatoes. They are just too gorgeous.
If tomatoes aren't in season, I like to use passata, an Italian tomato sauce you are most likely to find at the deli or your local fruit and vegetable vendor. I always look for a bottle that lists only tomatoes and salt under ingredients. I make a huge batch of this sauce, easily doubling and tripling the recipe. It freezes well and also becomes the base of a lot of my pasta dishes. I hope you enjoy this sauce and simple pizza.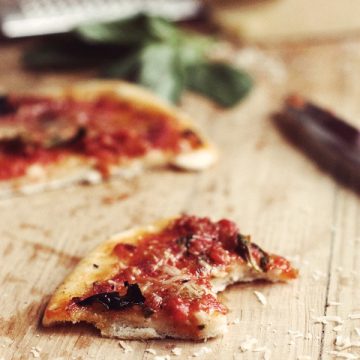 Ingredients
12

ripe tomatoes

,

chopped fine (or 2 x 400g tin of peeled whole tomatoes or 700g bottle of passata)

2

cloves

of garlic

,

peeled and finely chopped

handful of basil leaves

,

finely chopped

1/4

teaspoon

dried oregano

,

(or some fresh oregano leaves, finely chopped)

salt to taste

freshly cracked black pepper

extra virgin olive oil
Instructions
Heat olive oil on medium heat in a saucepan.

Add the garlic and fry for a few seconds. Add the tomatoes/tomato sauce, half the basil leaves, all of the oregano, salt and pepper.

Cook on medium-low heat for approximately 20 minutes, mashing the whole tomatoes gently from time to time. Remove when simmering and add the remaining basil leaves.

Adjust seasoning, allow to cool and store in a clean sterilised glass jar.
Did you make my recipe?
I'd love to hear how you went! Tag me on Instagram @cookrepublic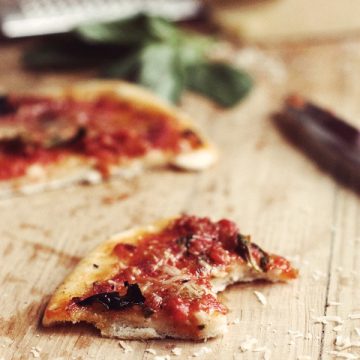 Ingredients
3 to 4

tablespoons

homemade pizza sauce

7 to 8

fresh basil leaves

mozzarella cheese to sprinkle

olive oil to drizzle
Instructions
Preheat oven to 250°C(500°F). Lightly oil the base of an aluminium pizza platter/metal pizza crisper. Divide pizza dough in 6 portions.

Place 1 dough ball onto oiled palms. Either gently start stretching the dough ball or roll it out thinly to about 0.5cm/quarter of an inch.

Place on the oiled pizza plate. Spread sauce all over the base except a thin area around the edge. Place basil leaves in a circle (1 leaf for each edge when you cut the pizza later). Sprinkle liberally with mozzarella cheese and drizzle lightly with olive oil.

Place in pre heated oven and cook for 12 minutes until golden and cheese is bubbling. Serve hot! 

Repeat with the remaining 5 dough portions.
Did you make my recipe?
I'd love to hear how you went! Tag me on Instagram @cookrepublic
MY FAVOURITE PIZZA RESOURCES
Cookbook - Jamie's Italy by Jamie Oliver.
Cookbook - Pizza Modo Mio by John Lanzafame.
Cuisinart 14 Inch Pizza Baking Pan.
Cookbook - Theo & Co : The Search For The Perfect Pizza.
Bialetti 3 piece Pizza Stone Set.
Ironwood Gourmet Acacia Pizza Paddle.
Wheel & Barrow - Round 30cm Aluminium Pizza Tray.
Zyliss Red Handheld Pizza Wheel.
Wilton Recipe Right Pizza Pans.
Baker's Secret Mini Pizza Pan Set.
Zyliss Pizza Slicer With Handle.
Cookbook - Pizza by Pete Evans.