We don't get Pumpkin Pie Spice in Australia. Or canned pumpkin purée. At least, not very easily. You might find these items at a specialty online grocer but not in everyday supermarkets and stores. I suppose it is a very American thing? Just like the American obsession with pumpkins around Halloween and Thanksgiving. Although in Australia, we are pumpkin obsessed all year round. Which is great! So, why not make a fresh batch of homemade Pumpkin Pie Spice to jazz up all those pumpkin dishes we cook throughout the year?
Pumpkin Pie Spice as the name suggests is a super aromatic and beautiful spice mix to bake a pumpkin pie. But it can be (and has been) used in a variety of creative cooking endeavours. From cakes and pancakes to soups and curries. I have never bought or seen a jar of pumpkin pie spice before. A deep dive on the internet told me that a good pumpkin pie spice mix has four main ingredients - cinnamon, ginger, allspice and nutmeg. Sometimes you could also add cloves to up the spice factor.
So I played around with the ingredients and quantities and came up with this absolutely fragrant Pumpkin Pie Spice recipe. I tried it in overnight oats, a nice robust afternoon cake and chia pudding! (all recipes I intend to share on the blog). And all the dishes turned out just delicious. The pumpkin pie spice instantly evokes the feeling of it being Christmas and I love that! As I am sure, you do too.
The recipe for the Pumpkin Pie Spice that I have shared below, fills a small 125ml glass jar. The recipe is easily halved or doubled. Halving the recipe gives you about 3 tablespoons which should last you for 2-3 batches of cookies or cakes. Doubling the recipe gives you a good 12 tablespoons (or enough to fill a 200-250g jar or bottle). This makes an excellent homemade present or gourmet gift for the festive season.
I have also designed some Pumpkin Pie Spice Gift Tags for you to download. If you are planning to give this spice mix as a gift to your friends and family this holiday season, all you need to do is download my Free Pumpkin Pie Spice Tag (link after the recipe box). Print it on A4 size gorgeous brown or white cardstock and tie with a festive string/ribbon around a glass jar filled with this beautiful homemade spice mix.  It feels so good to gift something homemade that will last a couple of months and bring great joy every time someone uses it. Spread the spice and everything nice these holidays!
If you make this pumpkin spice mix and use the printables, please share your gorgeous gifts/jars with me on Instagram by tagging me @cookrepublic #cookrepublic. I would love to see your creations!! xx
Recipe
Hungry For More Recipes? Subscribe to my newsletter. Check out Facebook, Instagram and Pinterest to see everything I share! And if you love cooking and new cookbooks, join my free Cooking Club on Facebook!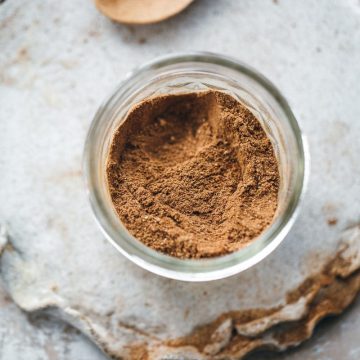 Ingredients
4

tablespoons

ground cinnamon

3

teaspoons

ground ginger

1

teaspoon

allspice

1

teaspoon

ground nutmeg

1

teaspoon

ground cloves
Instructions
Place all ingredients for the pumpkin pie spice in a small bowl. Mix lightly with a spoon or small whisk.

Scoop in small 125ml capacity lidded glass jar. Store in a cool corner of your pantry for 4-6 weeks. Will keep in the fridge for up to 3 months.
Did you make my recipe?
I'd love to hear how you went! Tag me on Instagram @cookrepublic
---

There are 10 Black And White Tags on an A4 Size Paper. There are dotted guidelines that you can cut along to get the tags. Can be printed on any light coloured or white or natural brown cardstock. Holes can be punched as required. (File Size - 1MB / File Format - .PDF / Paper Size - A4)
---