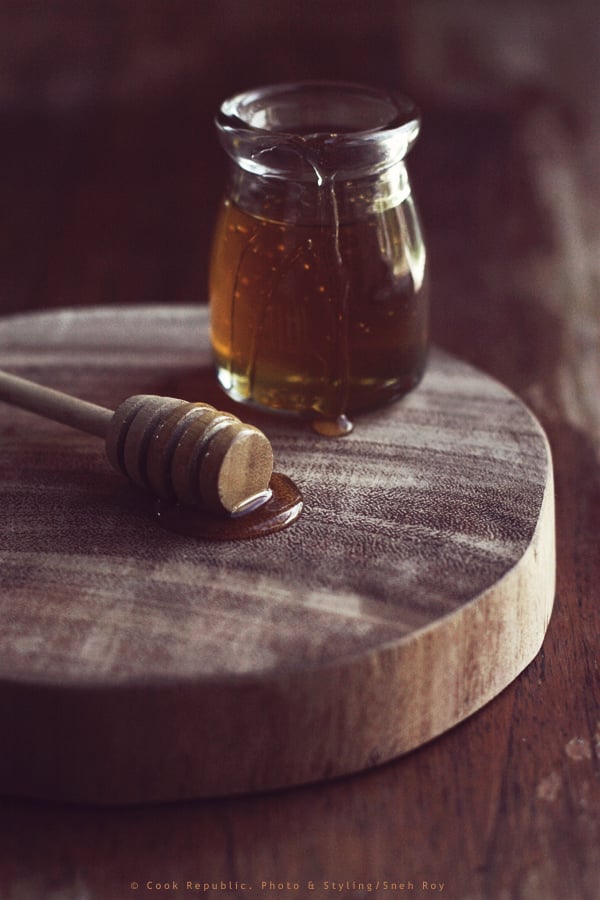 Winter officially kicks off tomorrow! Eeeps! Where did autumn go? I can't really complain because I have been truly making the most of autumn, not only with my cooking but also with my photography and travels. We escaped to a gorgeous retreat in the bush next to the beautiful Hawkesbury river for 4 days. I will have a zillion pictures of our little family adventure in a few days. But first things first.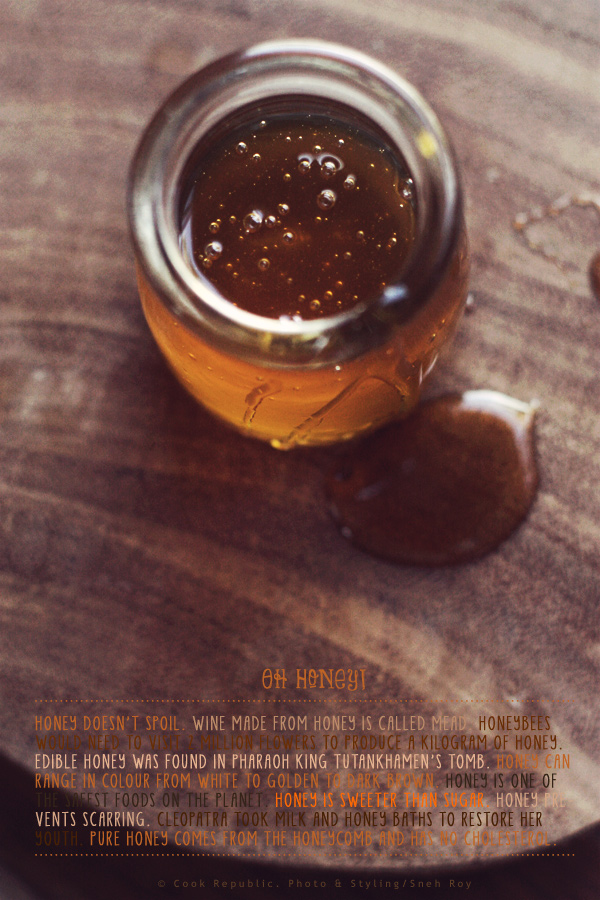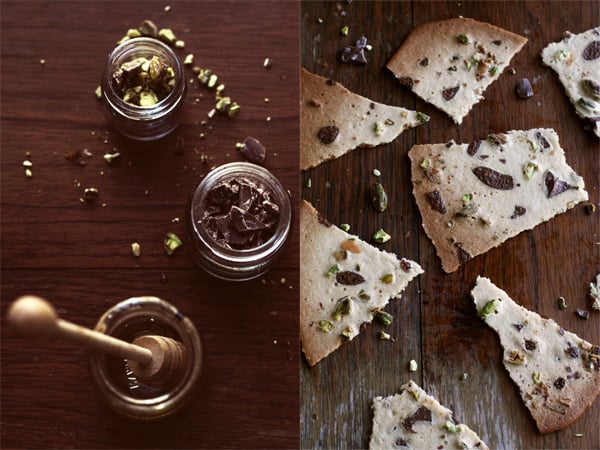 I hosted Monthly Mingle throughout the month of May and the theme I picked was Oh Honey! Right from the golden colour to the molten nature of one of nature's most amazing bounty, I find honey warming. Like a hug that reaches out from a cup steaming with lemon and ambrosia. I find myself turning more and more toward honey as the weather gets cooler. I've got some fantastic entries to share with you later this week from people who have hopped on to the Monthly Mingle (blogger and photographer Meeta Wolff's brainchild) wagon, . Today, I am sharing my own entry to the mingle. An ode to the sweet luscious golden liquid that is a gift from all those buzzing creatures of nature. As is typical of me, I made my honey dish on the very last day of the month on a whim. It is a Honey, Chocolate And Pistachio bark adapted from the gorgeous cookbook, Monday Morning Cooking Club.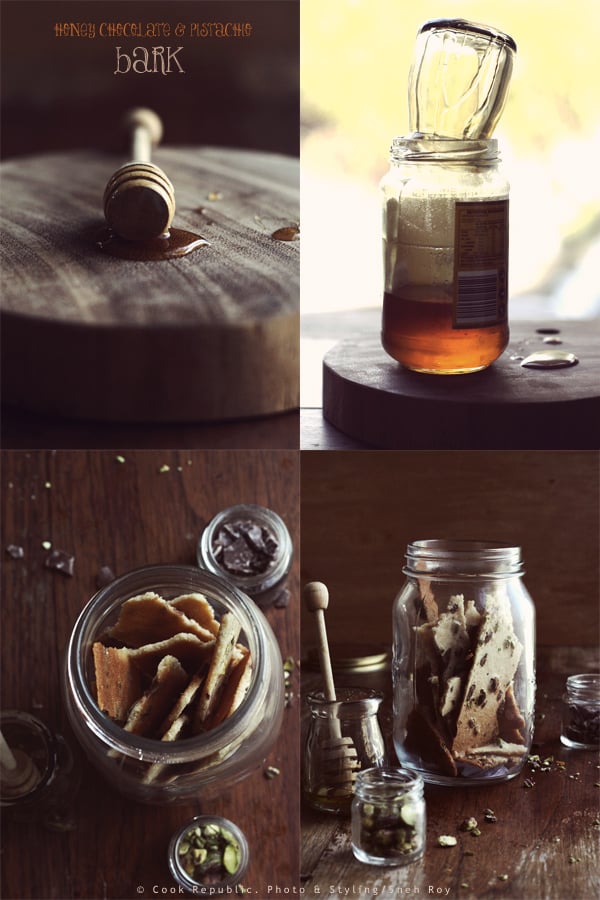 These wafer thin, crisp biscuits are perfect for that after dinner sugar craving. Paired with a strong cup of coffee, they are absolutely stunning. If you don't want to break them into pieces and gorge on them every night, you can be a good samaritan and leave them whole. Stack several on top of each other, tie them up gently with a lovely ribbon and take it to your best friend when you visit them next time. Watch their eyes light up. Then as they make you a nice cup of tea or coffee, you can pig out on these addictive, sweet things.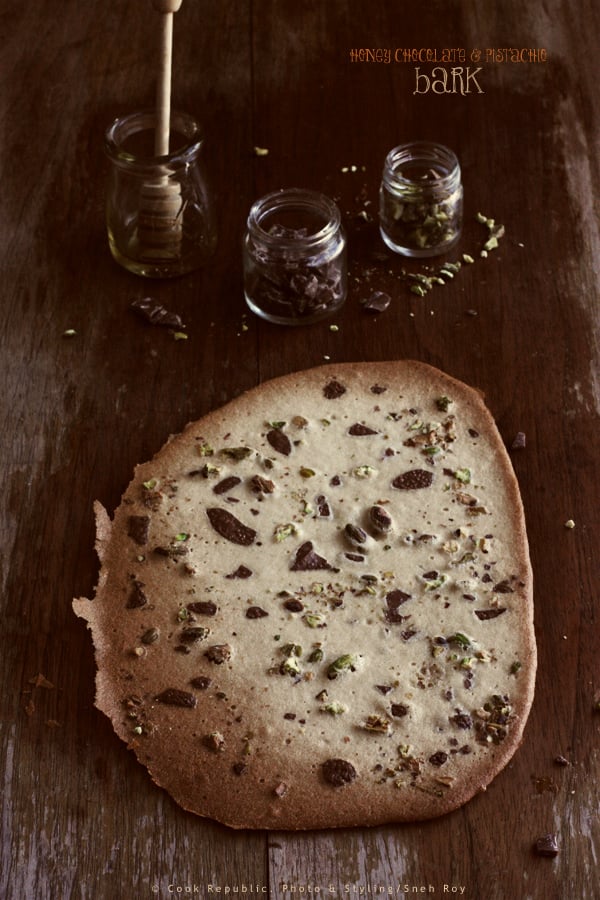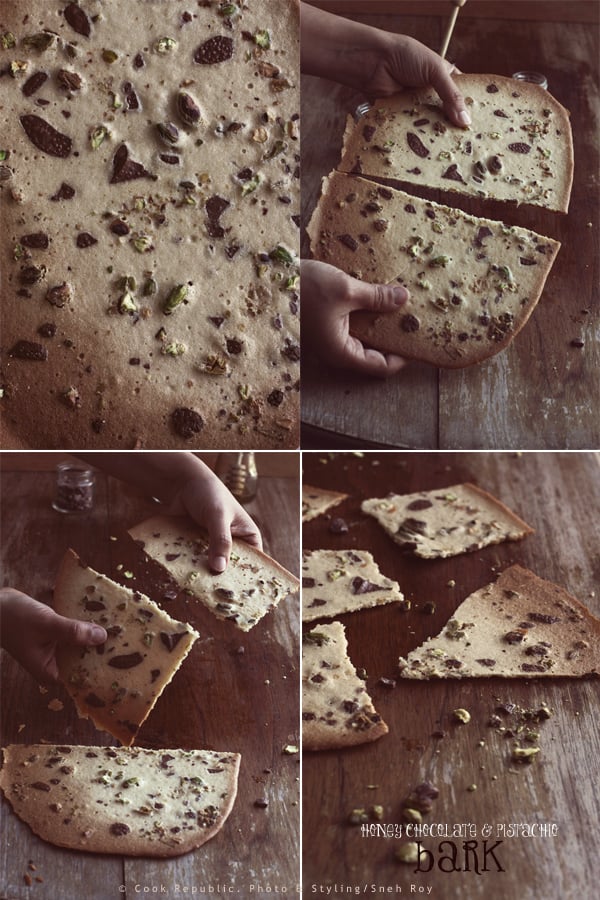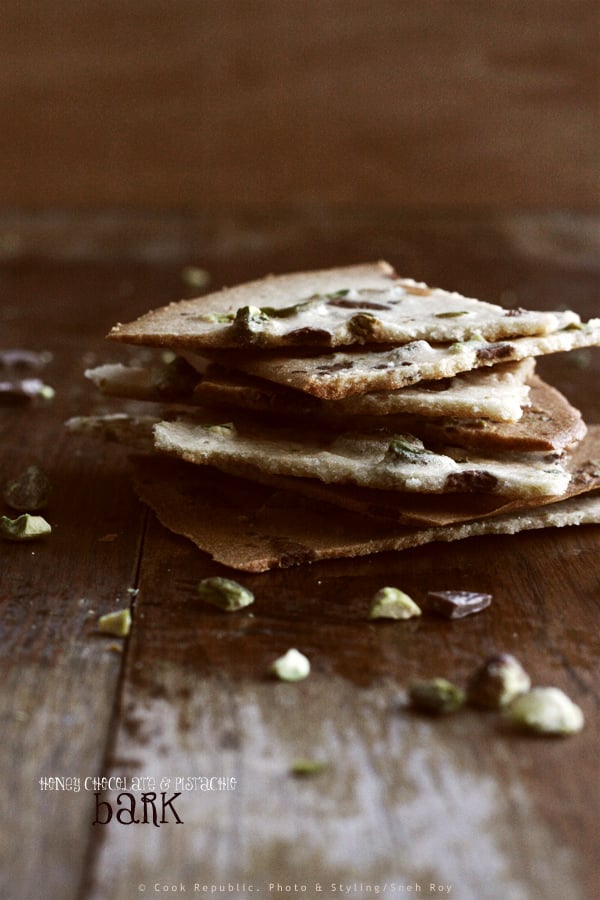 [print_this]
HONEY CHOCOLATE AND PISTACHIO BARK
adapted from Monday Morning Cooking Club
An easy to make wafer thin biscuit, this honey chocolate and pistachio bark is perfect with an after dinner coffee or to turn an ordinary bowl of ice cream into a spectacular modern dessert.
Preparation Time - 10 minutes
Baking Time - 20 minutes
Makes - 3 large barks, each to serve 6

Ingredients
100g salted butter, softened
2/3 cup caster sugar
1/4 cup honey
1/2 cup plain flour
2 egg whites
1/2 cup dark chocolate chips
1/2 cup pistachios, crushed
1/4 teaspoon vanilla extract

Method
Preheat oven to 180C. Line three baking trays (38x26cm) with baking paper.
Combine butter, sugar, honey, egg whites, vanilla extract and flour in the bowl of an electric mixer and mix until smooth. Using a sturdy flat spatula spread thinly over the prepared trays to about the thickness of a coin. Sprinkle with chocolate and pistachios. Bake for 15 to 20 minutes until lightly browned and cooked through.
Cool on trays, then break into pieces and store in an air tight container.
Notes
The thinner you spread the batter, the crispier the bark will be. You will also have to watch the cooking time, as a thinner bark would need less time to cook and will start browning quickly.
You can experiment with different toppings both for taste and aesthetic appeal. Some combinations that have worked for me are chocolate and dried cranberries, crushed toasted peanut and chocolate chip, crushed peanut with raisins and rice bubbles, pistachios rose petals and a sprinkling of cardamom.
Serve with coffee after dinner, or a bowl of warm fruit compote or stick them in a huge dollop of homemade ice cream.
[/print_this]