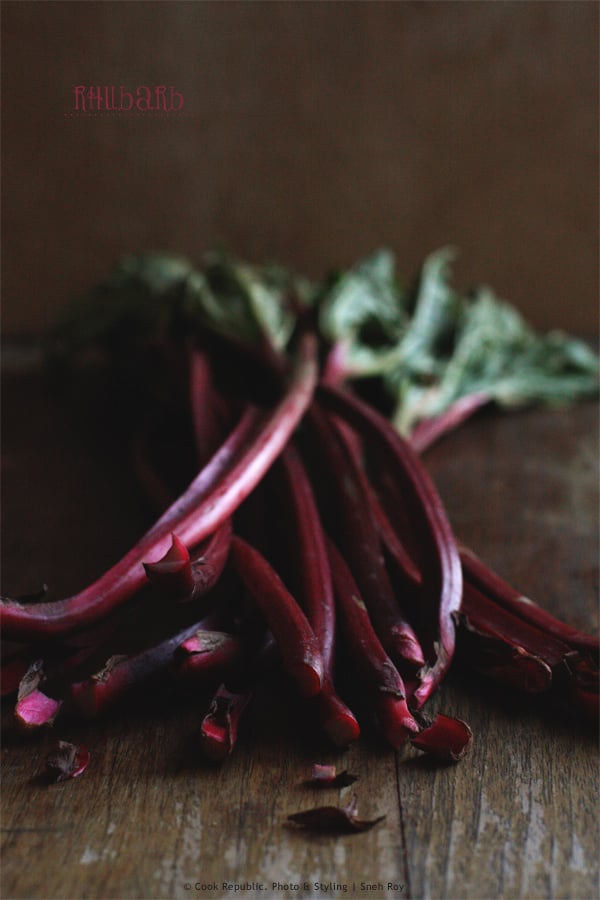 The natural gift of pairing flavours is a quality ingrained in very few. For the rest it develops over time with trial and error like a fine honed extra sense. And for the flavour matching novice, there are books like
Niki Segnit's The Flavour Thesaurus
. New and less common ingredients can be especially tricky to play around with. I find rhubarb to be quite a challenge. A vegetable by origin, it is used mainly in sweet recipes because of its unique tart akin-to-fruit flavour. Wiki states that in 1947, a US court passed legislation that rhubarb would be classified as fruit because it was used as fruit.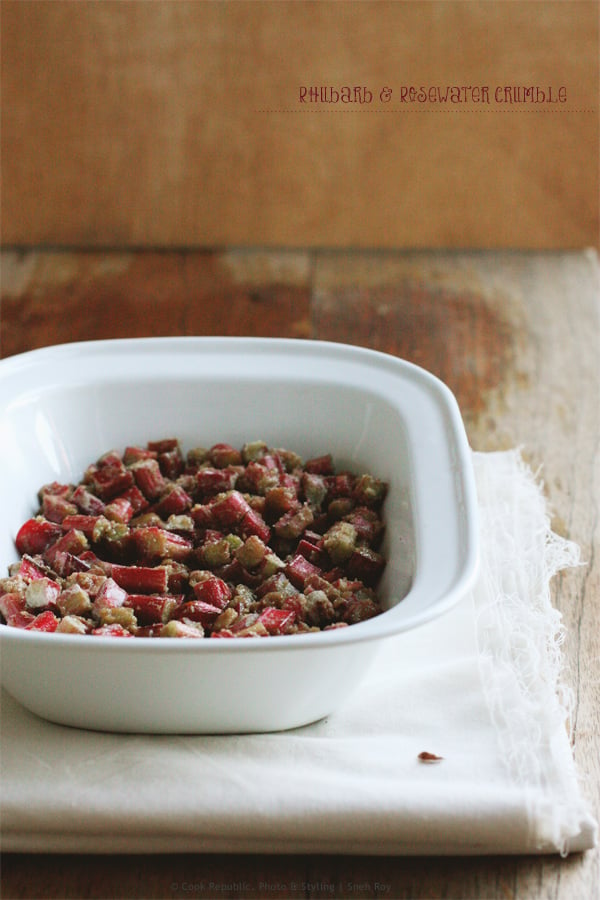 Having discovered rhubarb not very long ago I am always curious and eager to experiment with it. I know that
rhubarb works magically well with vanilla
. A recent post by Heidi at 101 Cookbooks suggested that
rhubarb romances rosewater
unlike any other fruit (ahem - vegetable!) out there. Going with my gut, I decided that almond would be a delicate and wonderful addition to play with the notes of vanilla and rose when paired with the headstrong rhubarb. And it worked, quite well too! Lo and behold - a gluten free dessert, Rhubarb And Rosewater Crumble.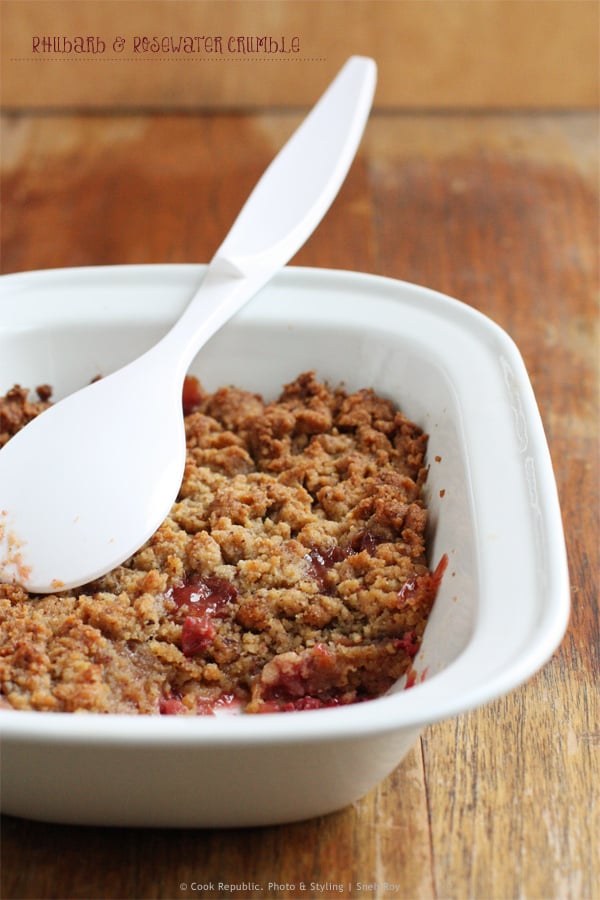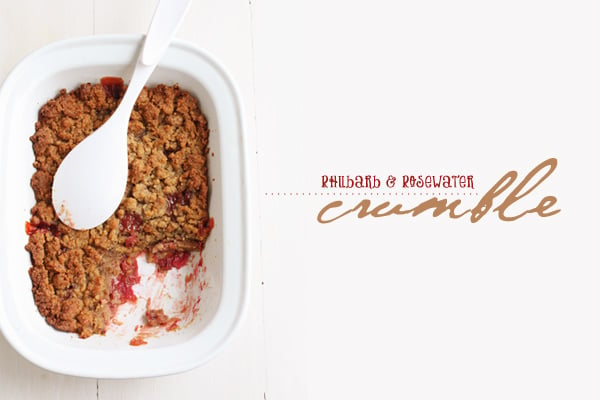 [print_this]
RHUBARB AND ROSEWATER CRUMBLE
A gorgeous gluten free pudding dessert with a crunchy golden top, this rhubarb and rosewater crumble has notes of vanilla and is perfect for the cold weather.
Preparation Time - 15 minutes
Cooking Time - 30 minutes
Serves - 4
Ingredients
For The Filling
1 large bunch rhubarb, washed, timmed and cut into 1cm pieces
1 tbsp coconut flour
3 tablespoons rosewater
1 tablespoon vanilla extract
50g brown sugar

For The Crumble
a pinch of salt
a pinch of ground nutmeg
300g almond meal
200g unsalted butter, softened
175g brown sugar
Method
Preheat oven to 180C. Butter a 9 inch ovenproof dish.
To Make The Filling
Place fruit in a large bowl. Sprinkle with sugar, flour, rosewater and vanilla. Mix well with a spoon and set aside while you make the crumble.
To Make The Crumble
Place meal, salt, nutmeg and sugar in a large bowl and mix well. Take a little butter at a time and rub into the flour and sugar mixture. Keep rubbing until all the butter is used up and the mixture resembles breadcrumbs.
Spoon fruit mixture into the bottom of the dish. Sprinkle crumble on top. Bake for 30 to 40 minutes until top is golden.
Serve warm with clotted cream or vanilla ice cream.
[/print_this]