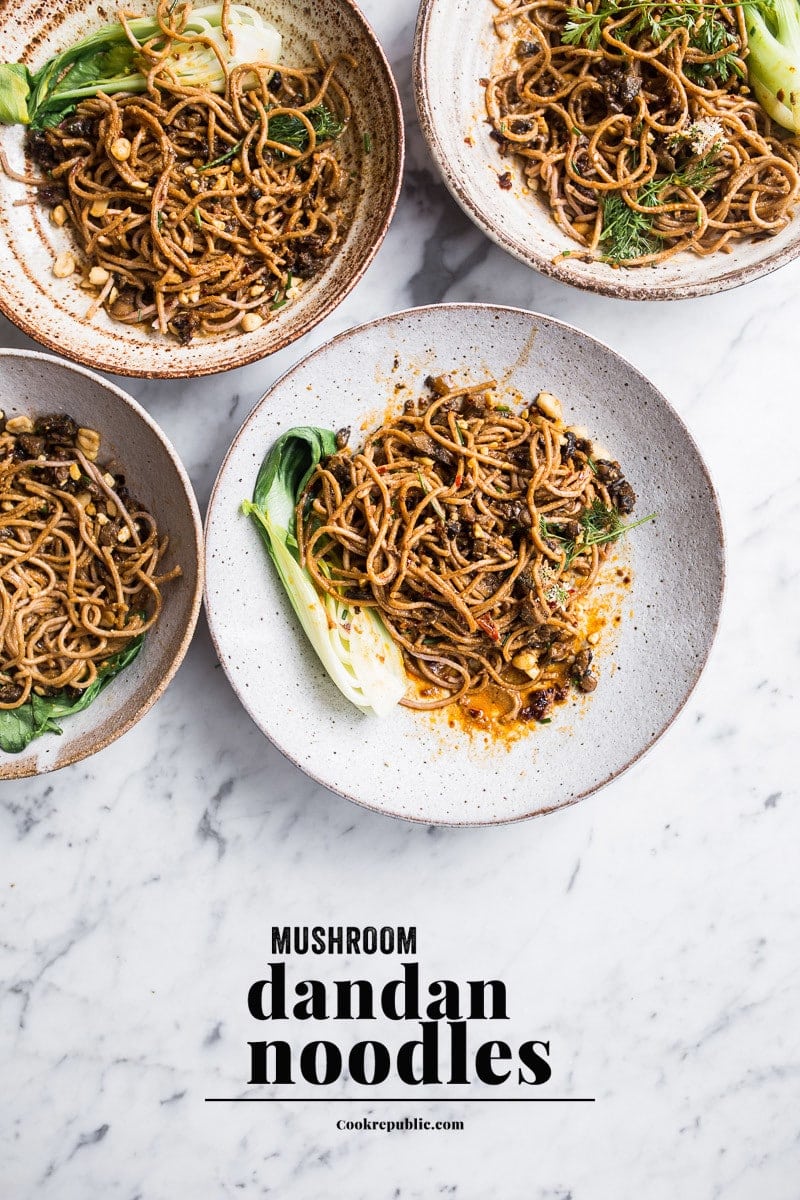 Today I want to tell you about my new favourite kitchen appliance. One that makes fresh 2-ingredient noodles in just about 8 minutes – from scratch! Seems like a dream? Too good to be true? Not with the Philips HR2358/06 Pasta And Noodle Maker. This powerful machine with its automatic mixing, kneading and extruding produces half a kilo of fresh pasta or noodles in 15 minutes. The four different discs that come with the machine make noodles/spaghetti, linguini, penne and sheets. Can you imagine the possibilities?
Gluten free noodles, vegan pasta, colourful veggie juice spiked dumpling sheets and so much more! I am so excited! To celebrate the Philips collaboration with the Night Noodle Markets in Sydney, I decided to create my forever favourite Dan -Dan Noodles with this amazing machine – but a vegetarian mushroom version!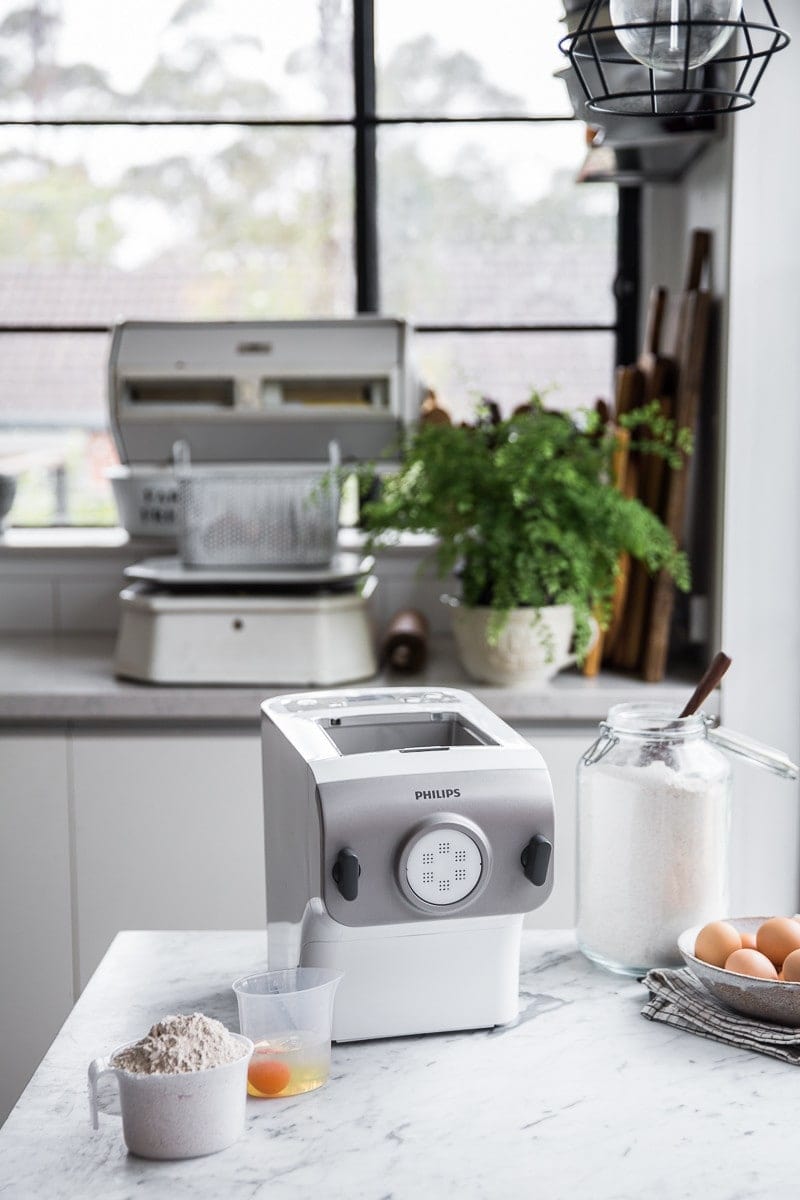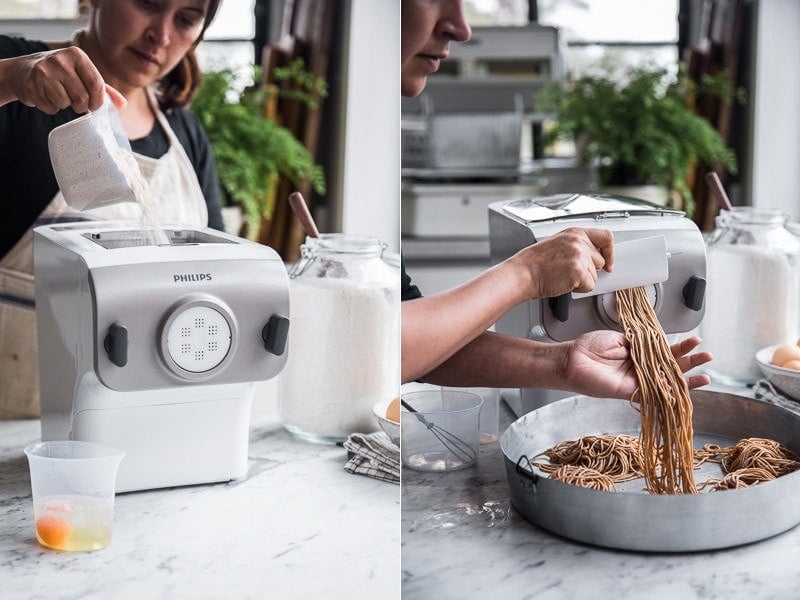 One of the first things that struck me about the machine was how sleek and stylish it was. I was expecting it to be much bigger but the compact size and the white colour was perfect on my benchtop. The Philips Pasta and Noodle Maker is very easy to use. You just pop in the flour using the measuring cups it comes with, turn on the machine and choose a program (either 300g or 600g pasta/noodles). You then add the liquid through the fluid feeder as the machine mixes and kneads and then wait for a couple of minutes to receive the first lot of noodles/pasta. Depending on the disc you have attached (I am using the noodle/spaghetti disc) the pasta is extruded and you can cut it into the desired length using their handy cutting tool as the pasta is being churned out.
The pasta/noodles can be made ahead of time and stored in a sealed glass container in the fridge for up to 3 days. I love this even more because it means that I can have fresh pasta prepped for the week in the weekend and can make absolutely any combination of healthy veggie flavoured pastas and noodles without any additives or nasties. The pasta machine is also very easy to clean as the whole mixing component comes apart for a quick wash in the sink (easier than building a little Lego model!)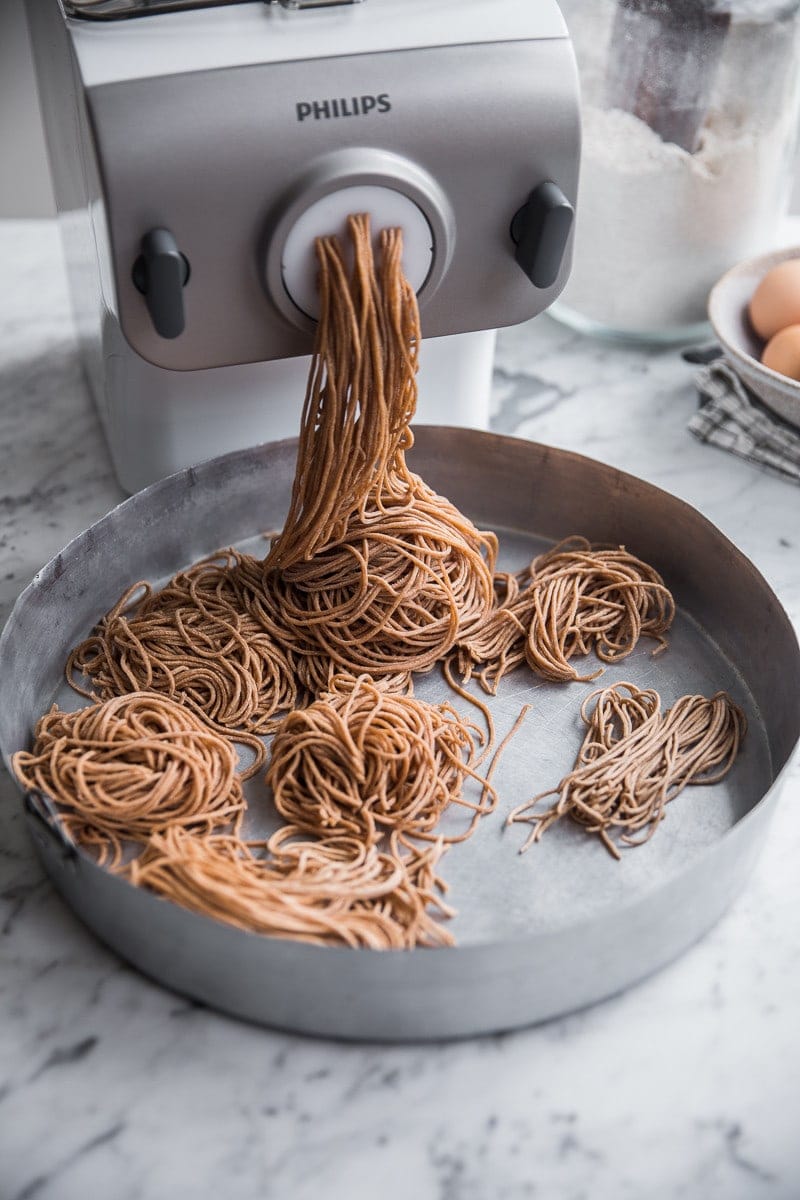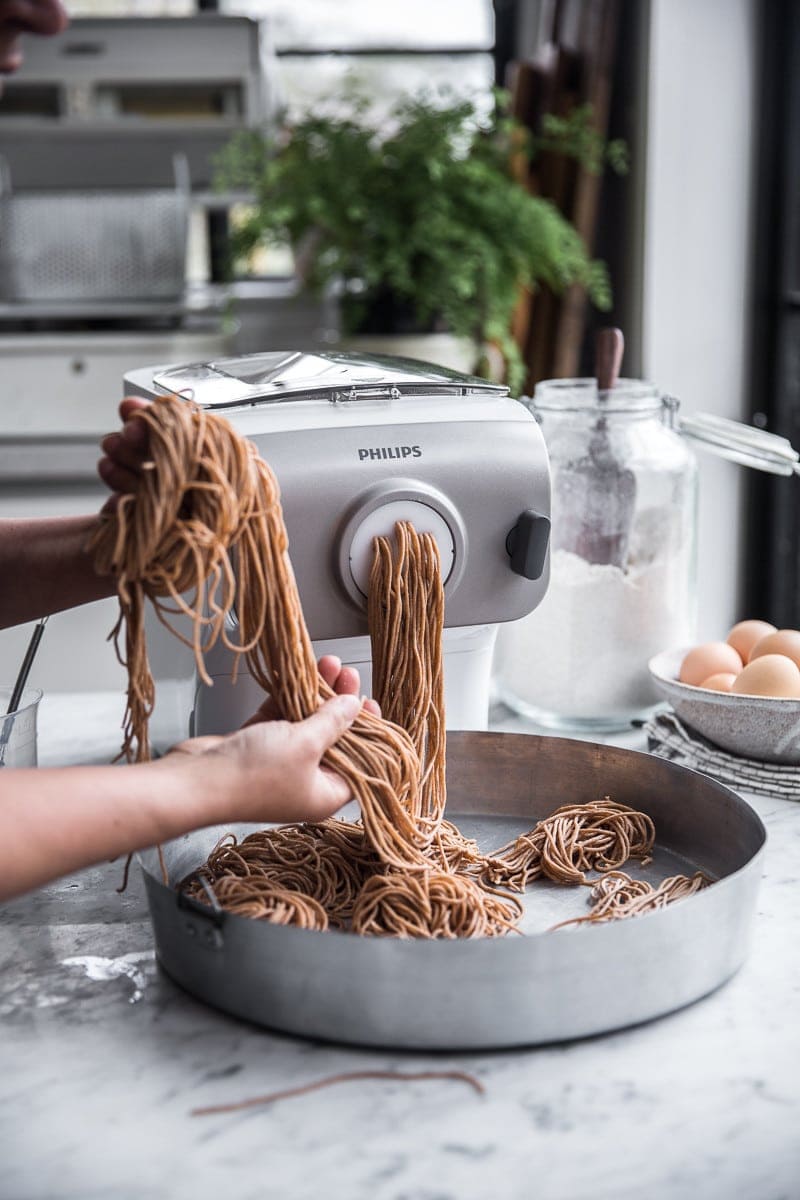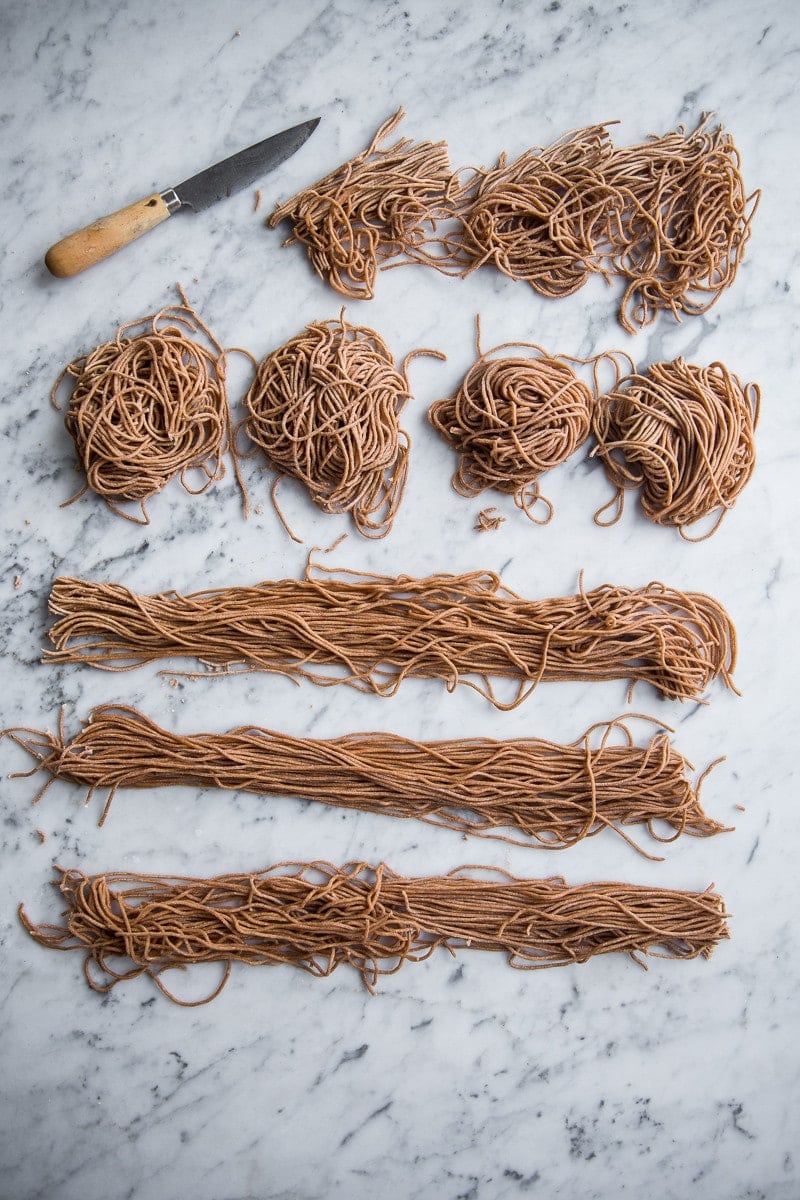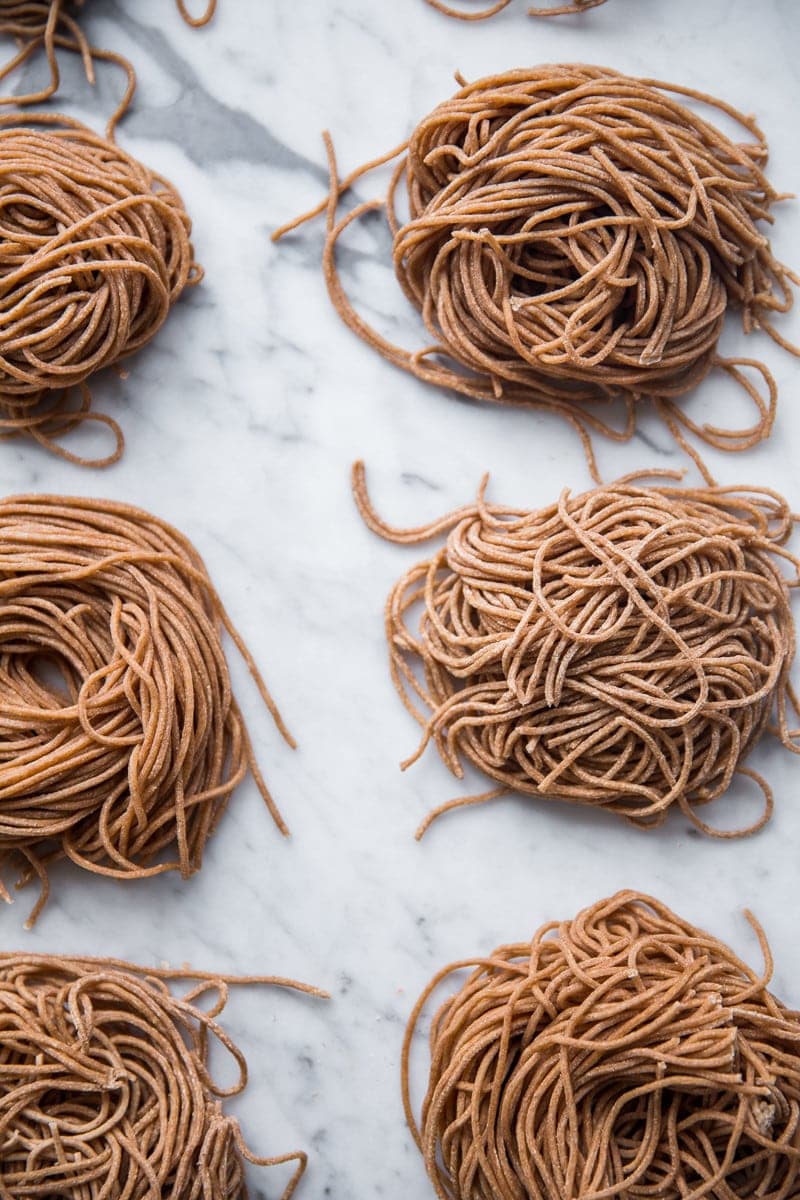 So, one of the first things I made was Spelt noodles. I made them with egg but you could easily make these without and your dish would be vegan-friendly. The colour of the fresh spelt noodles was something to behold. A beautiful burnished bronze that was rustic and wholesome. I decided to create a vegetarian version of the notorious street food – Dan Dan Noodles. The hallmark of Chinese Sichuan cooking, Dan Dan Noodles or dan dan mian is a dish comprising of set-your-mouth-on-fire noodles in a spicy broth topped with mince pork.
My version is 13-year-old-adventurous-kid friendly and still has enough kick to make you want to sip water through your meal. But it is vegetarian and healthier with a sauce that is as close to authentic as you will get with a list of readily available ingredients from your supermarket or Chinese grocer. If you want to make it the real deal increase the chilli oil in the sauce to half a cup (yikes!)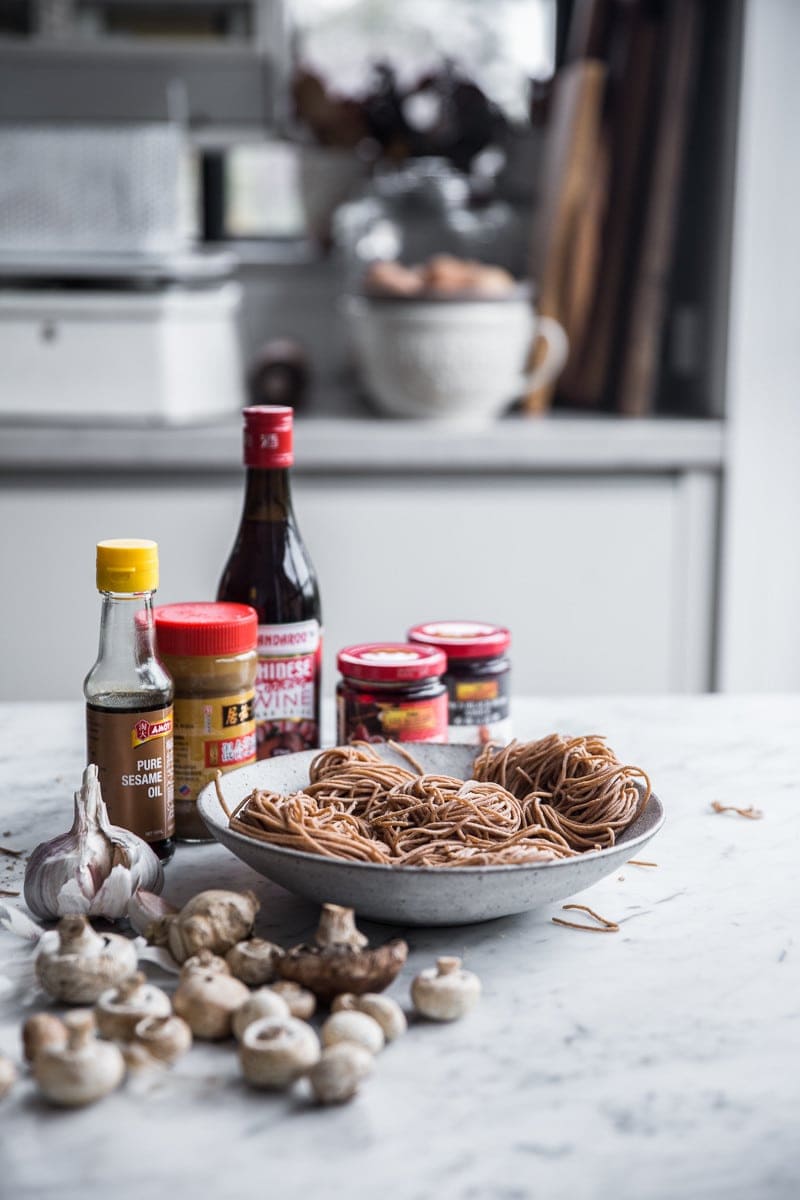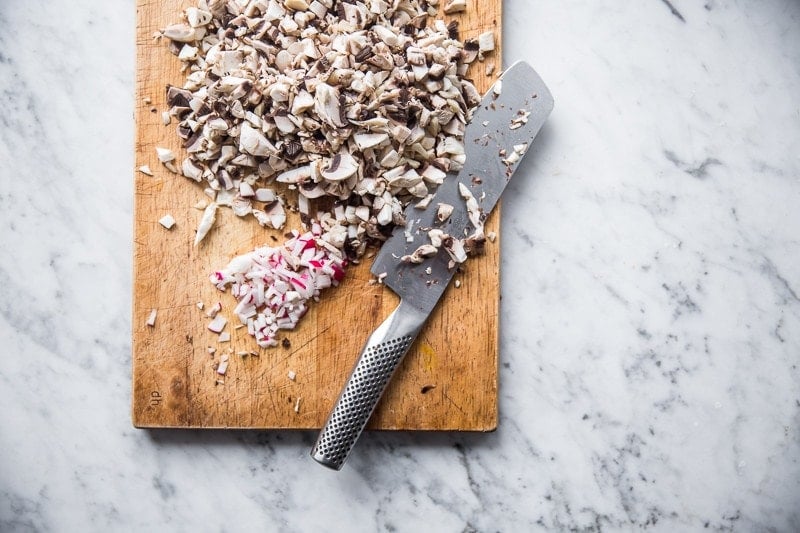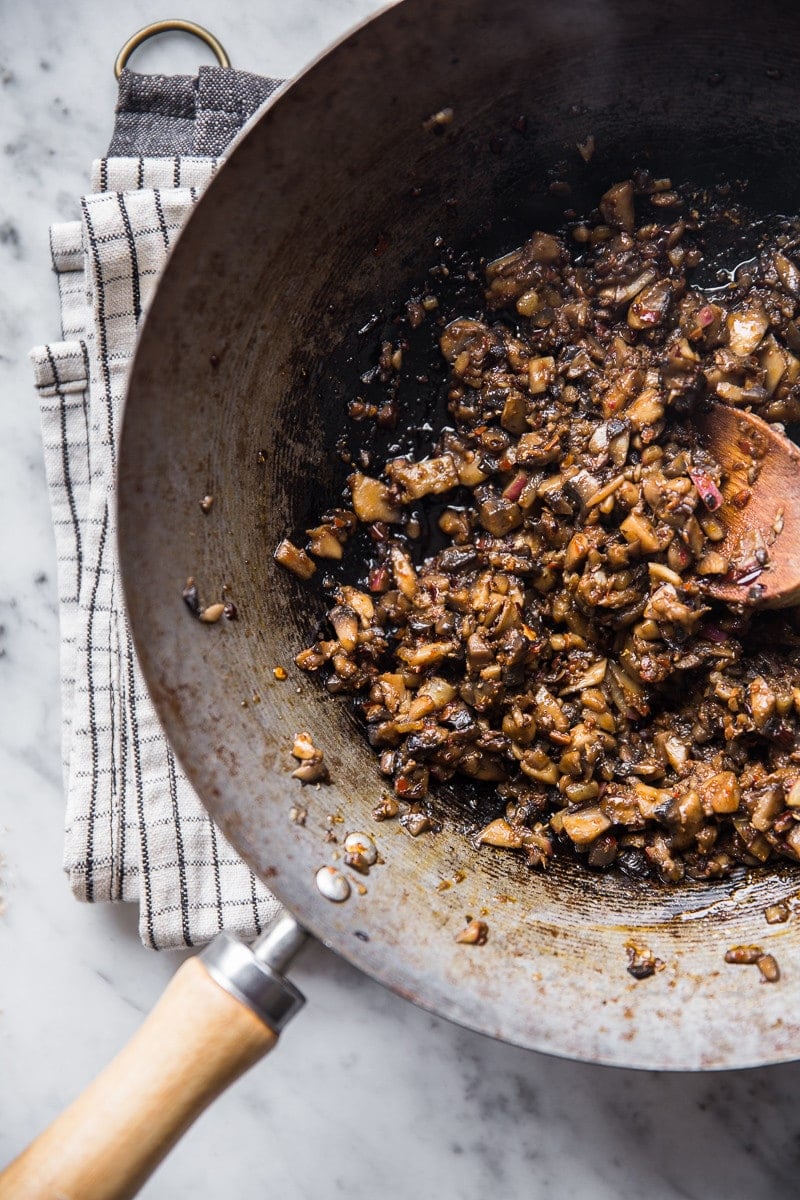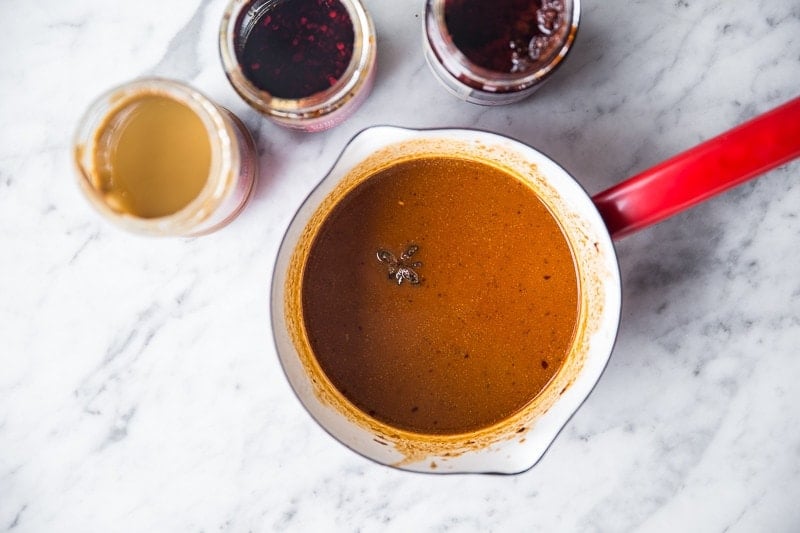 FOUR COMPONENTS OF DAN DAN NOODLES
Chilli Oil
The chilli oil is key to this recipe. You want a chilli oil in a jar that has bits of dried chilli flakes and seeds swimming heavily throughout the dark rich red oil. Usually the ingredient list on an oil like this will state – sesame oil, chilli, spices, soy sauce, garlic, sugar etc etc. (a good brand is Lee Kum Lee) You DO NOT want a chilli oil that is just the red coloured oil in a tall bottle.
Noodles
You want thin wheat or egg noodles that are usually found in stir-fries
Sauce
The Dan Dan noodle sauce has a creamy texture that comes from Chinese sesame paste (something that is widely available in Chinese supermarkets). Chinese sesame paste is not the same as tahini and recipes that call for tahini as a substitute have to deal with tahini's inherent bitter flavour. If you don't have Chinese sesame paste, use smooth peanut butter instead. It is the closest in taste and texture to Chinese sesame paste.
Protein
Traditionally the protein is ground pork and you could also use chicken. But you have to try my mushroom version, it is incredibly more-ish and full of goodness. This component of the dish is created by  stir-frying the protein with Su-Mi-Ya-Cai, traditional fermented mustard greens. A lot of recipes substitute with Chinese preserved turnips. Nowadays most Chinese grocers stock these products but I have a found a great everyday substitute – radish and black bean sauce. Although less authentic, finely chopped radish adds the required crunch and spicy bite to the stir-fry while the black bean sauce or paste adds the salty umami flavour that the dish needs.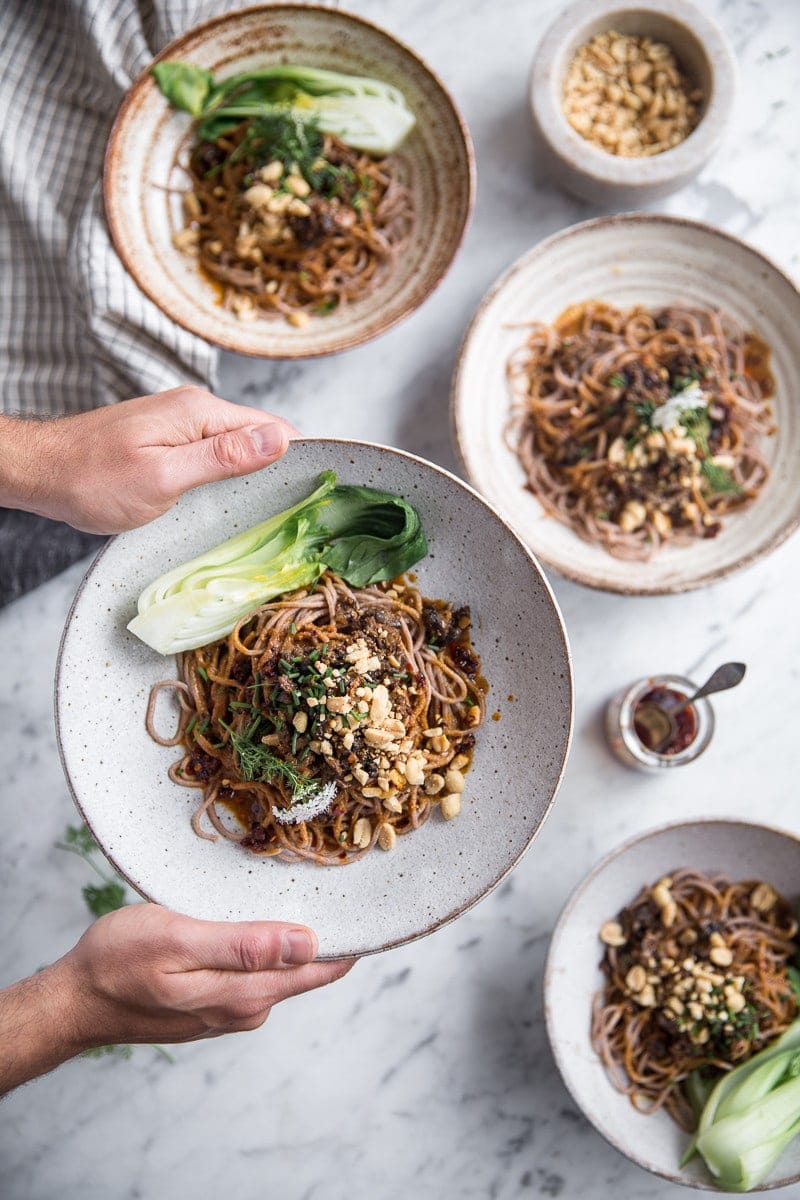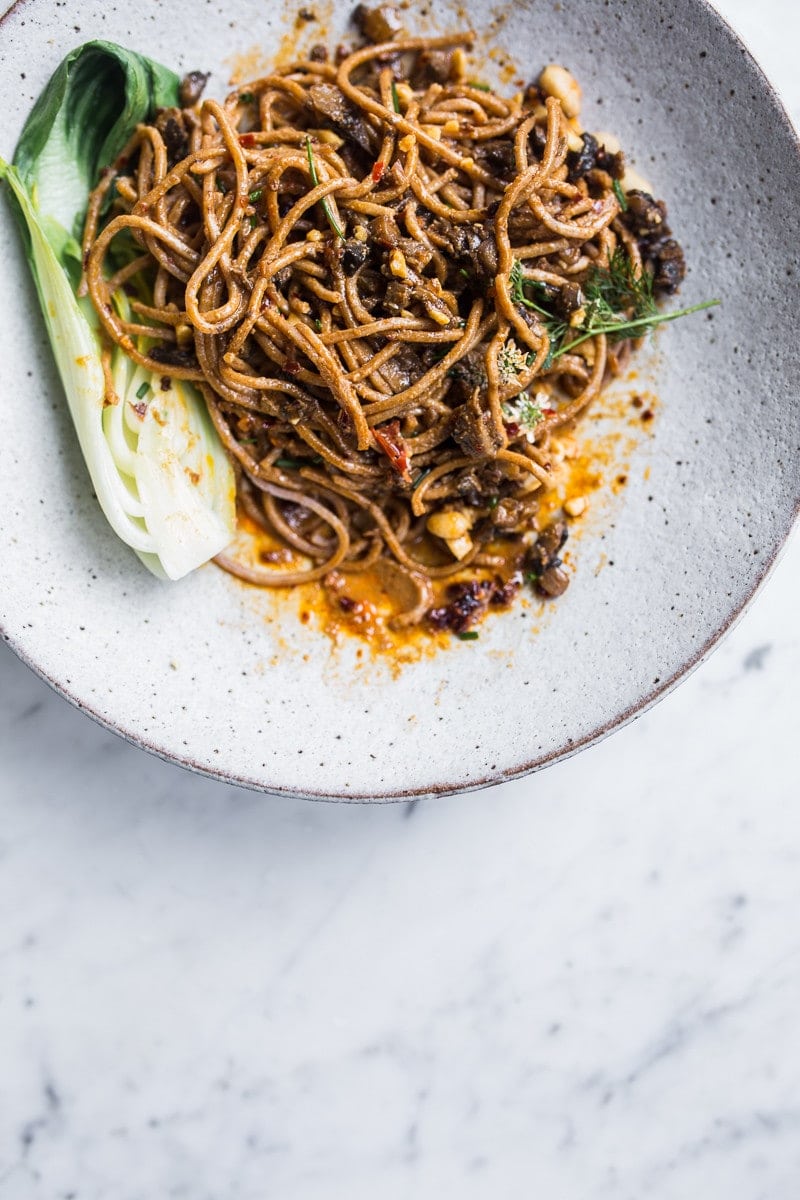 DAN DAN NOODLE WORKFLOW
We cook a lot of Chinese at home and over years of repeatedly cooking Chinese we have learned the most important lesson of all – prep. Chinese cooking is all about the prep. Usually a dish will require 30 minutes of prep and 5 minutes of fast cooking in a hot sizzling wok. You not only need to prep your raw ingredients and sauce but also the garnishes and finishing elements.
For the Hot Mushroom Dan Dan Noodles, follow this process
---
Prepare your Noodles first and foremost in the Phillips Pasta And Noodle Maker. Keep them covered.
Prepare the sauce, pour it in a microwaveable container and keep it covered.
Prepare the Mushroom stir-fry. Store in a microwaveable container and keep iot covered.
Boil two pots of water – one deep saucepan for the noodles and another shallow frying pan for the greens.
Lay out your serving bowls and have your garnishes on the ready.
Cook the noodles in the saucepan and when they are done, add the greens to the shallow pan.
Heat the sauce and mushroom mix in the microwave
Drain and noodles and divide in serving bowls.
Add hot sauce, mushrooms and greens from the pan.
Garnish and enjoy hot!
If you cook and love the recipe, let me know what you think in the comment/rating below. Don't forget to head to the Philips Kitchen at the Night Noodle Markets in Sydney until October 22 to try your hand at creating your own unique pasta and noodle creations using the Philips Pasta And Noodle Maker. For more information check out the Philips website. Scroll below to find out how to win this Philips Pasta And Noodle Maker.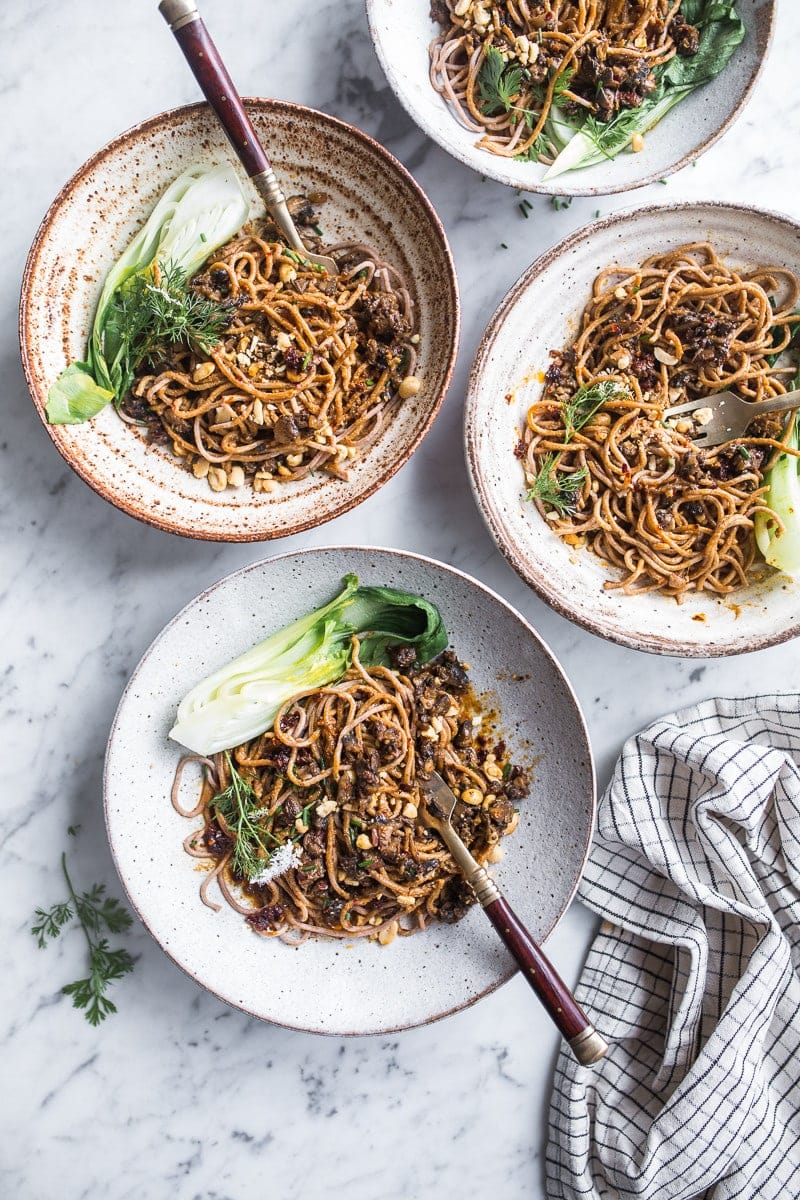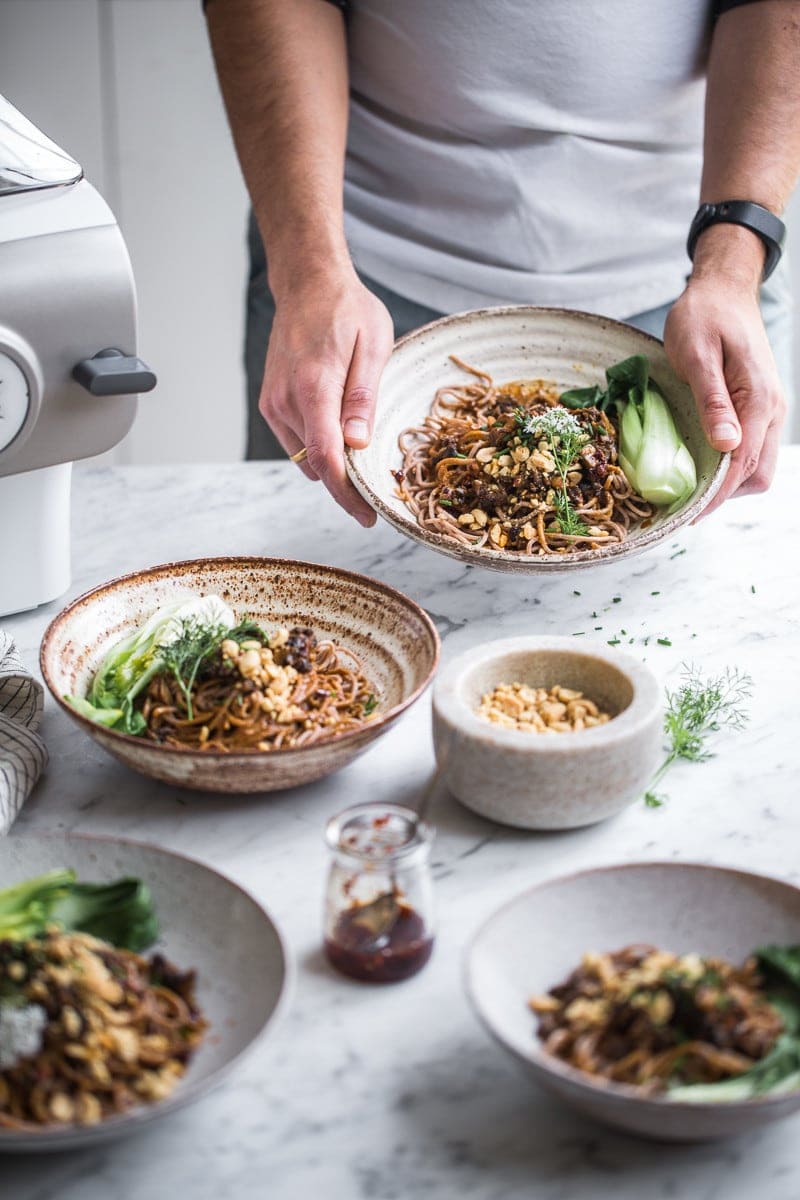 Hungry For More Recipes? Subscribe to my newsletter. Check out Facebook, Instagram and Pinterest to see everything I share! And if you love cooking and new cookbooks, join my free Cooking Club on Facebook!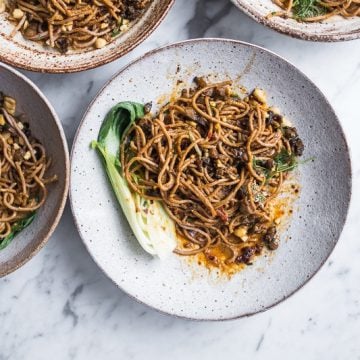 HOT MUSHROOM DAN DAN NOODLES
A less spicy and vegetarian version of the notorious Sichuan Chinese Dan Dan Noodles. This feisty noodle bowl is made with mushroom and radish cooked in a spicy and creamy peanut butter based sauce. Heaped on homemade spelt noodles, this is a truly fantastic weeknight dinner recipe!
Print Recipe
Rate / Comment
Ingredients
For The Spelt Noodles (Note 1)
300

g

spelt flour

95

g

liquid

,

1 egg + water
For The Dan Dan Sauce
½

cup

(

125

ml

)

water

2

tablespoons

Chinese sesame paste

,

or smooth peanut butter

1

teaspoon

sesame oil

2

tablespoons

chilli oil

2

tablespoons

Shaoxing wine

2

tablespoons

tamari

,

or light soy sauce

1

tablespoon

maple syrup

¼

teaspoon

ground white pepper

1

star anise

1/2

cinnamon stick
For The Mushroom Mix
2

tablespoons

sesame oil

2

garlic cloves

,

minced

2

tablespoons

grated ginger

200

g

white cup mushrooms

,

finely chopped

2

small radish

,

finely chopped

2

teaspoons

chilli oil

2

teaspoons

black bean paste/sauce

2

tablespoons

Shaoxing wine
To Assemble
½

cup

roasted peanuts

,

crushed

pan braised bok choy or Chinese greens

chives

,

finely chopped

extra chilli oil

,

to serve
Instructions
To prepare the spelt noodles, place flour in the mixing compartment of the Philips HR2358/06 Pasta And Noodle Maker. Turn the pasta maker on and select the 300g program and press start. Slowly add the egg and water mixture through the liquid feeder. Once the noodles are extruded, cut them into desired length using the cutting tool and curl them into a coil. Noodles can be made and stored in an air-tight container in the fridge for up to 3 days.

To prepare the Dan Dan sauce, heat water on medium in a small saucepan. Add all the sauce ingredients and mix well with a small balloon whisk or fork till sauce is smooth. Reduce heat and allow to simmer for 8-10 minutes develop the flavours. Remove and set aside. Sauce can be quickly heated on the hob or in the microwave at the time of serving.

To prepare the mushroom mix, heat sesame oil in a medium wok on high. Add garlic and ginger. Sauté for a few seconds. Add mushroom and radish. Toss and cook until mushrooms start sweating. Add chilli oil, black bean and Shaoxing wine. Cook tossing constantly until liquid is evaporated, mushrooms are plump and coated all over. Remove from heat and set aside.

To cook the noodles, bring a pot of water to boil. Add the noodle coils and cook for approximately 3-5 minutes. Drain the hot water and rinse the noodles in cold water briefly to stop the cooking process. Place the still warm noodles in two shallow noodle bowls.

Spoon the hot sauce over the noodles in the two bowls. Divide the mushroom mix between the two bowls and heap on top of the noodles. Top the noodles with steamed Asian greens, crushed peanuts and chives. Serve hot with extra chilli oil on the side.
Notes
Note 1 - You can substitute fresh noodles with store-bought fresh noodles (chilled section) or dry wheat noodles cooked per packet instructions.
Did you make my recipe?
I'd love to hear how you went! Tag me on Instagram @cookrepublic
Note - Thank you to Philips for partnering with Cook Republic and sponsoring this post and giveaway. All opinion and musings are my own.
---

Thanks to the lovely people at Philips, I have THIS fabulous compact Philips Pasta And Noodle Maker (HR2342/06) for one very lucky person! It is a slightly more compact version of the machine I have used in this post but almost the same - fully automatic and awesome!
TO WIN A PHILIPS VIVA COLLECTION PASTA AND NOODLE MAKER WORTH $279
- You MUST have an AUSTRALIAN POSTAL ADDRESS
- You 
MUST COMMENT
 on this post starting with
"NOODLE-AY-HEE-HOO" 
and tell me 
"WHAT WOULD YOU CREATE WITH YOUR NEW PHILIPS VIVA PASTA AND NOODLE MAKER IF YOU WON ONE? (Ingredients Please! – Get Creative People)"
- Giveaway runs until 
Sunday October 22nd, 2017
. ONE (OMG, so lucky!) 
WINNER will be picked by Philips based on their creative answer
 and announced on the blog and
Cook Republic Facebook
page. So get your entries in now!
Good luck guys! xx
---
*******  CONGRATULATIONS MELISSA *******
Philips has picked a winner and their favourite winning entry was by Melissa. Melissa will be contacted shortly for her prize.
NOODLE-AY-HEE-HOO
So many things that I would do,
With the Philips HR2342/06.
I would show all my friends my vegan noodle tricks. First. A collection of dumpling skins.
Spinach, kale, sweet potato.
Second. A plate of pasta wins.
Top that with some tasty tomato.
And third, a course to pair with the gins;
Classic dark chocolate noodles served with gateau. I've dreamed of using this Philips machine,
They even call me the noodle queen.
To win it now would be a dream.
So thank you for making me scream!
(With delight if I win  )
Thank you for playing everyone, watch out for more giveaways soon! xx