A Cafe Style Chocolate Banana Bread
This is a good banana bread. The kind you get at the cafes, thick slices toasted and slathered with butter. It is one of my favourite banana bread recipes to make when I have to choose between folding those blackened bananas in batter with some fruit or freezing them for all the impending morning smoothies. The recipe itself is a derivation of the many banana breads baked with milk that you will find on this blog (If you would like to bake banana bread with yoghurt, you must try my Coffee Banana Bread!). Very often, I just add things to a bowl till the batter reaches the consistency I like and the taste is balanced. I then top it with all kinds of fruit, chocolate chips, coconut flakes, oats, nuts etc till it looks pretty and then bake it till it is golden.
The boys get excited about this bread because it is old school - milk and butter folded through the batter. I love this combination of raspberries and chocolate mainly because it is nut-free (which means it is fine for school lunches). It also means that the base recipe can get away with less sugar. In recent years, I have only used unrefined rapadura sugar for all my baking. It is less sweet but has a rich caramel flavour. You could make muffins out of this batter or change it up and make it vegan (swap milk for coconut milk, eggs for flax eggs, butter for cocoa butter and bump up the bananas a tad - I have tried it and it is delicious too!). Banana bread is on of those blank canvas breakfast things that you could own like a boss. Hope you enjoy this gorgeous version! Happy weekend. Enjoy x
Recipe
Hungry For More Recipes? Subscribe to my newsletter. Check out Facebook, Instagram and Pinterest to see everything I share! And if you love cooking and new cookbooks, join my free Cooking Club on Facebook!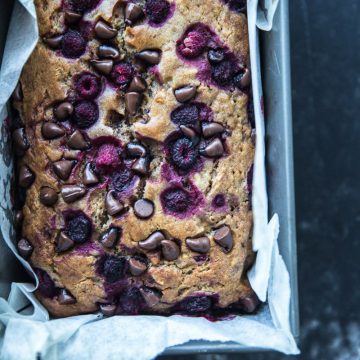 Ingredients
2.5

cups

spelt flour

2

teaspoons

baking powder

1/4

tsp

salt

1

cup

rapadura sugar

1

tsp

vanilla extract

1/2

tsp

mixed spice

1/2

tsp

ground cinnamon

1

cup

milk

3

ripe bananas

,

mashed

2

lightly beaten eggs

150

g

unsalted butter

,

melted and cooled

1/2

cup

dark chocolate chips

1/2

cup

frozen raspberries
Instructions
Preheat oven to a moderately hot 200C (convention)/ 180C (fan-forced/convection).

Grease and line a 20cm x 10cm base measurement loaf tin with baking paper. Let the paper hang over the long edges.

Place flour, baking powder and salt in a bowl. Add the sugar, vanilla, mixed spice and cinnamon. Stir through the flour.

Make a well in the centre. In a jug mix together the milk, eggs, butter, mashed bananas and vanilla extract. Pour this mixture into the well made in the dry ingredients.

Fold the mixture gently with a metal spoon until just combined. Be careful not to over mix the mixture. The mixture should still be lumpy.

Scoop batter into the prepared tin. Top with chocolate chips and raspberries. Bake for approximately 50-55 minutes until golden, well risen and cooked through.
Did you make my recipe?
I'd love to hear how you went! Tag me on Instagram @cookrepublic