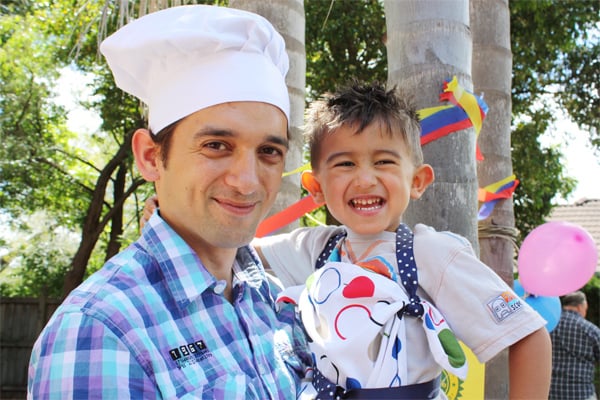 The hardest part about doing parties for children is deciding the theme. Once the theme is decided, everything else falls into place. I love my parties to be unique. I also love them to be loads of fun and yet educational to some extent. Kids are like sponges and they soak up any and all information you can throw at them. Earlier this year when Gummy Bear was turning a very wise and very adorable three, we decided to throw him a cooking party.
In the fourth quarter of last year, he along with his very influential older brother had watched every single episode of Junior Masterchef. He was forever dressed in his checkered apron and chef hat. He looked like the local pizza chef living out of our home and the one thing he absolutely adored cooking was the mighty egg. And with a hammer, nonetheless. So a cooking party was absolutely fitting.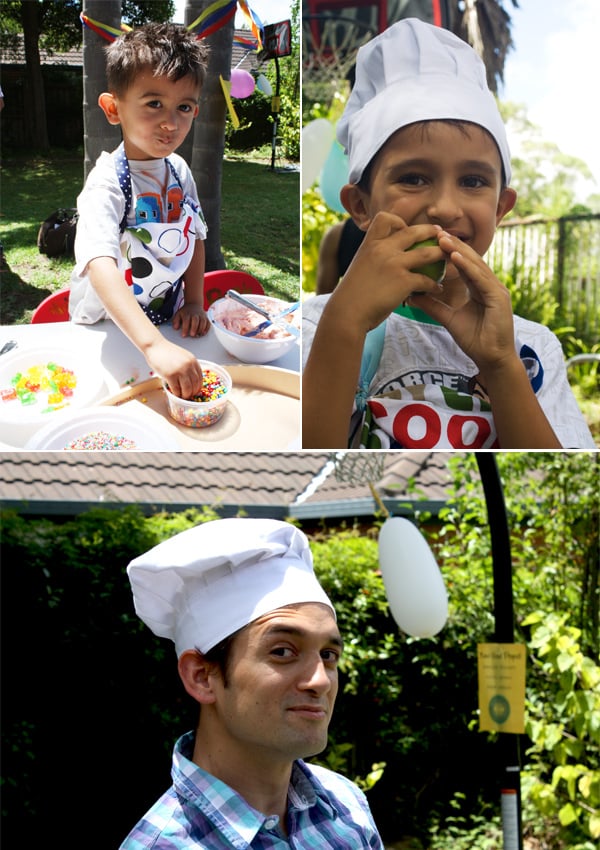 As I grew up, I was very bummed that I wasn't Santa Claus or Mrs. Claus for that matter. I just loved the whole giving presents thing that seemed to be the focus of Santa's life. So I extended those desires of mine into parties. Whenever I organise a party, one of the first things I sort out are the loot bags. For the cooking party, I decided to make aprons from tea towels for the 20 odd children attending. I also decided to get them all chef hats. Aprons and chef hats would instantly set the tone of the party, I thought.
After searching and browsing though some sites online, I found gorgeous chef hats on a site called Wholesome Productions. I mean will-make-you-cry-gorgeous chef hats! Since it was the Christmas period and most online shops including the Wholesome Productions online shop and warehouse were closed until after my party, I started panicking a tad. I still went ahead and ordered my hats only to get a reply from Sam of Wholesome Productions saying that since they were unable to deliver before my party date they would cancel the order. After I wrote to her and explained my situation, Sam offered to go to her office and send me what I needed from her sample stash. And during the Christmas holidays too! The hats arrived within a few days and needless to say, I was blown away by the excellent customer service. Wholesome Productions has everything you will need for the budding little cheflings in your life, so give them a look-see and follow Sam on Twitter.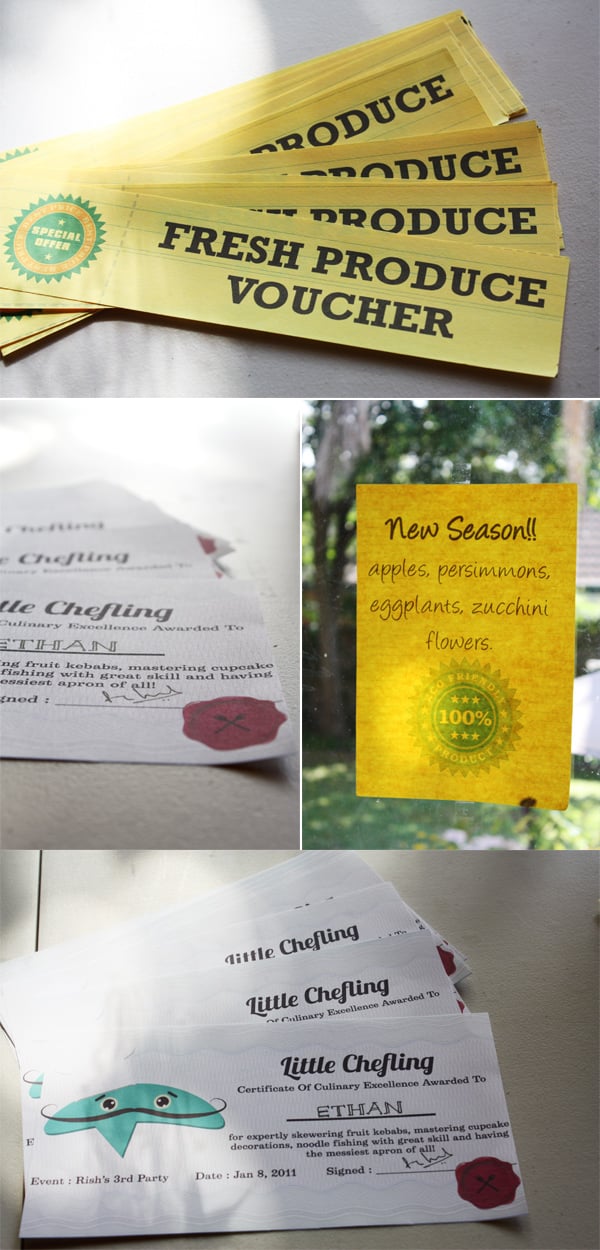 For the invite, I designed a little fold out menu card. I also designed a Little Chefling certificate mentioning all the food games that would be played on the day to be given out at the end of the party to serve as a Thank You note and also an excellent reminder of what the party was all about. I also designed and printed out Fresh Produce vouchers for the kids to win during a game. They would later redeem these vouchers to buy their very own fresh produce from a tray of fresh green apples. I designed some market signs with a list of gorgeous fresh vegetables and fruits that were in season and pasted them all around the yard. Our son's cubby fort was converted into a Treetop Cafe with a kitchen and cooking bits and bobs and a gorgeous Cafe sign.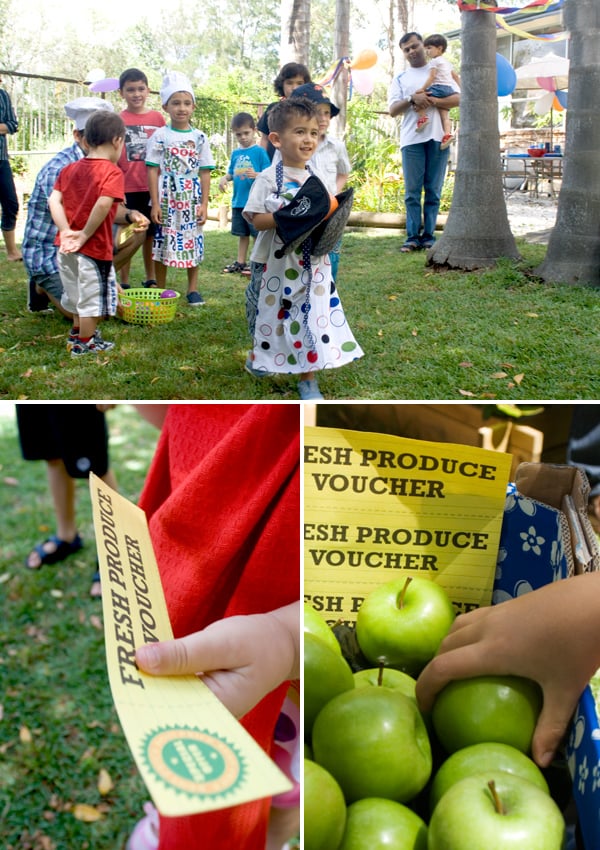 As soon as the children arrived, they were handed their aprons and chef hats. Once they donned them, they went into the market and cafe area for some free play until everyone had arrived. We played the Pass The Produce game where we formed two teams and one kid on either side had to don two mittens and try to carry and pass a small ball to each other. For successfully completing the challenge, they each got a voucher to redeem for their fresh produce.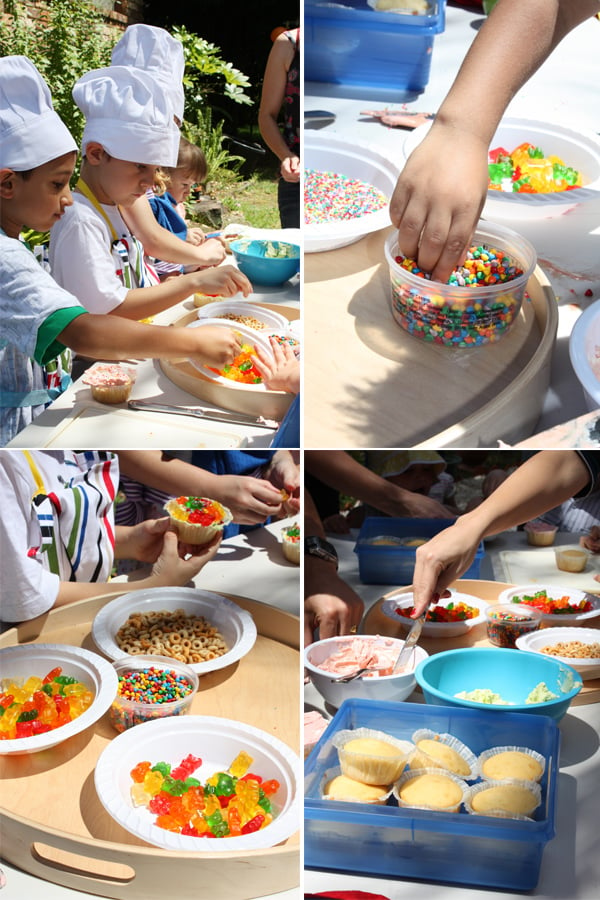 We then had a fruit kebab skewering class. Children could skewer their own fruit kebabs and eat them as they made them. This was followed by the cupcake decorating session. I had baked vanilla cupcakes and set out two different kinds of buttercream icing and lots of sprinkles, gummy bears and lollies for toppings and decorations. The kids went nuts decorating and stacking their cupcakes greedily with lollies.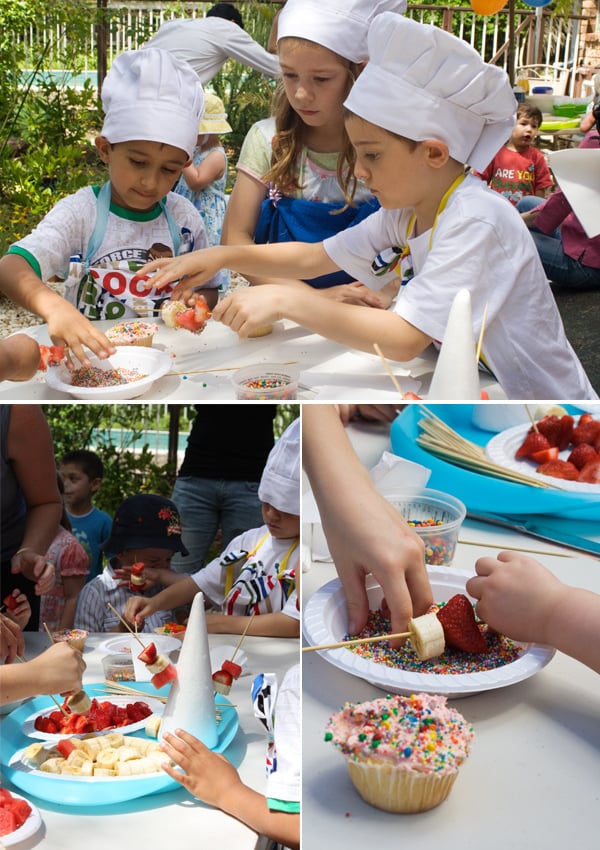 We then played Noodle Fishing. Earlier that morning I cooked 20 packs of instant noodles and put them in a huge bowl with a generous dash of olive oil to avoid sticking. I hid colourful sherbet fruits in the noodles. The kids were blindfolded and took turns fishing amongst the squishy noodles for their treats. It was hilarious to watch their faces as they mucked around in the icky squishy bowl.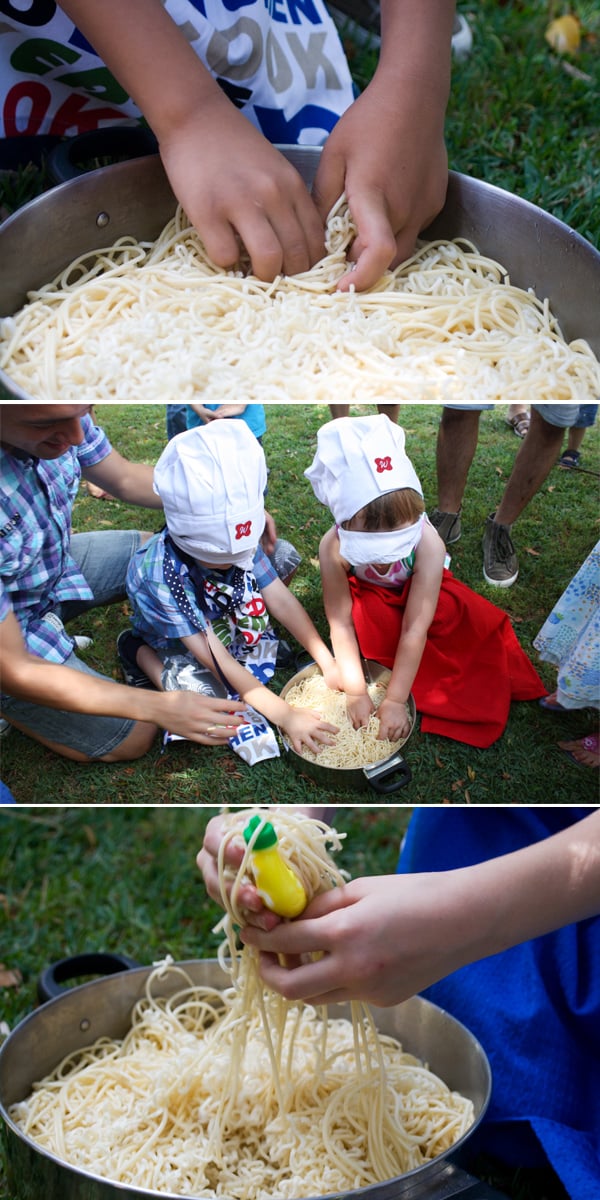 The last game we played was Pass The Spoon. We had a wooden spoon with number tags tied to the bottom. The kids passed the spoon around and when the music stopped, they got to pick a number tag. The kid then brought the number tag and put it in bucket of the Treetop Cafe. I was up there on the cubby/treetop cafe, pulling the bucket up using the pulley system we have on the fort and sending down a specially marked package with the same number for the child to take home. The special packages were all filled with colourful cooking and kitchen accessories like whisks, salad knives, spoons, citrus juicers, colanders, tongs and pans.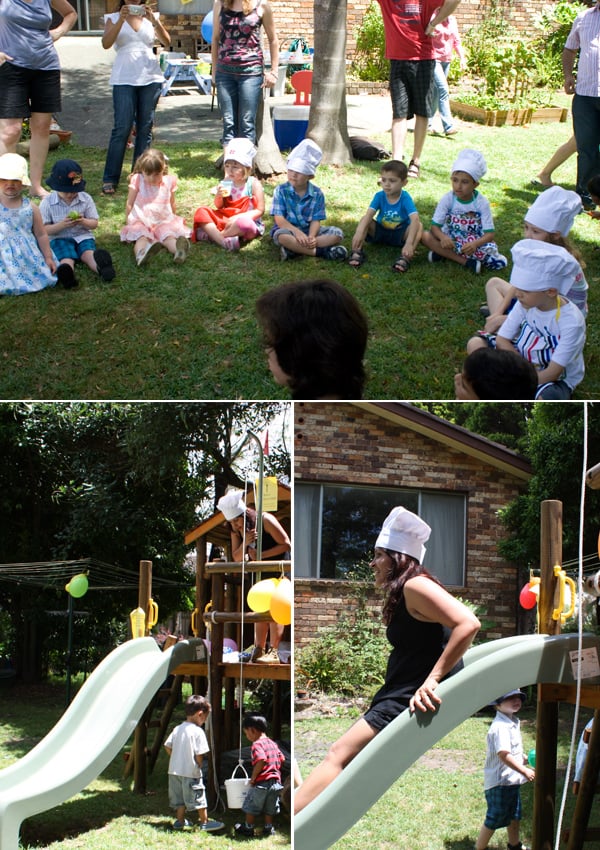 The loot bags were handed out at the very end with the Little Chefling certificates. The loot bags has colourful egg cups, cookie cutters, pizza and hot dog gummi lollies and some other fun stuff that I have forgotten after all these months. The kids also got to take home their aprons, hats and cooking utensils.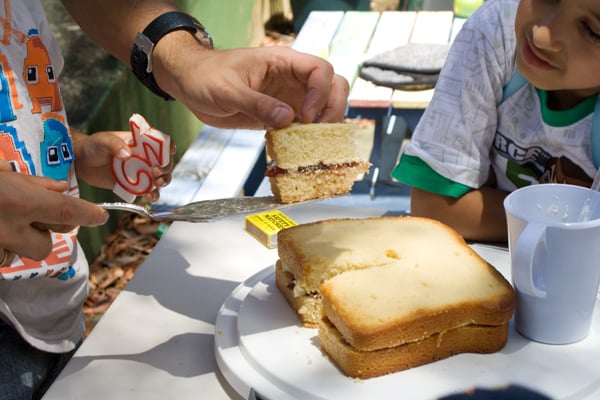 The cake that I baked for the party was the infamous Cakewich Sandwich Cake. I wanted it to be quirky, so baking a giant strawberry jam and cream sandwich that was really a cake seemed like the quirky thing to do. My boys ate the cake, which was a huge deal. So I was a very happy mum on the day. Everyone seemed to be enjoying themselves and the adults had a lot of fun getting involved and doing the activities along with their little ones. The aprons really helped keep the food off the clothes, so there was plenty of mucking around and no stains or smudges on clothes. It was a fun party, totally chaotic and absolutely crazy. But it was a gorgeous day and I would do it all over again in a heartbeat for my little Gummy Bear.