Out of all the Australian native bushfoods, Lemon Myrtle is one of my favourites. A beautiful Australian plant, lemon myrtle's long slender leaves are prized for their intense citrus fragrance and flavour. That makes lemon myrtle perfect for flavouring Asian inspired dishes. Like my Green Veg Curry. Perfectly roasted winter veggies served atop a complex and beautifully aromatic lemon myrtle green sauce. Guaranteed to make your mouth water!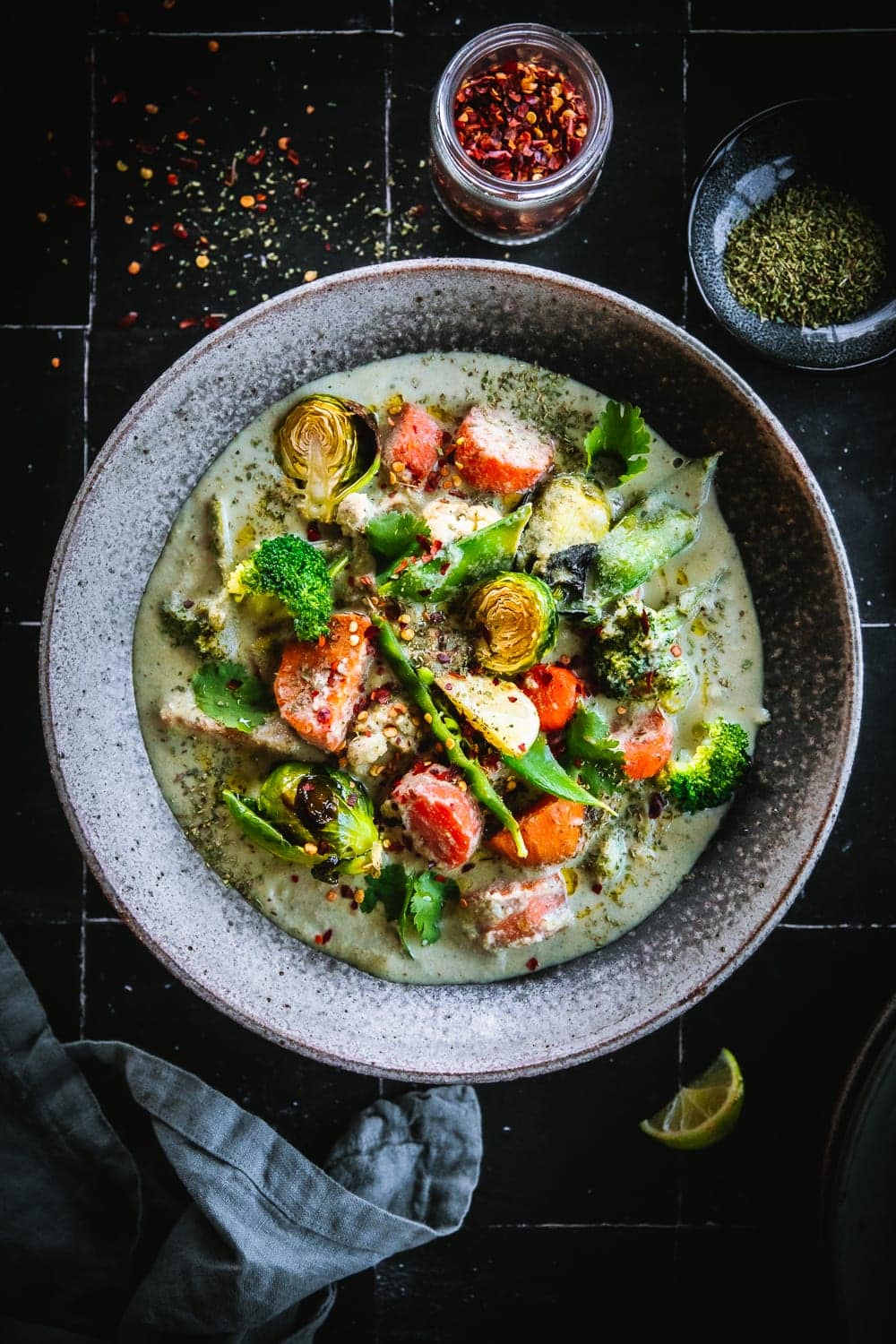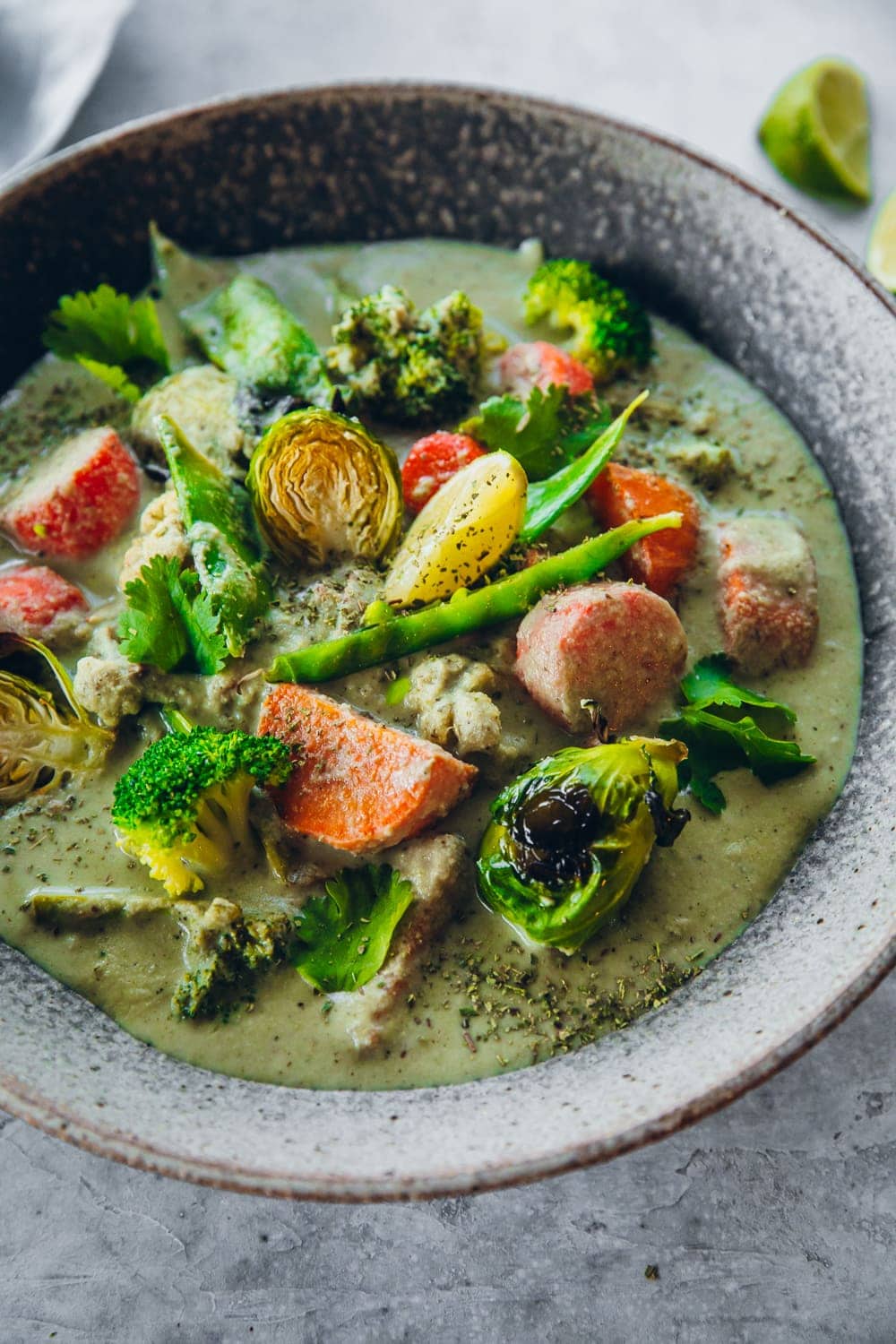 Lemon Myrtle – The Queen Of Lemon Herbs
Used in Indigenous cuisine for thousands of years, lemon myrtle is undoubtedly the most popular of Australian native herbs. The leaves with their intense aroma and flavour are great for flavouring desserts and making tea and cocktails. But when you use them in savoury cooking where they substitute other lemon-scented ingredients like lemongrass, you create an amazingly rich and exciting flavour profile.
Besides, lemon myrtle has the highest amount of citral of any known plant in the world. Citral is an antioxidant with antibacterial properties. Lemon myrtle is high in lutein, zinc, magnesium and Vitamin E. Due to its relaxing properties, it is often used in teas to assist in sleep and stress reduction. It has been long used to create all kinds of medicines and remedies that help acne, insect bites, sore throats, inflammation and sinus problems.
Lemon Myrtle – Endless Culinary Properties
I first discovered lemon myrtle leaves about a decade ago at a local market. The incredibly beautiful lemony aroma was what drew me to the market stall. I left that day with a small basket full of lemon myrtle leaves to make tea, some candles and ointments. When I first made lemon myrtle iced tea, it was a revelation. It was unlike anything I had ever tasted before. Fresh and crisp with an amazing cleansing feel on the palette. It became a favourite summertime drink in our home. Over the years, I graduated to experimenting with lemon myrtle in cocktails, cakes and Panna cottas. It was only recently when I was introduced to lemon myrtle leaf-cuts in different sizes that I was inspired to create beautiful savoury dishes with it.
The results were spectacular. Lemon Myrtle due to its fresh, clean citrus flavour is ideal for Asian-inspired dishes. A little goes a long way in the flavouring department. Stir-fries, salads and curries! And today, I am very excited to share a delightfully aromatic Lemon Myrtle Green Veg Curry. The cut leaf and powder add an amazing viscosity to the curry making it subtly thick and creamy. The lemon myrtle flavour pairs really well with creamy and slightly sweet root veggies like sweet potato and carrot.
The White Onion Paste Indian Technique For A Creamy Curry Base
For my curry base, I have adopted a unique Indian technique of boiling onion and macadamia nut to create a lovely smooth paste. This technique involves boiling onion and a nut (usually cashew nut) until both are soft and plump and the onion has transformed from a pungent, crunchy vegetable to a sweet, velvet soft mush. I have substituted cashew nuts with macadamia nuts to make this beautiful dish even more uniquely Australian.
I have then blended this savoury white paste with all my aromatics to create the main curry base. The veggies are roasted separately and add right at the end, to ensure they are not mushy but intense in flavour with a slight bite. The lemon myrtle is added at the very end to ensure its flavour is optimum and the fragrance lifts the curry to new heights. I hope you try this beautiful native Australian ingredient in your cooking. It is utterly unique and delicious. Don't forget to tag me on Instagram when you post your Lemon Myrtle Green Veg Curry. Happy cooking!
disclaimer - This post is sponsored by Australian Native Products. The beautiful recipe was specially created for them using their lemon myrtle. All opinions are my own. I love lemon myrtle and many of the beautiful Australian native ingredients and try to use them in my cooking very often.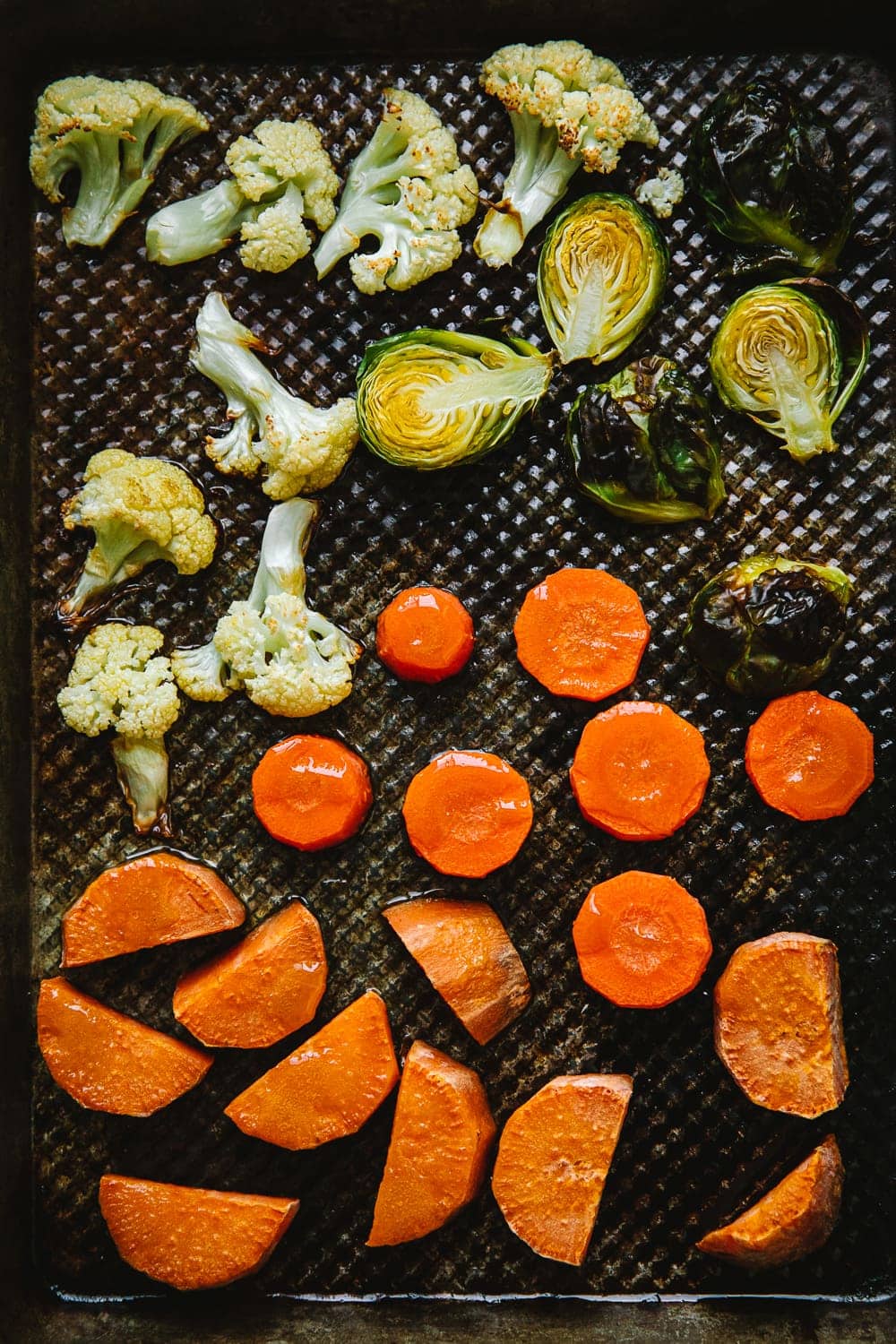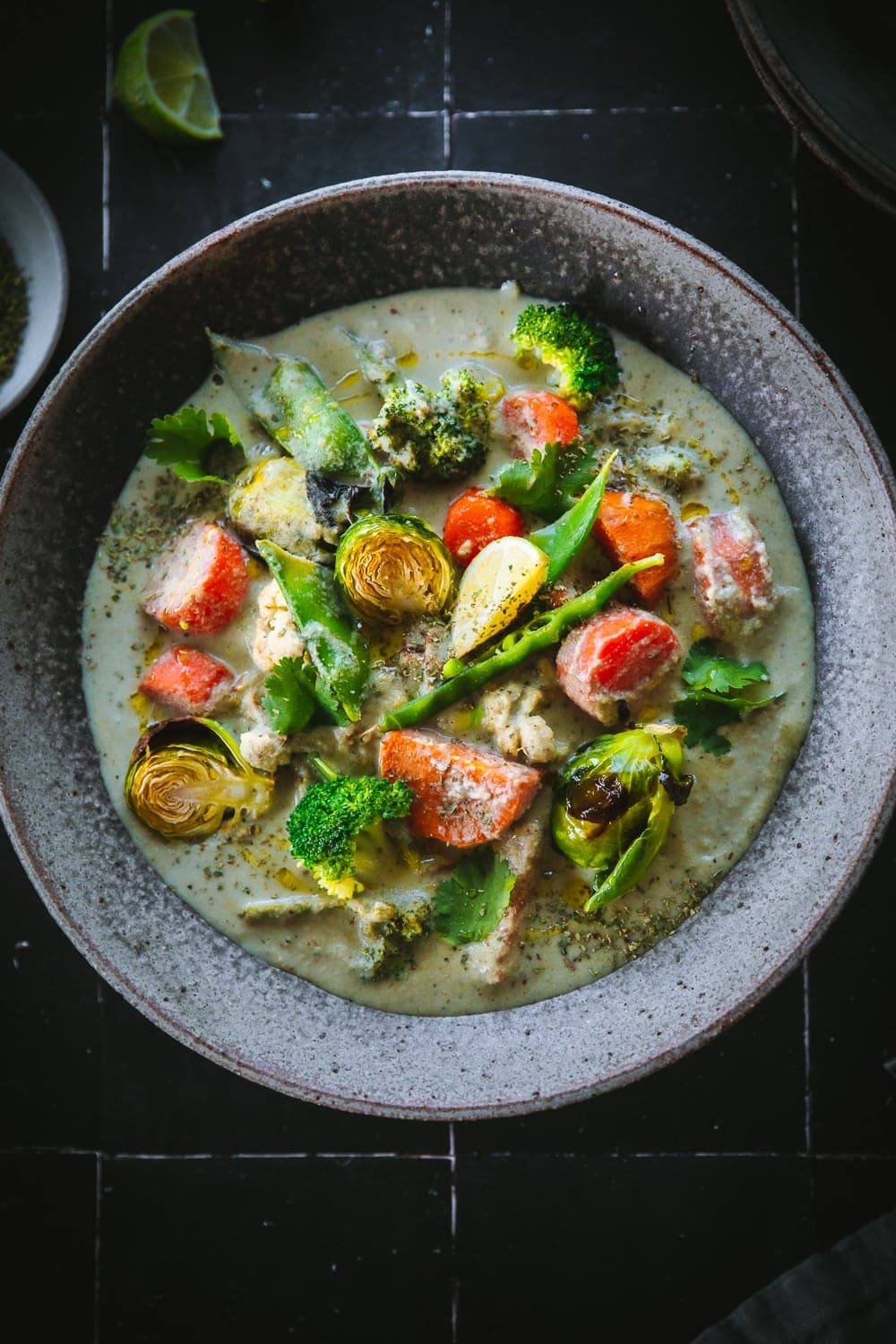 Hungry For More Recipes?   Subscribe to my newsletter. Check out  Facebook, Instagram, and Pinterest to see everything I share! I also run a free Cooking Club on Facebook. Come and join as we learn new stuff every week!
Recipe
Hungry For More Recipes? Subscribe to my newsletter. Check out Facebook, Instagram and Pinterest to see everything I share! And if you love cooking and new cookbooks, join my free Cooking Club on Facebook!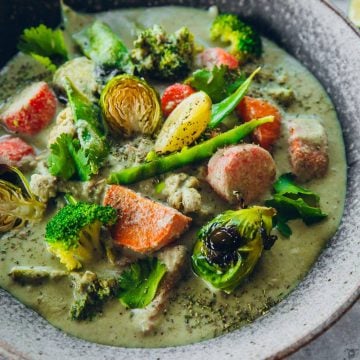 Ingredients
1

small sweet potato

,

peeled and cut into 2-inch pieces

1

small carrot

,

peeled and cut into 1-inch rounds

1

cup

cauliflower florets

3

brussels sprouts

,

halved

1

large onion

,

peeled and chopped

1/2

cup

(

65

g

)

raw macadamia nuts

1

inch

piece of ginger

,

chopped

5

garlic cloves

1

lemongrass

,

white only, chopped

1

long green cayenne chilli

½

bunch of coriander

,

stalks and leaves

2

tablespoon

olive oil

2

tablespoons

lime juice

2

tablespoons

coconut sugar

1 ½

teaspoons

salt

400

ml

coconut milk

125

ml

vegetable stock

1

teaspoon

lemon myrtle

,

2mm leaves

½

cup

broccoli florets

4-5

snow peas

,

sliced in half

Red chilli flakes, coriander leaves, extra lemon myrtle, lime wedges

,

– to serve
Instructions
Pre-heat oven to 200°C. Place sweet potato, carrot, cauliflower and brussels sprouts in a rimmed baking tray. Drizzle lightly with olive oil. Roast in the oven for 20 minutes. Remove and set aside.

Place onion and macadamia nuts in a small saucepan with enough water to cover them (about 2 cups). Bring to boil on medium-low heat and cook for 15-20 minutes until onion is tender and most of the liquid has evaporated. Remove from heat and cool completely.

Add onion-macadamia mixture to a small food processor or blender. Add ginger, garlic, lemongrass, green chilli, coriander and half a cup of water. Blend until smooth and no longer grainy.

Heat oil in a heavy bottomed pan on medium. Add the green onion and spice paste to the pan. Sauté for 3-4 minutes tossing constantly until the paste starts turning a shade darker and no longer smells raw.

Add lime juice, coconut sugar and salt. Reduce heat to medium-low and cook the paste for 8 minutes until fragrant and quite dry. Toss occasionally with a wooden spatula to ensure that it doesn't stick to the pan.

Add coconut milk and stock. Simmer on medium-low heat and cook for 8 minutes until the sauce is fragrant. If too thick, add a quarter cup stock to loosen the sauce.

Add lemon myrtle, broccoli and snow peas. Increase heat to medium and cook for 2 minutes until the veggies are just tender. Add the roasted veggies to the pan. Mix well. Cook for another minute until heated through.

Remove from heat. Garnish with red chilli flakes, coriander leaves and a sprinkling of extra lemon myrtle. Serve hot with rice and lime wedges.
Notes
*For the white onion-macadamia paste, it is important that you boil both onion and macadamias in plenty of water until both are soft and the onion has lost all its crunch. When you blend this paste, make sure you blend extra until it is very smooth.
The curry paste can be made a couple of days ahead and stored in the fridge. The roasted curry paste can also be frozen for up to a month in the freezer.
Different brands of coconut milk have different densities. If your curry thickens up too much, you can easily loosen it up with some stock.
Did you make my recipe?
I'd love to hear how you went! Tag me on Instagram @cookrepublic