Roasted Cauliflower With Honey Halloumi And Saffron is a celebration of beautiful exciting flavours coming together perfectly in a super easy dish. You won't want to share, I promise! You will even sit down with a fork and finish it all in one session. It is that delicious!
An Exciting New Way To Enjoy Roasted Cauliflower
Cauliflower lovers! You are my people! And if you stick with me and my blog, I guarantee there will be an exciting cauliflower dish or two every month for you to explore, cook and relish. This dish is inspired. I saw a recipe for a Baked Cauliflower With Burnt Honey And Halloumi by chef Ben Sears in delicious magazine. And I couldn't get it out of my mind. It was a clever dish - honey and halloumi, sweet and salty! Right away I could see that it was going to be too sweet for my palate (and my family's) because of the amount of honey used in it. But I persisted and made a batch and it was good but I felt it needed so much more and yet so much less at the same time.
The original dish had cauliflower, honey, halloumi, oil, salt and zaátar. A simple dish. That you might really enjoy if you were at a fancy restaurant, the ambience was enhancing everything and the wine was making you deliriously happy. But if you don't add garlic to cauliflower, you shouldn't speak to me! Wine or no wine! End of discussion.
I do admit that cauliflower is gorgeous just roasted, no frills! But any opportunity to not pack it with flavour is wasted in my opinion. So, I set out to test and create a dish that would make me happy. At home, in my kitchen wearing my comfy trackies in the middle of the day, no ambience or wine but a dish that made me want to dive in with a fork and not stop until it was all gone. This Roasted Cauliflower With Honey And Halloumi is what I will be eating every week from now on.
A Note About Cooking Honey
So the original dish said Burnt Honey. Again, I must admit that these are the kind of recipe names that draw me to them. Because they are unusual and exciting. But they can also often be misleading. Like in the original recipe. Even when I cooked it at medium-high temperature, the honey did not burn (which in retrospect was a good thing because it could've become bitter!). It maybe turned a shade darker? I will never know as it was amber and quite dark to begin with. Nevertheless, heating honey at higher temperatures kills off its beneficial nutrients. So, I wanted to tread with caution.
I only cooked the honey slightly. It did not burn but rather just softened, warmed through and became liquid. If you want to skip cooking the honey altogether and just add it after the pan has come off the heat, I won't hold it against you. In fact, I encourage it.
Once you've dressed your cauliflower and drizzled and sprinkled everything there is to drizzle and sprinkle, give the salad a good old toss just before eating to mix all the flavours into one divine dish. Maybe share? Enjoy!
More Cauliflower Recipes
Recipe
Hungry For More Recipes? Subscribe to my newsletter. Check out Facebook, Instagram and Pinterest to see everything I share! And if you love cooking and new cookbooks, join my free Cooking Club on Facebook!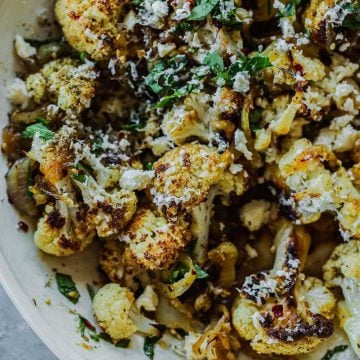 Ingredients
600

g

cauliflower florets

,

(large florets)

¼

cup

olive oil

Large pinch of salt

Freshly ground black pepper

2

tablespoons

olive oil

1

brown onion

,

peeled and thinly sliced

4

garlic cloves

,

minced

2

tablespoons

honey

2

tablespoons

red wine vinegar

Pinch

of saffron

1

teaspoon

red chilli flakes

1

tablespoon

Za´atar

50

g

halloumi

,

drained and grated

¼

cup

chopped parsley leaves

Extra salt, pepper, olive oil – to serve
Instructions
Preheat oven to 220°C (200°C fan-forced). Line a rimmed baking sheet with baking paper.

Add cauliflower florets, ¼ cup oil, salt and pepper to a large bowl. Toss and mix well to coat the cauliflower with the oil. Spread on the prepared baking sheet and roast for 20 minutes. Increase oven temperature to 240°C (220°C fan forced) and roast for a further 5 minutes. Remove from the oven and into a shallow, rimmed serving bowl.

Heat a tablespoon of oil in a small frying pan on medium-low heat. Add onion and garlic. Sauté for 7-8 minutes, tossing constantly until onion is soft and starting to caramelize.

Add honey to the pan. Cook for 3-4 minutes until honey is bubbling and starting to caramelize. Remove pan from heat.

Add the remaining tablespoon of oil, red wine vinegar and saffron. Mix well.

Pour the onion-honey dressing evenly over the cauliflower.

Sprinkle the chilli flakes and Zaatar.

Top with the grated halloumi and parsley. Season with a dash of salt and pepper and a light drizzle of olive oil. Serve immediately.
Notes
Make sure you keep the cauliflower florets large so that they hold their shape well at high temperatures.
Did you make my recipe?
I'd love to hear how you went! Tag me on Instagram @cookrepublic